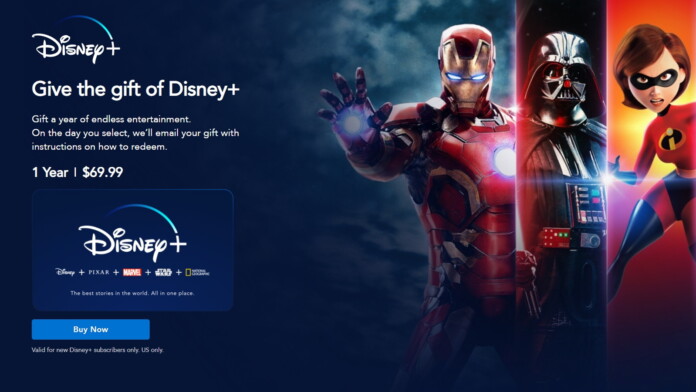 You can now purchase a Disney+ Gift Subscription Card and send a redeemable code as a gift this holiday season.
Priced at $69.99, Disney Plus Gift Subscription Cards are designed to bring a one-year subscription to this media streaming service.
This offer applies to those in the USA only, and redeemable codes can be used only by new Disney+ subscribers.
Disney Plus has taken the world by storm – with over 10 million subscribers already enjoying its content. This isn't all that surprising considering that Disney Plus brings tons of addictive content including the Star Wars franchise, the Mandalorian, Pixar animated movies, and more. And considering that this year's holiday season is upon us, now is the right time to consider getting the perfect gift for your loved ones. With this said, Disney+ Gift Subscription Cards are now available – giving you an easy way to gift a subscription to those interested in watching Disney movies and TV shows.
The Disney+ Gift Subscription Cards are now available for $69.99 – and they come with a one-year subscription. As you can imagine, we're talking here about digital redeemable codes. In other words, you are free to send a gift subscription card via email. Even better, you can choose a date when you want this gift to be sent – which means that Disney+ Gift Subscription Card can be an excellent Christmas gift this year. Also, please note that physical Disney+ Gift Subscription Cards are available in the USA at Disney Stores as well as select stores at Walt Disney World Resort and Disneyland Resort.
There are also some restrictions and limitations that you need to know about. This offer is valid in the USA only, and you can gift a subscription to new Disney+ users only. Also, these can't be used to purchase the Disney Bundle (which includes ESPN, Hulu, and Disney Plus). And finally, know that these gift subscription cards do not include a 7-day trial. In other words, all of this means that the recipient needs to be a new Disney+ user residing in the USA.
All in all, we think that Disney+ has done a wonderful job of giving you another option of a thoughtful holiday gift. If you know someone interested in joining this media streaming service, you won't make a mistake by getting a Disney+ Gift Subscription Card – and we're sure that your loved ones will be more than happy with this gift.
And finally, you should know that Disney+ is available on a broad range of devices and platforms. Once the recipient of your gift subscription card redeems their code, they'll be able to access Disney Plus on all of its supported platforms including Amazon Fire TV, Android smart TVs, iPhones & iPads, and plenty more devices.
So, is there someone on your list who would be thrilled to receive this Disney+ Gift Subscription Card? Let us know in the comments section below. And also, don't forget to follow us on Facebook and Twitter.