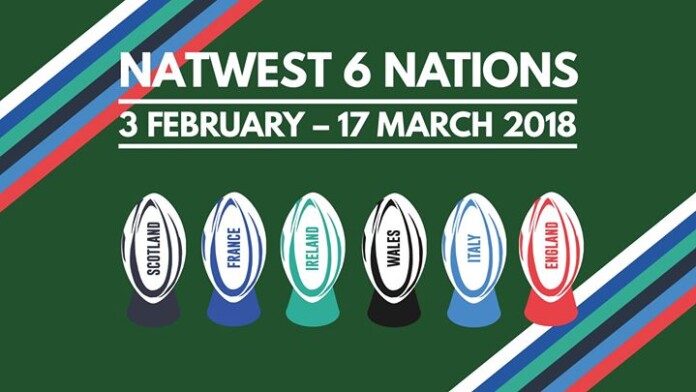 All those Rugby Fans out there, the Rugby's greatest Championship takes place every year between February and March.This year 2018 marks the 19th edition of the Six Nations Championship and the title is sponsored by Natwest, a subsidiary of Royal Bank of Scotland. Six teams – England, France, Italy, Ireland, Scotland, and Wales face off each other in 15 matches to decide the 6 Nations Champion. The Defending 2017 Champion – England is the leading title winner. So let's see who might turn to be the winner this season.
When and Where does the 6 Nations Rugby start?
The Natwest 6 Nation Championship is scheduled to start from Saturday, 3rd February 2018 and ends on 17 March 2018 the "Super Saturday" where all matches of Round 5 will take place the same day.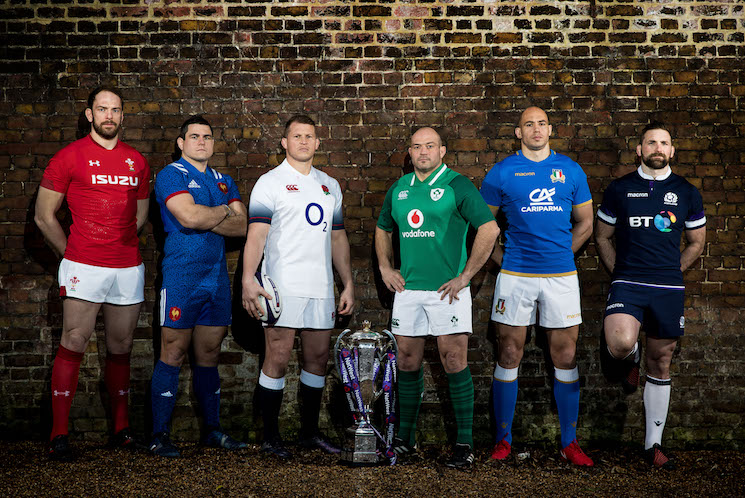 In 2018, England vs Ireland will have a good battle before the victor emerges which was predicted by the guardian. Six Nations Fixtures, Venues, and Time Zones have already been fixed. (In the below Fixtures all the time is based on GMT]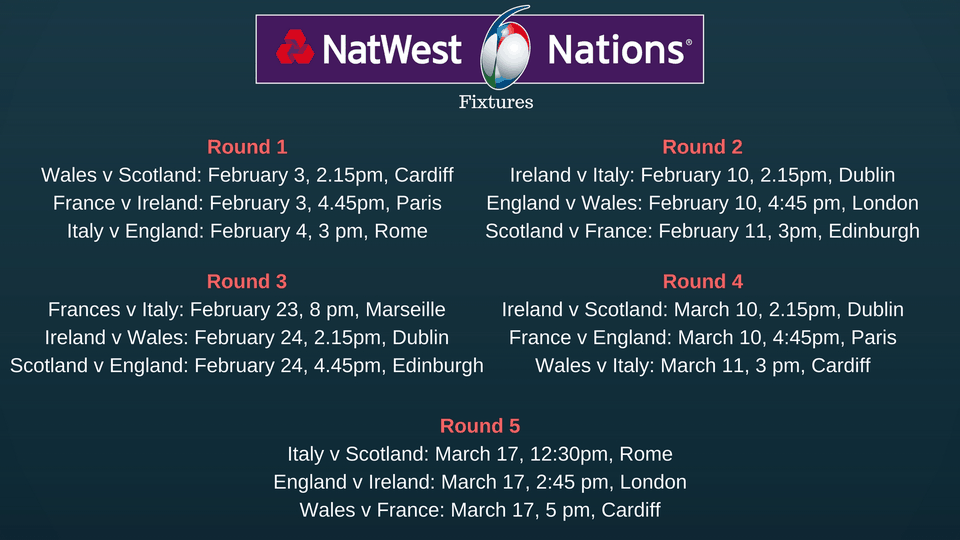 Get instant information about the Natwest 6 Nations from the Official Twitter Handle. Before we get into the details on how to watch Six Nations Online here is an official Fantasy Six Nations Rugby game available on their official website.
What Channel to watch Six Nations Live?
In each country, there are several TV Channels with the Official broadcast license. In the United Kingdom, BBC iPlayer or ITV take turns in broadcasting each match and are strictly available only to UK users. France 2 (FR2) is the French Public national Television Channel. TV3 is telecasted in Ireland and few countries nearby.
NBC Sports
In the United States, NBC Sports group acquired multi-year partnership with Six Nations Rugby for coverage of all matches and stream live on NBC Sports Network.
3 Channels NBC, NBCSN, and CNBC will broadcast the Matches based on the NBC Sports Schedule. Few matches cannot be watched live on TV even with a Subscription.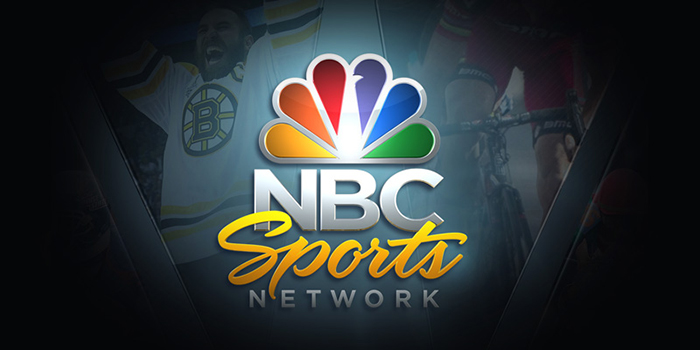 So if you are planning to stream live all the Natwest 6 Nations Championship you need to purchase an NBC Sports Gold Passes. To watch all the Rugby Championships such as U20 Rugby World Championship Final, Women's Rugby World Cup, Premiership Rugby as well as 6 Nations Championship then get the Rugby Pass for about $59.99 that lets you watch the events from June 15, 2017 – August 8, 2018. Even watch it on your NBC Sports Gold apps on iOS or Android.
How to Watch Six Nations Rugby Live
Always choosing the correct services to watch sports after cord-cutting can be a pretty hefty task since they are few things people do not keep in mind before buying the service. Like the Channel list, Trial Period, Cost per month, Local Channel Restrictions, Blackouts and more. So we have simplified the process for our users.
Some of our choices include FuboTV, Sling TV, and DirecTV Now that offer the best options for people looking for cable TV Replacers. Also, you can try out the PlayStation Vue, Hulu with Live TV and YouTube TV with growing user base.
FuboTV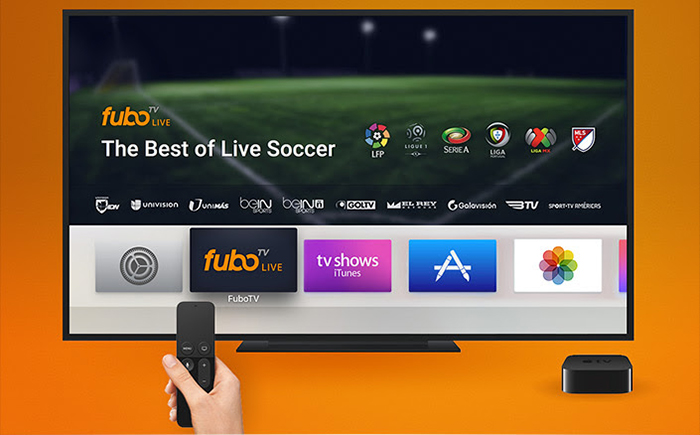 When it comes to Sports, FuboTV is the better option which has a line up of NBC Sports Channels to choose from. Recently FuboTV had added several local NBC Stations by expanding their coverage area. The Basic Pack offers 70+ Channels with an ongoing discount for $19.99 first month. Use the 7-days of free access with a dedicated cloud DVR for 30 hours playback and stream up to 2 devices simultaneously. Click here to sign up for watching Six Nations without cable.
Sling TV
After quite a tests, the cheapest option to stream Live TV and On-Demand entertainment on the web is none other than Sling TV. Getting right to the point, Sling offers two packages – Sling Blue and Sling Orange. For Streaming NBC Sports Network you need to get the Sling Blue which costs around $25 and additionally a Sports Extra Pack for $5 which is bundled in with lots of Channels like CNBC, NBA TV, ESPN etc. 50 Hours of cloud DVR bundled, 3 devices simultaneous watch everything comes with a 7 Days Free Trial so you can sign up now.
DirecTV Now
The "Live a little" Bundle in DirecTV Now is just enough to catch the entire season of Six Nations Rugby Championship. The Bundle comes with 60+ Channels just priced for $35 per month. No Annual Contract needed, Cancel at anytime. It does have Cloud DVR for recording but in beta stage and supported in a variety of devices like Roku, Apple TV, Firestick, Kindle and more. Check for Live Sports and Local Channels in your region before subscribing.
PlayStation Vue
When Playstation broke the limits of gaming now the gaming powerhouse just got better in Live TV with its streaming service the PlayStation Vue. Watch the best of Sports, Movies and more at your home or on-the-go. Now stream more than 5 devices Simultaneous with enhanced cloud DVR for recording. Choose from 4 packs – Access, Core, Elite, or Ultra. First Enter your Zip code to see Plans and Channels in your area.
Hulu with Live TV
You might have heard that Hulu is launching its Live TV Service but you would have missed Hulu Live TV offers just more of everything live sports, news, entertainment and the entire Hulu Streaming Library for less as $39.99. Now Upgrade to 200 hours of Cloud DVR with more premium networks included.
YouTube TV
From Monday Night Football to the recent Super Bowl everything is available on Youtube TV. Even though it is available only in some major cities it has nearly grown towards to 3,00,000+ subscribers competing the leaders in Live TV Streaming. Even people in the US unblocked YouTube TV to play in their region since it has no limits on DVR and Stream in 6 Six screens all at once. Then who wouldn't think of YouTube TV for $35 and the independence to cancel at any time?
How to Stream Six Nations Rugby without Cable from Anywhere?
Travelling Abroad or Living in any country outside the US? We got the expats covered. Needless to say, we crave for live entertainment, news and more from the US but how do we watch it? Streaming Services, Duh. Even though we purchase any service that offers the best live tv channels we still end up with nothing streaming.
Do you know why? Becuase they are blocked. Yes, Geo-Restricted and only available in the US [In some cases, only in particular regions].
Why Use VPN to Watch 6 Nations Live?
The only possible, safest and secure way to access these geo-blocked content is to lift these restrictions with the help of Virtual Private Network. We bypass this by pointing our location[ Virtual Location] to in the United States. Read the Steps below to do it.
At First, once you have picked up the streaming service now its time to decide the VPN service to get access to the US Live Channels.
After hours of testing and playing with some of the Best VPN Services in the market, ExpressVPN surpasses all other VPNs while being fast and secure which is essential for streamers.
Once that is all set, Download and install the VPN on your devices.
Open the VPN. Goto Locations and Double Tap/Click on the US IP Address. Wait until the connection is completed.
Return to the streaming service and go to the Channel you want to watch and it will stream without any errors.
The process is same for other country streaming services the only difference is to choose the IP Address in that Specific Country.
The VPN just points out that you are in the US by using any US IP Address which lets you have all the Fun. Now that's a wrap.
Final Thoughts
We hope that you found this article to be helpful. We did our best to tell you how to stream 6 Nations without Cable or Online.
Feel Free to drop in your thoughts in the comment below. Share this article to help your fellow Rugby Fans to watch the Six Nations Rugby Championship Live.