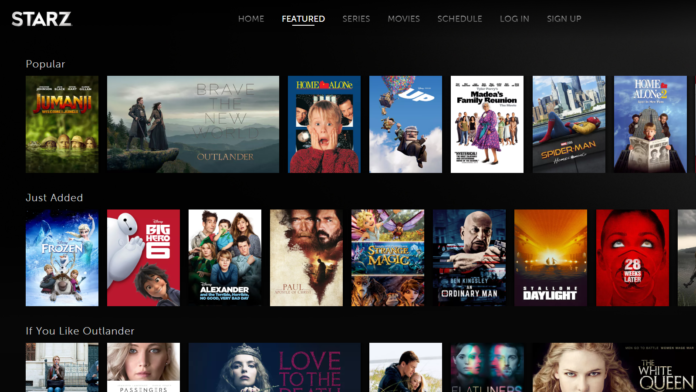 Premium channels are always the ones that bring top quality content to our screens and they're the ones that get us excited about the next episodes. This time around, we wanted to review Starz and see what makes it special in this day and age.
Starz has been around since 1994 and over the years the network multiplied, offering more channels – Starz, Starz Cinema, Starz Comedy, Starz Edge, Starz In Black, Starz Kids & Family, StarzENCORE, StarzENCORE Action, StarzENCORE Classic, StarzENCORE Black, StarzENCORE Family, StarzENCORE Suspense, StarzENCORE Westerns, and StarzENCORE Espanol. The idea behind coming up with so many channels was delivering super-specific content to viewers.
So, before we dive into the review, let's see a few basic details about the Starz platform.
Overview
Product Name
Starz
Supported Platforms
Kindle Fire, iOS and Android tablets and smartphones, Apple TV, Android TV, Xbox, Roku, Smart TVs: Samsung, Sony, LG, web
Availability
Starz is only available in the United States
Unique Features
Access original Starz content and allows mobile downloads
Price
$8.99/month, $74.99 per year
Visit
Starz
We're also going to let you know what we think the platform's pros and cons are. If you want to find out why each of these features is where it is, keep on reading our review.
Final Verdict
Pros
Good UI design, allows live streaming, available on-demand content, original shows
Cons
No PS support, downloads expire after 2 weeks
Final Verdict
The platform works well, great content collection, nice original shows. Definitely worth a try
Our Score
9.3/10
Now that you got an idea about what the platform's all about, let's move on and find out all the details.
Starz Review: Find Out All You Need to Know
There are a lot of things to say about Starz and we're going to make sure we go through it all, like what devices you can stream content on, what content they have, or how much it all costs.
An important aspect that we should get out of the way from the start is the fact that Starz is available in the United States only. So, in case you live abroad, you won't be able to create an account unless you have a good VPN and a US-card, or a PayPal account made in the USA. Since we mentioned it, the best way to watch Starz outside the USA is with a VPN. We've gone through numerous VPNs so we can reliably recommend using ExpressVPN, which is by far one of the best options available.
Platform Compatibility
To enjoy Starz, you need to have a dedicated app on your device. We're pretty sure you have at least one of the supported devices. Our Score: 9/10
While there are what feels like a million Starz channels, you don't need that many apps to actually watch the content. Thankfully, there's a single app that encompasses all networks, so you can have fun from the same place. Here are all the supported platforms and devices:
Amazon: Kindle Fire Tablets (post-2014, running Fire OS 5 and up) Kindle Fire phones, Fire TV, Fire Stick
Apple: iPhone, iPad, iPod with iOS 8.1 or greater, Apple TV 3rd and 4th gen,
Google: Android 4.1 and up, Android TV (Nexus Player, NVIDIA Shield, Razer Forge)
Game Consoles: Xbox One, One S
Web: Edge, Chrome, Firefox, Safari
Other: Roku 2, 3, and 4, Roku Stick, Sony Smart TVs, Samsung Smart TVs with Smart Hub, LG Smart TVs.
As you can see, you're pretty much covered in the device department. One notable platform missing from the list is the PlayStation game console, which we know much own and love. The Xbox One and Xbox One S are up there, but we still hope we're going to see PlayStation will get support soon.
Sign Up to Starz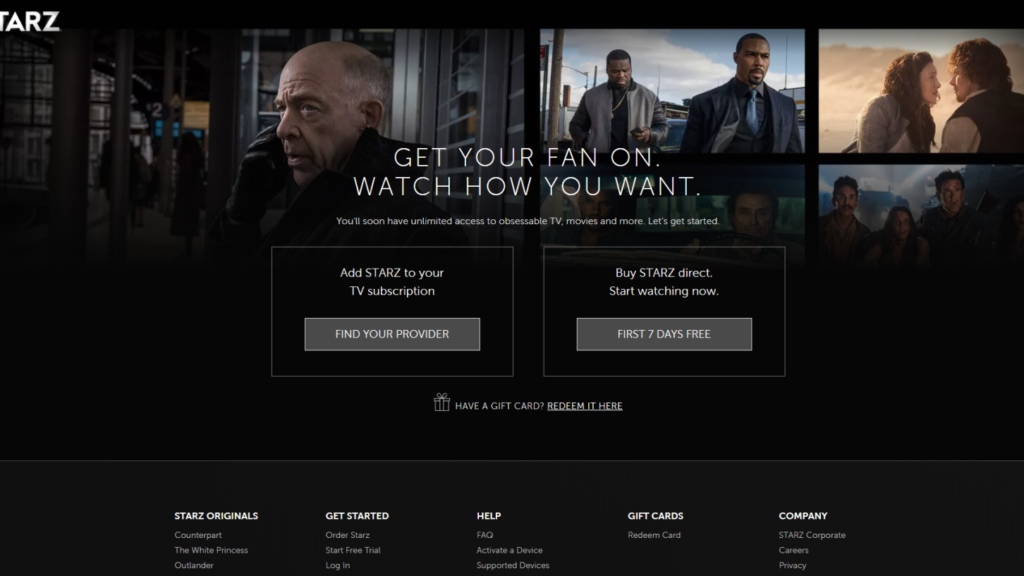 There are several ways to sign up for Starz, and the process only takes a couple of minutes. You can sign up via the website or the app. Our Score: 10/10
As we mentioned, there are a few ways you can watch Starz online. The first involves you setting up an account with the help of the credentials your cable provider gave you. That is, of course, if your cable provider supports Starz and if your plan includes the channels.
Alternatively, you can buy Starz directly, without needing any cable provider to help you out. Once you do that, you'll have to provide an email address, pick the subscription method – monthly or annual – and a payment method – credit card or PayPal. The confirmation only takes a few minutes, and you'll be good to go.
It's also worth to mention that Starz is also available via several live TV platforms. These will allow you to watch TV live and even record content when you're away, as well as access on-demand videos. Starz is available via Sling TV, Hulu live TV, YouTube TV, and DirecTV Now. DirecTV Now offers Starz at $8 per month, while the rest go with $8.99 per month. If you'll tap on the links, you'll get to read our reviews for all these platforms; perhaps one of them will appeal to you.
Starz offers a 7-day trial period, so if you think you might change your mind, you're covered for a while. A week is more than enough for you to decide on whether or not you're canceling your subscription.
User Interface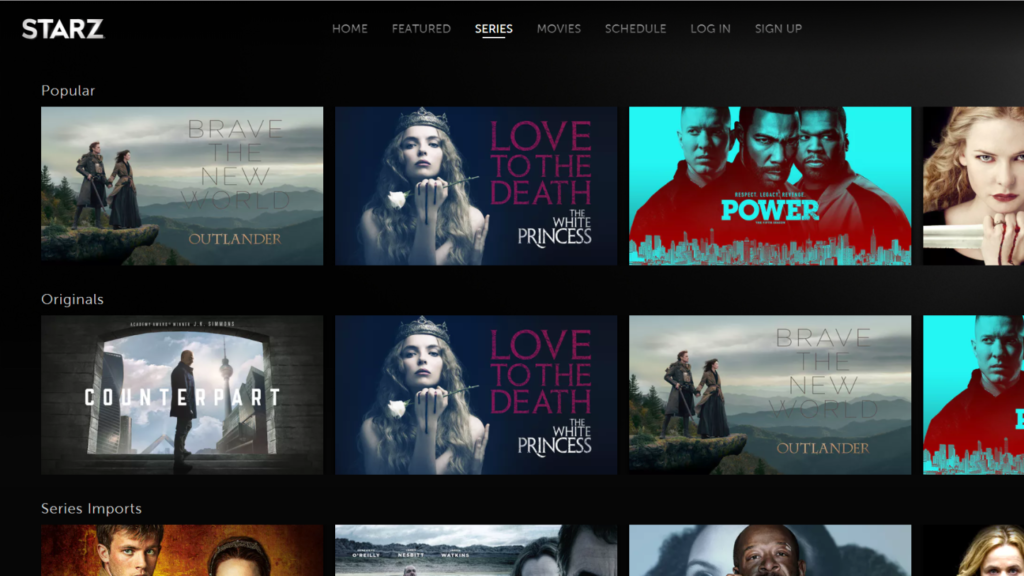 Ever since all Starz streaming plans and apps united under a single tool, handling the content has become far easier. Our Score: 9/10
When it comes to design, Starz falls in line with pretty much all streaming services out there. You can scroll through different types of content, grouped by content type. For instance, you can check out Original content, fresh additions, animations, classic TV hits, or popular flicks.
The content you want to watch later on can be saved and easily accessed from the interface. It's all fairly simple, and there's nothing complicated in there to confuse users.
From this point of view, as mentioned, the design will look familiar because it's the pattern used by numerous streaming services nowadays – split the content between series, movies, mark original content, give users easy access to saved content and shows or movies they've already started watching. It's an easy recipe, but it's efficient, and while the colors may change, or the order of things on the interface, it will still feel familiar.
Available Content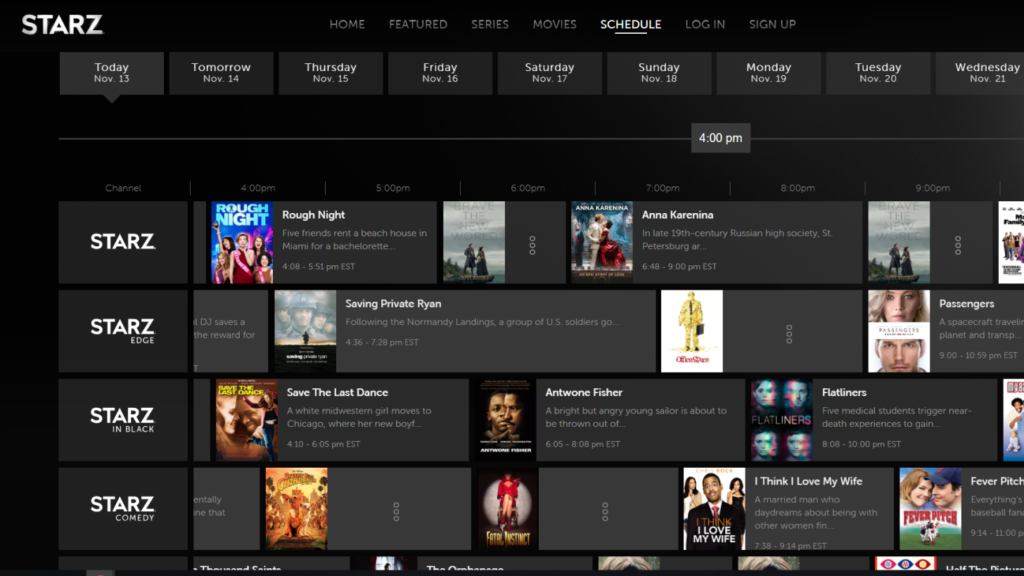 Whether it's an original series or one that comes from a well-known network, Starz has lots to offer. Our Score: 9/10
There are numerous great series that have come from Starz, such as Black Sails, Spartacus, or Camelot, but they've already ended. Nowadays, it's shows like Outlander, Power, or American Gods that set the pace. The company seems to be upping its game and has loads of series in development, including a Mariah Carey show, which we might be convinced to admit to being kind of curious about.
You can also watch other types of content such as kids' movies like The Storyteller, oldie shows like The Bernie Mac Show, movies like Big Hero 6, Jumanji: Welcome to the Jungle, Spider-Man Homecoming, Dear John, Passengers, Up, Salt, or Zombieland. Or maybe you really want to watch Home Alone this holiday season. Oh, and don't forget about those fitness clips or stand-up comedy shows.
You get to see these movies or shows when they're on various Starz networks, at the set time they're being broadcast or hope the content is available on demand. With new episodes from your favorite shows, which air weekly, you get to access the video on demand just a few hours after the episode went live.
Performance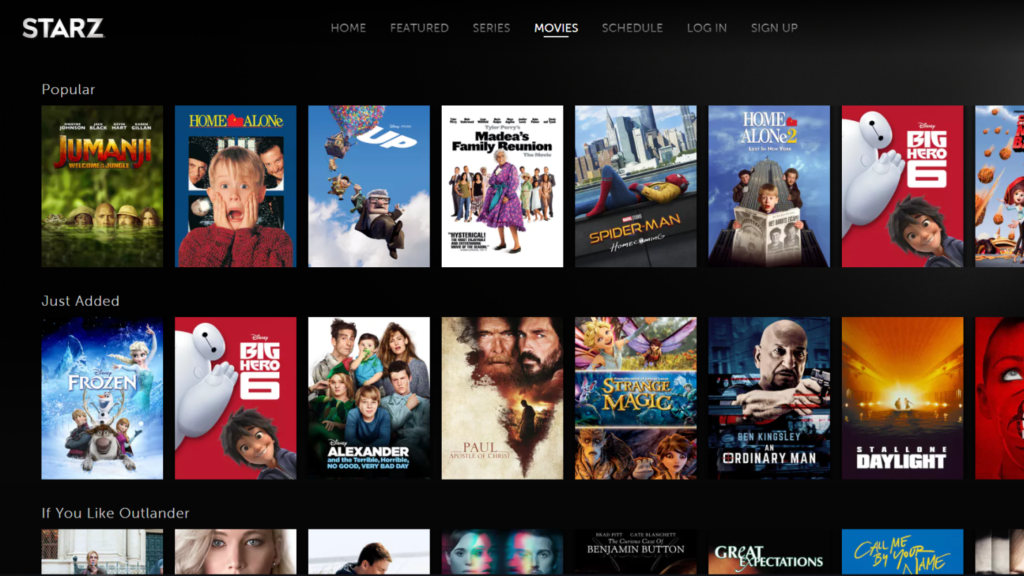 The service is well-optimized and we didn't encounter any issues while streaming the content. Our Score: 10/10
Regardless of what platform you use, Starz will keep up with you, as long as your Internet connection is up to par. According to the platform's recommendations, you need at least 2.5 Mbps Internet speeds, but they recommend 6 Mbps for the best experience in streaming content in HD. This is a pretty great speed requirement and we've seen much more demanding platforms. You'll need to keep in mind that you'll need better speeds if you want to stream to multiple devices on the same network.
Of course, once you watch any content, you can save it to your list. Plus, in case you stop midway, you're going to be able to pick it up from where you left off.
The platform also allows users to stream content to four different devices at once, so you and other family members can each watch something else.
Another thing you can do on Starz is download content. You need to know that this is only something that's available on select Android and iOS phones and tablets, but not all content is available for download, although most are. From the moment you download a video, you have two weeks to watch it or it automatically gets deleted. Also, if the licensing window closes, the video will vanish from your device.
Customer Support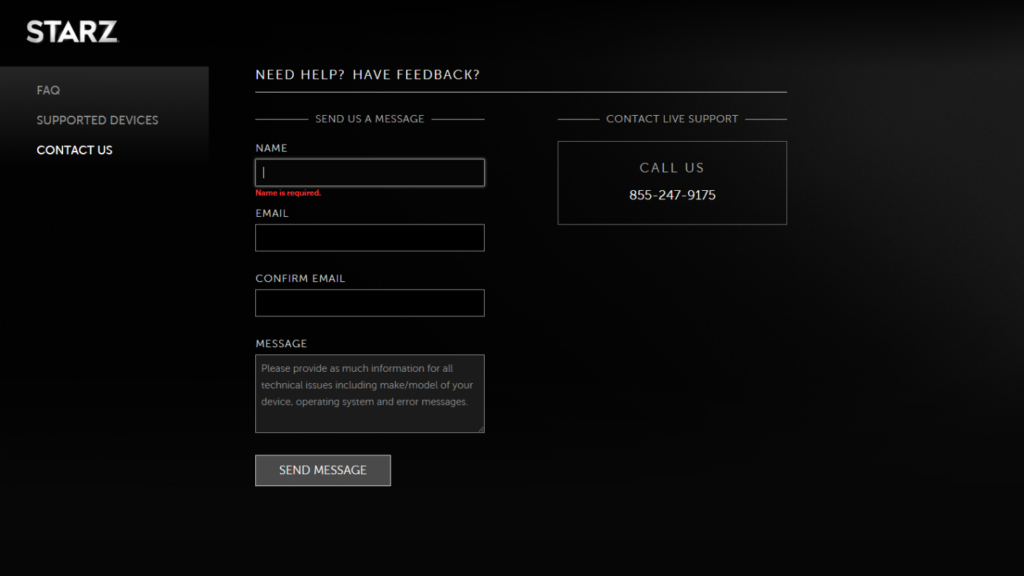 It's so easy nowadays to figure out how to work these platforms, but if you have any issues, you have customer support at your fingertips. Our Score: 9/10
Starz is a great platform and it's easy to use thanks to the intuitive interface, but if you, for any reason, have issues, you can get help quite easily.
First off, you can start with the FAQ page where they answer loads of questions about billing, gift cards, programming, account settings, casting content to smart TVs, or various platforms.
In case you can't find a solution to your problem in the help section, you can send Starz a message or give them a call. There's no schedule attached to that number, so you're getting 24/7 support.
Pricing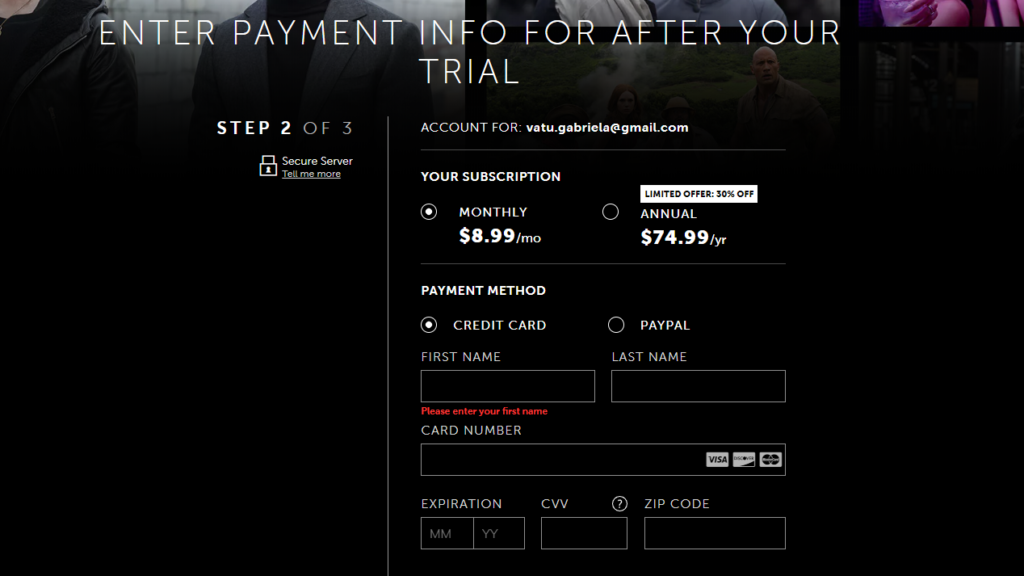 You have two pricing options – paying monthly or annually, the latter giving you quite a price cut. Our Score: 9/10
Starz comes with two options for you; you can pay a monthly fee, or you can pay once and cover the whole year. The monthly subscription costs $8.99, while the annual one costs $74.99 at publishing time, which is a 30% price cut.
Even if you get Starz via one of the live TV streaming platforms we discussed, you're still getting the same $8.99 price offer. The only platform where you'll get a different offer is DirecTV Now where the subscription costs only $8 per month. So, if you're looking to cut the cord and get Starz, this one's a good deal.
An estimate from earlier this year put the Starz subscriber numbers at 23.5 million, so you'd be one of many to sign up for the service.
The Verdict
Starz is a great platform if you love getting access to loads of content, live streaming and on-demand, original shows, and awesome movies. The subscription price is good, the apps work great, and there's really no reason to avoid signing up. At the very least, give it a try for a week and decide while you're testing if it's the right one for you.
PROS: Nice and easy-to-use design, live streaming, on-demand content, original shows, good price.
CONS: Missing support for PlayStation, downloaded content self-deletes after two weeks.
Our Score: 9.3/10
Final Thoughts
We hope we've helped clear up what Starz has to offer and how much fun the platform is, and maybe even pushed you to give it a try.
We'd love to hear whether you enjoy Starz and what other premium channels you love. Let us know in the comments section below, and please share the article online if you have the time. Follow TechNadu on Facebook and Twitter.