Most Netgear router models can act as VPN clients or VPN servers, meaning there are two ways to set up a VPN on your Netgear router. However, if you're after the best way to utilize the VPN functionality of your device, we recommend using a commercial VPN, which you can configure on your router manually (therefore, your router will become a VPN client).
With that said, you'll want a simple-to-follow tutorial alongside VPN recommendations (after all, you'll want a VPN that works with your Netgear router without a hitch). Well, that's precisely what you'll get in this guide.
Without further ado, let's jump right in!
How to Set Up a VPN on a Netgear Router
As mentioned above, there are two possible ways to proceed. So, here's how to install a VPN on your Netgear router, based on whether you want to use it as a server or client:
Method #1: Set Up a VPN CLIENT on Your Netgear Router
For this method, we recommend a VPN that allows you to install its firmware on your Netgear router. That's by far the best way to use your router as a VPN client. However, you'll want to read the following note before you proceed. And then, you'll find our guide below.
The following guide applies to select Netgear routers only. More precisely, you need to have one of the following models: Netgear R6300v2, R6700v7, Nighthawk R7000, or R7000P.
1. Subscribe to a VPN that supports Netgear routers. We recommend ExpressVPN.
2. When you subscribe, go back to the home page of ExpressVPN's website.
3. Pick "My Account" and access your ExpressVPN dashboard.

4. Click "Set Up Other Devices." Then, select "Router" on the left-hand side.
5. On the right, select the model name/number of your Netgear router.
6. Click "Download Firmware" to download ExpressVPN's firmware to your computer.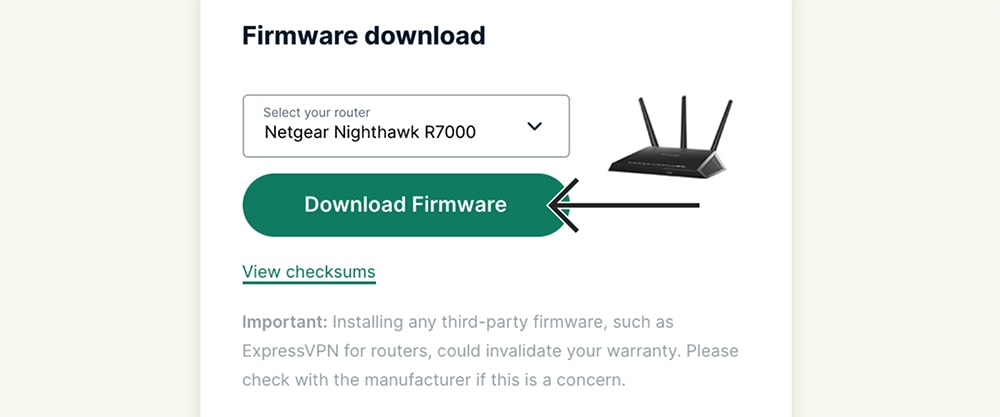 7. Now, connect to your Netgear router (you'll need a username and password).
In general, you can access your Netgear router using the following IP: 192.168.0.1. However, we recommend doing a Google search for more precise info, based on your router's model.
8. Select the "Advanced" tab once you access Netgear's admin panel.
9. Pick "Administration" on the left. Then, click "Router Update."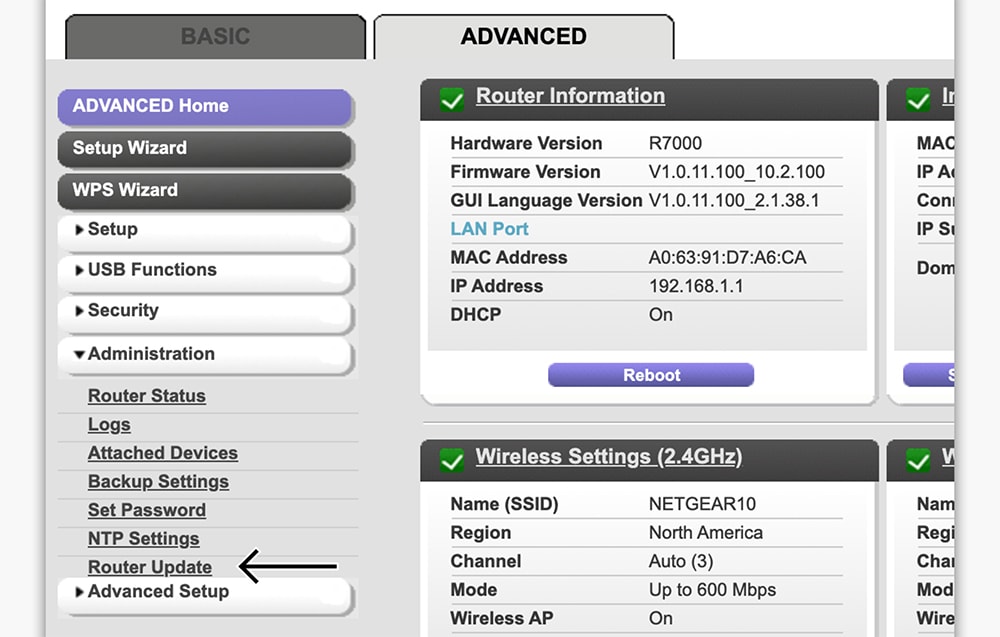 10. Click "Browse" and navigate to ExpressVPN's firmware update file.
11. Hit the "Upload" button and wait until the firmware file installs on your router.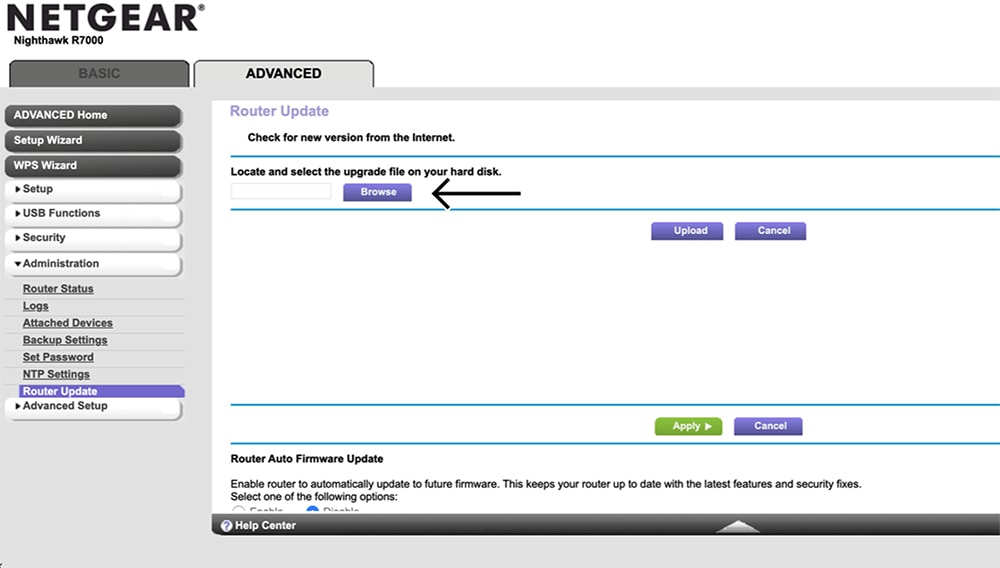 12. Once your router restarts, connect to its via Wi-Fi or Ethernet.
13. Enter the following URL: www.expressvpnrouter.com and hit "Enter."
14. Go through the steps ExpressVPN will show you on your screen.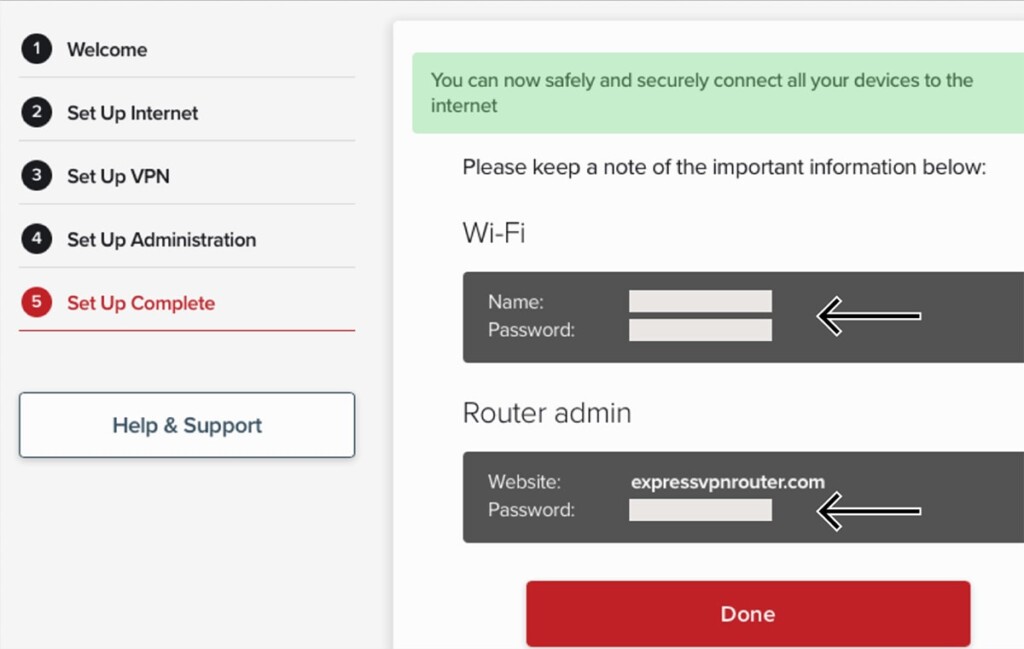 15. Once your router restarts again, it will automatically connect you to a VPN server.
We highly recommend taking some time to review ExpressVPN's dashboard, which will replace your Netgear dashboard. That's where you can set the name for your Wi-Fi network, edit its password, pick a VPN server you'd like to use, and plenty more.
Method #2: Set Up a VPN SERVER on Your Netgear Router
Before you start to set up a VPN on your router, you need to enable this functionality (which comes disabled by default). And then, you'll use locally installed VPN clients to have your traffic pass through your Netgear router. So, do the following:
1. Visit http://www.routerlogin.net or http://www.routerlogin.com.
2. Provide your router's credentials (go with admin/password, by default).
3. Now, pick the "Advanced" tab, which you'll see just below Netgear's logo.
4. Navigate to Advanced Setup > VPN Service.
5. Check the box next to "Enable VPN Service."
Your Netgear router should provide additional options at this point. So, make sure to check "All Sites on the Internet & Home Network," which comes as a radio button on the "VPN Service" page.
6. Visit the download section on OpenVPN's website.
7. Download one of the "Installer" files (available for Windows 32bit, 64bit, and ARM).
8. Then, double-click on the freshly downloaded files. Complete the installation.
9. Once done, OpenVPN's icon should be found on your desktop.
By default, OpenVPN's client will install in the 'Program Files' directory. You're free to install it elsewhere but make sure to take a note of that directory. That's because you'll need that directory to set up a VPN on a Netgear router, as explained below.
10. Once again, visit http://www.routerlogin.net or http://www.routerlogin.com.
11. Navigate to Advanced > Advanced Setup > VPN Service.
12. Select "For Windows" (or use other buttons, if applicable).
OpenVPN is available on other devices as well, so Netgear offers you different types of configuration files. When choosing to download the configuration files, pick "For Windows," "For Non-Windows," and "For Smart Phone." So, you'll have three options at your disposal.
13. You'll end up with a ZIP file. Make sure to unzip it.
14. Now, visit the directory of your OpenVPN client, as discussed above.
15. By default, you need to navigate to C: > Program Files > OpenVPN > config.
16. Copy the freshly downloaded files to the 'config' folder.
17. Now, navigate to Start > Settings > Network & Internet > Ethernet.
18. Pick "Change Adapter Settings."
19. Find the local area connection labeled "TAP-Windows Adapter."
20. Change the connection's name to "NETGEAR-VPN."
21. Launch the OpenVPN client on your device.
22. If prompted to connect, make sure to confirm your decision.
23. Then, right-click on OpenVPN's icon on your desktop and pick "Show Status."
24. It should say "Current State: Connected."
Final Thoughts
As you can see, you have two equally powerful ways to set up a VPN on your Netgear router. Still, our recommendation is to use your router as a VPN client. That's the easiest way to get started, letting you use high-end features and encryption without much fuss.
We'll also remind you that we recommend ExpressVPN for Netgear routers. That's because that VPN offers custom firmware, which we don't see every day. Also, remember that you can try ExpressVPN risk-free for 30 days.
If you'd like to extend your VPN protection to other devices, check our central guide to setting up a VPN. We covered 60+ platforms and devices, leaving no stone unturned.
FAQ
Do Netgear Routers Work with a VPN?
Yes, plenty of Netgear routers work with VPNs. That includes the Nighthawk line of routers, as well as some older models that are still made by Netgear.
Unfortunately, Netgear doesn't offer a central page on its website that lets you review its VPN-ready routers. So, we recommend relying on Google for that information.
Can You Add a VPN to a Nighthawk Router?
There are two ways to add a VPN to a Nighthawk router. You can use it as a VPN server to encrypt your network or use a third-party VPN to add new connections.
How Do I Put a VPN on My Netgear Router?
The easiest way to put a VPN on your Netgear router is to use one that offers custom firmware, letting you transform your router into a VPN client.
Based on our extensive research and testing, we recommend ExpressVPN for that purpose. To learn how to use ExpressVPN, just follow this link.
What's a VPN Passthrough on Netgear?
A VPN passthrough on your Netgear router allows you to establish a VPN connection even if your router doesn't support VPNs natively.
More precisely, once you activate the VPN passthrough feature, Web traffic from the VPN client will go through the Internet and reach the VPN gateway. That means you're free to install VPN apps on your devices without fearing that your router will block them.
Is Netgear Armor a VPN?
Yes, Netgear Armor is a VPN. More precisely, it's a cyber-security solution designed to help protect your privacy, prevent malware, and block hacking attempts.
However, Netgear's Armor relies on Bitdefender for its VPN functionality. Bitdefender's VPN is a limited VPN solution. It's characterized by a small number of servers and mediocre speeds. So, our recommendation is to use ExpressVPN instead.
You now know how to set up a VPN on your Netgear router. If you have any questions, let us know via the comments section below. Thank you for reading!