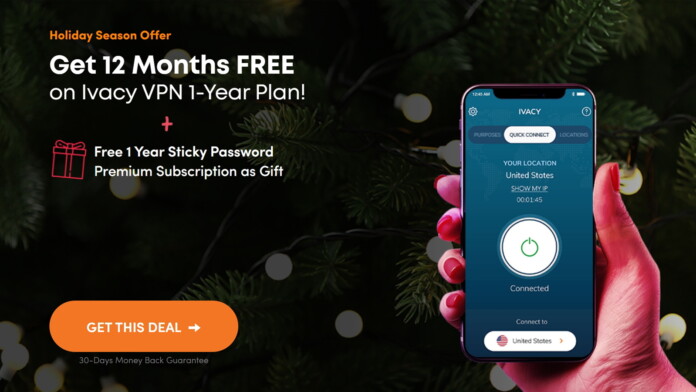 Ivacy VPN comes at a regular monthly price of $9.95 – but you can get this incredibly capable VPN for only $1.67/month via its special holiday offer.
This promo deal applies to the VPN's one-year plan and it also includes some very enticing freebies as well.
By getting its one-year subscription, you'll get one additional year of use (so, two years in total) + you'll get a one-year subscription to Sticky Password!
This year's holiday season is rapidly approaching, and some of the most reputable VPNs are already offering special promo deals. Just like it happens each year, Ivacy VPN is one of the first VPNs to kick off this year's holiday season – helping you save plenty in the long run, along with getting some quite interesting extras. So, let's talk about Ivacy VPN's special holiday deal – active right now!
The regular monthly price of Ivacy VPN is $9.95, and we have to admit that it brings plenty of value. However, for a limited time, this VPN has a special 1-year plan whose price comes down to only $1.67 per month. Still, this isn't the only benefit of this deal. You will get an additional year of use, completely free of charge. And on top of that, you'll get a 1-year premium subscription to Sticky Password. It's easy to see why this is an unbeatable deal, right?
So, let's get into the details. To take advantage of this deal, you need to sign-up for Ivacy VPN by going for its 1-year plan. Considering that you'll get an additional year of use, the total price comes down to $1.67 per month. In other words, you'll be charged $40.00 right now. Along with your subscription, you'll get a premium subscription to Sticky Password – an award-winning password manager, available for all currently popular platforms. This application's annual subscription is priced at $29.99 – so it makes it clear how much value this holiday deal brings.
Finally, we'd like to let you know that Ivacy VPN supports numerous payment methods. You can pay for this VPN via credit cards, PayPal, BitPay, AliPay, PerfectMoney, and more. And also, please note that you'll get a 30-day money-back guarantee, which makes this deal a risk-free purchase. However, we are more than sure that you'll be happy using this VPN. To learn more about its features and what to expect in the long run, here's our hands-on Ivacy VPN review.
So, what are you waiting for? Go ahead and get Ivacy VPN for only $1.67/month while this special holiday deal is still active! Believe us, you'll be more than happy to have taken advantage of this rarely seen offer.
Finally, what do you think about Ivacy's holiday deal? Are you interested in getting this VPN subscription? Let us know in the comments section below. And also, don't forget to follow us on Facebook and Twitter. Thanks!