Ivacy VPN is running a special promotion, reducing the prices of its long-term subscription plans.
For our loyal readers, we've prepared a special coupon code that further reduces the price of Ivacy VPN.
Our coupon code can be used with Ivacy's 5-year plan, now priced at $65.00 – which comes down to only $1.08/month!
Ivacy VPN knows how to craft an unmissable deal – and this top-rated VPN is once again offering something remarkable for those wishing to subscribe. For a limited time only, Ivacy is offering all-time-low prices on its long-term subscriptions – so, here are all the details.
First of all, you should know that the regular monthly price of Ivacy VPN is $9.95, and we believe that this price is more than fair (more about this VPN's capabilities later on). However, at the moment, you'll find massive savings on the VPN's 1-year and 5-year plans. More precisely, the 1-year plan comes down to $3.33/month, while the 5-year plan is now only $1.50/per month. This means that you can save up to 86% on Ivacy VPN – but wait, as there's a way to lower those prices even more!
TechNadu's readers can take advantage of a special promo code (SQUIFFY) – and lower the price of this VPN's 5-year plan. Instead of paying $90.00, you will be charged $65.00 for the entire duration of this subscription. Differently said, the price goes all the way down to $1.08/month – and you'll hardly find a better VPN deal out there. Remember that the special promo code is SQUIFFY. And to avoid any confusion, here's how you can use it to reduce the price of this VPN subscription.
First, make sure to visit Ivacy's official website, where you'll see the new subscription prices if you scroll down a bit. Remember that this deal only applies to the 5-year plan, so make sure to select it.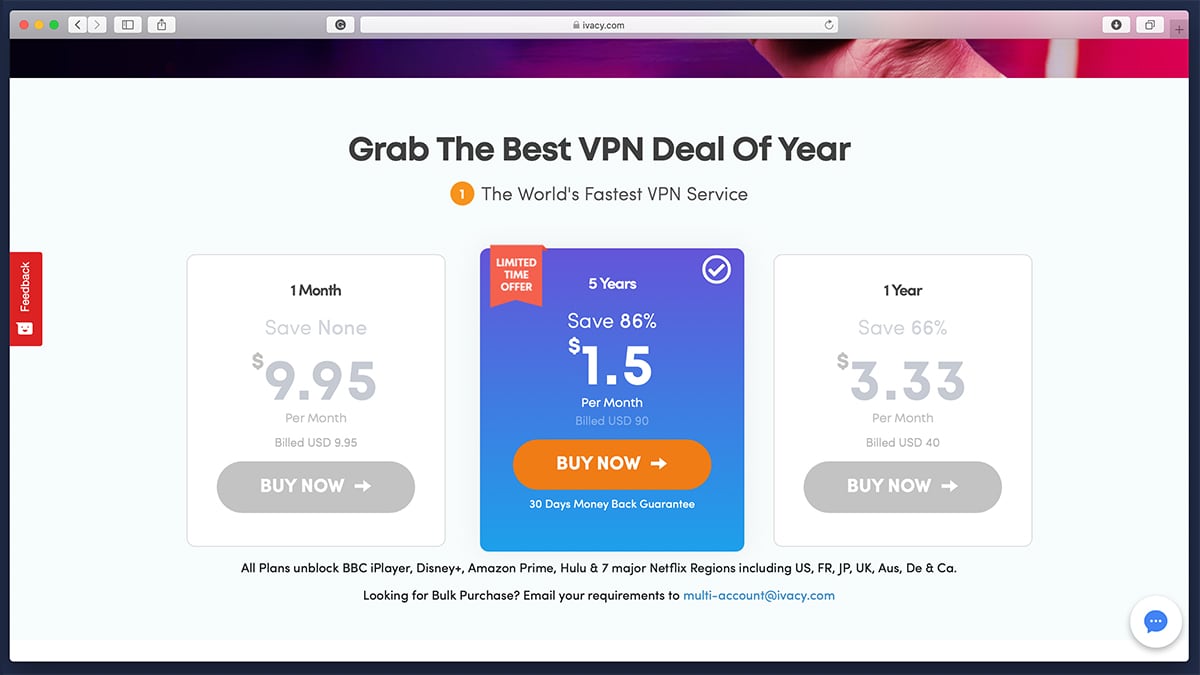 Once again, scroll down a bit until you see different payment methods. Choose the one that you're comfortable using.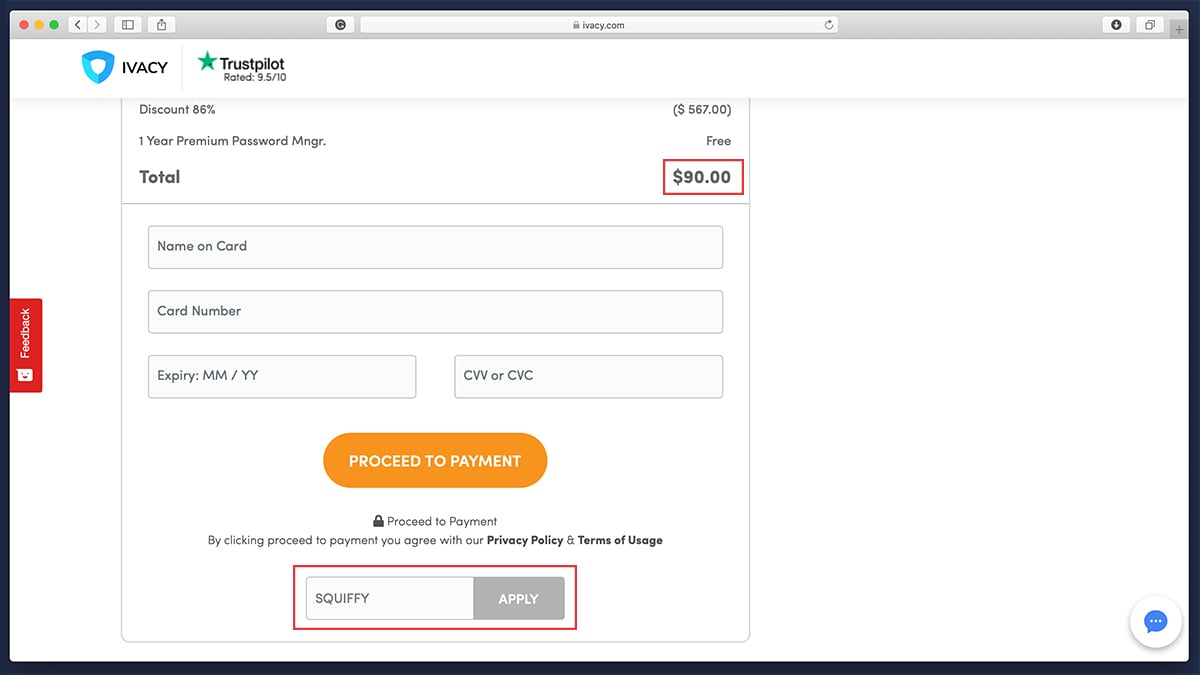 While filling out your personal information, you'll see a field for a promo code. So, make sure to type in SQUIFFY and apply the code. After a second, the price will go from $90.00 to $65.00 – which means that you'll save 89% on this VPN's regular monthly subscription!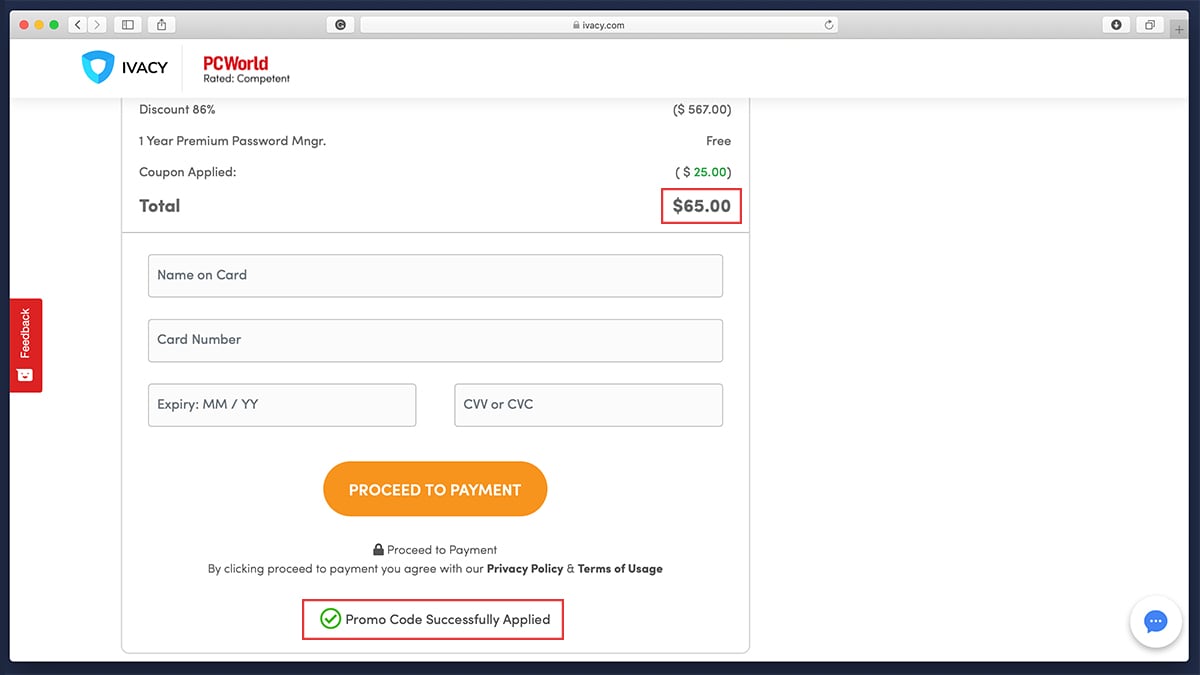 Finally, we'd like to add that Ivacy VPN is one of the most respected and trustworthy VPN services out there. You'll get access to more than 1,000 servers (100+ locations), an array of strong VPN protocols, high-end and ultra-secure AES-256 encryption, and the ability to unblock Netflix, Hulu, BBC iPlayer, Prime Video, and more. To learn all there's to know about this VPN – here's our Ivacy VPN review.
Remember to act on time, as this offer is valid only until February 28th, 2020. So, check our review for additional information about this VPN and subscribe to Ivacy VPN as soon as possible if you'd like to take advantage of this deal.