This year's iPhone generation has received a nice upgrade to its camera specs. That especially applies to ultra-wide cameras, now capable of capturing more light and focusing on objects up-close. With that said, we're here to show you how to take full advantage of this feature. So, let's talk about how to use the ultra wide camera on your iPhone 13.
The content you'll find in this article applies not only to the iPhone 13 generation. More precisely, what you'll read below applies to iPhones released in 2018 or later, as the iPhone 11 was the first Apple's smartphone to feature an ultra wide camera. 
What iPhone 13 Models Have Ultra Wide Cameras? 
All iPhone 13 models come with ultra wide cameras. More precisely, that includes the iPhone 13, 13 Mini, 13 Pro, and 13 Pro Max. 
However, it's worth noting that there's a difference between the ultra wide cameras found in various iPhone 13 models. Apple's high-end smartphones (iPhone 13 Pro and Pro Max) come with an ultra wide camera featuring the f/1.8 aperture, while the rest of this year's iPhones (iPhone 13 and Mini) have the f/2.4 aperture. 
That means the ultra wide camera on the 'Pro' models can capture more light. Also, it can provide greater depth of field, giving you greater control over how sharp or blurry is the area behind your subjects. Still, the ultra wide camera on the iPhone 13 and 13 Mini is more than capable, even for photography enthusiasts. 
How to Use Ultra Wide Camera on Your iPhone 13? 
You use the ultra wide camera on your iPhone 13 via the Camera app. If you have a third-party camera app, you use that one as well. So, here are the exact steps you need to take. 
1. Launch the Camera app on your iPhone 13. 
2. Now, make sure you're in the 'Photo' mode (just above the shutter button). 
3. Take a look just above the row of camera modes. You'll see several circular buttons. 
4. Those buttons represent different cameras on your iPhone. 
5. Tap on '0.5' to switch to the ultra wide camera. 
6. That's it! When ready, tap the shutter button to take your photo.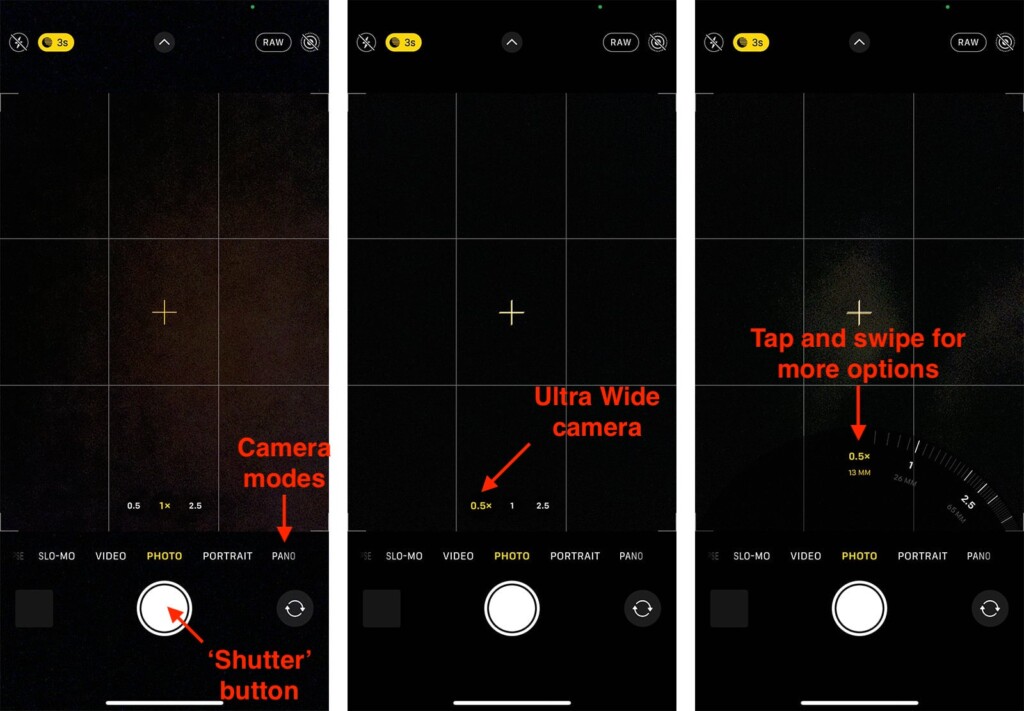 While you're here, we have an extra tip for you. Instead of tapping on '0.5,' you can press and then swipe left or right across the previously mentioned circular buttons. Doing that will let you switch between different apertures, giving you even more options.
Lastly, know that you can use the ultra wide camera on your iPhone 13 via pretty much any video or photo mode. For the first time ever, that applies even to low-light modes. To learn more, here's how to use your iPhone 13's cameras.
Want to learn more about your brand-new iPhone? If that's so, make sure to check our latest iPhone 13-focused articles. That's where you'll find the freshest news, tutorials, and guides showing you what's new about your phone.
That would be all on how to use the ultra wide camera on your iPhone 13. In case you have any questions, please post your comment just below. Lastly, thank you for reading!