Disney Plus is already available on a wide range of devices. However, you can now also use it on Kodi, which brings this hugely popular streaming service to even more platforms. And with that said, we'll teach you how to install Disney Plus on Kodi, what to expect, and more.  
Keep in mind that the Disney Plus addon requires you to have an active subscription. Therefore, if you haven't done that already, go ahead and subscribe to Disney+ (you can also learn about combining Disney+, Hulu, and ESPN+ into a single bundle). 
Let's also not forget to mention that you need to have Kodi 19 installed, at least. If you use an older version of this application, here's how to update Kodi. Once you do so, you'll be ready to install the Disney Plus Kodi addon, as explained below. 
In this article, we are talking about Kodi and this application's official and unofficial addons – all of which are based on open-source code. Addons for Kodi can come from the official source (you can install them via Kodi itself), or they can be hosted by third-party sources (such as GitHub, for example). In addition, Kodi and its addons are publicly available and free of charge.

TechNadu doesn't claim any responsibility for how our readers decide to utilize the following software. Please note that we don't condone sharing pirated content and copyright infringement. TechNadu is not affiliated with the software mentioned in this article in no way.

Make sure to carefully read everything said in this disclaimer and ensure the proper use of the software.
Disclaimer
IMPORTANT: Access More Movies & Protect Your Privacy Using a VPN!
When watching movies on Kodi – you HAVE TO use a VPN! That's the only way to secure your use of Kodi while getting extra content as well. Here's what VPNs bring: 
Get Access to More Movies: Most movie addons for Kodi are accessible from a few countries only. The only way to bypass that geo-block is to change your IP address, done using a VPN. You will GET ACCESS to ANY Kodi addon out there, including its entire content library!
Avoid the Risks of Using Illegal Addons: Most Kodi addons scrape their content from ILLEGAL sources, which might land you in a lot of trouble. Aside from PIRATED CONTENT, addons installed from the Web can contain MALWARE as well. To prevent others from exploiting your privacy, use a VPN (which hides everything you do in Kodi).
Prevent Your ISP from Tracking You: If your Internet provider sees you using Kodi, it might THROTTLE your Web connection. And if you're caught using ILLEGAL addons, you'll receive a copyright infringement notice. Avoid both of those dangers by hiding your traffic via a VPN.

 
Not every VPN is good enough for Kodi. You need one that unblocks every Kodi addon and protects your digital privacy (by hiding your data). After testing more than 60 VPNs, our team recommends ExpressVPN – the best Kodi VPN available today!
Save Big Today: For a very limited time, TechNadu's readers can SAVE 49% on ExpressVPN and get 3 EXTRA MONTHS added to their subscription. Act quickly!
How to Install Disney Plus Addon on Kodi 
Ready to get started? Here's how to install the Disney Plus addon on your Kodi. 
Double-click on 'Add Source,' and a pop-up should appear.
You need to click on '<None>,' and you'll be asked for a URL.
Go ahead with the following URL: http://k.slyguy.xyz.
Click on 'OK' to return to the previous pop-up. 
Name your new file source ('SlyGuy') and click 'OK' to dismiss the pop-up. 
Return one step to access Kodi's settings again. Then, click on 'Add-ons.'
Select 'Install from ZIP file.'
Navigate to 'SlyGuy,' and then click on 'repository.slyguy.zip.'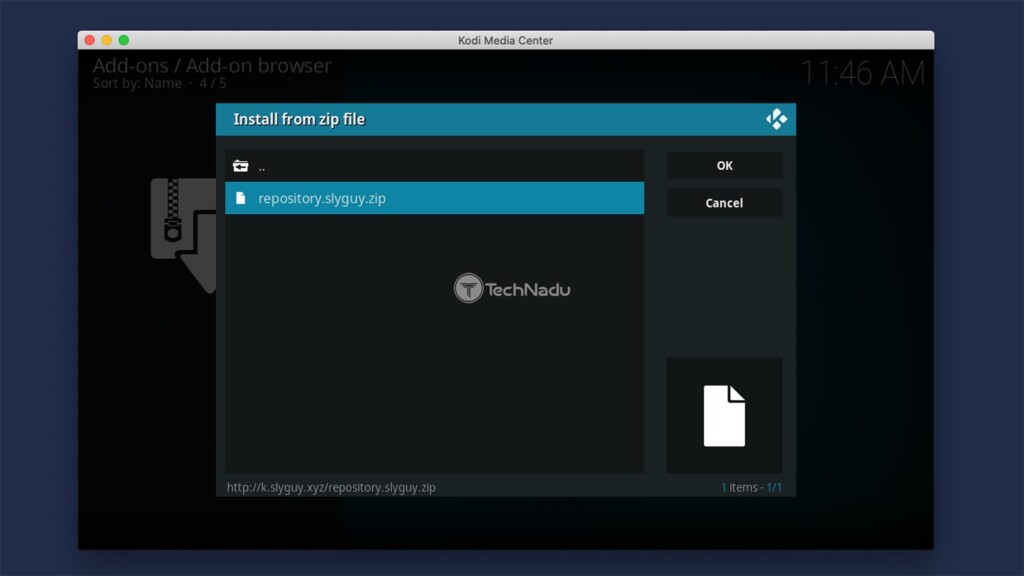 Then, select 'Install from Repository.'
Go to SlyGuy Repository > Video Add-ons > Disney+. 
Click on the addon's name to open its overview. Then, hit the 'Install' button.
After a few moments, you'll see a notification in the top-right corner of your screen.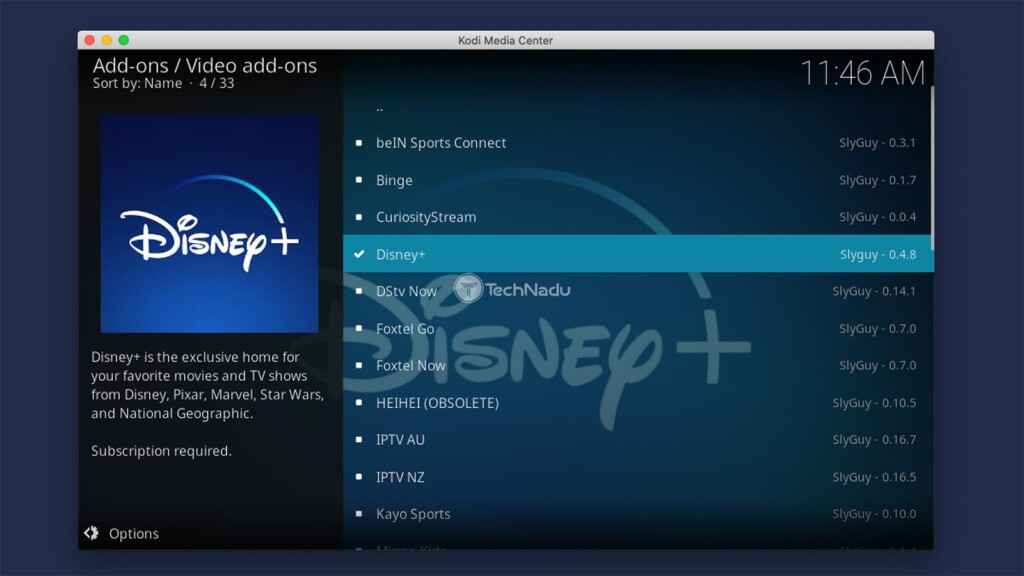 Open the addon and click on 'Log In.'
Input your Disney Plus credentials, and - that's it!
Is the Disney+ Addon LEGAL to Use? 
Yes, the Disney Plus addon is legal to use. 
As you can see, we're not talking about piracy or copyright infringement in this case. To use the addon, you need an active Disney+ subscription, which means that you'll pay to access the addon's content.
Useful to Know: How to Use Kodi Legally? – Here's All You Need to Know!
Still, keep in mind that this is an unofficial addon created by a third party (it doesn't come from Disney). Therefore, we can't make any promises regarding the addon's future development and whether Disney will allow you to access the addon in the future.
Is the Disney+ Addon SAFE to Use? 
Yes, the Disney Plus addon appears to be safe to use (for now). 
Still, this doesn't mean that we don't recommend exercising caution while using it. That's because (despite its name), this is an unofficial addon made by a third-party developer. Since it doesn't come from Disney, there's no way to guarantee its safety. 
In the past, we've seen that forks and clones of Kodi addons have posed a problem. That's the reason why cryptocurrency miners have plagued Kodi for a while, presenting a danger to your private data and your device's integrity.
Speaking in general, there are many reasons why unofficial Kodi addons aren't safe to use. And even though the Disney Plus addon has been benign so far, we recommend you to be cautious while using it. 
This is where we'd like to introduce you to VPN services. As Disney Plus is an unofficial addon, there are many valid reasons to get your VPN subscription.
First and foremost, a VPN will protect your digital privacy. By tunneling your Web data through its secure servers, no will be able to track what you do online (or while using Kodi). On top of that, unblocking platforms like Disney Plus (outside of their supported countries) will be possible.
However, don't think that every VPN is the same. You need one with high-end features designed for your privacy while providing streaming-optimized features. Therefore, our recommendation would be ExpressVPN. 
Where Is Disney+ Available? Can You Access It from Anywhere?
Currently, Disney+ is available across Europe, North America, Central America, South Pacific, South America, West Indies, and certain Asian countries. Its rollout will continue throughout 2022 and beyond.
Luckily for you, there's a way to watch Disney+ from anywhere (if you're an Android or iOS user). For that to happen, you need a capable VPN service – which, in this case, should not only work with Disney+ but with Kodi as well. And that VPN should be ExpressVPN. 
You have other options as well, suitable for different needs, priorities, and budgets. To learn more, we offer you our guide to the best VPNs for Disney Plus.
What Kinds of Content Can You Stream via Disney Plus on Kodi? 
Using the Disney Plus Kodi addon, you'll get to access this streaming platform's entire media library. As you already know, we're talking about Disney, National Geographic, Star Wars, and Marvel titles (both movies and TV shows). 
Know that Disney+ brings new content quite frequently, which means that there will always be something interesting to watch. If you need some recommendations, we suggest checking out The Mandalorian, The Big Fib, Clouds, Meet the Chimps, The Right Stuff, The One and Only Ivan, and more. 
Of course, the titles mentioned above are some of the most popular freshly released picks. Disney Plus provides you access to Disney's vault of classic titles, which are always fun to re-watch.
Do We Recommend Installing the Disney Plus Kodi Addon?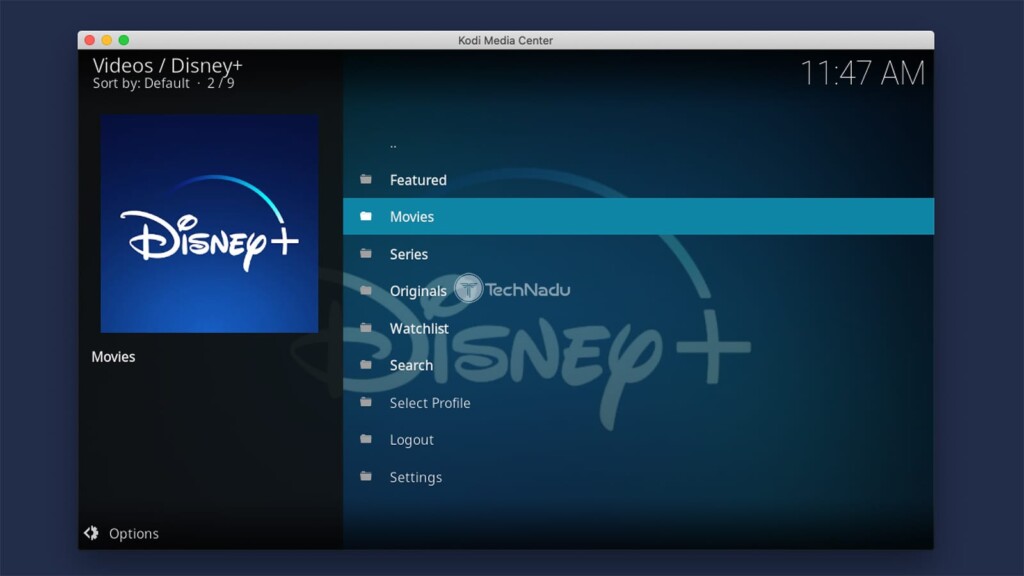 Yes, we recommend installing Disney Plus on Kodi. However, there's a catch.
As you know by now, this isn't an illegal addon (the same can't be said for the majority of unofficial Kodi addons). If we look at this addon from a legal perspective, there's nothing wrong with using it.
However, the fact is that Disney Plus can quickly turn malicious. Therefore, we recommend using this addon only if you protect yourself by using a VPN. You can learn more about that in the following segment – so, let's jump right in.
How to Protect Yourself When Using Disney Plus on Kodi? 
The most effective way to protect yourself is by using a VPN service. 
You should be very picky when it comes to choosing a VPN. Based on our hands-on experience of testing 60+ VPN services, we think the best one is ExpressVPN. 
So, what can VPNs do? First and foremost, they're designed to encrypt your Web traffic. That way, no one will know what you do on the Web. In other words, you'll be invisible online, which minimizes the risks of using unofficial Kodi addons, such as Disney Plus.
Essential Reading: Why Are VPN Services Useful for Kodi Users?
Then, VPNs help you unblock geo-restricted addons. Even if you stick to legal addons, you'll see that much of their content is available in certain countries only. Therefore, you get to access those addons and take full advantage of Kodi. 
In case you'd like to get started with VPNs, we recommend checking our overview of the best VPN services for Kodi. And then, you'll also want to learn how to set up and configure a VPN on Kodi. 
Disney Plus Not Working on Kodi? Check Out These Fixes!
Just like with other addons, Disney Plus can encounter problems on Kodi as well. We've gathered a group of quick fixes to common problems, so take a look below. 
Disney Plus on Kodi Showing a Connection Error Upon Logging-In
In case you see a connection error once you try to log in, this means that you're accessing Disney Plus from an unsupported country.
In that case, you need to use ExpressVPN and connect to a server in one of the countries where Disney+ is available.
Disney Plus on Kodi Not Syncing with Disney+ Account
By default, the Disney Plus Kodi addon won't sync with your Disney+ account. However, this can be changed by going into the addon's settings. 
Launch Disney Plus; Make sure to log-in to your account. 
Then, click on 'Settings.'
Select the 'General' tab on the left side. 
Lastly, click on 'Sync with Disney+.'
Disney Plus on Kodi Fails to Play Movies/TV Shows
Disney Plus requires you to have Kodi 19 installed. Therefore, make sure to update your Kodi to the latest available version (see how below). 
Alternatively, we have our troubleshooting guide to Kodi, where you'll find how to resolve a number of playback-related problems. So, make sure to take a look.
How to Update Disney Plus on Kodi
To update the Disney Plus addon on Kodi, go through the following steps: 
Locate Disney Plus and right-click on its icon. 
Then, make sure to select 'Information.'
The addon's overview should now appear. Click on 'Update.'
Select the latest update, and Disney Plus will be automatically updated.
How to Update Kodi
It's imperative to use Kodi's latest version in this case. This is a requirement before you get to use Disney Plus. Therefore, here's how to update Kodi to the newest version available. 
What Are the Best Alternatives to Disney Plus for Kodi?
Lastly, we'd like to provide you with a few alternatives to Disney Plus on Kodi. The following addons are legal and safe to use. Furthermore, they'll add a considerable number of movies and TV shows to your Kodi.
Netflix: We surely don't have to introduce you to Netflix. However, we have to say that this platform is integrated with Kodi in the same way as Disney Plus. Therefore, you'll need to use your credentials. To further enhance your experience, we recommend using a VPN made for Netflix (so you can access hidden Netflix titles). 
BBC iPlayer: Then, a free option. BBC's iPlayer brings a wide range of movies and TV shows, with new titles being added daily. This is a treasure trove of content, where you'll find many live channels as well. However, if you're not in the UK, you'll want to use a BBC iPlayer VPN to access the platform. 
Crackle: Lastly, another free option. Crackle is among the most popular platforms related to free movies and TV shows. It comes with an excellent selection of titles, both new and old. However, keep in mind that Crackle is available in select countries only. We'll teach you how to access Crackle from anywhere.
With that said, we conclude our guide to the Disney Plus Kodi addon. If you have any questions for us, don't hesitate to post a comment below. And of course, we'd like to ask you to share this article online. Thanks for reading – and enjoy using Kodi!