The most recent transparency report of 'CyberGhost VPN' indicates massive copyright infringement activity.
The service has also received several alerts for malicious activity and a couple of police requests.
'CyberGhost' answered none of these requests, as they do not keep any user data logs anyway.
How many requests for information were received by 'CyberGhost VPN' in July, August, and September 2020? The company's latest transparency report is out, indicating the current state of affairs in the field, and what shifts were fueled by COVID-19.
From malicious activity incidents to police requests, and from DMCA complaints to government restrictions, CyberGhost claims to have repelled everything that came on their way during Q3 2020.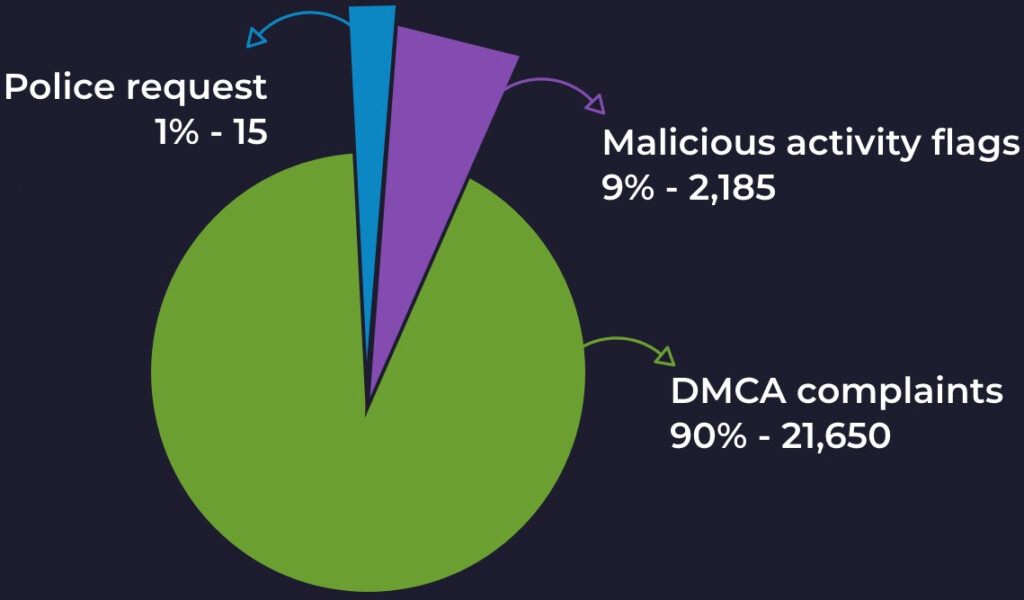 The total number of legal requests during the aforementioned period was 23,850, which is 12% higher compared to the previous quarter. From these requests, 2,185 concerned malicious activity warnings, 21,650 concerned DMCA complaints, and 15 were police requests. None of these requests could be answered with user data, according to CyberGhost, and even if they wanted to comply, they don't keep any data logs to share anyway.
The copyright infringement claims got the lion's share, which is consistent with what we saw in the previous quarter too. Apparently, many users are deploying VPN tools to access pirate IPTV platforms or participate in torrent swarms, and with the self-isolation situation that has people bound in homes for extended periods, this phenomenon has grown to massive proportions.
CyberGhost VPN Q3 2020 DMCA Requests
| | | |
| --- | --- | --- |
| July | August | September |
| 5,983 | 7,842 | 7,825 |
On the matter of police requests, CyberGhost VPN had 20 last quarter, so the 15 requests show a drop but are still worryingly high. No details were provided about who submitted these requests, which would be interesting. For example, CyberGhost is one of the VPN vendors who has opted to continue offering its services in Hong Kong following the law changes, and also in Belarus. In fact, the people of Belarus have even gotten free product keys recently, which is indicative of the firm's devotion to keeping online information accessible to everyone out there.
Recently, the service launched truly anonymous dedicated IP addresses that are based on anonymous tokens for linking accounts with IPs. This comes at no discounts in the protection of the user's privacy and security, and is actually a great example of how static IP addresses should work on all VPN products.
That said, no matter how you choose to use the product, CyberGhost isn't logging any user data and is not planning to change its policy on how they handle requests of all kinds. These transparency reports are merely published to serve as an indication of who would like to target VPN users.