This year's Indian Premier League (IPL 2021) is bigger than ever before. Viewers from over 120 countries worldwide will get to watch live (via TV channels or OTT services) this year's IPL – which means that you have plenty of options. With that said, we're here to help you learn how to live stream IPL 2021 outside India – by listing the available options and giving you detailed instructions.
So, no matter from which part of the world you want to watch IPL 2021 live, you'll have at least a couple of options. Here's everything you need to know.
Which TV Channels Will Broadcast IPL 2021 Outside of India?
In case you prefer to watch IPL 2021 live on your TV (as opposed to live-streaming it over the Web), the following TV channels will help you do that in select countries.
| | |
| --- | --- |
| Country | Broadcaster(s) |
| United Kingdom | Sky Sports Cricket |
| UAE | BeIN Sports |
| Australia | Fox Sports |
| MENA Countries | BeIN Sports |
| Pakistan | Geo Super |
| New Zealand | Sky Sports NZ |
| Bangladesh | Channel 9, Gazi TV |
| Afghanistan | Radio Television Afghanistan |
| Sri Lanka | SLRC (Channel Eye) |
Of course, if you don't have access to your local TV channel that broadcasts the IPL 2021, you can always turn to OTT services. In other words, you can always live-stream this year's IPL, so keep on reading to learn how that is done. 
How to Watch IPL 2021 Live Outside India?
Based on the country where you currently reside, a number of media streaming services will help you watch IPL 2021 outside India. We've focused on three OTT services with the biggest reach, so here's how to sign-up and use them.
Option #1: Watch IPL 2021 Live via YuppTV
Important
YuppTV is a subscription-based service available in 100+ countries. More precisely, you can use it in Australia, Continental Europe, Sri Lanka, Pakistan, Japan, Nepal, South East Asia (except Singapore & Malaysia), Central & South America, Central Asia, Bhutan, and the Maldives.
Currently priced at $59.99/year (the price can vary based on you local market), YuppTV is perhaps the simplest way to watch IPL 2021 live outside India. This OTT service brings several plans – bringing from 100 up to 150 TV channels, all of which come from India. It also includes Hotstar in select plans, while letting you stream Indian movies (on-demand) and plenty more.
To get started, go ahead and visit the official YuppTV website. Then, click on 'Packages' in the top-right corner, and you'll see the subscription plans available in your region. Pick the one that fits you the best and sign-up.
Once you subscribe, feel free to watch YuppTV on the Web (via its website), or you can access this streaming service on TVs, smartphones, tablets, gaming consoles, and plenty more.
Option #2: Watch IPL 2021 Live via Hotstar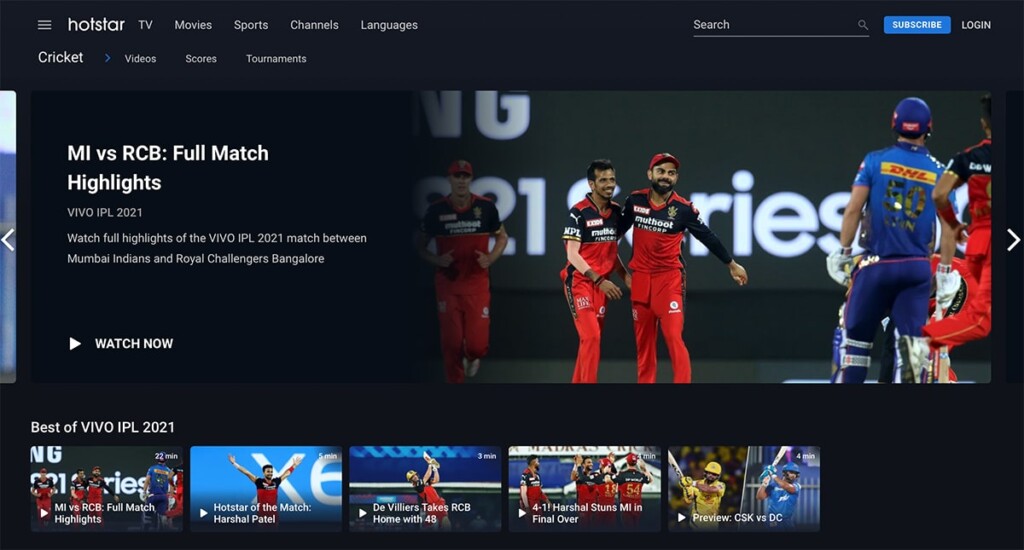 Important
Keep in mind that Hotstar is available in the United States, Canada, and India. You need to be in one of those countries to sign-up, as using a VPN isn't possible. Your Hotstar membership is not transferable from one country to another. 
In case you live in the United States or Canada, Hotstar is the best way to live-stream this year's Indian Premier League. This streaming service brings live TV and on-demand content from India (covering nine different languages), providing a comprehensive way to watch every single IPL game in 2021. 
Keep in mind that Hotstar is a premium-priced subscription service. In the USA, you can choose from a monthly subscription – priced at $9.99/month or a yearly subscription – $99.99/year. In case you're in Canada, there is only one subscription type available, where you'll need to pay C$ 49.99/year. 
To get started with this streaming service, make sure to subscribe to Hotstar first. Once you create your Hotstar account and pay for your subscription, you can proceed to download the app on any device you own. This includes iOS and Android, Fire TV, Apple TV, Android TV, Samsung smart TVs, and Chromecast. 
Option #3: Watch IPL 2021 Live via Disney+ Hotstar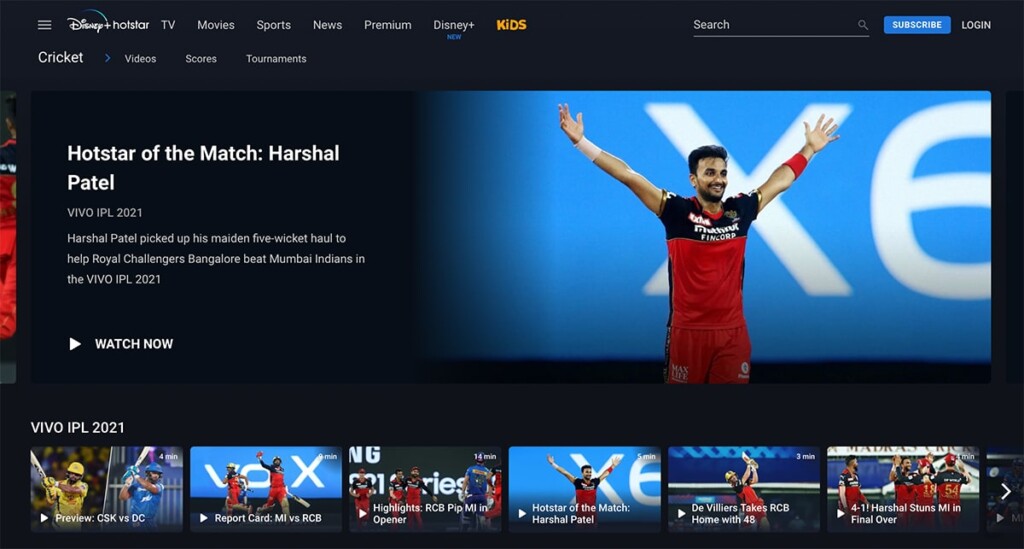 Important
Disney+ Hotstar is a media streaming service available in India only. However, you can use a VPN to access it from anywhere. So, if the two options above don't apply to your case, you can surely use this option to watch IPL 2021 live. 
Perhaps the best way to watch IPL 2021 live outside of India is to use a media streaming service available in this country only. If you add a VPN for streaming to this equation, this gives you the ability to use Disney+ Hotstar from any country in the world. So, here's what you need to do. 
1. First, go ahead and subscribe to ExpressVPN. 
2. You'll land on ExpressVPN's website, where you need to click on 'Get ExpressVPN.'
3. Pick a subscription. Know that long-term plans come with hefty savings. 
4. Then, provide your email address and finalize the sign-up procedure. 
5. Once done, you'll receive a confirmation email from ExpressVPN's team.
6. Now, you need to proceed to install ExpressVPN on your device. Check below. 
7. Then, launch ExpressVPN on your device (make sure to be on its home screen). 
8. Click on the button just below the ON/OFF switch to reveal all ExpressVPN's servers.
9. Now, use the search bar at the top and type in 'India.'
10. Then, click on the country's name to connect to ExpressVPN's Indian server. 
11. At this moment, proceed to visit the sign-up page of Disney+ Hotstar.
12. Go for either the VIP or PREMIUM plan (for streaming in HD and up to 4K). 
13. Register for a new Disney+ Hotstar account and pay for your subscription.
14. You'll get a confirmation email from Disney+ Hotstar once done. 
15. Then, return to the Disney+ Hotstar website and log in to your newly created account. 
Remember that each time you want to access Disney+ Hotstar on your device, you'll need to first connect to ExpressVPN's server in India. That is the only way this streaming service will recognize your location and grant you access. 
That would be all on how to watch IPL 2021 live outside India. In case of any questions or doubts, make sure to post your comment just below. And lastly, thank you for reading!