Apple's Special Event happens today - September 10, at 10 am PT. 
You'll be able to live-stream the event on various platforms and devices, including (for the first time) YouTube and Twitter!
The Cupertino-based company is expected to announce its iPhone 11 lineup, along with a new version of iOS and iPadOS, among other things. 
It's that time of the year again – we're getting ready for the official unveiling of an all-new iPhone lineup. Rumors about the upcoming iPhone have started circulating a while back, with numerous credible leaks appearing in the previous weeks. However, today's the day of Apple's September 2019 Event – when a whole series of new devices are expected to be announced. With this said, we're sure that many of you are interested in live-streaming and watching the event – and that's precisely what we'll talk about in this article. So, let's see how to watch the Apple September 2019 Event.
Before we continue, it's interesting to note that the Cupertino-based company has changed some things this time around. In addition to streaming the event live on its website and via its apps, Apple has decided to rely on third-party platforms like YouTube and Twitter. This means one thing – you now have numerous options to tune-in and discover all about the iPhone 11, as soon as possible.
Apple iPhone 11 Event – Date, Time & Location!
Apple will unveil a new generation of its iOS devices on September 10, starting at 10 am PT (1 pm ET). The company has chosen the Steve Jobs Theater at Apple Park in Cupertino to host the event. In case you want to see when does the event start based on your time zone, we recommend using this time-zone converter.
Therefore, and as you can see, the Apple September 2019 Event is just around the corner – so it's about time to find out how to live-stream it!
Watch Live via YouTube (Various Platforms)
Perhaps the easiest way to live-stream the iPhone 11 Event is via YouTube. This is the first time that Apple has decided to use Google's streaming platform in an effort to reach more viewers. With this said, this live-stream is already available, and you can reach it by clicking on the provided link.
For your convenience, we've embedded the live-stream on this page as well – so you can easily watch it, no matter which device or platform you use. Also, YouTube shows you the exact time when the event starts, based on your time-zone. Finally, note this live-stream is available via the official YouTube app – available for a whole series of devices, so you can use it on your computer, smartphone, tablets, media streaming devices, and plenty more.
Watch Live via Twitter (Various Platforms)
Interestingly enough, Apple has also decided to use Twitter to live-stream its iPhone 11 unveiling. To tune-in, you need to visit the Apple Twitter feed.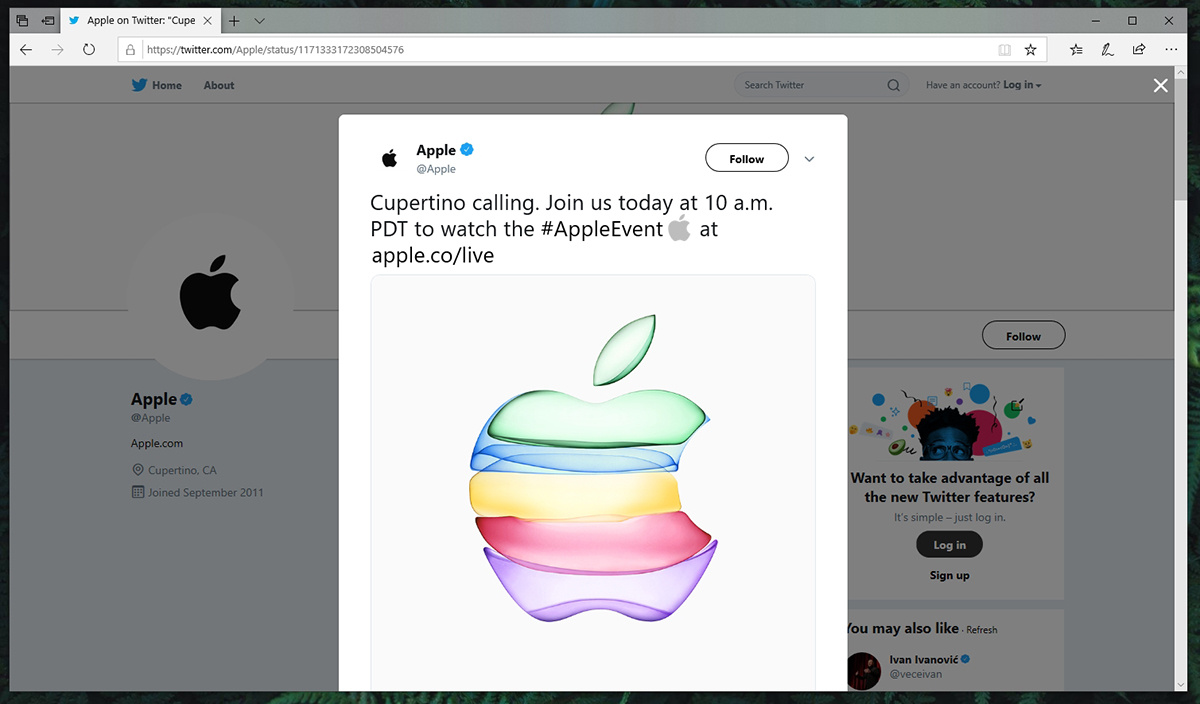 In case you open Apple's live-stream tweet and 'Like' it, you will also get a notification before the event starts – so, there's no way of missing it.
Live-Stream on iOS and Android
In case you own an iOS device (including both iPhones & iPads), you can live-stream the iPhone 11 Event by visiting the Apple Events website. To get the very best streaming experience, make sure to use Safari. Alternatively, you can also watch the event on YouTube and Twitter via their official apps on the Web – as described above.
Those of you using Android devices are also in luck. In case you haven't that done already, make sure to download YouTube for Android. Then, just before the event starts, go to Apple's YouTube page – which is where you'll see the live-stream available.
Live-Stream on Windows & macOS
Until recently, the only way to live-stream Apple Events was by using Safari on desktop operating systems. However, this is no longer the only possibility. Now, you can watch the Apple September 2019 Event on your Windows and macOS computers.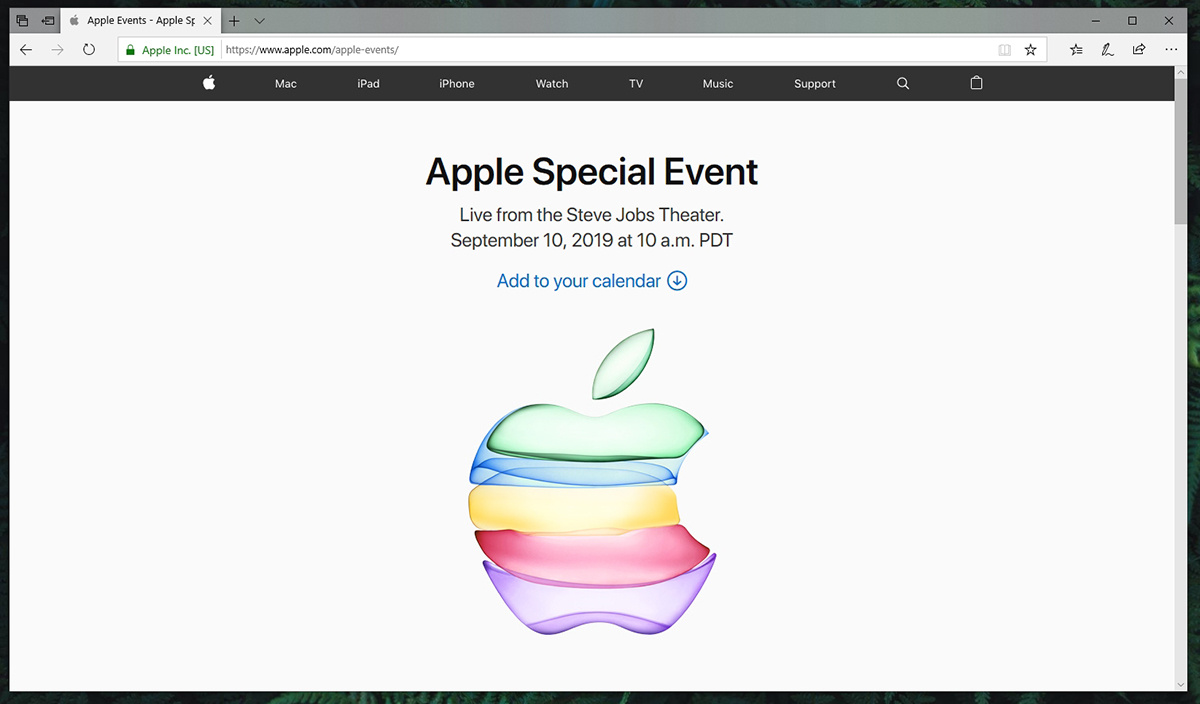 So, the live-stream can be reached on Apple's website – which you can do by clicking on the provided link. In case you have a macOS computer, you can use Safari running macOS 11.12 Sierra and later. If you have a Windows computer, you can use Microsoft Edge running on Windows 10. Alternatively, the latest versions of Chrome and Firefox (that support MSE, H.264, and AAC) should do the job as well.
Watch Live on Apple TV
The latest Apple TV has received a lot of attention lately – becoming one of the most promising media streaming devices. As you surely know, Apple's own media streaming platform was recently announced, and we expect Apple+ to launch in November. There's also a way to watch the Apple September 2019 Event on Apple TV as well.
So, all you need to do is to download the Apple Events app on your Apple TV. Once downloaded, open the application and you should see the upcoming event already listed. The app also allows you to watch previous Apple Events, which is a nice touch.
Dear Apple fans, are you feeling excited? What do you expect to see from today's Apple Event? Let us know in the comments down below. Also, make sure to follow our social media profiles on Facebook and Twitter - and you'll get to learn the latest information first!