Many of the VPN service providers that got Roskomnadzor's notice have responded.
They all deny complying with the demands, placing their users' privacy and freedom above all else.
Russia is gradually becoming the new China, in terms of internet censorship and access control.
Yesterday, we covered the news that wanted Roskomnadzor (Russian Federal Service for Supervision of Communications, IT and Mass Media) to send a notice to ten major VPN providers, asking them to comply with Russia's domain blacklist within a month, or become part of it. Since many Russian citizens are relying on these major providers to freely and anonymously access the internet, there is a lot of stir that got generated since yesterday. We have reached out to the VPN service providers who received the ultimatum and asked them about what they are planning to do in the upcoming month, so here are their responses.
What's your take on this? @expressvpn @NordVPN @IPVanish @TorGuard @hidemyass #HolaVPN @OpenVPN @VyprVPN @vpnunlimited https://t.co/lO0zzhmZtC

— TechNadu (@TechNadu) March 29, 2019
Amina Yepisheva, PR Manager of VPN Unlimited, has told us via mail the following: "KeepSolid VPN Unlimited is not going to cooperate with Roscomnadzor and under any circumstances will not join the Registry of prohibited sites in Russia. In case of blocking, KeepSolid VPN Unlimited will continue its fight against the censorship as we already have years of experience of combat with the Great Firewall of China. Our team developed a special KeepSolid Wise technology which disguises VPN traffic as HTTPS traffic. This is designed for use in countries where the use of VPN is blocked." and they published an official response on their blog.
VyprVPN has published a post on their official website, writing the following: "The strong censorship and oppression of the Russian regime was the main reason for us to avoid locating any of our servers inside of Russia. Our core mission is to keep the Internet open and free, and therefore, we will continue to provide uncensored access to the Internet in Russia and around the world. We will not cooperate with the Russian government in their efforts to censor VPN services."
NordVPN has also published an official response on their website, highlighting the level of privacy, security, and freedom that they provide for their customers. They do not keep any logs of what their users do online, and thus it's impossible for them to offer anything meaningful for Roskomnadzor. As they characteristically point out: "It would be impossible for us to comply with Roskomnadzor's request and to continue operating our product, which is why we will be unable to comply. NordVPN will shut down all of its Russian servers. Some users may have to change their configurations to continue using NordVPN. In all other respects, NordVPN's service will remain unchanged."
IP Vanish has also responded through a post on their blog, saying that "Concerning Roskomnadzor's censorship demands, IPVanish refuses to comply. IPVanish will always treat blacklisting requests with the same regard. While we regret not being able to serve customers with physical servers in Russia, our position on logging is absolute. The same is true of our views on censorship: we believe in an open internet, and will not be pressured into enforcing unjust restrictions by any governing body. Furthermore, you can trust that we at IPVanish will always prioritize the integrity of our network and the privacy and security of our users. While we remain technically capable, we will continue to offer our VPN service to Russian users via our other servers." 
Others, like HideMyAss! and OpenVPN tweeted on TechNadu's handle, clarifying that they will not comply with Roskomnadzor's request.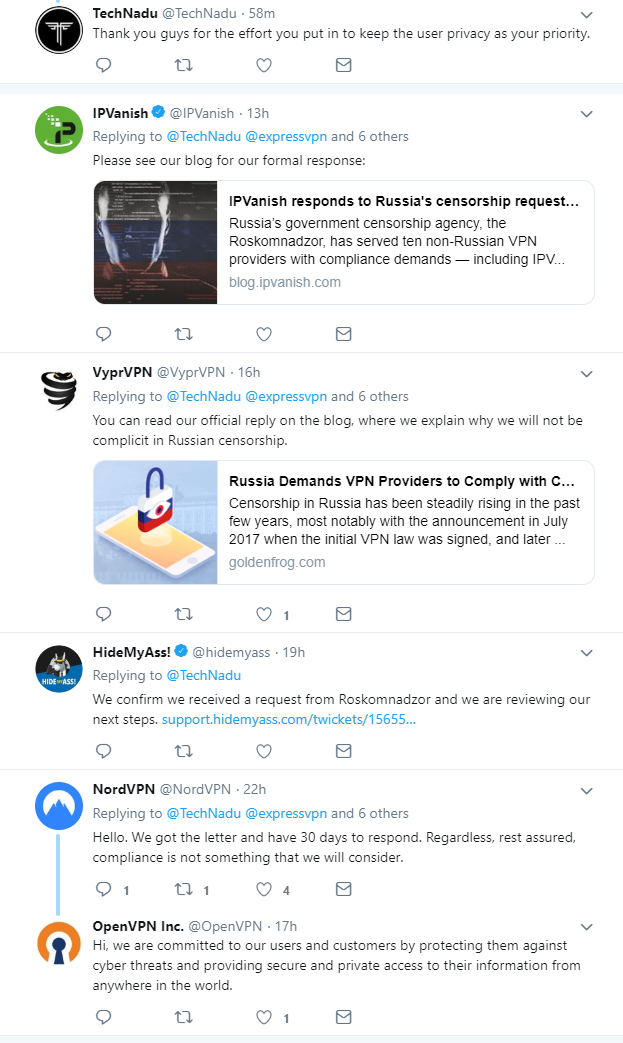 The first to respond yesterday was TorGuard, who decided to remove their Russian-based servers immediately while adding servers in neighboring countries to ensure that their Russian users will still enjoy fast speeds. Those who have not responded to the matter yet, but still have 30 days to do so are ExpressVPN, Kaspersky Secure Connection, and Hola VPN.
Now, with all that is going on, it is good to see that the responses of the VPN providers are moving along the same lines, putting their users' privacy and freedom above all else. Their rigid policies could be precisely what drove Roskomnadzor to send the notices to this specific group of VPN providers, while others did not receive an ultimatum. If Russia takes things further, we may see these services get banned in the country, and when this happens, people will have limited alternative choices. We have revisited and refreshed our list with the best VPN services for Russia, so you can have something to cling on to if things go wrong with your favorite VPN provider.
The affected VPN providers who responded to the Russian blocking demands have had to deal with similar pressure in the past as well, starting as early as in 2016. IPVanish, for example, has moved their "Russian" servers just outside the borders for this reason. NordVPN is apparently planning to follow this approach as well, trying to maintain adequate browsing and downloading speeds for their Russian customers. VPN Unlimited on the other side will try to mask VPN traffic as HTTPS, something that has worked for them against the Great Firewall of China in recent years. This goes to show that there are ways to still circumvent the blocks, but inevitably, they will all come with some level of compromise for the user experience.
Do you think that Russia is on its way to winning the first position as the most oppressive country (as far as internet access goes) in the world from China? Share your thoughts in the comments section below, and don't forget that you have the power to help us spread the word by sharing this post through our socials, on Facebook and Twitter.