Welcome to TechNadu's Live-Blog!
Finally, we'll get to see the long-awaited iPhone X! I am sure you're as excited as we as here at TechNadu, and we hope you'll stick with us until the end of Apple's Media Event.
So, here's what you can expect. This blog post will be updated with the latest news from the iPhone X Event as they come. This means that you'll get to learn new details first, and see the latest images of the new devices. Make sure to refresh this page often, to see the latest information.
09.47 PDT: Interested in how the all-new Steve Jobs Theater looks? Here are some of the first images from the inside:
09.54 PDT: It seems like this Apple Event is going to be of the huge importance to the company. Among some of the well-known individuals in the audience are J.J Abrams and Laurene Powell-Jobs. Some rumors have pointed to a new ARKit, so we'll likely see Star Wars involved.
10.00 PDT: The show's about to start. Hope you're ready!
10.03 PDT: Tim Cook welcomes the audience to the new Steve Jobs Theater. We've been greeted by a small video introduction featuring the iconic Apple CEO, Steve Jobs.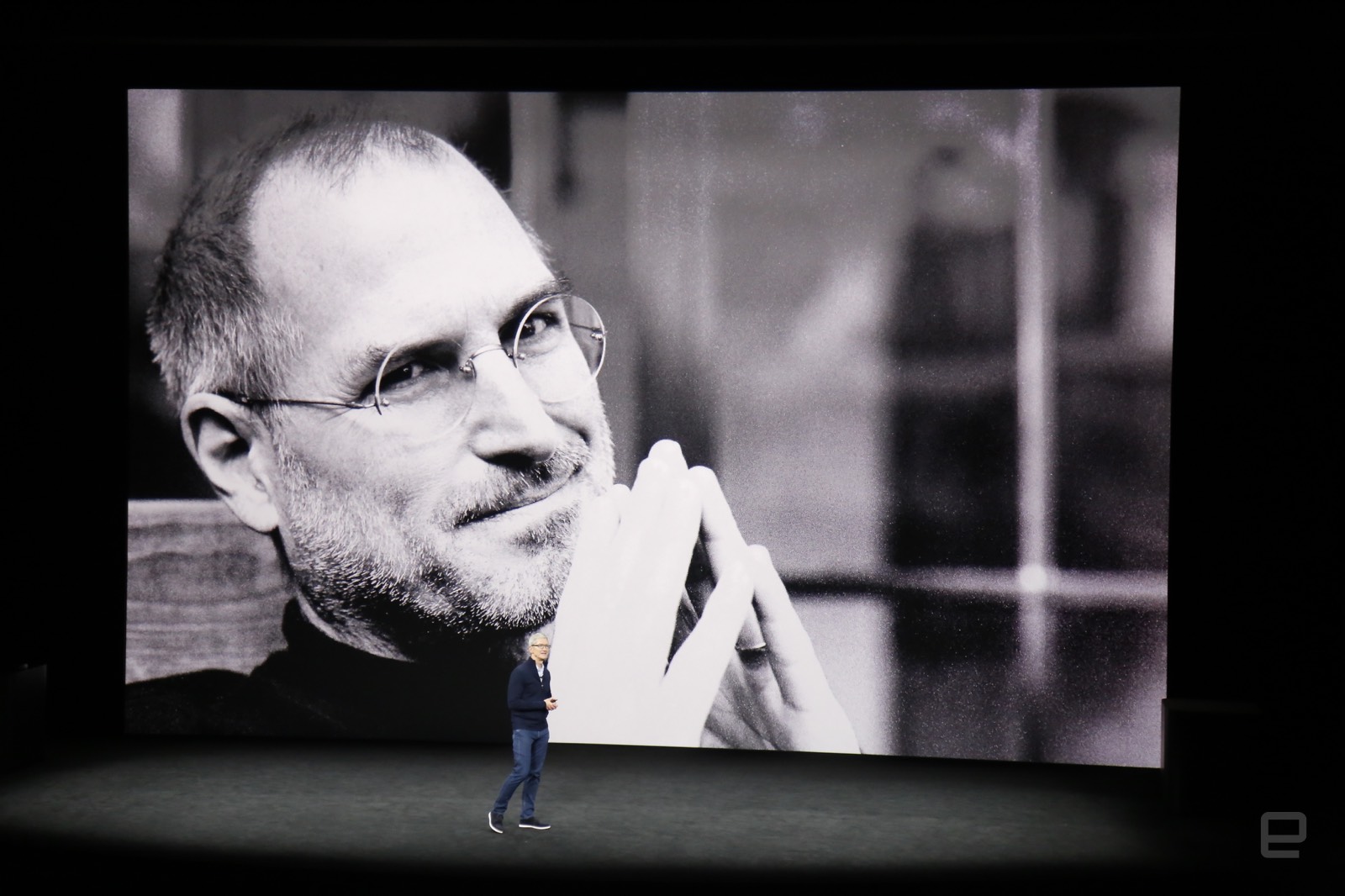 10.08 PDT: As reported, some users are having a hard time live-streaming the Event. Hope this will be resolved quickly. Either way, stick with us.
10.11 PDT: Tim Cook is now telling us about the Apple Campus. It is powered by renewable energy and has a 175-acre green space. Lots of trees as well. 9,000 of those!
10.12 PDT: And now, a few words about Apple Retail. The stage welcomes Angela Ahrendts, Apple's Senior Vice President of Retail.
10.15 PDT: Apple Stores have been going through a change. Numerous locations now have plazas and forums where people gather. Numerous new educational programs as well, like "Today At Apple".
10.18 PDT: New Apple Stores soon to be opened. Chicago will receive its grand Store on October 20th.
10.20 PDT: Now let's talk about the Apple Watch. This is now the #1 watch in the world, well above other popular companies like Rolex and Fossil. Customer satisfaction rate is at 97%. A truly astonishing figure.
10.25 PDT: Now it's time talk about the future of Apple Watch! Jeff Williams is out on the stage now. He's saying that Apple is working hard to develop the Watch's health-related features. We're seeing some improvements to the Heart Rate application. You'll be able to to see your resting rate and recovery heart rate. Your Apple Watch will soon be able to alert you of heart condition like arrhythmia. In addition, users will be able to take part in medical studies using apps.
10.30 PDT: Get ready for - Apple Watch Series 3!
10.31 PDT: Just like rumors suggested, the Apple Watch Series 3 comes with cellular connectivity. As you can see from the image above, there's a red dot on the crown - another think leaked by rumors in the previous months. How can you take advantage of that? With Apple Music! The company just announced that Apple Music is coming to your Watch next month.
10.35 PDT: The Watch now comes with an altimeter. You're going to love this if you're a hiker or climber. Other features include an all-new antenna for LTE and UMTS embedded in the screen, as well as an electronic SIM card embedded within the Watch. It's safe to say that we'll see electronic SIM in iPhones, soon enough.
10.36 PDT: The hardware looks the same. You probably won't notice any physical differences between the current generation and the Series 3. The backplate is a bit thicker, but that's barely noticeable.
10.38 PDT: There's a new Sport Loop (woven) band in addition to a new Dark Grey ceramic watch. The Series 3 Watch is priced at $399; Without cellular connectivity - $329. You are able to buy the Series 2 Watch for $249.
10.39 PDT: The new Apple Watch will be available on September 22nd. It will launch in 9 countries, with 14 carriers. In addition, expect the Series 3 to reach more markets by the end of the year.
10.40 PDT: Tim Cook is back on stage. We're about to hear the latest Apple TV news.
10.41 PDT: As expected - Apple TV 4K is introduced. Yet again, rumors leaked this information a while back. Eddy Cue is out to talk about the new Apple TV.
10.45 PDT: The new Apple TV 4K supports both 4K and HDR. In addition, HD-10 and DolbyVision are also supported. The company has installed a 4K DolbyVision projector in the theater to showcase the new product. As you can expect, everything has been remastered to support the ultra-high definition - from the system's UI up to screensavers. Another tidbit - the new Apple TV now comes with the company's own A10X chip which promises to bring up to 4 times better GPU performance.
10.47 PDT: Another good news - Everything you've previously purchased will be upgraded to 4K! Furthermore, Netflix and Amazon (who already offer 4K content) will be updated to support the new Apple TV.
10.52 PDT: Apple hasn't forgotten about gaming. Jenova Chen, CEO of ThatGameCompany is now on the stage to show a new game developed for Apple TV. The game is called Sky and you can control it using the Siri remote. We sincerely hope that more developers with join the bandwagon and develop stunning games for this platform. Sure, it can't replace consoles but there's a huge potential in what Apple TV has to offer.
10.54 PDT: The new Apple TV 4K starts at $179 for 32GB and $199 for 64GB.
10.54 PDT: Finally, Tim Cook is out on the stage. It's time to talk about the all-new iPhone!
10.55 PDT: We're seeing how the company's smartphone changed over the last decade. It's truly stunning to remember the original iPhone and how it looked like and to compare it to the device we're about to see.
10.57 PDT: Finally, the iPhone 8! We're seeing a video that shows the device and its all-glass back. In addition, there's a custom aluminum alloy, internal steel and copper structure.
10.58 PDT: The iPhone 8 comes with a TrueTone display that changes the color and temperature according to surrounding ambient light. New stereo speakers are 25% louder than the ones on the iPhone 7. Also, there's a new chip inside - the A11 Bionic. It's 70% faster than the previous one, the A10.
11.04 PDT: We're hearing a lot about the iPhone 8's camera. New imaging engines, new color filters, and more. The lenses feature f1.8 and f2.8 apertures - brighter than before.
11.07 PDT: There's also an enhanced Portrait mode. It uses machine learning to apply advanced lighting effects. We're seeing a demo right now, and it truly looks interesting. What's important to be said is that these aren't filters, but a real-time analysis. Furthermore, the company also designed a new video encoder - with faster and better frame rates.
11.08 PDT: The new iPhone shoot videos 4K videos at 60 frames per second. 1080p videos feature slo-mo as well.
11.10 PDT: Now, let's talk about Augment Reality. The new cameras have been calibrated to feature a kind of AR, deeply integrated into iOS. We're seeing a number of different demos that showcase Apple's AR like a game developed by Directive Games.
11.12 PDT: The game is a tabletop multiplayer game - the first of its kind built for AR. Basically, you hold the phone in your hand and move it around a table that's in front of you. On the phone's screen, you'll see AR objects moving in real-time.
11.15 PDT: The iPhone 8 comes with wireless charging! Not a surprise, considering how many rumors about this we have been hearing. Apple is using the Qi standard, meaning that you can choose from a large number of third-party accessories.
11.17 PDT: The iPhone 8 is priced at $699 for 64GB which is the most affordable option. The iPhone 8 Plus starts at $799.
11.20 PDT: Tim Cook is back on the stage. Looks like we're about the learn about the iPhone X!
11.21 PDT: We'd like to introduce you to the - iPhone X! It comes with a Super Retina display, at 455ppi - the highest pixel density on any iPhone. Also, it featured OLED technology.
11.22 PDT: As you can see, the Home button is missing. Instead, you swipe from the bottom to open the Home. In addition, the side button is not reserved for Siri.
11.24 PDT: As you can image, Touch ID is missing. So, how do you unlock your phone? Using Face ID! You look at your phone to unlock it - simple as that. This feature is enabled by an all-new True Depth camera system.
11.26 PDT: The new A11 Bionic chip plays a major role in this feature. As Phill Schiller just said, this hardware is built as a neural engine capable of machine learning. It features a dual-core design capable of doing 600 billion operations per second. Sounds impressive, right?
11.30 PDT: There's no need to fool Face ID. If you wear a hat or change your hairstyle, Face ID will manage to recognize you. In fact, it learns over time and become more efficient.
11.31 PDT: You will be able to use Face ID to authenticate your Apple Pay purchases.
11.33 PDT: Now, animoji! These are emojis created by your face. As you change a facial expression, you animoji changes. You can also record a voice message that will be played along with your animoji.
11.35 PDT: Now we're getting a demo of how everything works on the new iPhone X. For example, swipe from the top to activate the Control Center. You can also move between apps by swiping from the bottom.
11.37 PDT: Apple has also developed new face filters that use the all-new face tracking.
11.40 PDT: Now let's talk about cameras. The new iPhone X comes with 12MP dual cameras on the back. It also features improved sensors, as well as a new color filter. As Phill Schiller just noted, the new cameras allow 36% more lighting to come into the lenses. Finally, the flash now consists of four LED lights which result in a better lighting.
11.42 PDT: The good news is that Portrait Mode is now also available on the front-face camera. It is based on the True Depth technology.
11.45 PDT: As expected, the iPhone X is based on the A11 Bionic chip. The phone also comes with wireless charging via Qi standard. There's a new accessory that you can use to charge up to three Apple devices at the same time. The accessory is called - AirPower. Sadly, it will be available next year.
11.48 PDT: Here are a couple more images, as we're seeing a video showcasing the all-new iPhone X.
11.50 PDT: In case you care about ecology (and we sincerely hope you do) you should know that the iPhone 8 and iPhone X are highly recyclable.
11.51 PDT: The iPhone X is available for pre-order on October 27th. It ships on November 3rd. The price is - $999.
11.52 PDT: Apple CEO Tim Cook is back on the stage. He is summarizing what we just saw and wrapping up the presentation.
That's all folks! We sincerely hope you enjoyed the iPhone X Event as much as we did. However, that is not the end! TechNadu will bring a series of articles about the newly introduced products where you'll get to learn more about their featured. Stay tuned to TechNadu!