We hope that you're aware of the importance of backing up your data. This is especially true when it comes to our smartphones, which often hold our most precious memories. However, the problem is that there are too many options out there. If you're an Android user, Google can back-up plenty of data including your apps, photos, contacts, and even SMS and email messages (among other things). And depending on if you own a phone made by LG, Samsung, Nokia, or any other manufacturer – there are additional back-up and recovery tools that are often overly limited. With this said, we'll use this article to talk about Tenorshare UltData for Android.
Being an all-in-one solution, this application promises to restore various types of data that you think are lost for good. In other words, you can restore your contacts, messages, call history, photos, videos, and more. However, how well does this application work? Can it truly replace all other similar solutions? Well, we're about to find out. Welcome to our hands-on review of Tenorshare UltData for Android!
For starters, let's introduce you to this application. The following table lists some of the basic information about UltData, and we'll make a note of its standouts. So, take a look.
Overview
| | |
| --- | --- |
| Product Name | Tenorshare UltData for Android |
| Supported Platforms | Windows and MacOS. |
| Unique Features | Supports plenty of file types; Compatible with various Android versions; Easy to use. |
| Price | $35.95 (1 Month); $39.95 (1 Year); $49.95 (Lifetime). |
| Visit | Tenorshare UltData for Android |
We test every application that comes our way in an in-depth way. This means that our reviews can be somewhat lengthy, as we do our best to uncover even the tiniest of features. So, if you don't have the time to read this entire article, we've prepared a table with our findings.
The Bottom Line
| | |
| --- | --- |
| Pros | Usable for rooted devices only. |
| Cons | Misleading marketing messages; Severely overpriced; Not for average home users; Semi-helpful support. |
| The Final Verdict | Unless you're willing to root your device, UltData for Android doesn't seem like the best solution. You can easily find better alternatives (especially if you back-up your data on time). |
| Our Score | 4.7/10 |
Finally, let's jump to what you really want to know. We've spent plenty of time testing Tenorshare UltData for Android, and there's plenty to cover. Keep on reading, and you'll find our full and hands-on review of this Android back-up solution.
Tenorshare UltData for Android – TechNadu's Review
Before we start, we need to tell you that we've tested the version 5.2.7 of this application. Also, we've tested Tenorshare UltData for Android on our Windows 10 PC – even though this application also works on MacOS (as you're about to see).
Platform Compatibility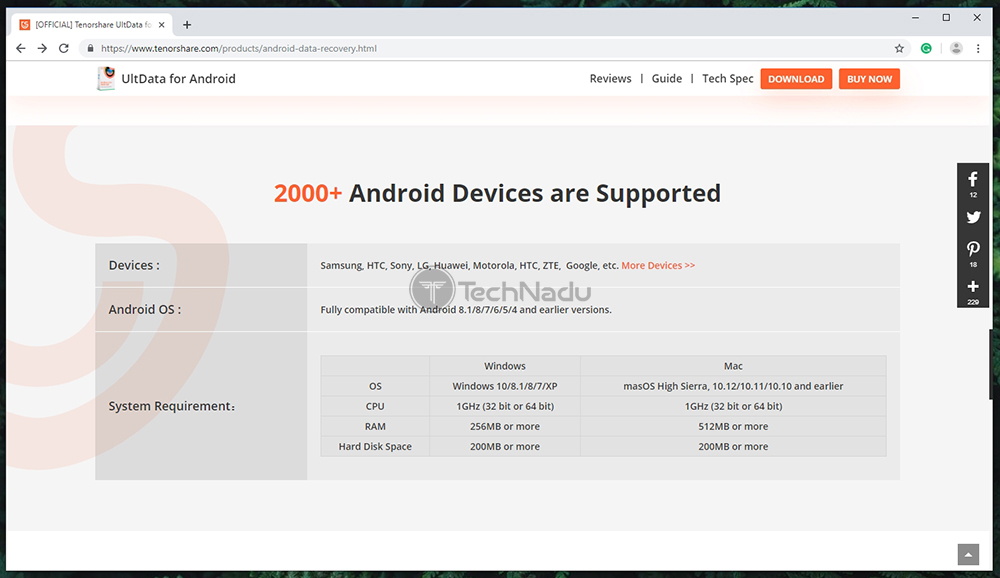 Even though UltData is compatible with various platforms and Android versions, there's a big caveat – you need a rooted device to use all of UltData's options. Our Score: 3/10.
As you can already tell, this application is designed to be used with Android smartphones and tablets. This means that you need to install it on your computer first, where the supported platforms are Windows and MacOS. With this said, it's clear that we have a combination of at least two platforms here. You can either use a Windows or MacOS computer that needs to be connected to your Android smartphone. The following table will tell you which version of these platforms are supported.
| | |
| --- | --- |
| Operating System | Supported Versions |
| Windows | 10 / 8.1 / 8 / 7 / XP. |
| MacOS | High Sierra, 10.12 / 10.11 / 10.10 and earlier. |
| Android | 8.1 / 8 / 7 / 6 / and earlier. |
As you can see from the table above, even some pretty old machines can run this application just fine. The same applies to Android devices. You can have a smartphone or tablet running a severely outdated Android version, and still be compatible with this application. However, once we started to dig deeper into UltData's documentation, we found something interesting. The chances are that you'll need a rooted Android device to fully unleash the potential of Tenorshare UltData for Android. So, let's explain this situation, even though you can learn more on the official Tech-Spec page.
Rooted Android Devices: In case you've rooted your device, you'll get to extract any type of data that UltData supports. This includes contacts, SMS, call history, photos, videos, and more.
Unrooted Android Device: If you don't want to root your device, you can only extract two types of data, and this includes photos and videos.
It's important to be said that rooting your smartphone might void your warranty. In addition, please note that if you're not experienced with this procedure, you might end up with a bricked device. And also, there's the chance that some apps or service won't work, including online payment services and streaming services offering copyrighted movies and TV shows. Before you proceed, make sure to read this article on Android rooting (published by Android Central).
We conclude that Tenorshare UltData for Android is compatible with a huge range of devices.
Installation Process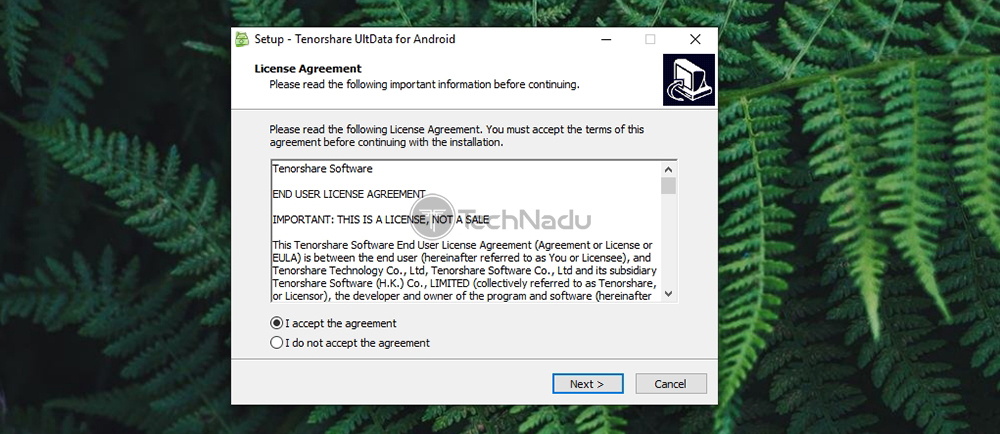 Before you begin using this application, you need to install it (along with third-party Google services), connect your phone, and enable dev tools and debugging. Our Score: 7/10.
You can download Tenorshare UltData for Android from its official website by either choosing its Windows or MacOS version. On Windows, its installation file comes in at around 30MB, so it's pretty lightweight. Download the software and double-click on its installation file to begin the procedure. Choose where to install the files, if you'd like to create shortcuts, and that's about it. If you have a fast Web connection, the entire process shouldn't take more than a few minutes.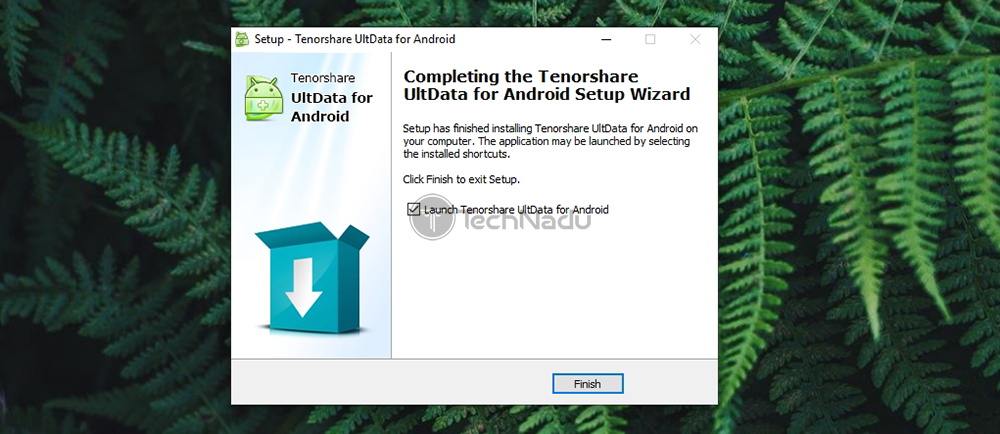 The first time you open UltData, you'll be asked to install third-party Google services (needed to connect your smartphone or tablet to your computer). So, confirm when asked whether you want to install these. Then, connect your Android smartphone or tablet via a USB cable and the application should recognize it instantly. This is when you'll need to enable developer tools on your smartphone, which is done by going to your device's Settings app. UltData shows a handy tutorial that will walk you through the process one step at a time. However, since there are so many Android versions out there, you might need to research on the Web about enabling debugging tools based on your device's model name or number.
We have to say that Tenorshare has tried to really simplify this entire process. However, since it has to dig deep into your Android device, it needs to have access to its core. That's why you need to enable developer tools and debugging. Once again, we would have liked to see this clearly presented on Tenorshare's website, as this might be a warning for Android phone owners who aren't willing to allow any third-party app to have such complete and deep control of their device.
User Interface & Ease of Use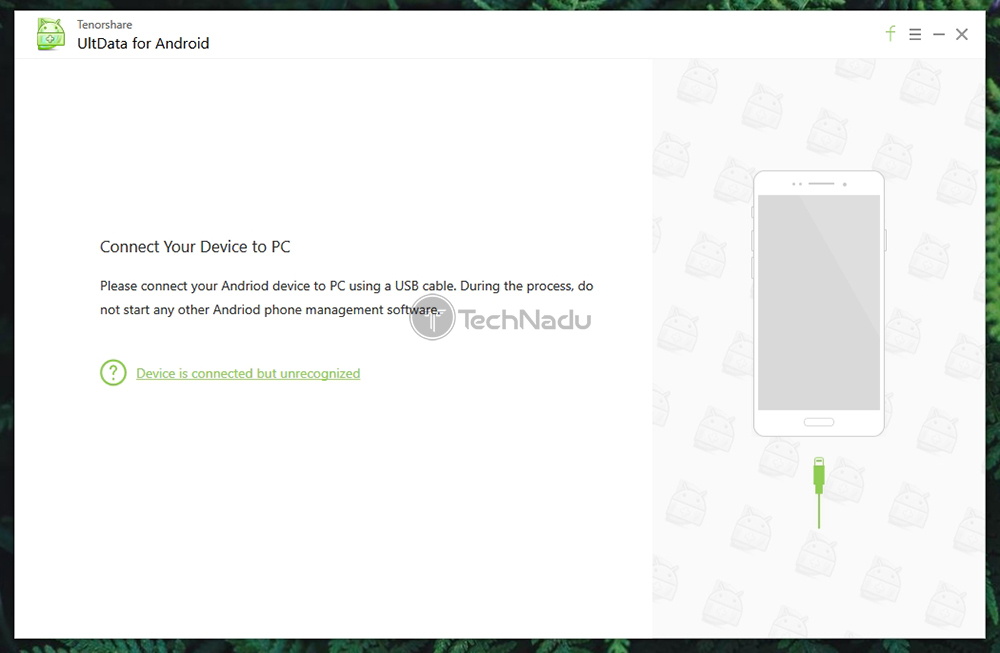 If you have a rooted device, UltData can be very helpful. Those with unrooted devices will see plenty of obstacles and errors, making this application unusable. Our Score: 5/10.
We'll now show you how this application works by guiding you through the process of extracting files from your Android device. So, it all begins with the application's home screen where you need to select which types of files you want to recover. You can choose from the following categories, where you can pick each file type by hand:
Contacts;
SMS Messages;
Call History;
WhatsApp Messages & Attachments;
Gallery (Photos);
Audio;
Videos;
Documents.
Once you select all the file types you want to recover, Tenorshare UltData will start to scan your Android device. In case it's not rooted, you'll see an error message preventing the application from doing anything further. This is where you'll be redirected to another tool called Kingo Root. The purpose of this tool is to root your Android device. However, we have to highlight once again that rooting your device should not be taken lightly. This is a serious endeavor and you need to do it only if you're 100% sure that you know what you're doing.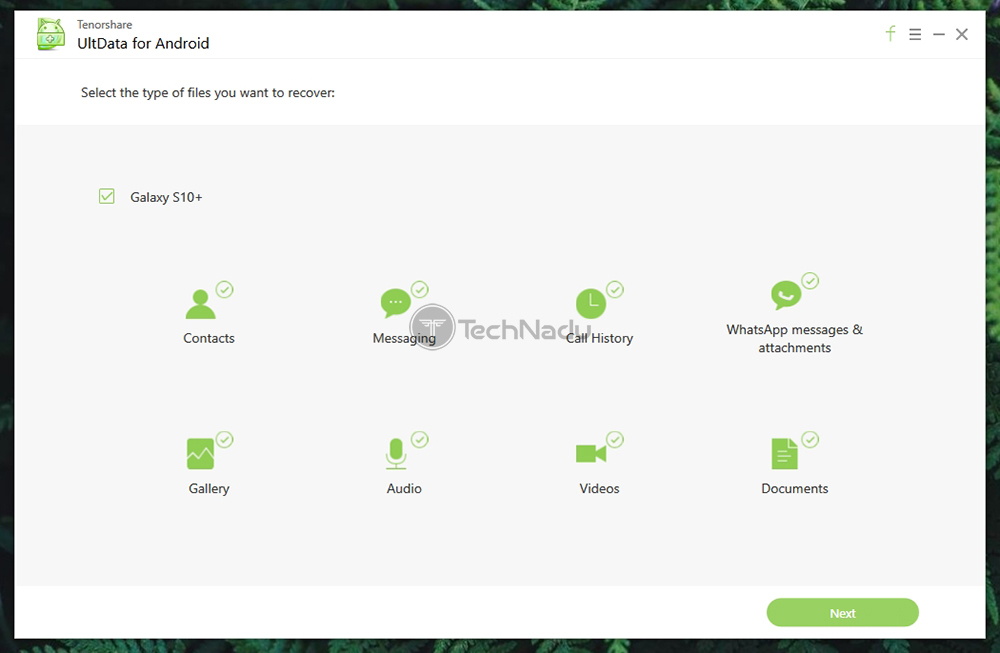 Finally, once UltData completes the process, you'll see a fairly simple interface. On the left side, you'll see a sidebar containing different categories of data. As you browse everything that's available on your device, you can select individual categories or files, and you can deselect those that you don't want to recover. Once you're happy with your selection, click on the prominent 'Recover' button in the top-right corner. The application will now finish the rest of the procedure on its own and transfer all your files back to your computer.
All in all, we can see that UltData is pretty easy to use – if you have a rooted device. In case you don't want to root your device, you'll be able to retrieve only your photos and videos. In this case, our strong recommendation would be to use any of available services that do this automatically (and which come free of charge, by the way), like Google Photos or any cloud-syncing service. Just make sure to set-up these back-up tools on time, before anything happens to your phone.
Speed & Performance
All in all, UltData for Android comes with a satisfying performance - once you make sure no obstacles are in its way. Our Score: 7/10. 
When it comes to what kind of performance you can expect, this depends on types of files that you want to extract from your Android device. There are many variables in play, as Tenorshare UltData uses both your computer's resources while also needing help from your Android device to send and transfer files. However, we have to say that the application works well, in general.
Today's smartphones come with plenty of storage space, allowing your record data-consuming 4K videos and high-resolution photos. So, in case you're an avid photographer/videographer, it can take quite some time to recover all those files. Of course, there's very little that UltData can do on its own to improve the rate of scanning and extracting data.
What's important to mention is that UltData works well in terms of know showing any performance-related issues. It seems like the application is stable, as we haven't encountered any bugs. So, all in all, it doesn't disappoint (at least not in this aspect).
Customer Support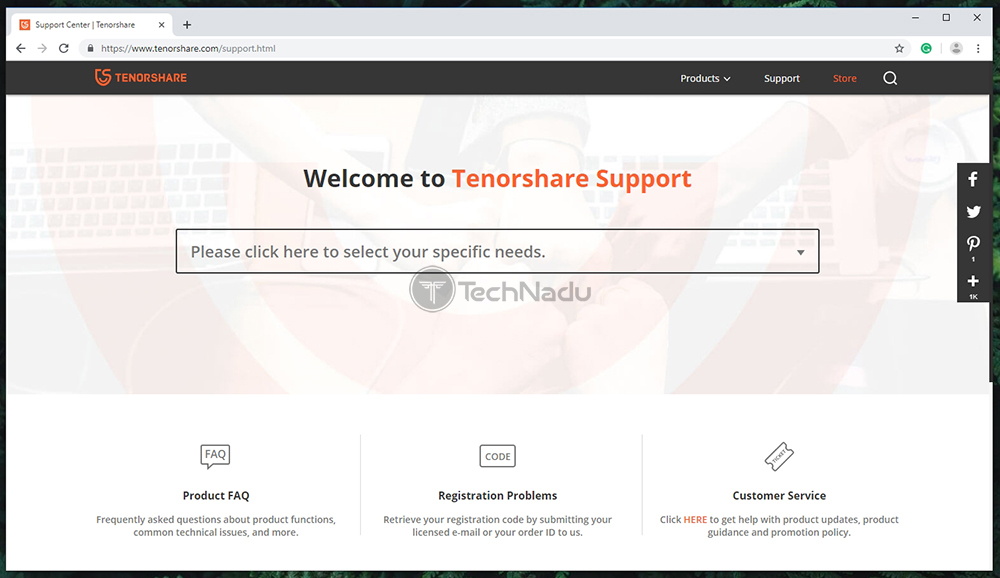 There are several ways to have your questions answered, but Tenorshare's customer support system could use plenty of improvement. Our Score: 5/10.
Just like with any type of software out there, problems can sometimes happen. However, if you're paying for the software, you'll want to have a reliable support team. So, here are all the ways that Tenorshare is offering help to its customers.
FAQs & Self-Help Material: Tenorshare is offering a centralized support system, from where you can access support for all of their products. When it comes to UltData for Android, there are only four answered questions. And when it comes to other types of self-help material, you can count on different kinds of guides and tutorials (which are often not as helpful – as they've mostly been published for SEO-related purposes).
Support Tickets: The chances are that you won't be able to have your questions answered on your own. With this said, it's good that there's an official form using which you can contact Tenorshare. They promise to reply within 24 hours, which sounds reassuring.
All in all, Tenorshare has tried to offer a centralized and helpful customer support system. However, this system definitely needs some work. Your best bet is to contact the company directly, via the contact form on their website.
Pricing
UltData for Android comes with a complex pricing structure. Overall, it seems overpriced, making it hard for us to recommend it to average home users. Our Score: 1/10.
Finally, let's see how much this application costs. If you decide to purchase UltData, you'll see several pricing plans, which are surprisingly different for Windows and MacOS users. So, check out the pricing structure for Windows users first.
| | | |
| --- | --- | --- |
| Subscription Duration | Subscription Limitations | Price |
| 1 Month | 1-5 devices, 1 PC. | $35.99 |
| 1 Year | 1-5 devices, 1 PC. | $39.95 |
| Lifetime | 1-5 devices, 1 PC. | $49.95 |
There are also additional options - if you need support for a larger number of Android devices (for business purposes). Using this application on a single PC with an unlimited number of Android devices is priced at $399.00. Of course, we're talking about smartphone repair shops being potential customers, so home users should not pay attention to it. And now, here are the prices for MacOS users.
| | | |
| --- | --- | --- |
| Subscription Duration | Subscription Limitations | Price |
| 1 Month | 1-5 devices, 1 Mac. | $55.99 |
| 1 Year | 1-5 devices, 1 Mac. | $59.95 |
| Lifetime | 1-5 devices, 1 Mac. | $69.95 |
We can see there's a drastic difference between the pricing for Windows and MacOS. Interestingly enough, these two versions come with the same set of features, which really creates a question of why someone would create such confusing pricing plans?
The bottom line is that Tenorshare UltData for Android seems like an overpriced product. Yes, it's true that it can be helpful at times – but remember that there are so many Android recovery options out there. Many of these even come free of charge (while taking care of certain file types like documents, photos, or videos), and can be equally helpful as this one.
Do We Recommend Tenorshare UltData for Android?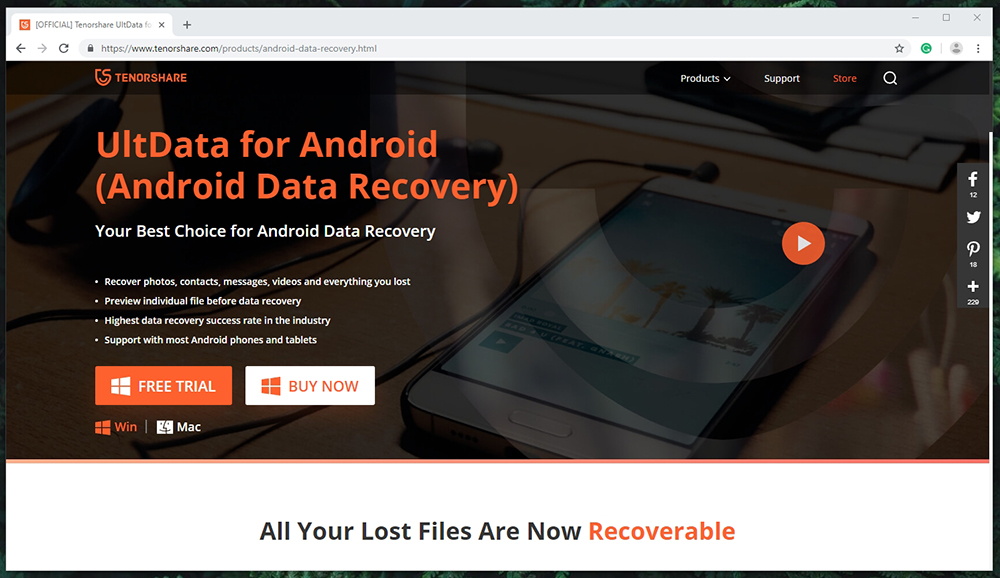 The truth is that Tenorshare UltData for Android can be a life-saver at times. However, this only applies to those willing to root their Android devices. Since this isn't an option for most people, you're better off searching for alternative tools that you can use to back-up and restore your data, without voiding your warranty.
PROS: Easy to install; Seems reliable enough (for rooted devices).
CONS: Dishonest marketing; Requires rooting; Overpriced; Semi-helpful support.
OUR SCORE: 4.7 out of 10!
Dear readers, this is where we end our review of UltData for Android. If there's anything you'd like to say, please use the comments section below. And you can also follow TechNadu on Facebook and Twitter. Thanks!