There are so many options when it comes to downloading an antivirus software for your PC, Android device, iOS device, Mac, or Linux system. Many antivirus makers are now, in fact, providing free versions of their popular antivirus software to users, which has made the market all the more competitive. What follows is a detailed review of the Sophos Home Antivirus, where we bring you all details about this wonderful program, so stay tuned!
Let's begin by first understanding the basics of this program. What are its essential features? How does it rank in lab test reports? This is the moment of truth.
This completes a basic overview of the Sophos Home Antivirus. It's now time to look at the basic pros and cons of the Sophos that'll help you see the abilities of the software.
So, you now know the basics of the Sophos Home Antivirus. The main question, however, is if this is, in fact, the right fit for your computer. While this largely comes down to your personal preferences, our detailed review will help you see the main strengths and weaknesses of this software, which would prove useful in making the final decision. Stay with us as we uncover this software, piece by piece and bring you the pearls of wisdom.
Sophos Home Antivirus- Review
Let's begin our in-depth analysis of the Sophos Home Antivirus. You'll first need to install the software, a process which we will outline below in greater detail. Once you're through with the download and installation, we'll proceed straight to testing the software to see how it fares in the real world.
Installation Process
It is simple enough to install the software. However, we found that the process is a bit different from those of other antivirus software. Our Score: 9/10.
We first visit the official website of the Sophos Home Antivirus and click on the 'Get Started' button to begin.
Following this, we are taken to the registration page, where one needs to enter their name, email address, and the desired password. It must be noted that this step is mandatory in order to proceed further with the software download. We found that once you enter your details, the company sends a validation email to the email address you've just entered. You need to verify your email to complete the identity verification procedure. Once your account is verified, you'll be able to sign in to your Sophos account with the login credentials. You see the following Dashboard screen upon signing in.
Under the 'Protect this PC' section, click the 'PC Installer' button to initiate the download of the installer exe file. We recommend closing all other downloads while downloading the exe file since it is quite large, around 225 MB in size for Windows PC, which takes quite some time to finish downloading if you're on a stable internet connection.
Once the file is completely downloaded, we recommend running it with an administrator access in order to install the software with all essential privileges granted. You'll see the Sophos Extractor first extracting the installation files. Once this extraction is complete, you'll see the following screen.
As the installer recommends, you'll need an internet connection for the installation to complete. Click on 'Install' button towards the bottom and the installation would begin.
We found that the software takes some time to finish installing. We recommend closing all open apps and downloads in order to speed up the installation process. Once the installation is complete, you'll see the following window. Click on 'Finish' button to exit the installer.
All in all, the installation process is pretty straightforward and requires few confirmation inputs from the user. We greatly liked the fact that the software does not comprise any bloatware or adware. Kudos to the developers for an amazing installation routine design.
Ease of Use
We found that the UI of the Sophos Home Antivirus is extremely intuitive and minimalistic, which is in sharp contrast to its competitors, which burden the interface with needless features and redundant buttons. Our Rating: 10/10.
Few antivirus software has a User Interface that's as easy to navigate around than the Sophos Home Antivirus. The software takes a different approach to design in that only the bare basic controls are embedded in the PC-side software. You can run a scan, that's about it. For pretty much everything else, you'll need to login to your online Sophos home account and take charge.
While this design decision might appear cumbersome for some users, especially those who're looking out for a self-contained software suite, we think it's a great design decision since it isolates the user PC from configuration options and settings, which are rather best controlled and set in the cloud. You can simply log in to the dashboard and see all vital statistics and configuration controls.
Even the online web interface of the user Sophos account is pretty easy to navigate. The UI is overall, exceptional in our view. In a nutshell, the UI can be divided into two sections: the PC-side UI, which allows the user to run a scan, or the web-UI (Sophos online account) which comprises of the configuration options and other capabilities.
Antivirus Protection
An antivirus software is only as good as the effectiveness of its core antivirus functionality. While the Sophos scores comparatively lesser in comparison to its peers in the latest AV-TEST lab reports, we found the software's antivirus functionality adequate for most home users. Our Score: 10/10.
The Sophos Home Antivirus is slightly behind its peers when it comes to delivering a strong malware protection performance. However, there's one area where this software tool puts all its competitors to dust, and that is, in the management of multiple home devices. While most antivirus software licenses inculcate installation on a single device, the Sophos Home Antivirus can manage as many as 10 Windows/Mac devices at the same time. This makes it a powerful home malware management suite for the whole family. This feature alone is something that makes this tool unique and unparalleled.
Most antivirus software available in the market offer two-fold protection to the users: automated protection, which entails real-time protection against threats and malware, and, manual protection, which includes tools for manual scans and protection scheduled at the user's discretion. The Sophos Home Antivirus provides both.
Automated Protection
On the main Sophos dashboard, click on the 'Manage My Security' button. You'll be taken to the Sophos online web interface. Pay close attention to the system status, which should read- 'This device is secured'.
The Sophos Home Antivirus has multiple components inside automated protection. Let's examine those in detail. Click on the 'Protection' tab on the Sophos web interface.
This same screen can also be accessed by clicking the 'Configure' button below the 'Antivirus Protection' and 'Web Protection' shields on the 'Status' screen/tab.
Antivirus Protection Shield
This shield protects your devices from viruses, worms, trojan horses, and other threats that can wreak havoc on your PC. The shield has three major components:
Real-Time Protection
This shield, as the very name suggests, will automatically scan all files when you access them, to ensure your PC isn't infected with malware. This functionality occurs without any intervention on the part of the user. We highly recommend you keep this shield turned 'ON'.
Potentially Unwanted Applications (PUA) Protection
This is the second core shield inside the automated protection module of the Sophos Home Antivirus. This shield protects, in real-time, against unwanted application blocking. Examples of common PUA include software, which inculcates bloatware or adware, hiding ads and malware in the disguise of utilities and tools. Once again, we recommend you keep the PUA Protection turned 'ON' for all your devices.
Exceptions
This section will come in handy should you wish to safeguard files or folders you know are 100% secure against being flagged as malware by the antivirus program. You will only be able to add an exception via the online web interface. That said, the PC-side home screen to features an 'Exceptions' section, which lists all previously identified exceptions as in the image above. We recommend only adding files and folders to the exception list if you are really sure they are uninfected since misidentified files can compromise the security of the entire system.
Web Protection Shield
Let's now examine the second core protection shield of the Sophos Home Antivirus: Web Protection.
The web protection shield comprises three core components.
Web Protection
This functionality ensures websites that are known to positively contain malware are blocked, so your device can stay safe when you're browsing online. We recommend keeping this setting turned 'ON'.
Download Reputation
The Sophos Home Antivirus also features a unique tool, the 'Download Reputation'  function, which ranks downloads based on the 'reputation score', a parameter it automatically generates based on feedback from other Sophos protected computers. When you click on the 'Advanced Settings' button, you'll be able to customize the reputation level and set it to either 'Recommended' or 'Strict'. While this is largely a matter of personal preference and your experience with the software, we recommend leaving it set at the default value of 'Recommended'.
Website Exceptions
This tool allows you to specify websites as exceptions, so the software might not blacklist them as malware. Use this to add websites to the list, which you're confident aren't hosting malware.
Manual Protection
There are two ways to run a manual scan on a device in Sophos Home Antivirus. You can either open the PC-side UI and click on 'Scan My Computer' button to run a scan on the device now, or, visit the web interface and click on 'Scan' button on the top right.
This is a great way for the home devices' admin to run scans on all home network devices without having to individually visit each of them and scheduling scans separately.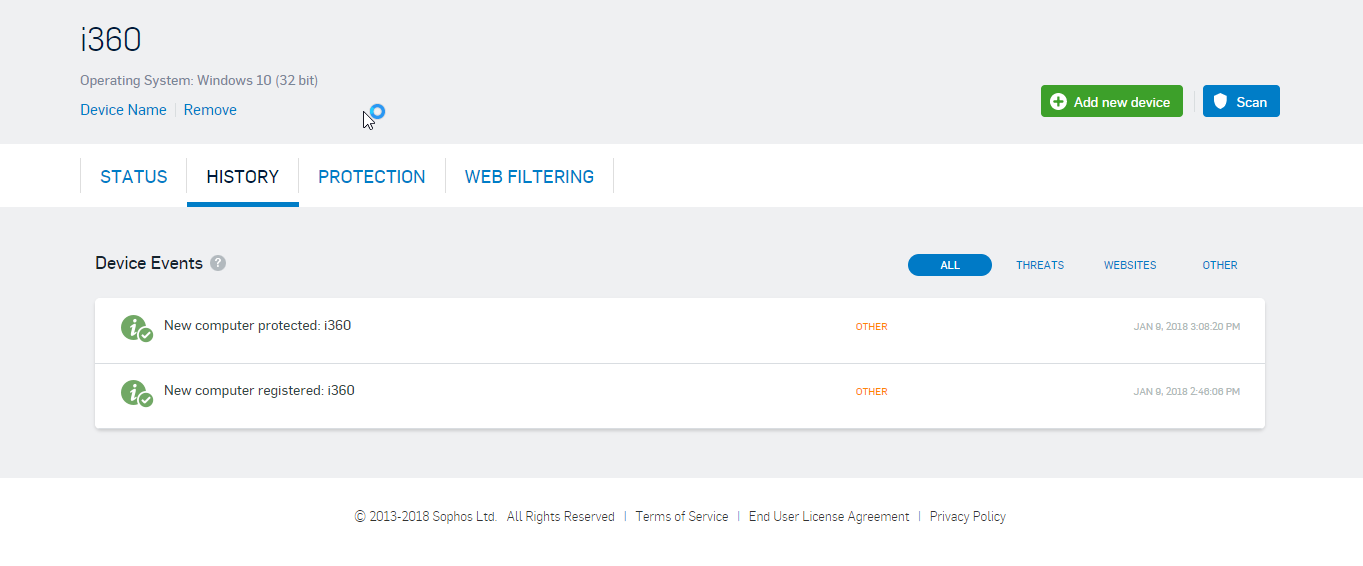 The user can click on the 'History' tab on the Sophos web interface to stay up-to-date on all major antivirus events pertaining to a specific device. Once again, there's no need to visit each device individually to monitor device status and scan results. Everything can be conveniently accessed from the online dashboard itself.
Additional Features
Sophos Home Antivirus offers comparatively few additional features in comparison to its peers, but all those provided are free of charge rather than being 'trailer' versions of full functionality. Our Score: 10/10.
At a first glance, you might think that the Sophos Home Antivirus lacks the so-called 'Additional Features', which most of its competitors include (but which require hidden charges to be really useful): password managers, firewall, file shredders, etc- however, take a closer look and you'll find the most important real accessories integrated tightly right into the core design.
Take the 'Web Filtering' function for instance. This feature is often marketed as a premium feature provided in antivirus software products. However, the Sophos Home Antivirus does away with needless publicity gimmicks and provides this component as a free-of-charge feature built right into the software. It's very seamlessly integrated right into the core antivirus functionality.
The Web Filtering feature basically allows the admin to block access to websites he thinks might be inappropriate for the device users. The tool is organized by websites falling into several categories such as 'General Interest', 'Adult & Potentially Inappropriate', and 'Social Networking and Computing'.
The Admin user has the privilege of choosing one of 3 possible parameters for each category: 'Allow', 'Warn', or 'Block'.
You can also specify exceptions that you wouldn't want Sophos to block in the 'Website Exceptions' section.
The level of control and customization offered by the Web Filtering functionality of the Sophos Home Antivirus is simply unparalleled.
Antivirus Performance
The software performs slightly below its competitors when it comes to AV-TEST results. Our Score: 8/10.
Antivirus companies tend to push their products as the best; however, the only to actually know how they rank in the real world is to view real-world lab test reports. AV-TEST is a reputed German lab, whose results are used as a benchmark when comparing antivirus software.
The software scores 97.2% when it comes to protection against newer, 0-day malware attacks (industry average: 99.5%)
Sophos Home Antivirus scores 98.7% in the detection of widespread and prevalent malware (industry average: 98.7%)
The software raises 0 false warnings and alarms (industry average: 12)
The software's scores are thus excellent, as is clearly evident from the AV-TEST reports.
System Performance
The Sophos Home Antivirus excels in performance; the PC-side interface is a lite client that runs without much hassle. Our Score: 10/10.
Antivirus software is known to frequently slow down the host PCs manifold. However, with newer versions of popular software, we're seeing continual improvements on this front. The Sophos Home Antivirus, though, has a very small CPU and memory footprint in that it doesn't bog down the machine much in the course of operation.
The AV-TEST results to confirm our findings as far as the system performance of the Sophos Home Antivirus is concerned:
The software slows down file copying operations by 2% (industry average: 4%)
The software reduces the launch speed of software apps by 8% (industry average: 11%)
Sophos slows the download of frequently used apps by 1% (industry average: 2%)
It slows down the installation of common applications by as much as 50% (industry average: 22%)
Supported Devices
Sophos Home Antivirus is available for download on all Macs and PCs that meet the minimum system requirements. Sophos even has an Android, iOS, and Linux version of its antivirus. Our Score: 10/10.
Sophos provides a range of tools to protect various Operating Systems: Windows and Mac (Sophos Home Antivirus version), and even Android, iOS, and Linux with other free antivirus tools custom-built for these platforms.
Let's go through the minimum system requirements to install the Sophos Home Antivirus on your PC, which is pretty moderate. Here they are:
Windows 7 or newer OS/ Mac OS X 10.10 or newer version
At least 1 GB free disk space
Minimum 1 GB RAM
Supported browsers (Microsoft Internet Explorer 10/Microsoft Edge/Google Chrome/Mozilla Firefox/Apple Safari)
Pricing
The software is completely free of charge for home users and requires usage fee from commercial and business users. Our Score: 10/10.
We were very satisfied with our tests on the Sophos Home Antivirus. There are no hidden charges whatsoever to use the software since the tool is free for home users. This is unlike most other so-called free versions of antivirus software, which include too many features albeit requiring users to pay for any real utility.
Customer Service
When it comes to customer service, Sophos Home Antivirus provides multiple options to users, addressing their specific requirements. Our Score: 10/10.
Sophos Home Antivirus provides a help menu right on the very PC-side interface, which when clicked, leads users to the web support section. There is also a very useful FAQ section on the website that addresses the most common queries of customers.
The Bottom Line
The Sophos Home Antivirus is a powerful tool that helps you seamlessly integrate the security measures of all home devices into one single software solution. You no longer need to individually configure antivirus security measures on your individual devices, but, can use this one tool to manage all security mechanisms from a single web interface.
The software integrates into its design a web filter and real-time shields for web and antivirus protection. We also liked the minimalistic design of the software UI, which allows the user to run a lite client without getting into the nitty-gritty details, which are best tackled at the central, web dashboard of the software. The levels of customization are also deep and all controls can be individually configured for each registered device on the Sophos system.
To sum up, we highly recommend this software to keep all your home devices protected from under one roof- it simply can't get better than the Sophos Home Antivirus, which offers excellent performance at zero cost, ensuring your devices stay protected without unnecessary bloatware in the name of additional features.
PROS: Great way to manage the security of all devices from a single place; Minimalistic UI design; No adware or bloatware included in the installer; Remote Management of devices; Web & Phishing protection; Deep levels of customization.
CONS: Heavy installer file; You must create a free account to proceed with the installation; Basic antivirus functionality with web protection.
Final Score: 9.7 out of 10!
Final Thoughts
With this, we conclude the in-depth analysis and review of the Sophos Home Antivirus software. We spent a lot of time testing the software and its various features to bring you an honest opinion of this tool and sincerely hope that you've found it useful. We're all ears to hear from you- please share your comments in the space below!
Please also consider reading our reviews of the Panda Global Antivirus, the COMODO Antivirus, the Avast Free Antivirus, and the AVG Free Antivirus.
Learning is double the fun when you share your findings with your friends- we request you to please share this article with your friends and family in your social circles so this information might benefit them too. For, it's all about staying protected, together.