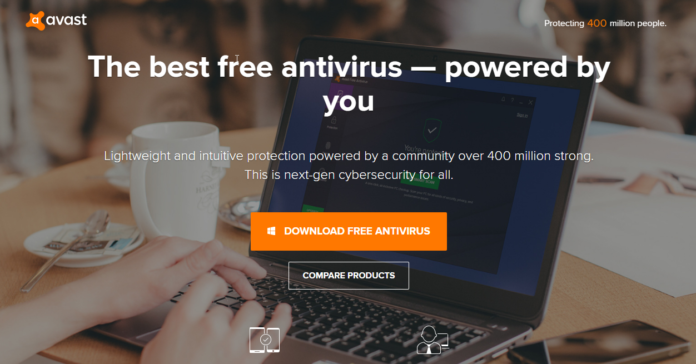 As you must already be aware, there are several options to choose from when it comes to antivirus software, which takes many forms and specs. Needless to say, a number of different software giants are offering their products, both free versions and trial software to consumers. Therefore, there are different software to suit varying requirements and choosing one comes down to one's own specific needs. In this article, we will be talking about the Avast Free Antivirus.

Avast is a name that needs no introduction, being one of the pioneers in several innovative antivirus technologies. So, is this the best antivirus software you've been looking for? Follow this review to know all about the Avast Free Antivirus and our verdict.
Let us first observe the pros and cons of the software before we delve into the details and examine the Avast Free Antivirus:
Overview
Supported Platforms
Windows, Mac, Android, iOS.
Antivirus Protection
Consistent performer in lab tests; Behavior Shield scans apps for viruses; CyberCapture feature offers cloud protection; Smart Scan offer loophole scanning.
AV-TEST Scores
Identifies 100% of the newer malware. The industry average is 99%.
Additional Features
Includes Password vault; Driver Updater keeps drivers up to date; Game Mode; WiFi Inspector.
Price
$0 – The free version of this antivirus is available for download free of cost.
You are now familiar with the basics of the Avast Free Antivirus. Let's now see the final verdict on this software based on our in-depth analysis and review:
Final Verdict
Pros
Very neat user interface; Strong core antivirus functionality; Comprehensive Smart Scan; Deep levels of customization.
Cons
Most features in the free version require a paid upgrade; Installation takes up longer time; Lack of detailed reports for individual components.
Final Verdict
The antivirus provides rock-solid protection against malware and packs in the essential features on the popular OS versions.
Rating
9/10
This completes the overview of the antivirus software at a glance. The software provides a strong defense mechanism against common and newer malware threats and keeps your PC safe, round the clock. Is this the best antivirus to suit your PC? Read on through the review and analysis we present here to help you figure out the answer to this question.
Avast Free Antivirus Review
Once you're ready to try the Avast Free Antivirus on your system, you need to get ready for the installation procedure. We performed a thorough analysis of the application and present our detailed review in this article.
Installation Process
It is easy to install the Avast Free Antivirus on your PC. The speed of installation is a bit slow, in comparison to other antivirus software.
Our Score: 8/10.
Visit the official website of Avast Antivirus and click on 'Download Free Antivirus' button to begin the download of the installer file. Once you're done with the download, double-click the .exe installer file to begin the installation.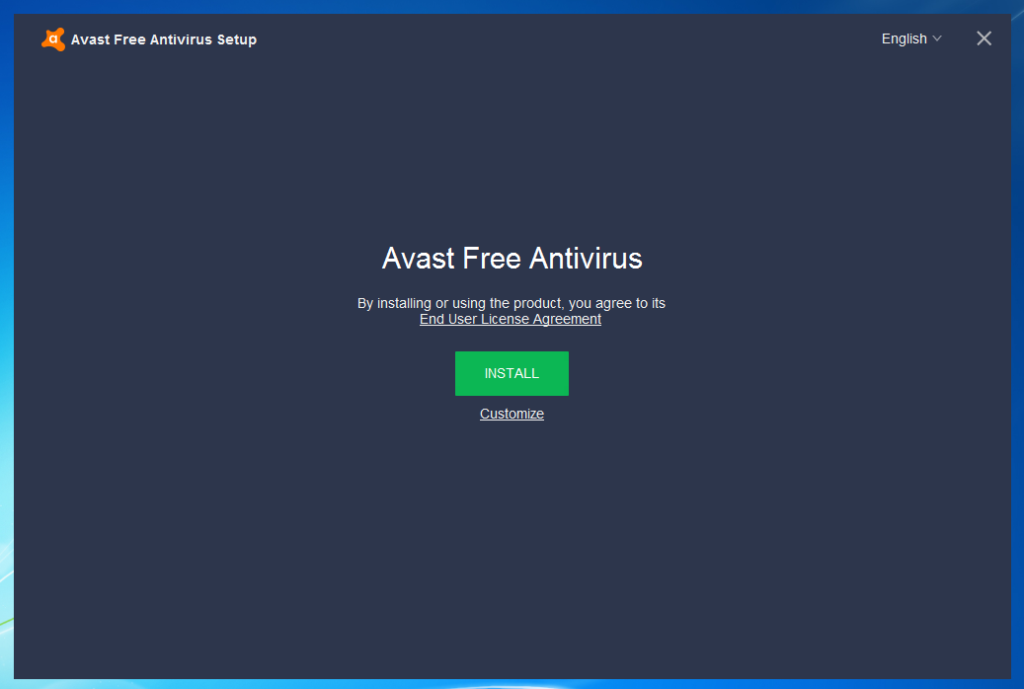 You will be prompted to click on 'Install' button or customize the process. We recommend proceeding with the usual installation since this is the best way to get started with all essential features. The 'Customize' option provides an additional step of choosing the installation location.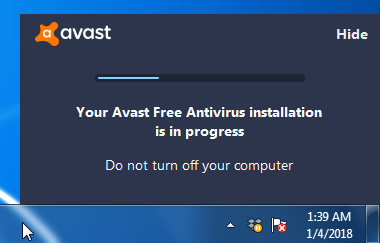 The software would then take some time to finish the installation, during which you shouldn't turn off your PC.
You will next be greeted with the welcome screen, which will pop up when the installation completes successfully.
We found that the software displays two windows simultaneously upon completion of the installation. The software would prompt you to turn on active protection. The application, by default, launches in the 'Passive Mode'. We recommend clicking on 'Yes' to turn on active protection since this is necessary for the software to continuously monitor and scan the system for potential threats.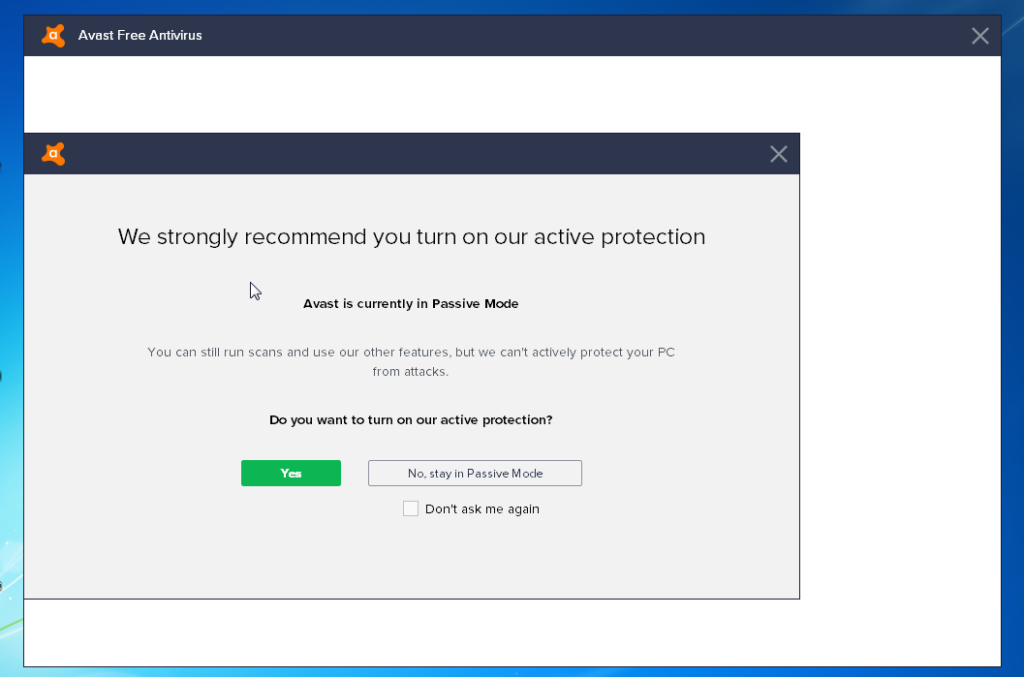 The next screen warrants attention. Many antivirus software allows the user to choose, at the time of installation, if they'd like to share information about themselves and their system usage. However, Avast takes a different approach and enables this option by default. However, users can disable information sharing by unchecking the option 'participate in data-sharing' in the 'Settings' menu.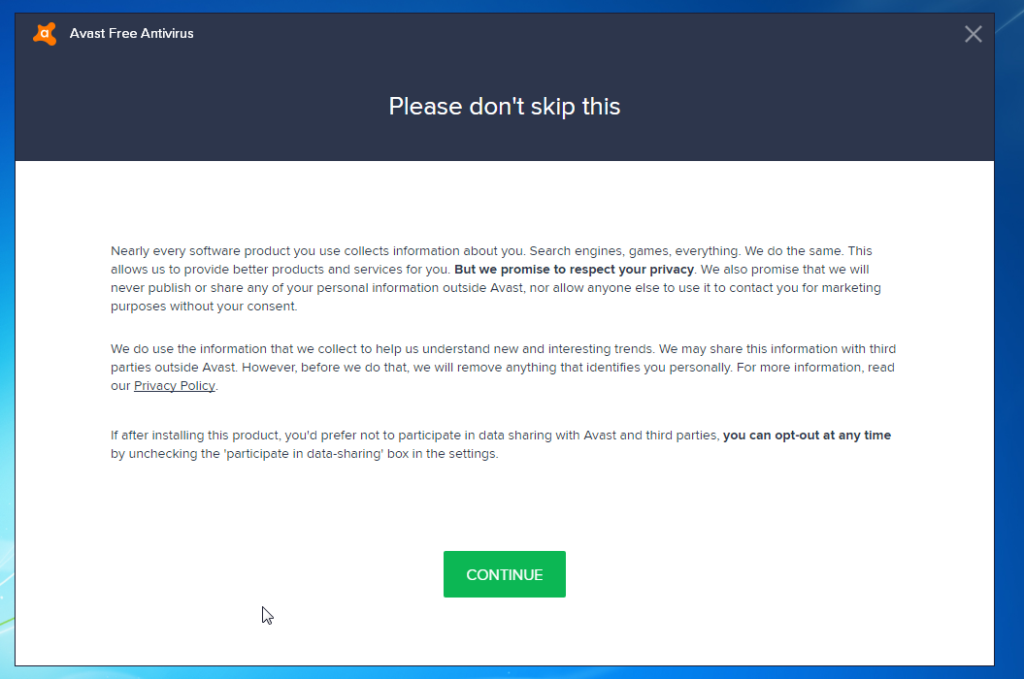 We didn't quite like the way Avast hides its other tools and standalone software that, often, require users to pay for them, under every nook and corner of the software. For instance, immediately after the installation, the user is prompted to install Avast on their smartphone too. This is a free software, however, and can be given a try if your phone lacks malware protection.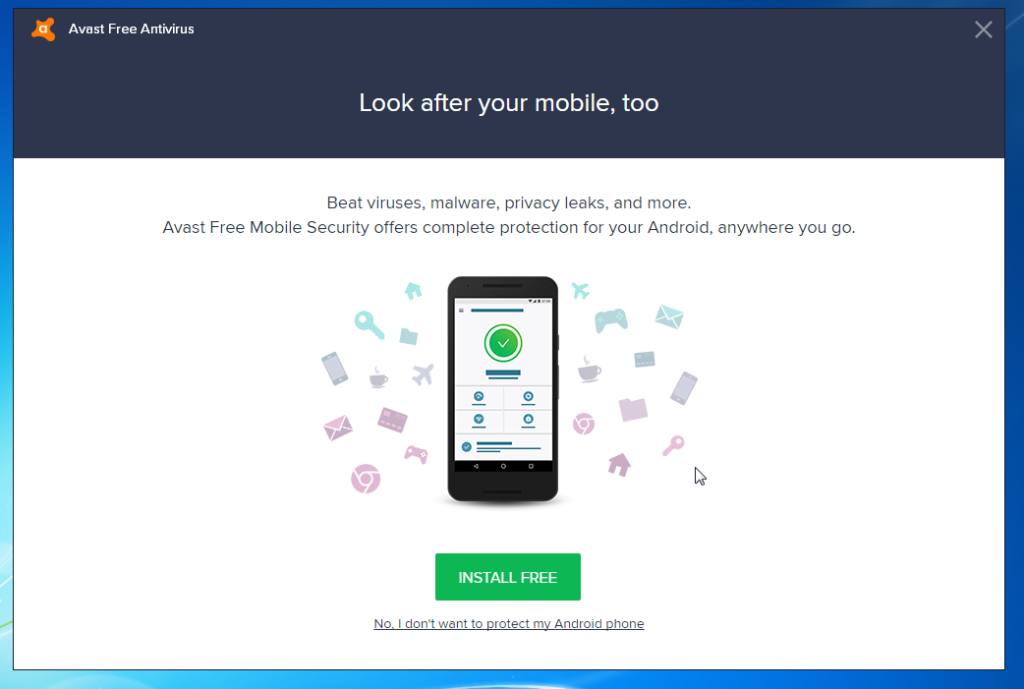 The user is finally faced with the home screen, where all controls and essential antivirus functionality is placed. We recommend clicking on the 'Run Smart Scan' option after the installation to scan your system for potential malware upfront.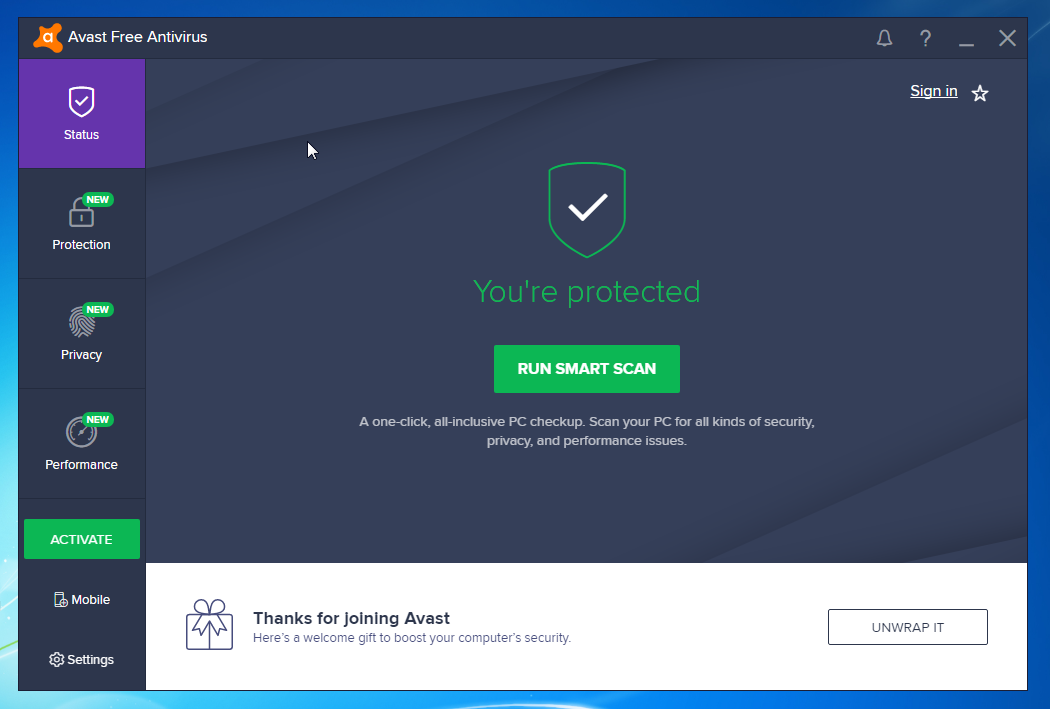 Ease of Use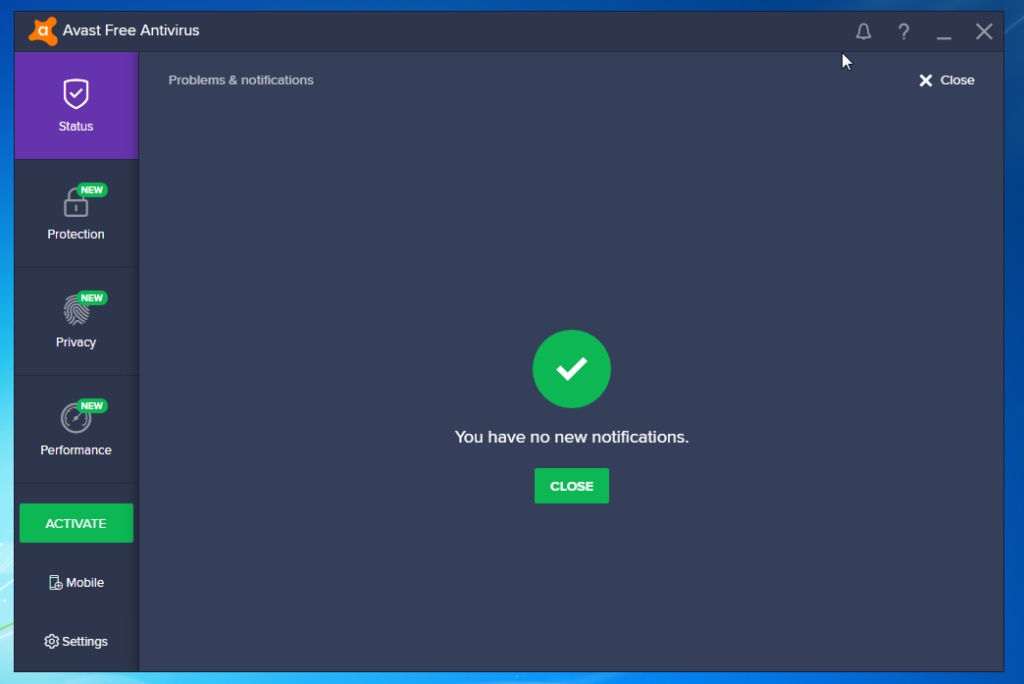 If there's one area in which the Avast excels over its competitors the most, it has to be its very intuitive interface. Our Rating: 10/10.
The Avast Free Antivirus is exceptional as far as its user interface is concerned. The design is minimalistic in nature with near-zero redundancy, which implies all essential features are easily accessible and do not repeat throughout the software.
Click on the small bell-shaped icon on the top right side of the screen to open the 'Notifications' section. This is a great place that combines all important alerts and notifications on one, single screen. This is a great feature that helps avoid visiting several different sections of the software for vital system statistics and alerts. Click on the '?' icon on the top right side of the screen to bring up the 'Help' menu.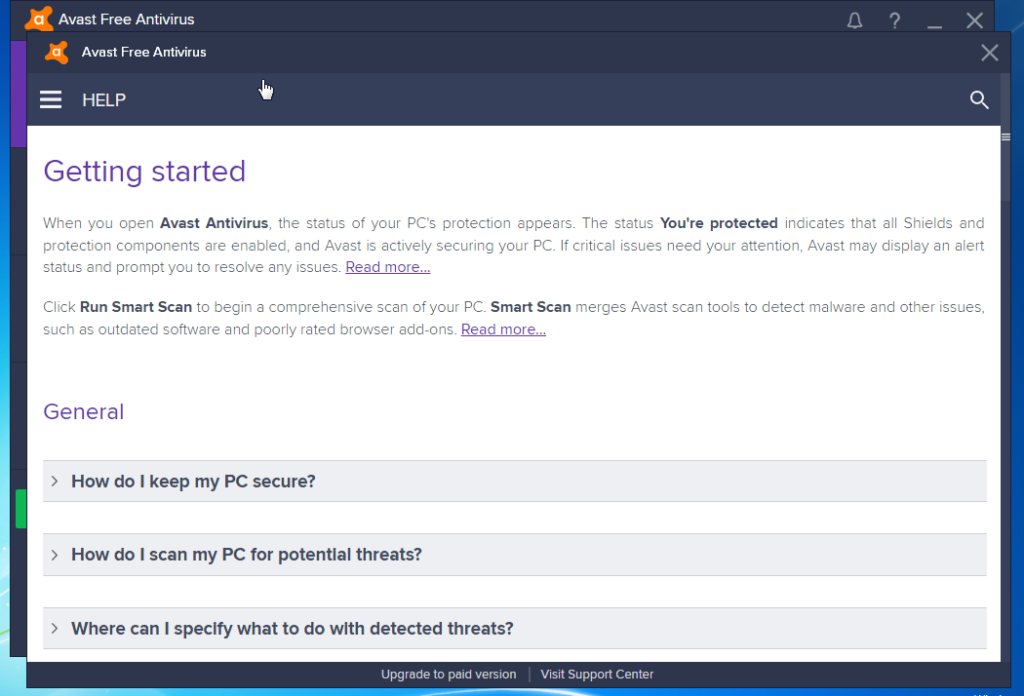 This is another great feature we liked in the Avast Free Antivirus, which is commonly missing in other software. The Avast places all important, frequently asked questions under the 'Help' section, allowing users easy access and resolution to queries without ever leaving the software interface. A commendable effort indeed!
Clicking on the 'Settings' button on the bottom left of the interface brings up the settings screen, which is the go-to place for customization of the various software options. By default, the screen begins with the 'General' section, which is where you can set the interface language and customize sounds, alerts, notifications, and other such vital options.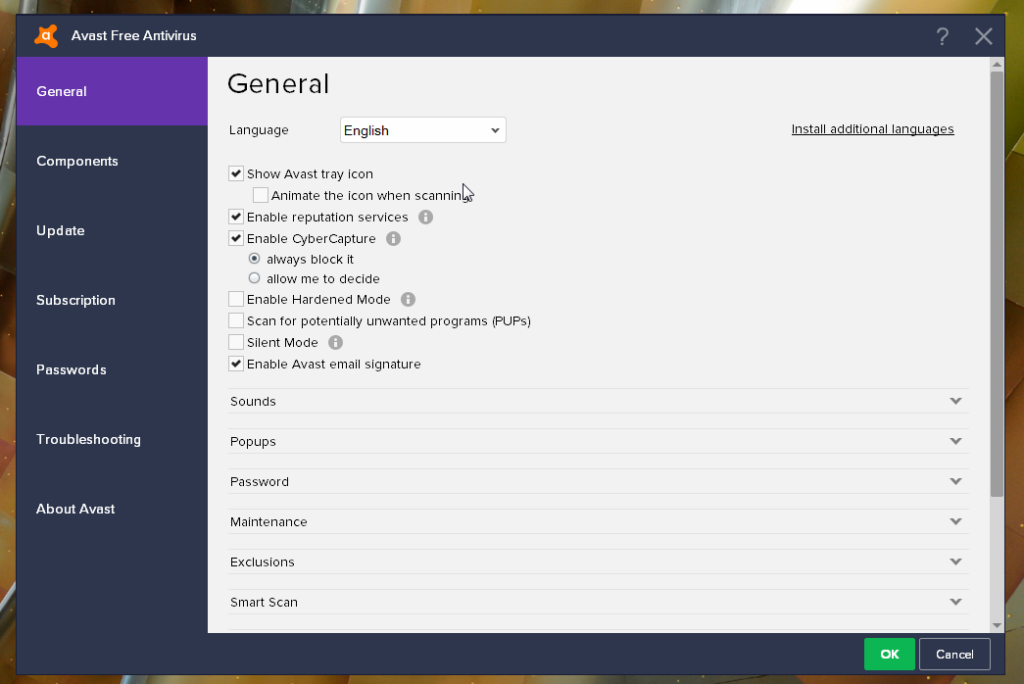 The 'Components' section inside Settings allows you to turn on/off the various core components of the antivirus. This includes the File Shield, Behavior Shield, Web Shield, and the Mail Shield, which actively protect the computer against malware. You can click on 'Customize' to individually tailor each component and adjust its functioning.
The 'Update' section is where you can update the virus definitions and database, manually. You can also update the antivirus software itself too from this section.
The 'Subscription' screen is a gateway to upgrade your antivirus version from the 'free' to the 'Advanced' and 'Premier' versions.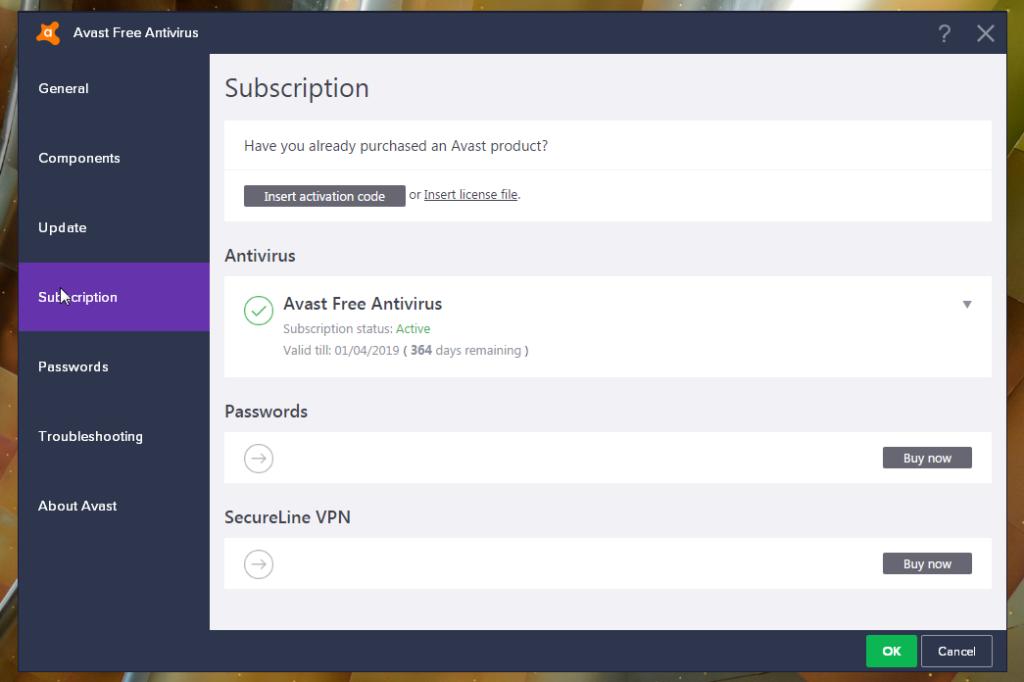 The 'Passwords' section allows you to control the password manager built into the software. It is here that you can set a 'Master Password' or turn on sync across multiple devices.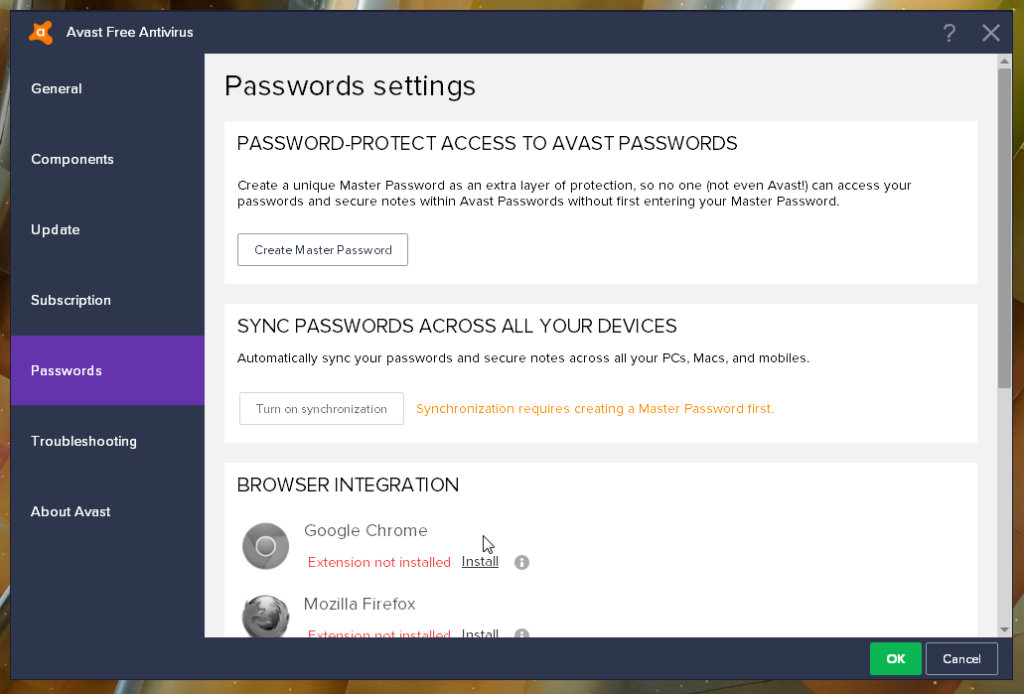 The 'Troubleshooting' section allows you to fine-tune the controls that enable problem-solving. We recommend leaving the 'Rootkit scan' option turned on for maximum protection against this nasty malware.
The Avast Antivirus comes in two flavors: the free version and the advanced paid version. On the home screen, clicking on the green 'Activate' button will bring up the activation screen, where you'll be able to upgrade your software should you so wish.
All in all, the Avast Free Antivirus is a great tool, which stands apart thanks to its clean User Interface, which is extremely easy to use and understand. The 'Help' section only serves to enhance the software usability for first-time users.
Antivirus Protection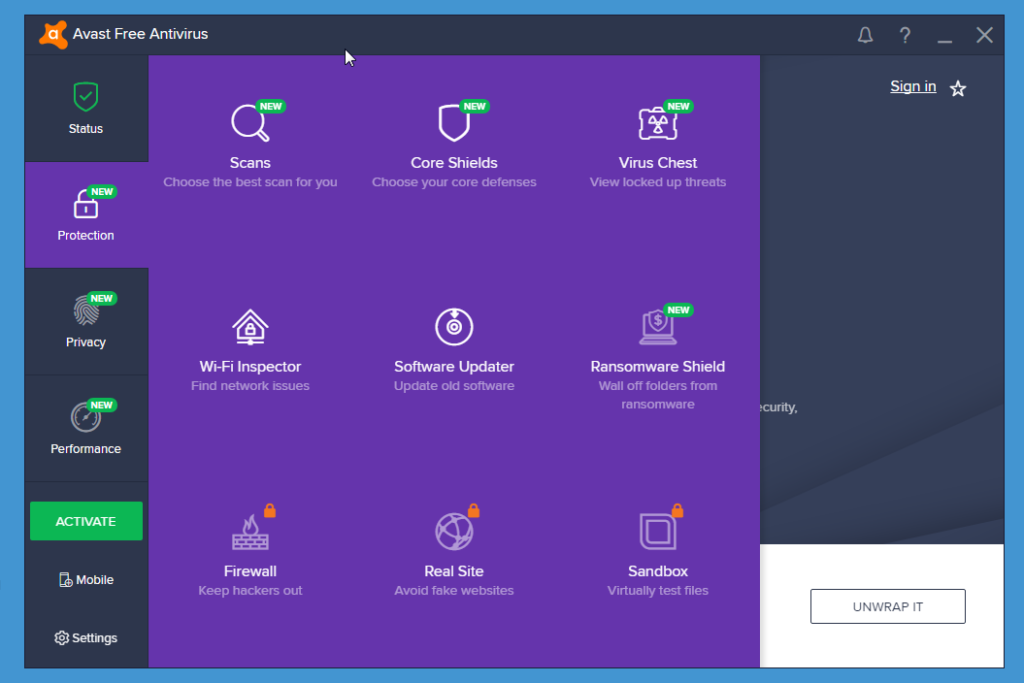 The Avast Free Antivirus organizes all core antivirus functionality under the 'Protection' section of the home screen. Our Rating: 10/10.
Most antivirus software if not all, provide their host systems with a multi-layered protection at the center of which is a two-fold safety mechanism: the automatic protection and manual protection modes. Let's explore the antivirus functionality under these aspects in greater detail.
Automated Protection
The Avast Free Antivirus segregates its protection layers into the following, all of which can be accessed via the 'Protection' menu on the home screen:
Antivirus Settings
First, let's take a quick look at all the ways this antivirus keeps your system protected. As you can guess, these are designed to run in the background and safeguard your computer.
Core Shields
Click on the 'Core Shields' option under 'Protection' to explore the automated protection shields built-in into the antivirus. The shields protect your PC from the major threats prevalent online and block attacks in real-time, on their own.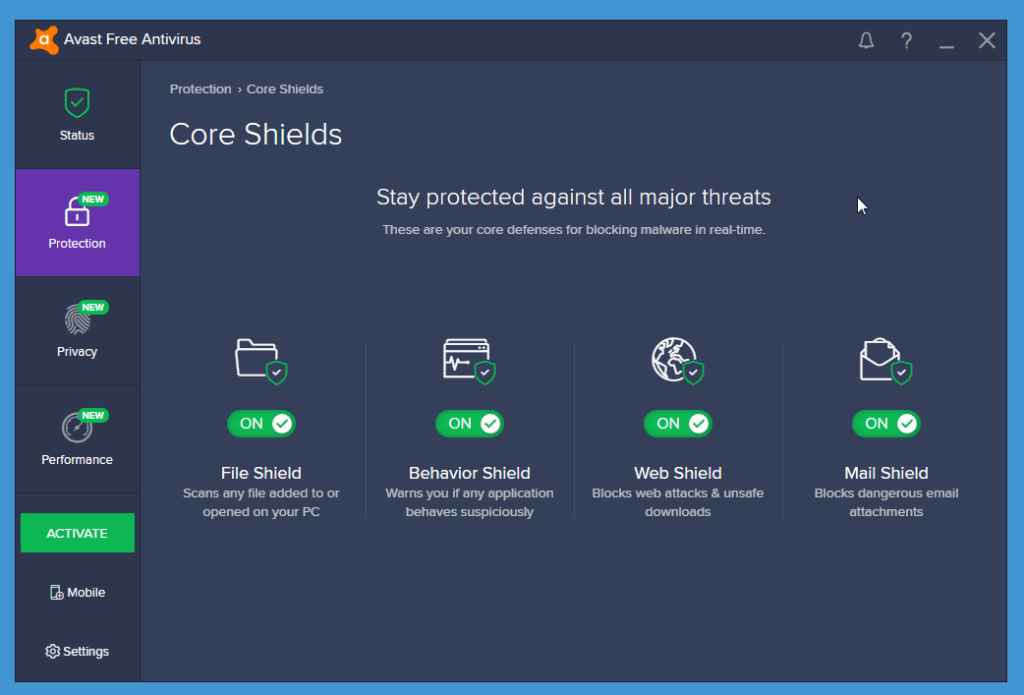 We recommend leaving the following shields activated:
File Shield:

This automated shield continuously monitors files on your PC and checks for possible infections.

Behavior Shield:

This shield monitors the behavior of apps installed on the computer and notifies the user in case an app misbehaves.

Web Shield:

The Web Shield serves to protect the user online. It safeguards the system against web attacks and keeps a check on the downloaded files as well.

Mail Shield:

This will ensure you do not download dangerous email attachments, which might carry malware.
Virus Chest
This is where the blocked viruses and other malware are quarantined. A great feature provided is that you can add files you think are malware yourself here! These threats are safely locked up in a vault so your PC stays secure.
Wi-Fi Inspector
The Wi-Fi Inspector monitors your internet connection. It proactively scans routers to ensure they function without problems. What's more, you'll even be able to see if any unknown devices are connected to your network, thus helping you stay away from hackers or unwelcome users. We recommend clicking on 'Network Scan' button once in a while to ensure your network is protected.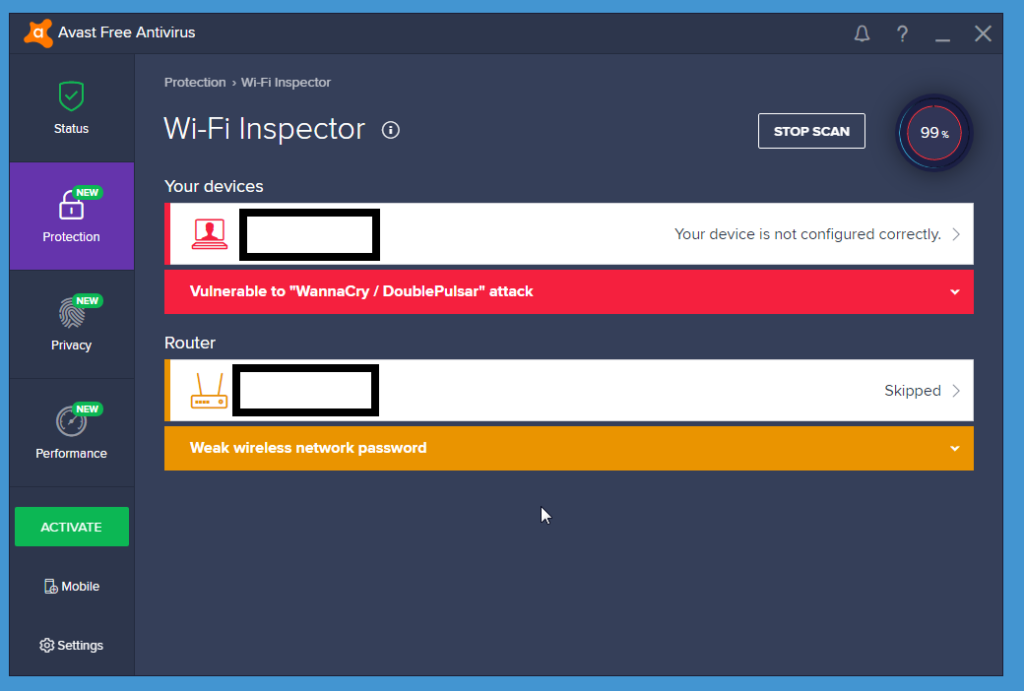 Software Updater
This is a very welcome feature, which is an often overlooked aspect of security design. The Software Updater will point out pending updates to the software installed on your PC. Most updates to software address security vulnerabilities and ensuring that your PC has all apps up-to-date is crucial to overall system security.
Premium Features
Apart from the core antivirus functionality mentioned above, the 'Protection' section also lists 4 premium features, which are only available post upgrade to the paid version. These include:
Ransomware Shield:

This component helps keep ransomware at bay. Turning this feature on ensures malware cannot access your photos and personal files.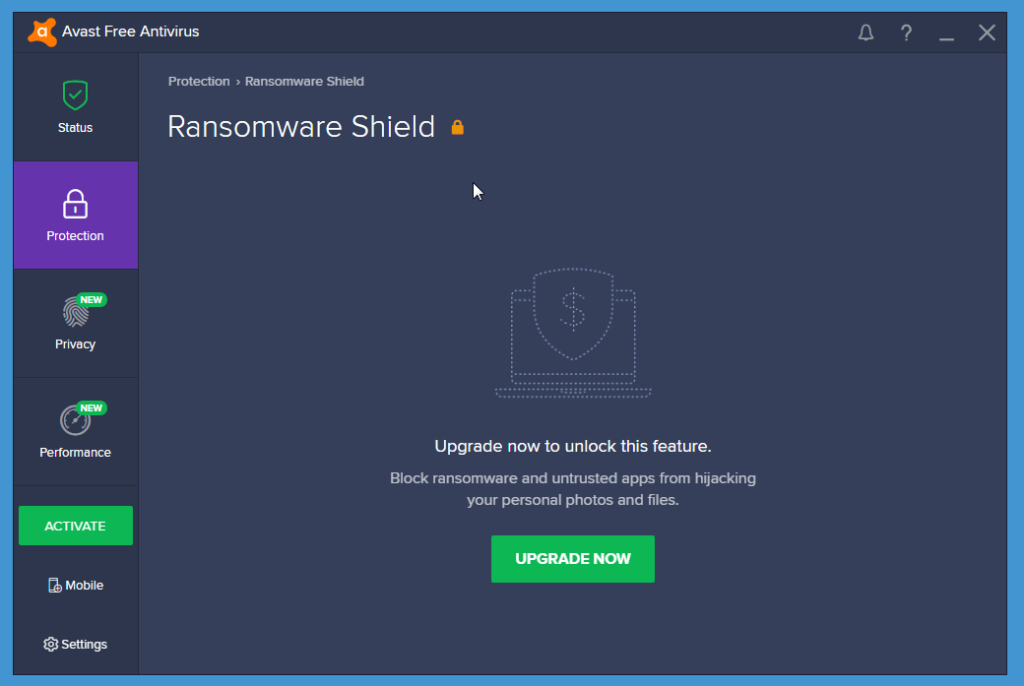 Firewall:

The firewall keeps system intruders away and is a great way to prevent hacking attempts. The firewall monitors all incoming and outgoing connections in real-time.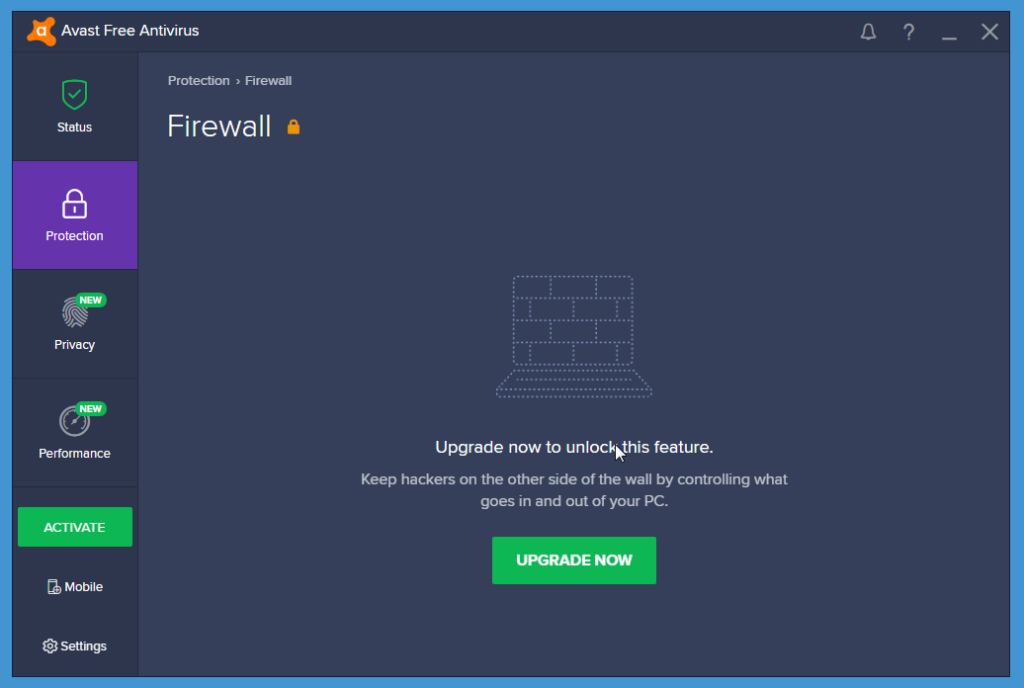 Real Site: Another paid-only feature that is built to keep users safe from fake websites that can steal away your passwords and other confidential data.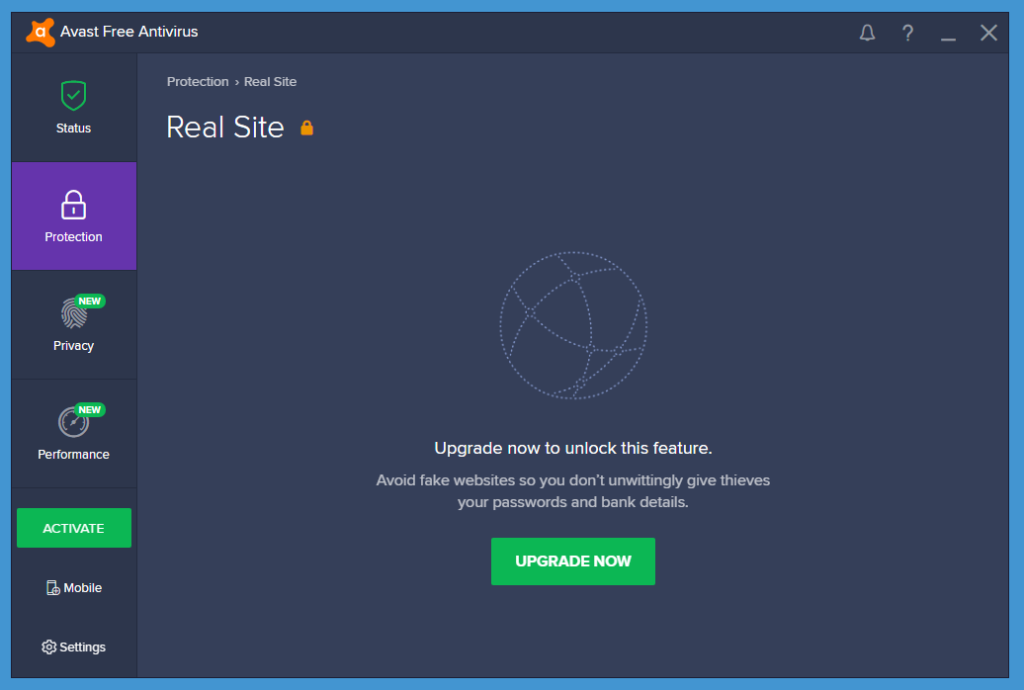 Sandbox: This feature, even though available for free in some competitors, is a paid-only function in the Avast Free Antivirus. It allows users to run potential malware apps in a safe, virtual environment without harming the computer.
Manual Protection
The Avast Free Antivirus allows users to run or schedule scans manually on the system. Click the 'Protection' button on the home screen and choose the 'Scans' option to begin manual scans, which take the several forms depending on their function.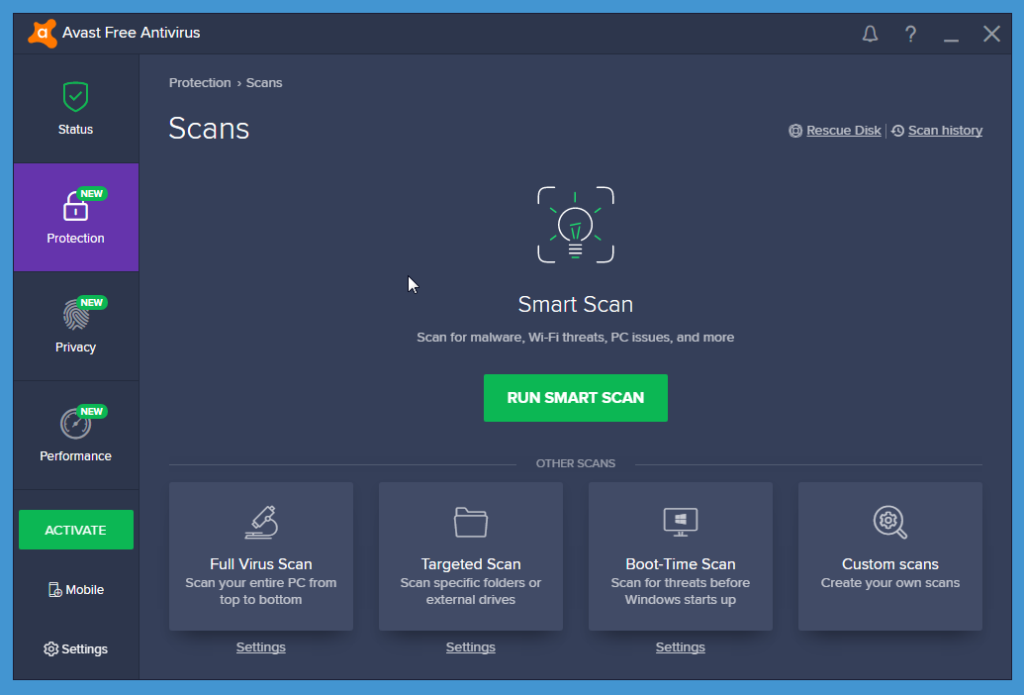 Smart Scan:

The smart scan is a great way to scan the system for viruses, malicious apps, Wi-Fi threats, and other issues, all from a single place. If you wish to identify problems with your PC with a single click, this is the way to go.

Full Virus Scan:

This will scan the entire computer, leaving no files untouched. We recommend running a full virus scan on your system at least once every month. This is particularly important if your system is online for prolonged periods of time or you download music and movies extensively.

Targeted Scan:

As the name itself suggests, the targeted scan will only look for malware in specified locations and drives. If you've added a USB drive to your PC, it's best to run a targeted scan if you think it is infected.

Boot-Time Scan:

This scan ensures threats are detected and it does so by running at boot time when the PC is just starting up.

Custom Scans:

Avast allows you to define and schedule your own custom scans. You can create a new scan, specify the target locations, file types to be scanned, etc.
Additional Features
The Avast Free Antivirus has several additional features that extend its antivirus functionality. However, most of these features require an upgrade. Our Rating: 8/10.
The 'Privacy' and 'Performance' menus are laden with new features, which turn the Avast antivirus into a system monitoring and performance optimization suite. Here are the features:
Passwords: The Avast Free Antivirus has a password manager built-in. This functionality allows you to easily forget passwords knowing that Avast will remember and auto-fill them for you. We found that it is easy to integrate the password manager with your existing web browser. Click on 'Activate in Firefox' or the appropriate browser of your choice.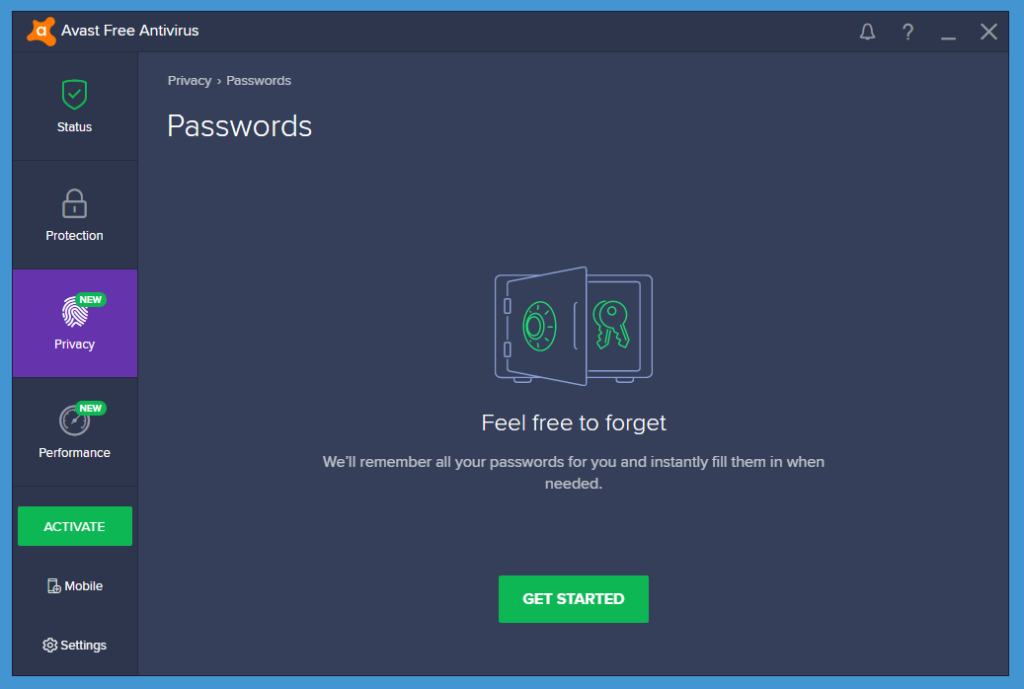 Premium features: The Avast sports the following premium additional features:
Webcam Shield:

Helps protect users from webcam spying.

SecureLine VPN:

Turns on a virtual private network to conceal your PC

Sensitive Data Shield:

Scans PC for files that contain private and confidential information and keeps them safe.

Data Shredder:

Destroys files that are no longer needed permanently in a manner they can't be recovered later.
Performance Tuneup: Navigate to the 'Performance' section to view the performance optimization features provided in the Avast Antivirus.
Cleanup Premium:

This feature allows you to scan your PC for potential performance bottlenecks such as junk files, slow programs, etc.We found that the free version only detects issues with the PC; you need the paid version to actually remove them.

Driver Updater:

This feature allows you to keep all system drivers up-to-date. This is a distinguishing feature of the Avast, which is lacking in many of its competitors.

Game Mode:

This mode will turn interruptions off, so you could enjoy your gaming experience without constant alerts and notifications. We found that turning this on will disable updates from your OS too and ensures that your games run with the highest CPU priority.
Antivirus Performance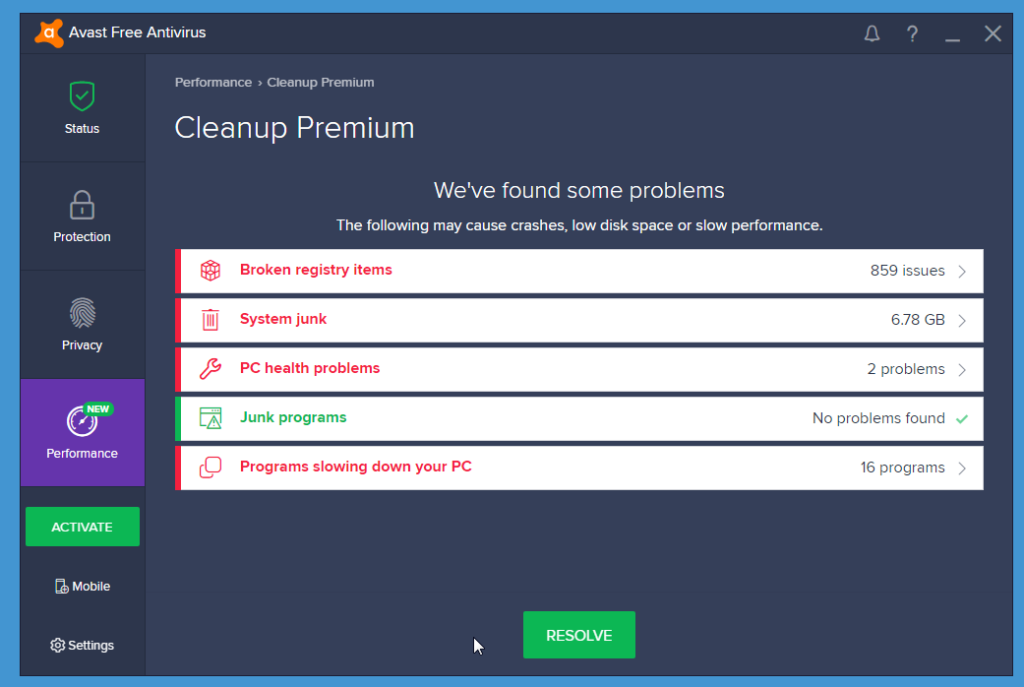 The Avast Free Antivirus is amongst the top scorers in AV-TEST lab reports. The antivirus ran seamlessly on the PC during our tests. Our Score: 10/10.
Independent lab test reports are a great way to compare antivirus software alongside each other. One of the most famous and well-received are the tests of a German laboratory called AV-TEST. Here, we examine how Avast fares in comparison to its peers in the test results.

Avast Free Antivirus scores a full 100% in protection

against the 0-day malware intrusions, the results being based on real-world testing. These comprise of e-mail and web threats as well

(Industry average rating: 99%);

Avast

scored 100% in detecting prevalent and common malware as well

(

Industry average rating: 98.5%);

The software gave 0 false warnings and alarms (

Industry average rating: 13).

As far as the core antivirus functionality is concerned, Avast Free Antivirus stands apart with its brilliant test results.
We found that the software's performance has actually improved with time, for the software triggered 5 false alarms in September tests but none in October lab tests, as is evident from AV-TEST reports on their website.
System Performance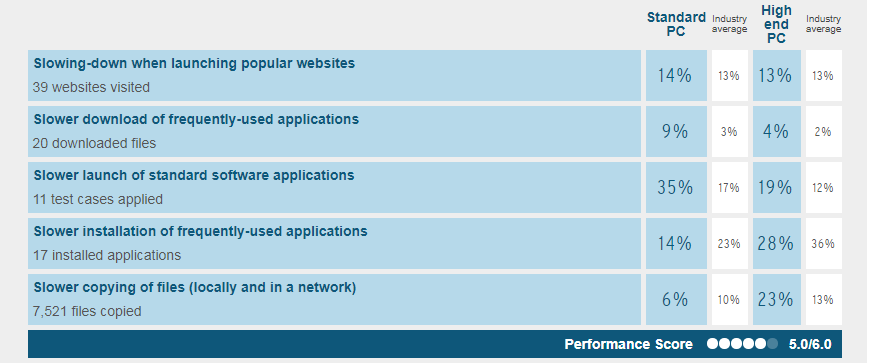 In our tests, we found that the software runs seamlessly without burdening the CPU and memory. This is consistent with the AV-TEST results. Our Rating: 9/10.
This application can affect system performance slightly. On the whole, however, the difference is almost negligible.
Avast Free Antivirus slows the launch of standard software apps by 35% (

industry standard 17%)

.

It reduces launch performance of popular websites by 14%

(industry average: 13%);

The Avast will slow down the installation of frequently used applications by 14% (

industry average: 23%).

Reduces copying speed of files by 6%

(industry average: 10%)
Supported Devices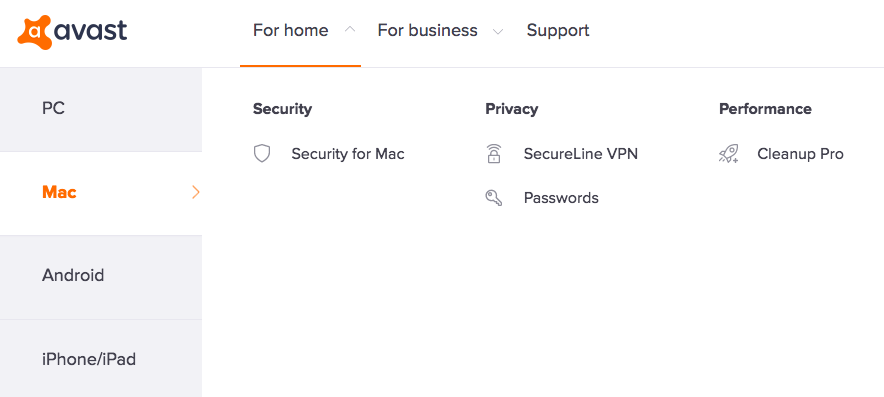 Most antivirus software is provided for use on the popular Windows platform. On the contrary, Avast Free Antivirus is available for Mac, Android, iOS, and of course, Windows. Our Score: 9/10.
Here are the minimum system requirements for the Avast Free Antivirus:
Windows 10/8/8.1/7 SP1/Vista SP2/XP SP3

Intel Pentium 4/AMD Athlon 64 CPU

At least 256 MB RAM

2 GB free hard disk space
Pricing
The Avast Antivirus is available for download as a free version or the 'advanced' or 'premier' paid versions. Our Rating: 9/10.
There are no charges to download and use the Avast Free Antivirus version. However, the software has several paid-only features interspersed throughout the interface, for which you'll need to upgrade your subscription.
Customer Service
The Avast Free Antivirus inculcates an extensive help section right within the software interface itself. The support section of the website provides further support. Our Score: 10/10.
The 'Help' section of the user interface provides resolution to the most common queries of users. The Avast Free Antivirus website provides online help resources to guide users through installation and software use. There's also a forum for further support.
The Bottom Line
Avast Free Antivirus shines as far as malware protection is concerned. It outshines many competitors and ranks high in lab tests.
Though the software inculcates many additional features such as a file shredder, firewall, performance tune-up, etc- most of these require an upgrade to function, leaving only the bare basic antivirus functionality in the free version.
PROS: Very strong antivirus functionality; powerful customization tools; real-time malware protection; beautiful user interface.
CONS: Additional features require upgrade; only core antivirus functionality is provided in the free version; installation takes some time.
Final Score: 9.2 out of 10!
Final Thoughts
This wraps up the Avast Free Antivirus review. This is based on our in-depth analysis and tests of the antivirus software. Do leave us a comment if there's something you need help over!
If you'd like to explore your options, we suggest reading our recently published reviews of the AVG Antivirus, Panda Global Protection, and Comodo. All of these three come free of charge.
Please share this article amongst your social circles- we hope you've found it useful!