When it comes to free-of-charge antivirus software, there are a lot of choices. Almost every reputable company that sells antivirus software has an entry-level offer. This means that you can keep your computer malware-free without spending a single dollar. In today's articles, we will be taking a look at AVG Antivirus Free which promises to bring a reliable antivirus protection in addition to system optimization features. Let's take a closer look.
Before we dive any deeper, we'd like to provide a helpful overview of information. This is how you can check out what to expect. Then, we'll dive deep into different features. By the end of this article, you should become very familiar with AVG Antivirus Free.
Now that you know a bit about AVG Antivirus Software, it's time to take a closer look. However, we'd like to show you what you need to know right away. These are AVG's biggest pros and cons, as well as our final verdict.
Even though the overview found above should give you a glimpse of what you can expect, continue reading. We will be taking a look at this software in-depth, which is the best way to see if this antivirus could be the perfect choice for you.
AVG Antivirus Review - Free Version
We have spent some time trying out this software in an effort to bring you a complete and in-depth review. With this said, we'll start from the very beginning. First, we'll take a look at the installation process. Then, we'll tell you what kinds of features you can expect, and how well those features work. So, let's get started.
Installation Process
AVG Antivirus offers an incredibly easy installation method. However, we recommend taking a bit longer way to avoid bloatware. Our Score: 7/10. 
As you can imagine, the installation process begins by visiting AVG's official website. After clicking on the 'Free Download' button, a very small file will be downloaded to your PC. Once downloaded, double-click on the installation file and you'll be greeted by AVG's Installation Wizard.
Take a look at the screenshot placed at the top of this section. As you can see, there are two options that are, as it turns out, drastically different. This is also the first indication of what to expect from this application. Let's take a look at what hides between these two options:
Continue: This is a very prominent button that is trying to capture your attention. If you click on it, you can expect from the Installation Wizard to do the job on its own. However, we don't recommend this because you might end up with bloatware such as browser extensions.
Custom Installation: This is where you can fine-tune the AVG Antivirus. Take a look at the screenshot placed above. You have the option of picking between three additional components. Computer Shield and Web & Email Shield seem to be perfectly usable options. These are automated tools that promise to protect your PC at all times. However, there's no need to install the SafePrice extension. It promises to keep your online shopping secure, but it serves as an adware instead. This is why it's always the best option to pick the custom installation.
Once you've selected the components you need, it's all smooth sailing from there. AVG will do the rest of the job on its own.
Ease of Use
A highly polished UI designed promises to bring intuitive controls. Even though this antivirus can be a bit overwhelming at times, even inexperienced users shouldn't face any issues. Our Score: 9/10.  
After installing this software, you have to deal with is its UI (User Interface) design. For every antivirus, it's crucial to be nicely designed and not to overwhelm its users. This kind of software can be notoriously hard to use due to plenty of different options. Let's take a look at how AVG Antivirus Free takes care of this.
The Home Page provides a very nice overview of your PC's current status. You can easily see which components are running and which are not. By taking a few steps deeper, you will see toggles used to enable and disable certain components (more about this later in the article).
This software brings together available tools in two categories: Basic Protection and Full Protection. As a free user, you only have access to tools available under Basic Protection. Clicking on tools under Full Protection will ask you to pay for an upgrade. These tools are Hacker Attacks, Privacy, and Payment.
This might sound confusing, but there's another Home Screen as well. This one can be accessed by clicking on the Home Screen button on the left side of AVG's interface. This will take you to additional tools like PC Tune-Up, Secure VPN, and Password Protection. You can try each of these for free (for a limited time period), but they are not included in the free package. In addition, they all work as separate applications that you need to install on your computer.
Overall, this antivirus is doing a good job of presenting information in an easy-to-understand manner. Some things might require some simplification and there are a lot of ads for AVG's other types of software. However, we feel that complete beginners won't have a hard time.
Antivirus Protection
AVG Free Antivirus offers two kinds of protection. You can count on automated protection that works in the background, and on-demand manual scanning. Our Score: 8/10. 
You need to know that there two kinds of antivirus protection. First, there are built-in mechanisms that are designed to work on their own (automatically). You can turn them ON or OFF and hope they'll manage to catch malicious files. On the other hand, there is 'manual' protection. Just like with any other antivirus, you can perform manual searches and scan your PC against viruses and threats.
Automated Protection
Once installed, you will be greeted by the Home Screen that contains basic information. In case you are using the free version (reviewed in this article), you will end up with Basic protection. This includes two important features that can be found on the left side of AVG's screen:
Computer: This is the first option on the left. By clicking on this button, you will see that this is the core defense that works automatically. It has two components that you can turn ON and OFF. These are File Shield (which scans files added and opened on your PC) and Behavior Shield (protection against malicious applications). Both of these are designed to run in the background, trying to identify online scams and malicious attempts;
Web & Email: AVG Antivirus Free takes care of your Internet browsing and email. Click on this button and you'll see two options. One of these is called Web Shield and the other one is Email Shield. Once again, these are automated tools that work on their own.
In case there's a malicious attempt, you will see a prompt telling you that a malicious file has been placed in the quarantine. I have received this message when I tried to update my Nvidia GPU's drivers, which seems a bit odd. As you can see, AVG Antivirus Free has captured the installation file that Nvidia's software was trying to download. However, this didn't cause any issues with the installation. I have updated my drivers successfully, which is when the warning about a possible virus disappeared.
I am not sure if this was a wrong catch by AVG, but it seems so. After all, I can hardly imagine Nvidia serving malware from their servers. Either way, this didn't cause any issues.
Manual Protection
Now, let's talk about the core of this antivirus. At any moment, you are just one click away from all kinds of antivirus scanning mechanisms. The big green button on the Home Page will take you to a Full Computer Scan. This is a so-called full scan that takes care of your browser's addons, viruses, and other malware. It takes only a few minutes to complete, which means this isn't the 'real' computer scan. Instead, AVG Antivirus Free simply checks the most problematic areas in an effort to find a problem.
You can click on the 'Gear Icon' on the Home Page to see other kinds of scans. There are six different ways to keep your PC protected, so here's a short overview of each of those:
Computer Scan is what we've talked about in the previous paragraph. It says that it scans your entire computer for hidden threats. However, this is just a quick search that takes one to two minutes to complete;
Deep Scan is perhaps the most important thing here. This is a lengthy and very intensive scan that dives deep into your PC's system. It is recommended to perform it at least once a month, especially if you download a lot of files from the Web;
USB / DVD Scan can be used when connecting thumb drives or external hard drives. Sadly, you can't set up AVG to pop-up when you plug in a USB drive;
File or Folder Scan is an antivirus scan that you can customize. If there's a portion of your computer that needs to be scanned, this is where you can do it. Simply click on this button, select a directory you'd like to scan, and that's it.
Performance Scan is the reason why we don't like AVG's way of presenting things. This isn't a malware scan, but instead a portal to another product made by this company. It scans for junk files, registry errors, and similar things. However, you won't be able to do anything unless you download a software called AVG PC TuneUp;
Boot-Time Scan is the final option. It seems to be often-neglected, but it's highly important. Viruses and malware can exist deep in your system. Sometimes, you won't be able to remove them since they'll 'replicate' every time you boot up Windows. This is the solution to this problem. AVG Antivirus Free will scan for threats even before Windows starts up, eliminating those nasty viruses.
Additional Features
Among additional features, numerous customization capabilities are what stands out. This is something we rarely see with free-of-charge antivirus software. Our Rating: 8/10. 
It is worth mentioning that AVG's antivirus software brings high levels of customization. In general, free-of-charge antivirus software is designed to run automatically. As such, they don't really allow you to fine-tune their options until you buy the premium version. However, this isn't the case here.
When you open the selection of different scans, you will see that three of those come with extra options. Take a look at the screenshot found at the top of this section, and you will see three small gear icons next to three types of antivirus scans. Let's see what these can do.
By clicking on any of the three Gear Icons, you will get to fine-tune how each scan behaves. On the left side of the screen, you will see a selection of eight options ranging from Scan, Sensitivity, up to Exceptions and Scheduling. This is where you can tell AVG where to look for infected files, how sensitive it should be, and more. When it comes to sensitivity, you can adjust the strength of the heuristic scanning which might make scanning a bit longer. Even though you can push the limits of this software, we still recommend leaving this to 'Normal'.
Antivirus Performance
The most important thing about any antivirus software is how effectively it catches malware files. You don't have to worry about AVG Antivirus since it catches 100% of all malware. Our Rating: 10/10. 
Up until now, we have talked about what kinds of features you can expect. However, now is the time to talk about how they work. The best way to get this information is taking a look at tests conducted by AV-TEST. This is a well-known and reputable German independent lab that tests antivirus software and compares their results. So, here are the most recent stats.
When it comes to protection against 0-day malware attacks, this antivirus managed to identify 100% of all threats (The industry average: 99%);
AVG Antivirus Free scored high when it comes to prevalent malware discovered in the previous month. It managed to identify 100% of those threats as well (The industry average: 98.5%);
False detections that showed up during a full system scan: 5 (The industry average: 13).
Both of these results show a spectacularly good performance. It is safe to say that you can rely on this antivirus to keep you protected against the most recent security threats.
It is also worth noting that it seems like AVG's software has improved during the last six months. We know this because AV-TEST publishes reports every single month. For example, this software managed to catch 99.1% of all threats in March 2017 - which is still a respectable feat.
System Performance
Unlike similar software, this antivirus isn't too hard on your PC's resources. This is a lightweight software that intelligently runs in the background. Our Score: 8/10. 
You have probably heard that antivirus software slows down your computer. This is true up to a certain point. Today's antivirus software is highly capable and doesn't need to lot of resources. As you can imagine, you don't need a high-end computer to run this antivirus.
Once again, we will take a look at AV-TEST and their findings. This is the most reliable way to see if this antivirus can slow down your computer. So, here are the results:
Antivirus such as AVG scans your files continuously. This can create operations like copying a bit lengthier than usual. In terms of this antivirus, it will take 5% more time than without having AVG installed. The industry standard is 10%;
The same applies to launching applications. Since AVG scans executable files, you can expect from commonly used application to take a bit longer to open. In terms of this software, it will take 8% more time than before. The industry standard is 3%.
In simple terms, AVG Antivirus Free will prolong certain actions like copying files and opening applications. So, be prepared to wait a few seconds more than you usually would.
Supported Devices
Sadly, you can install this application only on Windows PCs. Other platforms and devices are not supported. Our Score: 5/10. 
In this article, we have talked about AVG Antivirus Free that is compatible with Windows computers. You can find AVG for Mac as well, but that is an entirely different software. Therefore, this application is exclusive to Windows. Here are the official system requirements:
Operating System: You can install this antivirus on Windows XP (SP3) all the way up to the current Windows 10. Please note that certain Windows 10 editions like Mobile and IoT Core Edition are not supported;
Processor: Just about any CPU should do the job. You need to have Intel Pentium 4 or AMD Athlon 64 to run this application;
RAM: It is recommended to have 256MB of RAM or more;
Free Space: You need 2GB of free hard drive space;
Pricing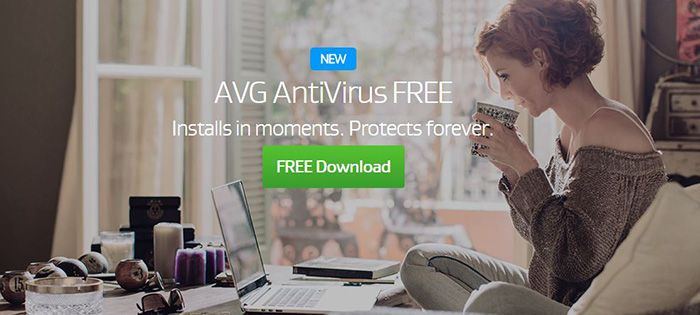 No tips or time limitations - you can use AVG Antivirus for free for as long as you want. Our Score 10/10.
As said several times, this antivirus software comes free of charge. There are no tricks or time limitations. However, certain features will remain locked and they will serve as advertisements.
As you will see at times, this software will ask you to upgrade to AVG Ultimate. This is priced at $69.99 per year. It brings a wide range of additional options - but none of these are essential.
Customer Service
There are numerous ways to contact AVG and receive a prompt reply. In addition, you can count on extensive documentation readily available. Our Score: 9/10. 
AVG provides an incredibly helpful support page. This is where you can find documentation regarding installations and maintenance. If you're facing an issue, this is the place to look for an answer. There is also a specialized section where users of AVG can exchange opinions and share answers. If you're interested in participating, why now join this discussion?
Finally, it is worth saying that AVG offers a service called Express Install (priced at $20). If you don't know how to setup your antivirus, AVG's experts can do it for you. After accessing your computer remotely, they will install and set up the software.
The Bottom Line
Considering that this antivirus is free of charge, this is one of the strongest contenders at the moment. The biggest advantage is its ability to catch 100% of all threats and that includes the latest malware types as well. This should help you to browse the Web safely, without being afraid about the state of your sensitive files.
It is also worth knowing that paying for the premium version brings more advanced security systems. However, this upgrade can be justifiable if you handle sensitive data on a daily basis. Average computer users are not in this group.
PROS: Nicely designed application; Fully automated protection against malware; A high success rate of catching malicious files; Completely free of charge.
CONS: Serves as an advertisement for other AVG products; It can slow down your computer a bit.
Final Score: 8 out of 10!
Final Thoughts
This is where we conclude our review of AVG Antivirus Free. We hope you have found the required information. If not, feel free to post a comment using the comments section below.
Finally, feel free to share this article across social networks if you think other users might find it interesting. Thanks!