Nintendo has stopped the organizers of a 'Smash Bros' tournament with a cease and desist notice.
The gaming company cannot just accept the public use of mods and pirated copies of the game.
The community is once again disappointed, and hundreds are ranting on forums and social media.
Nintendo knows how to spoil the fun, and they have just proven it once more after they decided to send a 'cease-and-desist' letter to the organizers of an upcoming "Smash Bros" tournament. According to the Japanese gaming company, the tournament would use pirated copies of the 'Super Smash Bros. Melee,' a fighting video game that was released back in 2001 for the Game Cube. The tournament's organizers, "Big House," would also deploy a special netcode that allows lag-free gameplay, as this would be a competitive event.
Nintendo maintains that this would send the wrong message to the community, as people would assume that the company now tolerates intellectual property violations and branding abuse, which they don't. This has disappointed Big House and the players who were readying to take part in the tournament set to take place between December 4 and 6, and so the following announcement was posted on the website: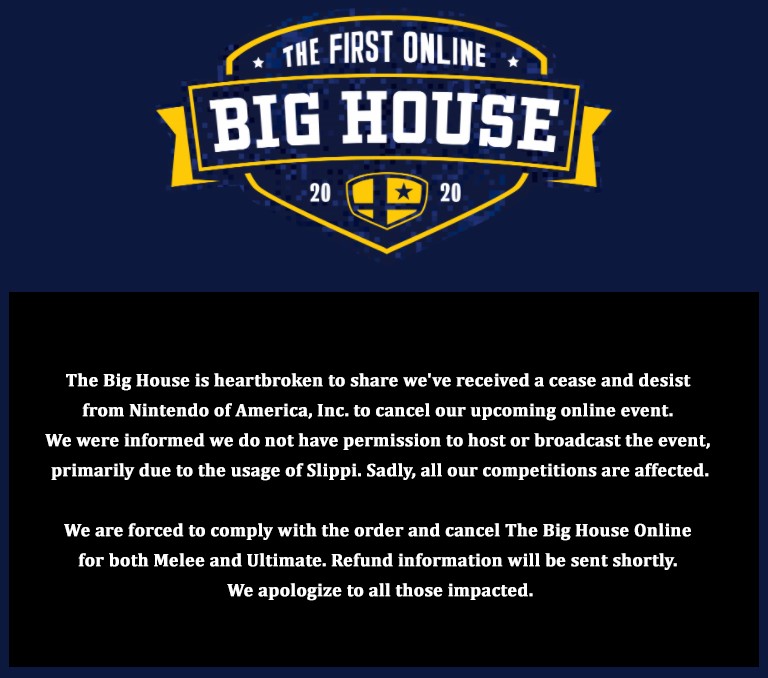 If the organizers were to use the official version of the game, they would simply not be able to hold the event. That's because the two-decades-old title doesn't support saving replays, live match mirroring, and online gameplay smoothing. So, Big House points out that their intention was never to engage in piracy or undermine Nintendo's intellectual property rights, but only to set the stage for live-broadcasted competitive play.
Nintendo acknowledged and expressed appreciation for the love and dedication of the community towards the Super Smash Bros series, but the use of mods like 'Slippi' cannot be accepted. Also, the firm stated that they contacted Big House to ask them to stop, but they refused, and only then they took the 'cease and desist' option.
To avoid enraging the community, Nintendo could have provided the official tools to hold tournaments without violating any of their rights. People still want to play and compete in these old games, so instead of stopping them with cold-cut legal notices, Nintendo could embrace what is going on, host tournaments themselves, support the events held by others, and let the love for its older titles flourish and spread.