It's no secret that regular text messages (SMS/MMS) and calls can be easily intercepted by your carrier – as this is something that happens around the world. Depending on where you live, your carrier (and your Internet service provider, by the way) either have the means to collect your data on-demand, or this data logging happens automatically (if we're talking about mandatory data retention policies). However, this doesn't mean that you must give up on your privacy. As a solution to this problem, apps offering encrypted communication have appeared across iOS and Android app stores. And in this article, we will check one of those. So, welcome to our review of the Signal Messenger app!
Signal comes with a reputation for offering the ultimate encrypted messaging experience. It allows you to anonymize your messaging, as well as audio and video calls. It promises to respect your privacy by not collecting a single file about you - while providing end-to-end encryption. So, how good is this application? Can you truly secure your messaging via Signal? We'll answer all those questions, and then some more. So, let's begin, shall we?
Overview
| | |
| --- | --- |
| Product Name | Signal Messenger |
| Supported Platforms | Android, iOS, Windows, macOS, Linux. |
| Unique Features | End-to-end encryption; Open-source; Replaces your SMS app (on Android); No in-app purchases. |
| Price | Free of charge (no hidden costs). |
| Visit | Signal Messenger |
To help our readers make informed decisions, we tend to produce in-depth reviews. This is going to be the case with this review as well. So, in case you don't have the time to read this entire article, we've prepared a table giving you the most important highlights.
The Bottom Line
| | |
| --- | --- |
| Pros | Powered by the Signal Protocol; No PII data logging; Encrypts messages and calls; 100% free-of-charge. |
| Cons | Its UI could be further simplified; Verification via phone numbers only. |
| The Final Verdict | The Signal Messenger app is the ultimate solution for preserving the privacy of your messages and calls. It's 100% safe, highly secure, and completely free! |
| Our Score | 9.3/10 |
That would be all for our introductory segment. If you continue reading, you will get to learn about Signal from the inside out. So, let's dissect this application and find out whether it deserves your trust.
Signal Messenger – TechNadu's Hands-On Review
Before we begin, you should know that we've tested Signal on iOS and macOS devices. Also, we have received input from users who communicate via Signal on Android and Windows. Therefore, the following review should paint a complete picture of this app.
Background, Jurisdiction & Reputation
Signal is a product of long-term activists battling for digital privacy. The app comes with a reputation for protecting their users without any known risks. Our Score: 10/10.
First things first. Before you sign-up and register for this app, you'll want to know some of its background info. So, let's take a look at Signal's roots – and whether it leaves a positive first impression.
Jurisdiction & Applicable Laws
Signal is developed by the Signal Foundation and Signal Messenger LLC – and both of these organizations come from Mountain View, California (the USA). However, this application has its roots in a startup company called Whisper Systems, founded in 2010 by Moxie Marlinspike and Stuart Anderson. Some of the hugely popular apps made by Whisper Systems were TextSecure and RedPhone – which means that secure communications were the organization's core from the early beginnings.
When it comes to the Signal Foundation is a non-profit organization founded in 2018 by Moxie Marlinspike and Brian Acton with the goal of developing open source technology aimed at protecting free expression and secure communication. It's interesting to note that Brian Acton co-founded WhatsApp, which was later acquired by Facebook in 2014 for $19 billion. Acton continued his involvement with WhatsApp until 2017, before launching the Signal Foundation with Marlinspike (and contributing his own $50 million to the project).
When it comes to other channels of funding, Signal has previously received funds from a number of open-source projects, including LEAP, GlobaLeaks, and the Tor Project, among others.
So, should you be worried that Signal comes from the USA? Well, all evidence points to the app's ultra-high protection of your privacy. Back in 2016, an independent audit of Signal concluded that the app's protocol is 'cryptographically sound'. Additional inspections of the application's code revealed no major flaws.
Previous Data Leaks
In 2016, Signal received a subpoena from the Eastern District of Virginia. This subpoena forced Signal to reveal personal information about some of its users. However, the official response said that Signal records only two types of data – "the date and time a user registered with Signal" and "the last date of a user's connectivity to the Signal service". This means that during this legal battle, no PII (personally identifiable information) was revealed.
Back in 2019, there were reports about a bug plaguing Signal – exploiting a vulnerability that could activate microphones remotely. Upon the official revelation, Signal received an update (within a few hours) and therefore fixed the issues promptly. Once again, no PII was revealed.
With all of this said, it's easy to see that the Signal Foundation has been doing a magnificent job so far. The organization's key individuals are activists fighting against censorship and digital roadblocks – and their flagship app seems to be doing a good job.
Supported Platforms & Devices
You can use Signal on numerous mobile and desktop platforms. However, it's not available on the Web, which is something that its competitors already offer. Our Score: 8/10.
If you plan on securing your communications, you need an app designed for every platform you might be using. And we're glad to say that Signal can be that app.
Platform Compatibility
| | |
| --- | --- |
| Desktop Apps | Android, iOS, iPadOS. |
| Mobile Apps | Windows, macOS, Debian-Based Linux. |
| Web (Online) Version | No online version. |
It took several years for Signal to reach all the currently popular platforms. As you can see, it's clear that Signal has finally reached its maturity – as you can use it on any desktop and mobile platform. And more importantly, none of these apps are in 'beta' – instead, they are fully mature apps that look and feel great (more about this later in the article).
In comparison to its competitors, Signal has a couple more milestones to achieve. Its biggest competitor is WhatsApp (which uses end-to-end encryption, but Facebook owns it). This secure messaging app is also available on mobile and desktop platforms, but you can use it online as well. This means that it's platform-agnostic, even though you first need to install WhatsApp on your phone prior to using it on the Web.
Important Note: Signal is available on the Google Play Store. However, this also means that it requires Google Play Services to run – which can pose a privacy-related risk. If you are using Android, we recommend you download Signal's APK file, so you can ensure the safety of your communications (without involving Google, that is).
Installation & Initial Configuration
The process of getting started with Signal is quite effortless. However, to install Signal on desktop platforms, you first need to have the app on your smartphone (as it relies on scanning a QR code). Our Score: 9/10.
In this segment, we'll talk about the process of installing Signal on an iPhone and a macOS computer. However, we'd like to note that the process is the same on other platforms as well.
Considering that Signal is available on the iOS App Store, the first step is to visit the App Store on your iPhone or iPad and then download the app from there. Once you open it for the first time, you will be asked to enable certain permissions (Signal needs to access your contacts and notifications). Then, you'll be asked to verify your phone number – and finally, you'll be asked to create a PIN code.
Finally, you will see Signal's home screen with a list of your contacts. We're talking about your contacts that already use Signal. Also, it's easy to invite your family and friends to join Signal by using this option from within the application.
On macOS, you first need to download the Signal app from its official website. Install it, and then launch the application. You'll be asked to link your phone to 'Signal Desktop' – which means that you need to have the app already installed on your iOS or Android smartphone. Scan a QR code using your phone, and that's about it. Signal will now sync your contacts and messages. Sadly, Signal doesn't support audio or video calls on desktop platforms – so you can only send and receive messages instead.
User Interface
Signal is a highly polished application in terms of its user interface. However, we do recommend taking your time to inspect its settings, as you'll want to fine-tune your experience. Our Score: 9/10.
During the last couple of years, Signal has been going through a revolution in terms of its UI. What began as a fairly simple app for messaging quickly grew into a highly sophisticated app. On iOS, it looks like just about any messaging app. Once you open it, you'll see a list of your messages – or threads, better said, that combine messages, photos, and calls. If you open any of these, you'll get to see the data exchanged with the intended recipient. At the bottom of the screen, you can compose a new message, insert stickers, send a photo, send an audio note, and you can also send a file, your location, and more. In the top-right corner, you will be able to start a call by clicking on the 'phone' icon.
If you'd like to fine-tune a thread or a group, you can click on the contact's or group's name. This is where you can check out the exchanged media, search your conversation, view a safety number (if you want to test the security of your end-to-end encryption). You can also set your messages to disappear, mute all sounds, and finally block individual users.
To fine-tune your experience of using the app, you can click on your profile photo (in the top-left corner, from Signal's home screen). This is where you'll find a comprehensive list of options – and it's crucial to visit this segment of the app to enhance your privacy truly. So, here's what can be done here:
Network Status: On iOS, you can only communicate with other Signal users only. However, on Android, Signal can replace your default SMS app – so you can send regular text messages to non-signal users and secure messages to Signal users. To make sure you're connected to this app's servers, check whether it says 'Connection' here.
Invite Your Friends: As already said, secure communication is possible only between registered Signal users. So, this option will allow you to invite your contacts to join Signal, which can be via text/email messages.
Appearance: Depending on your preferences, you can choose between a light or dark theme. Alternatively, you can use your system's default so that you can combine the two.
Privacy: This section allows you to check blocked numbers, enable/disable read receipts, and typing indicators. You can also enable/disable the 'Screen Lock' and 'Screen Security' features – if you don't want other people to access this information. And finally, you can fine-tune if you'd like to receive messages and calls from unknown senders.
Notifications: Signal is all about privacy, so you can even fine-tune the way you get notified of messages and calls. There are different sounds to choose from, or you can mute all sounds.
Linked Devices: You will need to access this option if you want to use Signal on a desktop platform. A new device can be linked by scanning a QR code.
Advanced: Among some of the options found here, you can enable/disable debug logs, and there's an option for 'Censorship Circumvention' – available only if you're not able to connect to Signal's server (which might be the case in some countries).
About: This menu item allows you to check the currently installed app version, and you'll find links to Signal's Privacy Policy and the app's support section.
We have to say that Signal is quite easy to use – but you'll need to take some time to learn the ropes. With this said, we strongly recommend taking your time and diving into different parts of the app as soon as you install it. Make sure to set everything as per your preferences – and then you'll get to enjoy using Signal on a daily basis.
Ease of Use
Despite a few minor annoyances, Signal is easy to use – and this applies both to its mobile and desktop versions. Our Score: 8.5/10.
In the previous segment, we talked about Signal's interface. However, it's important to inspect its general ease of use – as Signal is an app that you'll often use many times per day. Therefore, it's imperative to be as simple as possible without limiting you in any way.
Once you open the Signal app, you click on the 'pencil' icon in the top-right corner. This will bring up a list of your Signal buddies – so you can choose the one that you'd like to contact. As you select the contact's name, you will open a new thread, and this is where you can write a message or call the contact. As you can see, calling someone requires a few extra steps – which can be a bit tiresome, especially in the long run.
Writing a message (or sharing files) is done in an intuitive way. Once you open a thread, tap on the 'New Message' bar at the bottom of your screen and start typing. By tapping on icons found on the right-hand side of the 'New Message' bar, you can insert stickers, send photos (after capturing them), and send audio notes. On the left side, there's a 'plus' icon, allowing you to send different types of data like GIFs, files, contact information, and your location.
As you start exchanging messages, data, and calls with someone – all this information remains visible within the main thread. You will see timestamps, respond to messages by attaching your 'reaction', see whether the recipient has received/seen the message, and more. All in all, these are fairly typical features you can expect out of any messaging app – and Signal is no different.
When it comes to using Signal on macOS, you will get a very simple application. As noted earlier, desktop versions of Signal are used to send/receive messages and other data – but can't be used to make calls. On the left side of the screen, you'll see your list of contacts. And on the right side, you will get to read your messages and check other data (photos, audio notes, files, and more). The application is indeed very simple – but it gets the job done.
Security & Privacy
The Signal app is unparalleled when it comes to security and privacy. Thanks to the Signal Protocol, all your messages, voice, and video calls are 100% secure and anonymous – without any chance of someone reading your data. Our Score: 10/10. 
And now, we've come to the most important segment of our Signal review. As you know, this application's main purpose is to secure your communication with other Signal users. This applies to text messages, as well as audio and video calls. We've taken a very deep look at the application's privacy policy, encryption, and technical security – so, here's what you need to know.
Privacy Policy
Signal starts its Privacy Policy by saying that it's designed to "never collect or store any sensitive information". In addition, it says that it uses "state-of-the-art security and end-to-end encryption to provide private messaging and Internet calling".
Considering that it uses end-to-end encryption, Signal and its owners can't read your messages or intercept your calls. All your data is encrypted before it leaves your device, and only the recipient can read that data by decrypting it. Signal doesn't have the keys required to decrypt this data - at any point in time. This theoretically means that even if the service obtains your encrypted communication, there's no way of reading that data.
When it comes to the information stored on Signal's servers, this is mostly related to what you're willing to provide. For example, this can be your real name and your photo. In addition, messages you send to devices temporarily offline (if the recipient has turned off their phone, for example) are also stored on Signal's servers. However, it crucial to say that all of this information still falls under the service's end-to-end encryption – which means that it's hidden even from Signal's owners and anyone else.
Next, we need to say that Signal scans your contacts – so that it can show you, other Signal users. This doesn't mean that this information is collected in a readable form. As per the app's Privacy Policy, this data is "cryptographically hashed".
As you can imagine, Signal's Privacy Policy ends with a warning that your data can be shared to meet any applicable laws and regulations, to prevent fraud, as well as to protect against harm to the rights, property, or safety of Signal, its users and the public.
As mentioned earlier, Signal was forced a few years back to hand over any PII data it had – and in that case, no personal data was found. This tells us that Signal is perhaps the best option right now if you want to safeguard your communications.
Encryption & Technical Security
Signal is based on the Signal Protocol – which is used by some other services as well, such as WhatsApp, Facebook Messenger, and Skype. However, you need to know that the Signal Protocol is open-source, which means that any developer can use it. Still, this also means that developers are free to add modifications to this code. In this case, even though they're using the same protocol, services like WhatsApp, Facebook Messanger, and Skype use different variations of this code.
The Signal Protocol provides end-to-end encryption – and this applies to messaging, voice, and video calls. In other words, this means that any data transmitted between two users is only visible to them and no one else. In terms of its technical specs, it amalgamates the Extended Triple Diffie-Hellman (X3DH) key agreement protocol, Double Ratchet algorithm, pre-keys, and uses Curve25519, AES-256, and HMAC-SHA256 as cryptographic protocols. All of these are highly secure and well-known cryptographic algorithms, used on a wide scale to build secure digital solutions. To learn about the role of each of these, we recommend checking this in-depth analysis, written by Ksenia Kozhukhovskaya.
You should also know that the Signal Protocol doesn't prevent companies from keeping metadata that might store some information related to your communications. This is why it's unknown how much information is being collected by WhatsApp, Facebook Messager, and Skype. To alleviate this issue, the Signal app introduced a 'Sealed Sender' feature in 2018, reducing the amount of metadata collected within its own app. As Moxie Marlinspike stated, logs stored by the Signal app can reveal the last time each user connected to the server – and the precision of this information is reduced to the day (instead of showing the exact hour, minute, and second).
Based on our research, and based on a number of independently published reports, we conclude that the Signal Protocol is a highly secure communications protocol. If you seek anonymity, this is where you'll find it.
Customer (User) Support
Signal's official website gives you a nice series of frequently asked questions, and you can also contact this organization in several different ways. Our Score: 9.5/10.
Considering that we're talking about a solution designed to anonymize your communications, it's imperative to understand its underlying technology. So, to help you understand this, Signal comes with a dedicated support page. This is where you'll find plenty of frequently asked questions related to the app's installation, use, features, security, and troubleshooting. Alternatively, you can also contact Signal's creators by filling out an online form. This is how you can make inquiries about additional security-related questions, technical problems, and pretty much anything else.
Considering that we're talking about a free-of-charge solution here, you can't really expect Signal's customer support to be available 24/7 – or to offer a live chat option on its website. However, all of its support material is highly useful, there's a way to contact this non-profit organization, and you can also use social media for any additional questions.
Pricing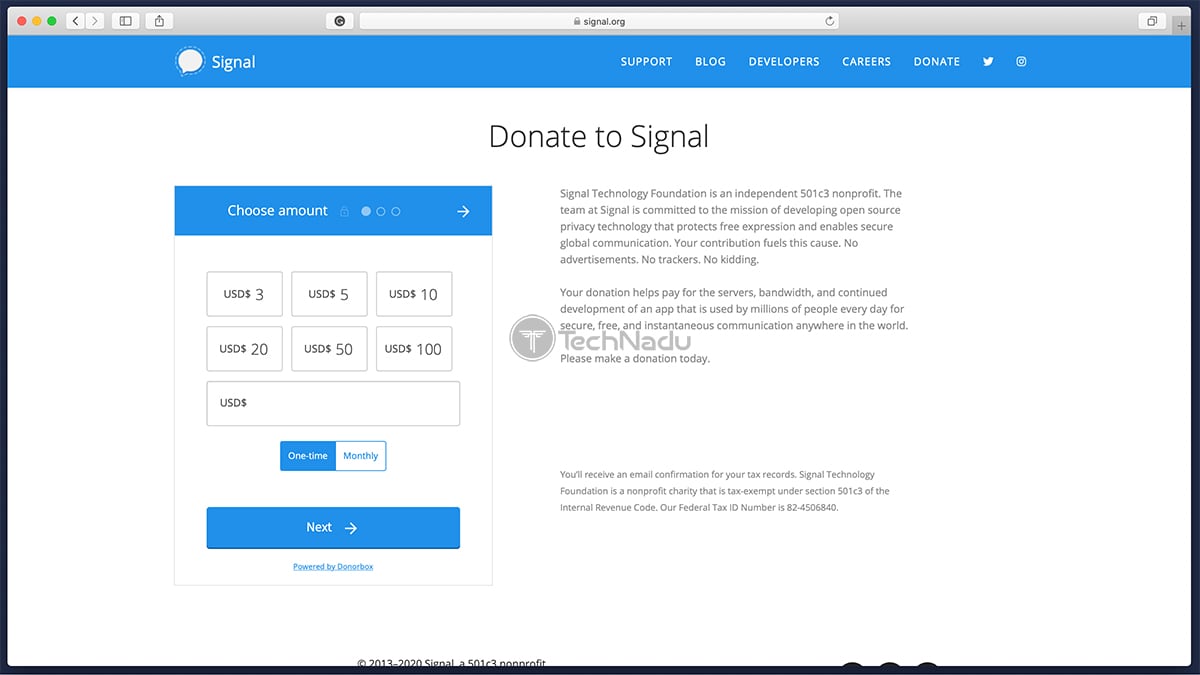 How much does it cost to use Signal? Well, it costs $0 - and more importantly, there are no hidden costs here. Our Score: 10/10. 
The Signal app comes from the Signal Foundation – which is a non-profit organization. You can download and use this app for free, without any hidden costs. There are no-app purchases, hidden or locked features, or anything else.
So, you might be wondering, how does Signal generate revenue? After all, running a highly secure messaging service like this one requires a constant flow of investments. Well, as mentioned above, this organization is funded by a number of other organizations dedicated to promoting open-source software. And, of course, anyone can donate to Signal – from within the app or via its official website.
In case you become a long-term user of this app, we strongly suggest you donate to keep Signal afloat and to continue battling for our privacy.
Do We Recommend Signal?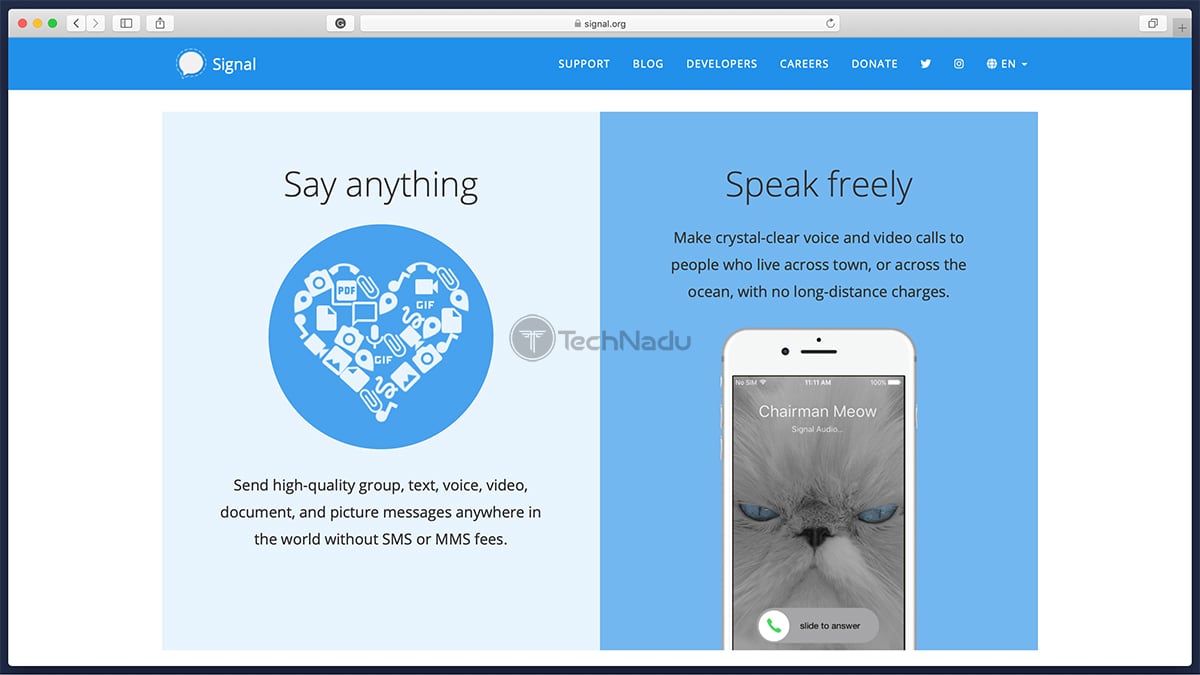 Yes, we absolutely recommend using the Signal app! Based on the opinion of numerous respectable cyber-security experts, the underlying Signal Protocol is perhaps the most secure one out there. This app can truly anonymize your messages, video, and audio calls – and it does that in a very easy and straightforward way. However, take your time to properly set up Signal, hide everything you want about yourself (by visiting the app's settings panel), and send self-destruct messages – and your privacy should be intact.
PROS: An ultra-secure solution; Powered by the 'purest' form of the Signal Protocol; Encrypts calls and messages; Supports numerous platforms; Free of charge.
CONS: You must supply your phone number for verification purposes (however, these can also be burner phone numbers).
OUR SCORE: 9.3 out of 10!
So, this is where we end our in-depth Signal review. In case you'd like to start using this application, or if you'd like to learn more about its features, we recommend visiting Signal's official website. And if you become a user, make sure to share your experience with us via the comments section below.