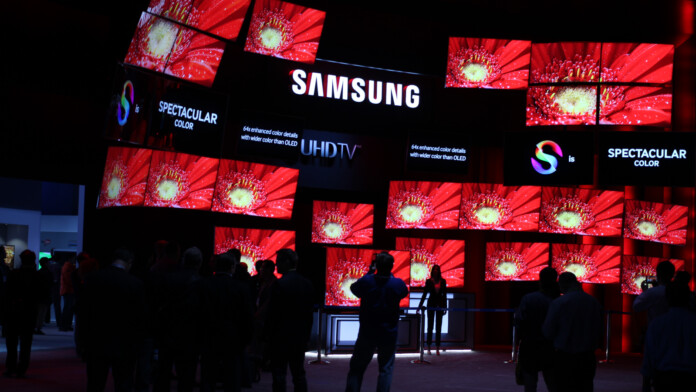 The Samsung US Support team has tweeted on how to check your smart TVs for viruses.
The tweet was promptly removed, so a wave of speculation took form on social media.
More likely than not, this was just bad timing for Samsung to remind its users of the dangers of IoT viruses.
Everything that's connected to the internet is vulnerable one way or another. However, people may easily neglect that their IoT devices are just as capable of getting infected with a virus as their computer or laptop. Smart TVs are a classic example of that, as people may think that there's a special kind of immunity that shrouds them, which there isn't. Samsung Support USA has tried to remind owners of their smart TVs of this very fact, urging them to regularly scan them for viruses. The particular tweet though has been removed by now, which is something that has caused greater concern to the people. Was Samsung trying to imply that something terrible is going on with their TVs, and is there a virus that's spreading? Why would the support team remove the guiding video that showed how to scan your OLED TV for viruses?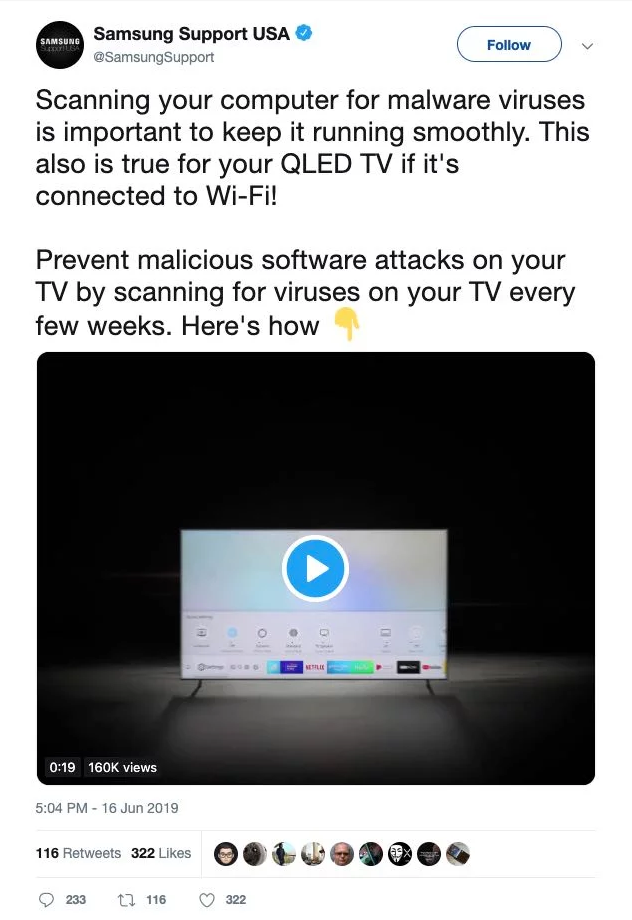 As Samsung has not provided any official responses on the matter yet, people have indulged in multi-branching speculative hypothesis formulation, which is the favorite activity of user communities anyway. Some assume that Samsung was trying to warn its users of a new infection problem without admitting a vulnerability in the operating system of their TVs. Others say that the Korean manufacturer thought that the particular tweet was too far fetched and that the US support team was trying to highlight a problem that is not there, thus causing unneeded fuzz.
User forums do not report spikes in virus infections or any unexpected behavior from their TVs, so it is likely that nothing bad is going on. Smart TV viruses are known since 2015, so this is not a new field of risk. In fact, attackers have found ways to exploit vulnerabilities in smart plugs like the Belkin Wemo and pass viruses to devices that are connected with them like smart TVs. This is why Samsung has recently partnered with McAfee, offering the protection software of the popular AV company on its products.
Whatever the real motivation behind Samsung's US Support team, if you own one, make sure to scan for viruses just in case. The company suggested an interval of "every few weeks", so why not follow that suggestion as well? In the end, being extra cautious with your WiFi connected devices is never a bad thing to do, as one vulnerable device can lead to the full network compromise, allowing attackers to move deeper and access other devices connected to the same network.
Have you ever had a virus infecting your smart TV? Let us know in the comments down below, or on our socials, on Facebook and Twitter.