Samsung filed with the Federal Communications Commission for a 25-Watt wireless charging pad.
The document includes images and specifications and suggests the product is halfway finished.
Among the devices being tested with the new charger were the Galaxy S21, Galaxy Note 10, Galaxy Buds Pro, and Galaxy Watch 4.
A 25-Watt wireless charging pad may be coming soon according to a recent filing by Samsung with the US FCC (Federal Communications Commission), which regulates all radio, TV, wire, cable, and satellite communications. The submitted document includes images of the product, along with specs and hand-on testing and shows the company has more or less finished the design of the new fast-charging pad.
Testing was carried out with four devices: the Galaxy Watch 4, Galaxy S21, Galaxy Note 10, and Galaxy Buds Pro. Charge rates for the Galaxy S21 were 4.5W/7.5W/15W, and those for the watch and earbuds were 2W. Despite the normal Galaxy Note 10's 12W charge support, the Galaxy Note 10 can only be charged with 4.5W.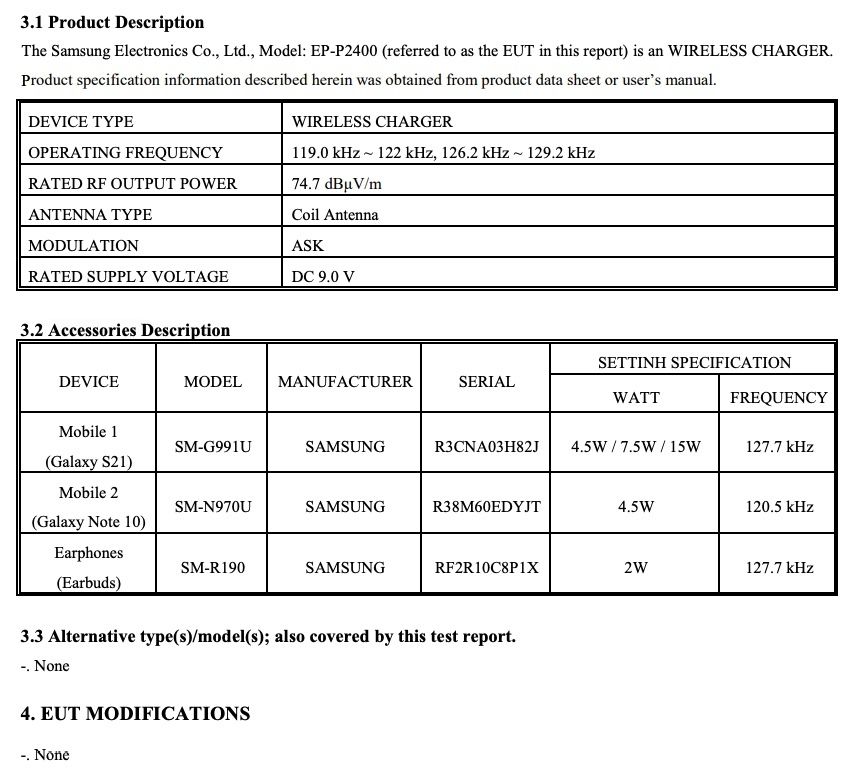 Now that Samsung's Galaxy S22 is expected to be released in January or February next year, speculating that this charger was made only for the Galaxy S22 is reasonable, as none of Samsung's current top-tier handsets support 25W fast charging. In addition, the Galaxy S21 Ultra can charge at a rate of 25W using a USB-C cable, which is more than the Galaxy S21 series can support wirelessly.
MySmartPrice reports that Samsung might also introduce wired fast charging support for the top model of the Galaxy S22 Ultra series. Currently, it can deliver a maximum of 25 Watts via cable; rumor has it that the new Ultra will deliver 45 Watts. It will take time to see how this affects battery health over time.
Although Samsung filed its application, that doesn't guarantee such a charger will arrive in stores soon since it's still too early to know yet. However, Samsung is seemingly preparing to release a smartwatch with a rollable display and a camera as well.