Private Internet Access is implementing the WireGuard protocol with its own set of additional protections.
WireGuard is leaner, much faster, easier to set up, and better at encrypting Web traffic.
The new protocol will make this VPN about 40% faster when compared to using OpenVPN.
'Private Internet Access' (PIA) is rolling out clients that feature support for the WireGuard VPN protocol and is inviting its existing beta testers to join the new program. This means that the beta testing program is no longer open to everyone, and the developers clarified that there's still a long way to go in terms of implementing more features and ironing out any bugs. PIA is the latest major VPN vendor to dip its toe into WireGuard waters following NordVPN - with its own implementation (NordLynx), VPN.AC, Mullvad, IVPN, AzireVPN, WireVPN, TorGuard, and StrongVPN.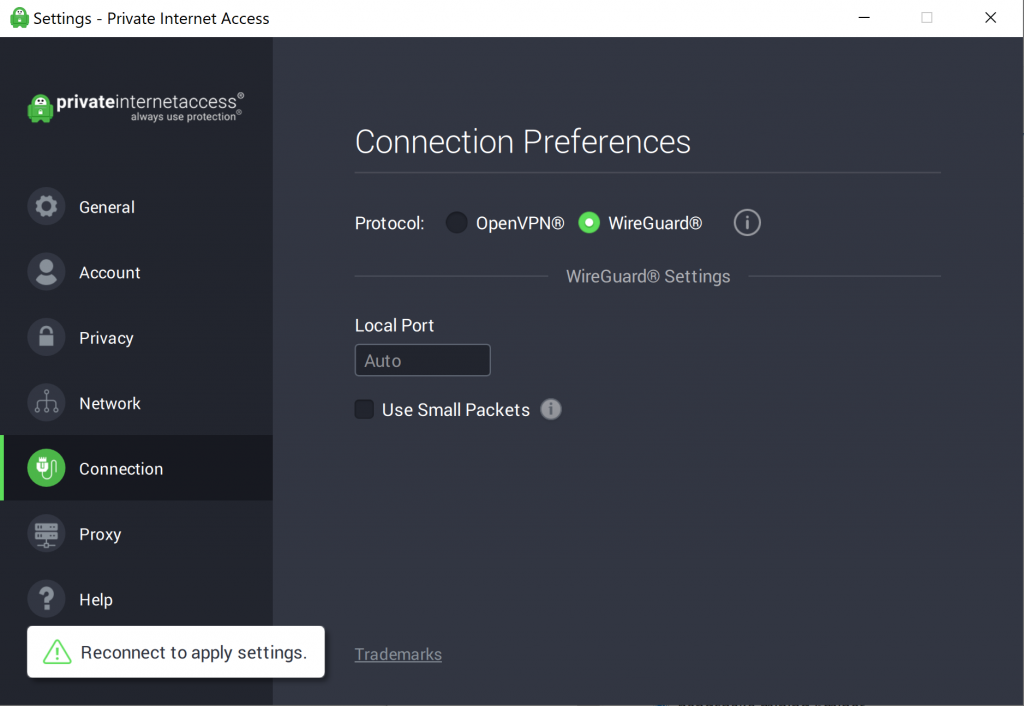 WireGuard is a recently introduced (2016) open-source communication protocol, developed to implement VPN techniques that secure point-to-point connections. Compared to the older and more widely used IPSec and OpenVPN protocols, it's faster to establish connections. It features better performance, and it is easier to set up, has a considerably smaller attack surface, simpler code, and a far more secure cryptographic scheme. It was built to be lean, speedy, and secure from the ground up, and Private Internet Access had actually supported its development by contributing donations at a very early stage. In February 2020, Linus Torvalds merged WireGuard into the mainline Linux kernel tree, accepting it as the state of the art VPN technology of today.
PIA states that they are supplementing the core of the WireGuard protocol with their own additional protection measures, achieving ultimate levels of user privacy and anonymity. By applying the knowledge that stems from their extensive experience working with OpenVPN and IPSec connection types, PIA has established a set of "best practices," which they are planning to bring into the new WireGuard platform. For example, they have added an extra layer of privacy by running an RSA certificate protected RESTful API. Another privacy-securing technique involves the periodic WireGuard connection data wiping by a daemon.
The internal beta testing team is reporting an increase in speeds of about 40% compared to the OpenVPN protocol when using WireGuard. The new client is less prone to "option paralysis," can perform switches and re-connections to servers almost immediately, and feels a lot more snappy in general. When it comes to security, the rich set of cryptographic algorithms and the ability to audit the code so easily both turn up the knob of our eagerness. As for when the WireGuard support will be rolled out for everyone, we reckon that we're still a couple of months away from the launch.
Lastly, in case you need more information about this VPN (outside of using the new WireGuard protocol), make sure to check our full Private Internet Access review.