Tumblr is ready to change hands, and Pornhub claims to be extremely interested in buying it.
The social media platform has been steadily dropping in popularity during the past three years.
Pornhub hopes that bringing back NSFW content will restore its previous glory.
Tumblr may soon find a new home under the Pornhub umbrella, who is hoping to restore its former glory. The once popular microblogging and social networking platform is currently experiencing a downward spiral in popularity, following its acquisition by Verizon Media in 2017. In these last couple of years, Tumblr has been on the receiving end of multiple copyright violation warnings and DMCA take-down notices that crippled the freedom of its users to post whatever they wanted. As if that wasn't bad enough on its own, Apple pulled the app from its store in 2018 on the grounds of illegal child pornographic images posted on the platform.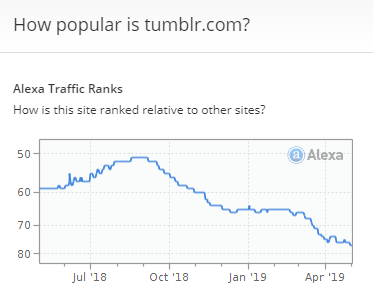 The pressure for self-censorship grew, as the app was banned in several countries for similar reasons, and so the operators decided to go with it. They decided to add a nudity-detecting AI and automatically delete all content that was deemed inappropriate. This only accelerated the user flight, who found other platforms to post whatever they wanted. The AI isn't even working correctly, so the whole situation is currently a mess. With the prospects growing direr, Verizon put Tumblr for sale, and Pornhub just announced that they want to acquire it, and bring back the very element that made it popular, the adult content.
Pornhub's VP Corey Price has made the following statement to ArsTechnica: "There are obvious synergies between the two brands and value Pornhub could derive from Tumblr. We're extremely interested in acquiring the platform and are very much looking forward to one day restoring it to its former glory with NSFW content. Tumblr was a safe haven for those who wanted to explore and express their sexuality, adult entertainment aficionados included. We've long been dismayed that such measures were taken to eradicate erotic communities on the platform, leaving many individuals without an asylum through which they could comfortably peruse adult content."
Obviously, being an expert in the field, Pornhub knows a thing or two about porn, but this isn't the only thing that made Tumblr popular. Original creative content from its bloggers was another of the pillars that held Tumblr high, and with them already gone it is unclear whether people will get to jump back on the old ship just thanks to the more lax nudity posting policies. Maybe Tumblr will gradually form a new character that is built around a different type of users. Whatever the case, it looks like the social networking platform has a future, and it's been a long time since someone could say that about Tumblr.
Are you currently using Tumblr? Are you excited with the prospect of Pornhub acquiring it? Share your comments down below, or on our socials, on Facebook and Twitter.