The third Beta version of Kodi 18 is now available for download, on all currently supported platforms;
No new features in Beta 3 – but plenty of optimizations and refinements;
The final version of Kodi 18 should arrive sometime in November, according to the latest reports. 
Kodi's development team has been hard at work, as usual. The past previous months brought us several Kodi Alpha builds with changelogs pointing to numerous overhauled areas. However, as we're getting closer to a release date (which is still unknown), we're beginning to see a steady flow of Beta versions. The last one, Kodi 18 Leia Beta 3, has just been released with plenty of performance improvements and bug fixes.
As always, you can keep track of what's new using Kodi's Wiki changelog page. Since every Beta version brings a large number of updates, this page can't describe all of them. However, the page is being constantly updated. Here are some of the most notable changes that Kodi 18 Beta brings:
Improved browsing of Kodi's library in comparison to Beta 2;
New button maps have been updated for controllers that were changed in Beta 2;
Improved video and audio playback on Android devices;
Improvements to smooth videos playback on Windows;
Numerous other fixes that should ensure better video playback.
What's important to mention is that Kodi 18 Leia Beta versions don't bring any new features. Instead, they are focused on fixing bugs and making sure the final product is as polished as possible. This also means making sure that a number of skins need to be updated to be compatible with the final release of Kodi 18 Leia. You can find a list of currently working skins on the latest blog post by Kodi's team.
When it comes to other important news, it's worth noting that Kodi's developers plan on embracing Python 3, which should come into full effect with the next major version of the software – Kodi 19. Right now, Kodi is using Python 2.7 to run addons written in this programming language. Since Python 3 is not backward-compatible with the previous version, this won't be a totally easy process and this is why Kodi's developers are talking about this right now. Once Kodi 18 Leia comes out, developers will be free to create Python v2 and v3 addons – and both of these will be accepted to the official repository of addons. However, this should change one year from now. Kodi 19 will only work with Python 3 addons.
Finally, let's talk about a planned release date. You won't find any official announcements regarding this, but there are some (seemingly credible) rumors found online. As BetaNews reports, we should expect Beta 4 to be published on October 14. Then, Release Candidate should appear on October 28, and Release Candidate 2 should be available on November 11. This means that we could be one month apart from the official release of Kodi 18 Leia.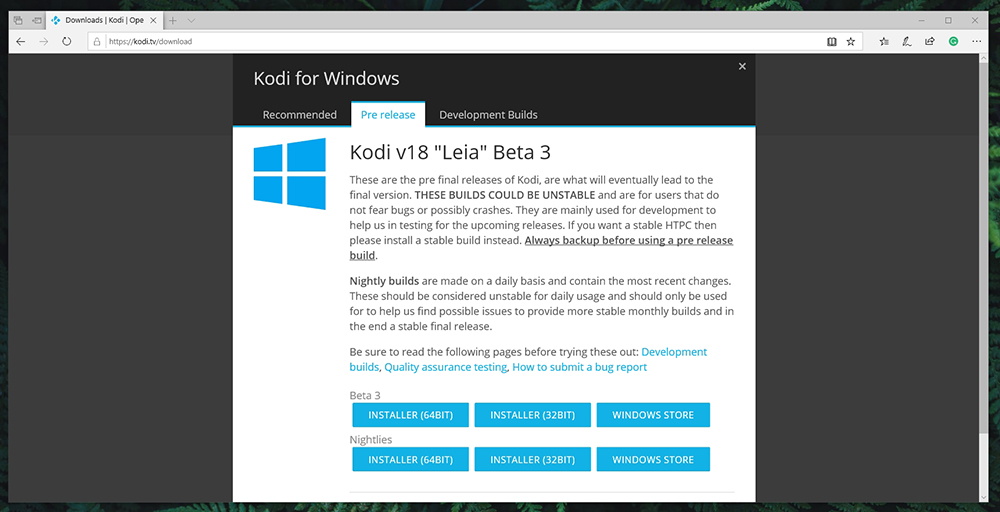 To download Kodi 18 Leia Beta 3, head over to the official download page. Choose your platform and then open the pre-release tab. There's also a new addon that let you update Kodi on Android and Windows, so give it a try as well.
Do you plan on using Beta versions of Kodi, until the next major version comes out? Let us know in the comments section below. Also, don't forget to follow us on Facebook and Twitter for the latest Kodi-related announcements. Thanks!