We're sure you've heard by now that Apple has announced its 2020 iPhone lineup. This year, we have four distinct models, two of which form the 'Pro' lineup. More precisely, we're talking about the iPhone 12 Pro and iPhone 12 Pro Max.
The 'Pro' lineup consists of Apple's most powerful iPhones. With that said, you can expect truly the best out of those smartphones. However, what exactly is new when it comes to the iPhone 12 Pro and Pro Max? Let's find out!
An All-New A14 'Apple Silicon' Bionic Chip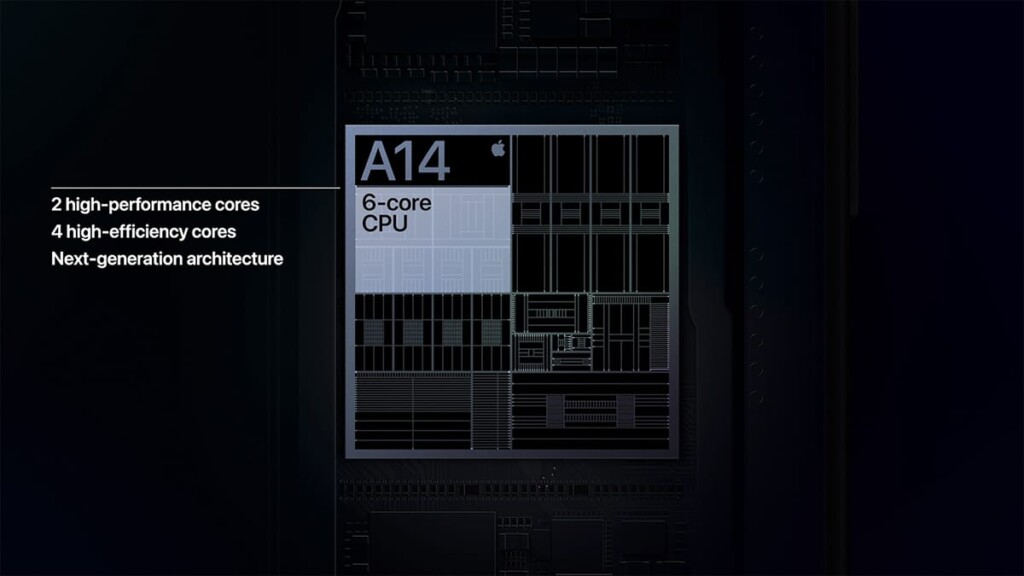 Plenty could be said about Apple's A14 'Apple Silicon' Bionic chip, so let's give you the most important highlights.
According to the Cupertino-based company, the A14 chip comes with a faster neural engine that now features 16 cores (up for 8). It's 80% faster in comparison to the previous generation, handling 11 trillion operations per second.
Essential Reading: iPhone 12 / Mini / Pro / Pro Max Specs
In addition, the A14 chip is the first 5nm chip in the industry, providing up to 50 percent faster CPU and GPU performance on the iPhone 12 Pro and Pro Max.
Read More: Apple's A14 Chip Is Unlocking Mobile Gaming on iPhone 12
Ultra-Fast (And Intelligent) 5G Connectivity
This year's iPhone is the first iPhone to feature 5G connectivity. However, based on Apple's explanation, the iPhone 12 lineup will use 5G intelligently. Here's what that means.
Fast Performance: The iPhone 12 Pro lineup features the most 5G bands in comparison to any other smartphone. This means that you should get 5G connectivity in more places, where other phones might not be able to achieve the same level of cellular connectivity.
Software Optimization: Powered by iOS 14, the newest iPhone generation uses 5G when needed. This means that individual apps won't be forced to use 5G exclusively. However, when you need it, 5G will be there – without using additional power.
Battery Conservation: You'll get to choose when and how you'd like to use 5G. For example, if you don't want 5G for background updates, your iPhone will switch back to LTE. This will help you conserve your iPhone's battery life.
MagSafe Gets Re-Introduced!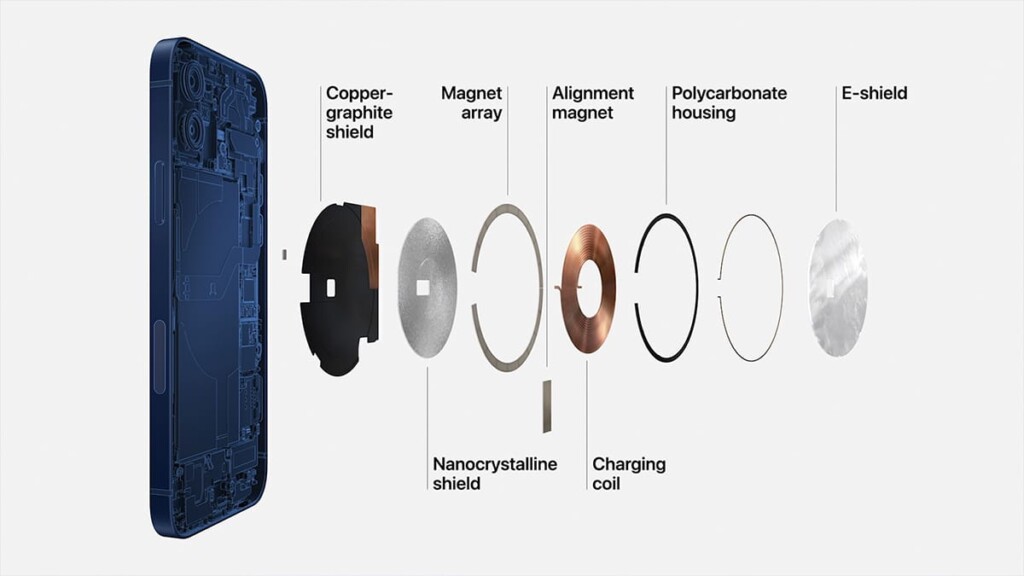 When it comes to the iPhone 12 Pro and 12 Pro Max, MagSafe is much more than just wireless charging. This technology comes with a host of accessories, allowing you magnetically attach all kinds of useful objects to the back of your iPhone.
Of course, wireless charging is in the center of this technology. MagSafe allows you to fast-charge your iPhone even without using a cable. And on top of that, you'll get to use a much wider range of accessories.
Learn More: iPhone 12 Battery Life Explained – Here's What to Realistically Expect?
For example, there's the new MagSafe Charger (priced at $39.00). Even though this charger is compatible with an iPhone 8 and newer, it provides ultra-fast wireless charging on the iPhone 12 Pro and Pro Max only.
Then, let's not forget to mention other MagSafe accessories. You'll find plenty of different cases, including unique attachments like this Leather Wallet with MagSafe.
A Huge Leap Forward in Terms of Photography
One of the biggest leaps this year (when it comes to the iPhone 12 Pro and Pro Max) happens in the photography domain. Even before, iPhones were known as the ultimate mobile cameras. And trust us, Apple has now pushed them one giant step ahead.
Night Mode Expanded: One of the flagship features of the previous iPhone generation was the 'Night Mode.' However, that same feature now expands to two additional cameras on the iPhone 12 Pro and Pro Max. And yes, we're talking about the Wide and Ultra Wide cameras.
Improvements Across the Board: The 'Pro' lineup takes 87% better low-light photos. It comes with a 5x optical zoom range and features an improved sensor-shift optical image stabilization.
Apple ProRAW: Photographers know the importance of shooting in RAW. Well, the 'Pro' lineup now comes with a ProRAW file format, capturing a whole slate of useful information. As you can guess, this gives you more creative power in terms of photo editing.
Dolby Vision Recording: And lastly, there are improvements related to videography. The iPhone 12 'Pro' lineup jumps from 8- to 10-bit HDR recording. Also, Dolby Vision is now here, letting you not only capture videos in this format but edit them as well.
Keep on Reading: All You Need to Know About iPhone 12 / Mini / Pro / Pro Mac Cameras
LiDAR Scanner Now Available on iPhones
Previously available on select iPads, the LiDAR scanner is now available on the iPhone 12 Pro and Pro Max. There are many practical uses for this technology, so let's go over some of the most important benefits.
Instant AR: LiDAR is designed to understand your environment. So, when using AR apps, this technology will better understand different types of geometries and surfaces. Thanks to this, AR apps will get to create custom experiences, more immersive than before.
Scene Geometry: In AR, you can move objects freely. However, for them to fit into your physical space, they need to make all kinds of calculations. Well, this is an easy task for LiDAR, capable of understanding textures and various layers in front of your eyes.
Night Mode Portraits: As said earlier, the iPhone 12 Pro and Pro Max can shoot amazing photos in the dark. Well, this happens thanks to the new LiDAR scanner.
You'll Also Want to Know: LiDAR Scanner Brings a Six Times Faster Focus!
New Display Sizes & Smaller Bezels
In terms of their dimensions, the iPhone 12 Pro and iPhone 11 Pro lineups are identical. However, there's a noticeable difference between their screen sizes.
The 2020 iPhone lineup of 'Pro' models comes in two sizes: 6.1-inch and 6.7-inch. This tells us that Apple has managed to make the bezels smaller, making these phones' screens larger. And yes, we're still talking about super-premium displays here (Super Retina XDR).
On top of that (quite literally), the iPhone 12 Pro and Pro Max come with a special protective layer across their screens. Called 'Ceramic Shield,' this layer is made of nano-ceramic crystals. In simple words, this makes the new screens four times more durable.
New (Premium-Looking) Color Options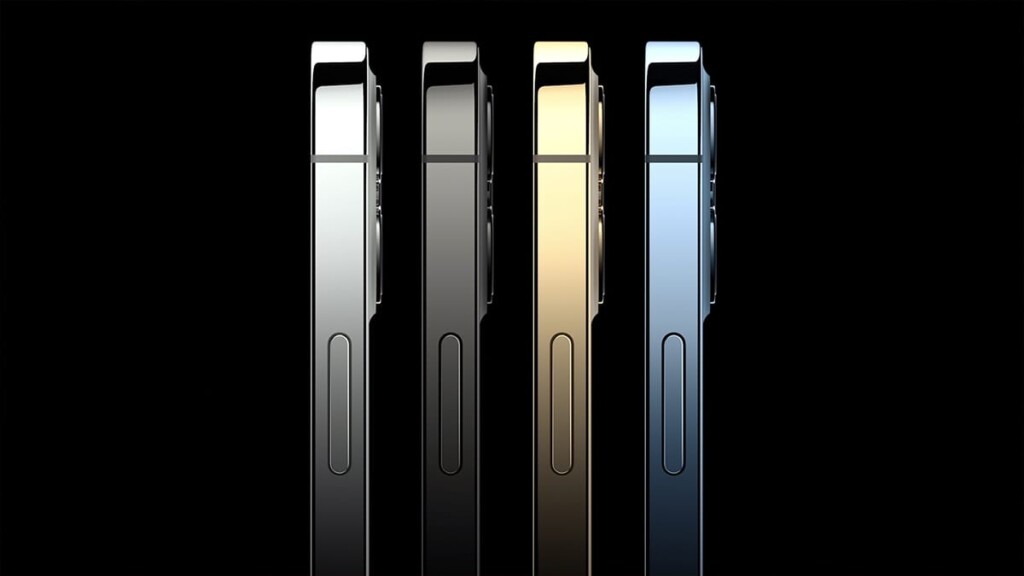 Lastly, know that the iPhone 12 Pro and Pro Max come in four colors: Pacific Blue, Gold, Silver, and Graphite. And yes, the 'Pro' lineup still comes with a frame made of surgical-grade stainless steel.
Find Out More: The iPhone 12 Lineup Brings All-New Pastel & Vibrant Colors
iPhone 12 'Pro' Lineup Availability & Prices
We're sure that many of you are wondering about the price and availability of the iPhone 12 Pro and Pro Max. So, let's start with the pricing first.
| | | | |
| --- | --- | --- | --- |
| | 128 GB | 256 GB | 512 GB |
| iPhone 12 Pro | $999.00 | $1,099.00 | $1,299.00 |
| iPhone 12 Pro Max | $1,099.00 | $1,199.00 | $1,399.00 |
And now, let's take a look at when the pre-orders start for these two iPhones. Also, here's when you can expect them to ship (if you preorder them on time).
| | | |
| --- | --- | --- |
| | Pre-Orders | Shipping |
| iPhone 12 Pro | October 16, 2020. | October 23, 2020. |
| iPhone 12 Pro Max | November 6, 2020. | November 13, 2020. |
More From Apple's iPhone 12 Event 2020