Physical iPhone 12 dummy units are now being sold via online marketplaces, mainly coming from China.
Apple fans are obtaining these to compare and predict the looks of this year's iPhone 12 lineup.
A new set of photos gives us a real-world view of how this year's iPhone 12 (5.4-inch) compares to the original iPhone SE and iPhone 7.
Even though plenty is already known about iOS 14, the same can't be said for this year's iPhone lineup. Of course, this doesn't stop rumors and predictions from appearing on the Web. We've seen the news about the iPhone 12 coming without a charger, being the last one with a Lightning port, and coming with a 120Hz display. And now, iPhone 12 dummy units have appeared on the Web, based on Apple's CAD plans. More precisely, these dummy units are being sold via online marketplaces, giving a chance to Apple fans to buy these and compare them in the "real world."
A MacRumors Forums member named iZac has purchased a dummy unit representing the 5.4-inch iPhone 12. In case you didn't know, there were talks about at least three iPhone 12 models coming later this year, featuring screen sizes of 5.4-inch, 6.1-inch, and 6.7-inch. Considering that the 5.4-inch iPhone 12 will the smallest one, iPhone SE owners would like to know if they can count on upgrading this year.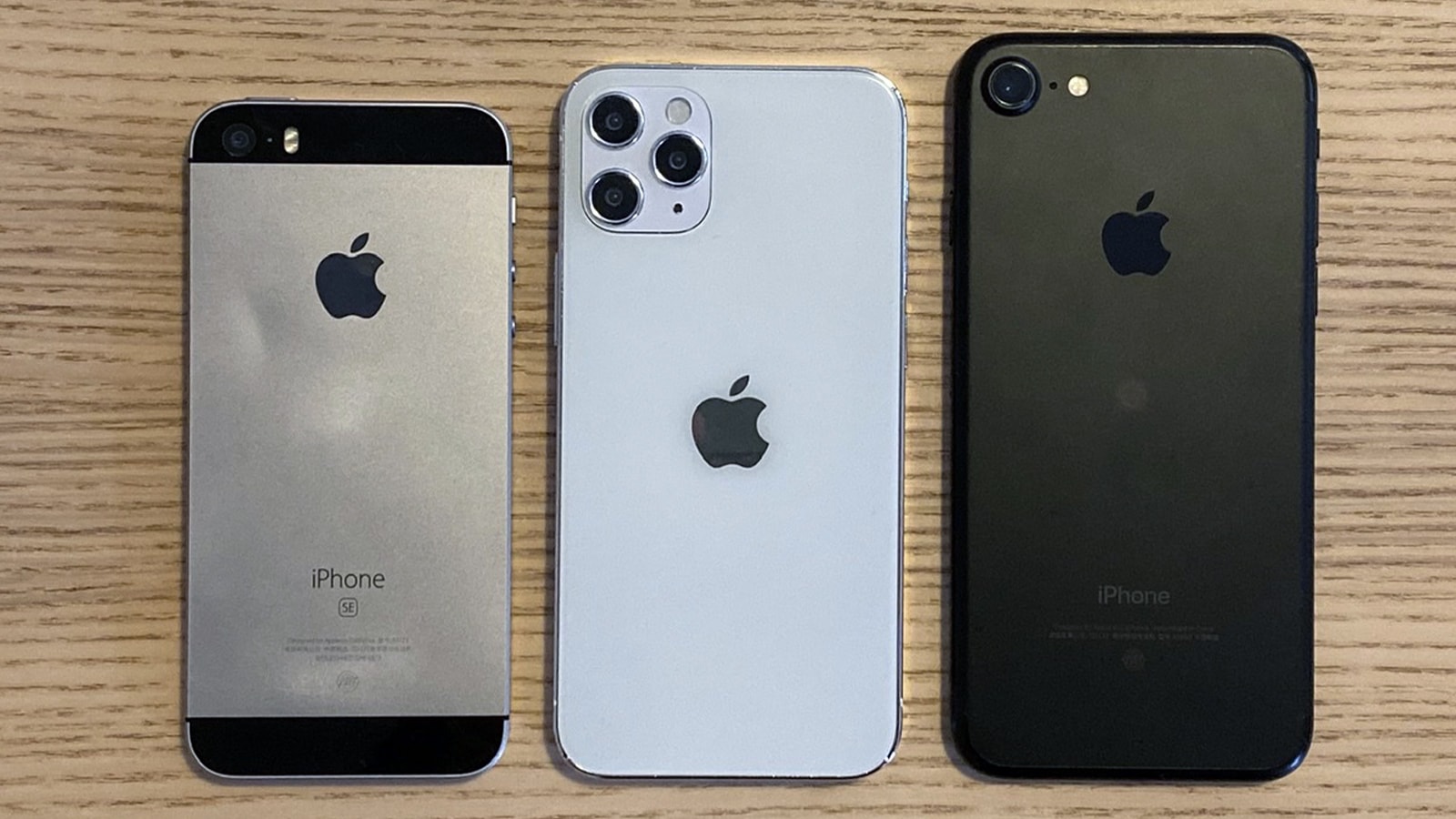 As a reminder, the original iPhone SE used to come with a 4-inch display. It took years before Apple released a second-generation SE (currently sold), featuring a 4.7-inch display. As iZac notes, the 5.4-inch iPhone 12 seems like a viable alternative for the original iPhone SE, even though it's significantly larger. However, due to its square profile, the rumored iPhone 12 feels a lot more manageable as its flat sides allow you to grip the device comfortably.
When compared to the original iPhone SE, the rumored 5.4-inch iPhone 12 is 6mm wider. However, when compared to an iPhone 7, the small-sized iPhone 12 is 3mm narrower. And in terms of its thickness, the entry-level iPhone 12 will be 1mm thicker than the original iPhone SE.
The information you've read so far can easily cause some confusion. We can't blame you for that, as there are indications that Apple could soon take a whole new direction with its iPhone 12 lineup. The company has been experimenting with different smartphone sizes and shapes in the past, and this trend will most likely continue in 2020. By offering both small and extra-large iPhones, the company could cover a broader range of potential users. However, this will most certainly add plenty of complexity between the existing and future iPhone models – making it harder for individuals to draw comparisons.
If we're talking a look a bit further down the road, Apple will most certainly keep pushing their smartphones in every possible sense. Expert analysts predict that a 3nm processor is planned to launch in Q3 2022. And considering that Macs are transitioning to ARM processors, this has plenty of speculative implications about the way iOS, iPadOS, and macOS devices will continue to evolve.