The Thunderbolt 4 controllers will soon be made available to hardware vendors.
The new protocol is unquestionably an improvement over the previous generation, but not a shouting one.
Thunderbolt 4 aims at the premium device segment, offering uncompromising performance and a truly universal experience.
The fourth generation of the Thunderbolt connectivity standard is here, and Intel has revealed all the technical details that make it unique. From what seems to be the case, Thunderbolt 4 is more like an incremental step forward than the previous generation, rather than a leap that will revolutionize the field.
That is not to say that it doesn't come with a set of new features that users should be happy about, but it fails to deliver on areas that would help it pick up adoption and create marketing boosters.
As detailed in the following table, the new stuff that comes with Thunderbolt 4 includes the following:
Universal cables reaching 2 meters in length
Docks with four Thunderbolt ports
Support for two 4K displays simultaneously
Ability to charge computer through a single Thunderbolt port
Computer wake-up ability by interacting with Thunderbolt-connected input devices
Support for Intel VT-d based DMA protection
Considering that Thunderbolt 3 offers support to output to one 4K display, has the same data transfer rate (40 GB/sec), the same port power wattage, USB 4 compliance, and even lower minimum PCIe speed requirements, it will be hard for Thunderbolt 4 to justify an upgrade if your device is using the previous generation.
Sure, there is some good stuff that lands with the fourth version of the protocol, but the most important, in our opinion, is the comfort and flexibility that comes with the docks and the charging/wake-up functions. All of this combined helps reduce the clutter on your desk by needing fewer and thinner cables. But will this be enough to justify the additional cost?
RELATED: USB4 Coming Up and It's Going to be Fast and Backward-Compatible
Intel has decided to make Thunderbolt 4 the ultimate port, jointing the lines of the minimum data transfer requirements and the maximum performance of the connectivity standard. This puts it apart from the USB 4, which is a more versatile, backward-compatible, and "forgiving" standard. Remember, Intel published the specs of Thunderbolt 3 to help USB 4 leap forward, so they are not looking to compete with it. Thunderbolt 4 will be a premium connectivity solution found on top-notch devices, offering the absolute best possible performance without compromises.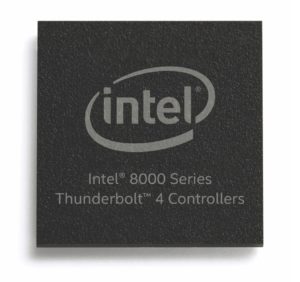 As for when the Thunderbolt 4 8000 series controllers will be launched for computer and accessory makers to use, Intel just gives us a "later this year," so there's nothing specific yet. For sure, they expect actual devices like laptops featuring Thunderbolt 4 ports to appear before the end of 2020.
READ MORE: