Are you hoping to watch Live TV after cutting your cord? There are two major ways a person can enjoy Live TV broadcasts without paying for a cable or satellite subscription. Want to know how? Just read on.
Cutting the Cord: The Basics
Cutting the cord means replacing your cable or satellite TV with other alternatives that enable you to enjoy TV content including Live TV. Cord cutting could also mean you're joining a league of ever-increasing streamers, with streaming services expanding rapidly in America.
The likes of CBS and HBO already have streaming services that allow viewers to access their services online. Also, Direct TV just started offering non-subscribers its NFL Sunday Ticket service over the internet. Today, a good number of channels offered by cable companies are available online. So if you want to watch Live TV after cutting your cord, you will have a range of options to choose from.
Watching Live TV After Cord-Cutting
One interesting thing you could do is switch to the traditional way of getting Live TV; get the untapped signals bouncing off your house. To do this, you need to have a solid Internet connection, a streaming media player, and a subscription to any Live TV streaming service provider. Let's take a look at each of these requirements and how you can meet them.
Internet Check
A fast and reliable Internet connection is needed to break loose from the headaches of cable TV. For you to easily stream Live TV, your internet connection must have a download speed of nothing less than 2 Mbps (Megabytes per second) per user.
Before setting up the Internet, you should find out from your Internet Service Provider (ISP) how much downstream speed you should be expecting from them. This is particularly important. Here's an overview of what to expect in terms of Internet connection speeds:
To stream Live TV in Standard Definition, you need at least 2 Mbps of Internet speed;
Streaming HD content (720p) requires a connection speed of at least 5 Mbps;
For High Definition video in 1080p, at least 9 Mbps of internet speed is required;
Finally, there are also 3D and 4K movies. For this type of content, you will need a connection that goes up to 15 Mbps.
This is something to seriously consider if you are going to cut your cord and still watch Live TV.
Streaming Live TV on more than one device using the same Internet connection could distort the quality of your video.
However, Internet speed anywhere between 10 and 20 Mbps is enough for streaming any media over the internet. So, if you want to watch Live TV after cutting your cords, it is highly recommended that you get the best Internet deal you can afford at the moment.
If you go for a connection whose speed is inferior to the demands of the service, you would experience buffering delays in your streaming. This, of course, is quite frustrating and can leave you with a very bad impression about online streaming. To avoid any of these, get a good internet connection.
Streaming Devices
Streaming devices allow you access to the various streaming services available. Some streaming devices are manufactured with remote controllers while others come in the form of sticks (like a USB stick). To start streaming, you connect your streaming device to your TV and your Wi-Fi (or you plug it directly into your router) to provide the signal.
You might not need a streaming device if you have a smart TV or a Blu-Ray DVD player as these have built-in streaming options. However, users always wonder whether it is better to have a stand-alone streaming device or a smart TV. Let's take a look at some of the most popular options.
Roku
Roku is one of the best streaming devices you will find in the entertainment industry today. It was first introduced in 2008 as a device that streams Netflix. However, this service is incredibly capable these days. It provides access to media streaming services and Live TV.  Roku has a library of more than 2,000 channels, some of them extremely popular. It also has channels you wouldn't find in any other streaming player. A small palm-sized box which can be plugged into your TV using an HDMI cord, Roku costs less than a $100. It also has its stick version which does not require an HDMI cable.
The Roku box has two versions; Express and Express+. The latter one has a very important benefit: it is the only model now that can be used with non-High Definition TVs. It has A/V ports (yellow, red, white connectors) so it is a great option for a lot of good TVs out there that don't happen to be HDTV. This feature is a major advantage over the other streaming player competitors which all require HDTVs. The A/V support is the only difference between the Express and the Express+. If you really want to cut your cord and still watch Live TV, Roku is a very interesting option.
Amazon Fire TV
Amazon Fire TV is quite affordable and easy to use. It works when it is connected to Amazon's online video and rental store. Subscribers can then have access to Amazon's  videos and TV shows for free, but they can also subscribe to online channels like HBO.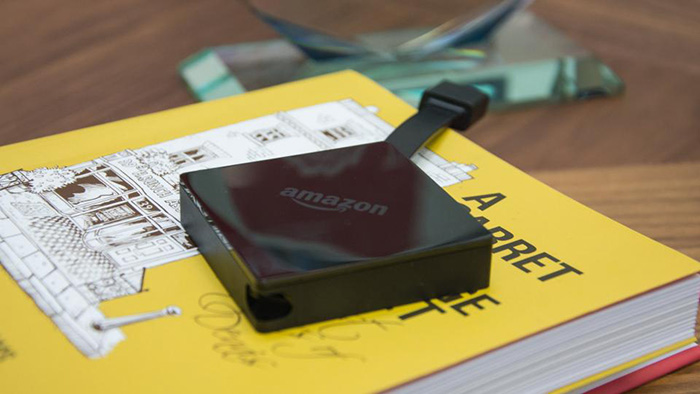 One interesting feature you will enjoy with the Amazon Fire TV is the Alexa voice remote. It doesn't just allow you to use your voice to control or search for content, it actually brings Amazon's Alexa assistant technology into your living room. Want to know more about that, visit Amazon's website. Fire TV by Amazon is indeed another great device you can use to watch Live TV after cutting the cord.
Apple TV
A box that costs between $150 and $199, Apple TV grants you access to iTunes and permits you to send content from your Apple device to your TV. As such, it is a highly capable device - but only if you have additional Apple-made devices, like the newest generation iPhone. Additionally, Apple TV allows you to install third-party applications like Netflix and Hulu. This makes it a good choice no matter if you plan on buying, renting, or streaming content from the Web.
Chromecast
Chromecast is another amazing streaming device; One of the cheapest in the market. The stick costs just about $35 and works by casting videos played on Google Chrome via your computer to your TV screen. Many people prefer the Chromecast box rather than the stick. To them, boxes are easier to manage. The choice is yours to make if Chromecast is your preferred streaming device.
Watch Live TV With Streaming Services
Once you're done sorting out the streaming device you will use to watch Live TV after cutting your cord, you now need to subscribe to a streaming service that provides Live feed. Don't worry about how to get them; that's what we're looking at next.
Streaming services offer Live TV over the Internet. Different streaming services offer different sets of TV shows. Many of them offer free trial periods so you get to appreciate the quality of the service before actually paying for it. Let's look at some of the service providers who get to enable you to watch Live TV should you decide to cut your cords.
Direct TV
Owned by AT&T, Direct TV is an excellent Live TV provider. It comes with four levels of subscription; The base tier which provides over 150 channels and costs $35 per month. The most expensive plan is priced at $110 per month and brings 325 channels. As you can see, you will surely find the right fit for you.
Some of the most popular channels like ESPN, AMC, CNN, Fox News, TNT, Disney, and The Weather Channel are a part of Direct TV. You will actually enjoy these channels even with the basic subscription package.
Sling TV
Sling TV is offered by DISH Network. It has 2 subscription packages; Sling Orange, which offers about 30 channels and costs $20 monthly; and Sling Blue, which costs $25 per month and has a few more channels than the Orange subscription.
To get the best of the Sling experience, you can add channel packages to your monthly subscription. This, of course, will be based on your viewing preference. On Sling TV, you get to enjoy channels like ESPN, ESPN2, TNT, TBS and many more.
FuboTV
FuboTV is a major sports streaming service. Fans of the NFL, NBA, MBL, NHL, as well as College Football, will certainly love the service. Its monthly subscription starts at $19.99 which goes up to $44.99 after two months. With that, you can stream channels like FS1, FS2, NBCSN, FOX, etc. Who says even sports fans cannot watch Live TV after cutting their cords? Go for FuboTV, and get the same satisfaction you will get with cable and satellite TV, if not more.
PlayStation Vue
PlayStation Vue has a nominal monthly subscription fee of $30. That means the cost will increase if you want additional packages. However, with just $39.99 you enjoy channels like CNN, FOX News, Disney, ESPN, MLB, CBS, ABC, and NBC. PlayStation Vue seems to be ideal for families.
How Do You Stream Live TV?
Depending on whether you use the stick version of a streaming device or a box, you may need a TV with an HDMI port and of course, an HDMI cable to be able to watch Live TV through streaming. Plug one end of the HDMI cable to the TV and the other to the streaming device. Power on your streaming device and follow the instructions that appear on your TV screen. You will likely be requested to create an account with whatever device you choose. You will be charged for the streaming service, so a credit, a debit or even a prepaid card may be required.
Additional Tips
Unlike streaming devices like Roku and Apple TV that have built-in processors capable of speeding through the streaming process, other streaming devices (in smart TVs) tend to be buggy and slow.
Standalone Devices Vs. Smart TVs
In addition, streaming service providers tend to spend most of their resources on developing the versions of their apps that work on major streaming devices. Quite often, apps for a smart TV are not as good as those on the streaming devices causing users to run into frequent bugs. This, of course, makes the experience on Smart TVs painful. If you want to watch Live TV after cutting your cords, going for a stand-alone streaming device is probably a better option. Streaming devices generally contain more content than Smart TVs.
Over-The-Air (OTA) Channels
There is so much talk about Internet streaming these days that sometimes people forget that there is another easy way to watch Live TV without cable or satellite subscription. Over-the-air channels are offered at no cost to those who decide to watch TV using an antenna. A normal HD antenna will allow you to watch free broadcast TV. Such antennas will provide you access to networks like NBC, CBS, ABC, and Fox. Available channels change depending on your location.
Final Thoughts
So, do you want to cut your cord but still watch Live TV? You only need an antenna to start grabbing network TV signals. And if you thought cable or satellite TV is the only option to watch the live TV, it is probably time to think again. You can conveniently ditch your cable TV and get subscribed to a live TV streaming service or catch those free bouncing signals around you.