You have a very wide choice when it comes to media streaming devices. The popularity of services like Netflix, Hulu, HBO Now, and Amazon Video has influenced numerous companies to join the bandwagon. However, there is a range of devices that brings amazing specs for a very low price. Those are Amazon's Fire devices. However, many potential customers have doubts about which of these devices to pick. This is the reason why we have decided to explain this issue. In this article, we will be talking about Amazon Fire Stick and Fire TV and comparing them to each other.
If you continue reading, you will learn all you need to know about Amazon Fire Stick and Fire TV. First, we'll talk about what these devices are and what they can do. Furthermore, we will see their possible uses and compare their specifications. By the end of this article, you'll have a clear idea on which of these devices suits your needs in the best way possible.
Disclaimer: We will be talking about Kodi – which is based on open-source code, in addition to third-party add-ons. In addition, this software is publicly available and free of charge. TechNadu doesn't claim any responsibility for how our readers decide to utilize the following software. Please note that we don't condone sharing pirated content and copyright infringement. TechNadu is not affiliated with the software mentioned in this article in no way. Make sure to carefully read the above-said disclaimer and ensure the proper use of the software.
WARNING: Before You Continue…
TechNadu recommends connecting to the Web using a VPN application. The majority of Internet Service Providers (ISPs) are able of tracking your Web browsing habits and collecting information. This kind of personal data can be forwarded to government agencies or sold to marketing companies. One of the consequences of these actions can be copyright infringement notices that some users of Kodi reported receiving. The only way to stop this from happening is to use a VPN.
VPN applications encrypt your Internet connection. As such, your personal data stay hidden and inaccessible by your Internet Service Provider.
VPN applications guard your online anonymity. Websites often use cookies to track your browsing habits. By altering your IP address, VPNs preserve your anonymity no matter if you visit websites or use Kodi to stream media.
VPNs unlock restricted content. Using this kind of application, your computer will receive a new IP address that points to a completely different physical location. This is how you can watch region-restricted movies and TV shows.
VPNs can improve your Internet connectivity. A reliable VPN application can de-block throttled connections and achieve better overall performance.
Based on our experience, TechNadu would like to recommend IPVanish. This has been our VPN of choice for a long time, making us happy with its features and performance.
IPVanish is capable of keeping your connection highly secure, making it one of the best VPN services for Kodi. It can be also used to watch region-restricted movies and TV shows. Finally, this application doesn't affect Internet connection speeds. On top of that, it's very affordable. Sign up for IPVanish and try it out for yourself.
Amazon Fire Stick & Fire TV: Overview
First, let's take a look at everything you need to know about Amazon's media streamers. We will be talking about three devices:
Amazon Fire Stick is the most affordable model but also the least capable one;
All-new Amazon Fire TV with 4K Ultra is the newest-generation device with unparalleled features and performance. If you need a bit extra power, this device might be for you;
Amazon Fire TV 4K is a set-top box that is being slowly phased out. However, it is still an amazing device with numerous impressive features.
It's time to take a deeper look at each of these three devices.
Amazon Fire Stick (Fire TV Stick)
Even though this device's official name is Fire TV Stick, you'll often see other people referring to as 'Firestick' or 'Fire Stick'. This is Amazon's smallest media streamer that supports HD resolutions, currently being sold at $39.99. We will be taking a look at different aspects of this device, so keep on reading.
Design
When it comes to the design of Amazon's Fire Stick, there are no surprises there. This is a plain black plastic rectangle that has only two ports. There's a micro USB port on one side, and an HMDI port on the other. Since this device is intended to be plugged into your TV (on its backside), you won't even see it. So, how important is its design, really?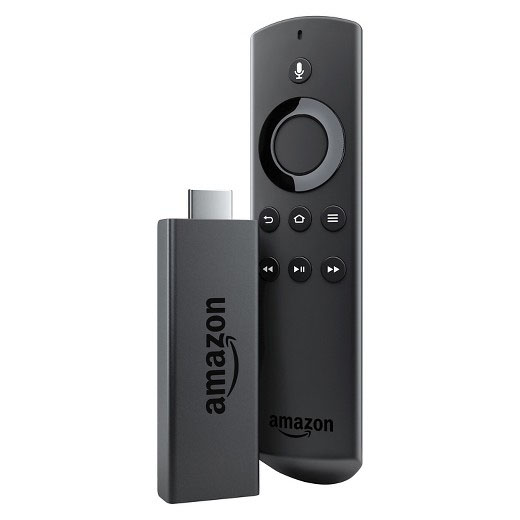 Perhaps we should focus in this section on a remote. When you buy the Fire Stick, you will receive a highly capable remote. This is basically a 5.6-inch long wand with a noticeable glossy circle in the upper portion of the device. This circle serves as a navigation pad with a 'Confirm' button in the center. If you take a closer look at the photos, you will see a Microphone Icon on a button at the top of this remote. This means that you can take full advantage of Amazon's Alexa and input voice commands. Finally, there are menu and playback controls that you can use control media playback.
Usage & Accessories
The Amazon Fire Stick is incredibly easy to use to use and easy to set up. Here's how this is done:
First, connect the power adapter. When you buy the Fire Stick, you will receive a power adapter and USB cable for power. Connect these two and provide power to your Fire Stick;
Next, connect the device to your TV. This is done by using an available port (HDMI) on your TV. As you know, there are different TV models out there. If your Fire Stick can't fit into the port nicely, you can use a provided extender.
Now select the input channel for your Fire Stick. In other words, power your TV on and go to 'Input'. You can choose from different HDMI ports, so pick the one that has the Fire Stick connected.
Once you've found your device, you'll be greeted by a welcome screen. Now you can pair your remote (using the Home button), connect to the Web, and register your device.
Many Fire Stick users don't know that they can use an Android or iOS app to control their device. This app is free of charge and brings an easy to use interface. You'll get a touchpad, numerous useful playback controls, a voice search option, and an on-screen keyboard. This virtual keyboard can be a real life-saver when you need to type in your credentials.
Important tip: The Amazon Fire Stick supports Bluetooth. This means that you can pair Bluetooth headphones and enjoy your media in its full extent.
Fire TV OS
One of the biggest benefits of using this device is getting to use Amazon's Fire TV OS. In its core, this is Android that has been heavily modified. This means that you won't get to use the Google Play Store but instead you'll have to use Amazon's app. Don't worry since you can still use almost every popular media streaming service. This includes HBO Now, Hulu, Netflix, Sling, and YouTube. Some of the latest additions are Spotify and Crunchyroll.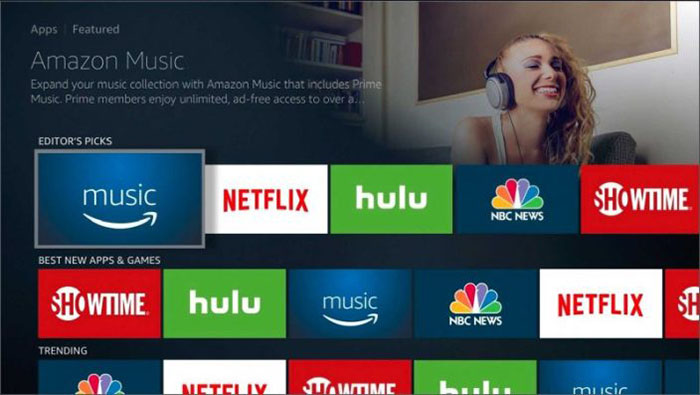 It's also important to add that you can use an Amazon Prime account with this device. This brings numerous benefits that are baked into the Amazon Fire Stick. Once you activate this subscription, you'll get to see a slightly overhauled interface. For example, you can access video on Amazon or jump to anything you want to watch.
We also know that many of you already use applications like Kodi. If you have your own library of content on Kodi, you'll need to 'sideload' it. Since Kodi isn't available on Amazon's app store, alternative installation methods are available. We recommend reading TechNadu's 'How to install Kodi on Fire Stick' guide, where you'll find several installation methods.
Bottom Line
If you have a TV that plays 1080p movies, you should seriously consider buying the Amazon Fire Stick. The 2017 model brings an incredibly smooth performance and plenty of useful media streaming services. We are sure you'll be more than happy with this device.
Amazon Fire TV 4K – Ultra HD (2017)
The latest version of Amazon's Fire TV is a major step in the right direction. The most prominent difference between this device and the Amazon Fire Stick is the 4K resolution. However, this also goes beyond 4K and introduces us to 4K Ultra HD. Continue reading to learn more.
Design
The Amazon Fire TV (2017) is a very simple square-shaped plastic box that looks drastically different than the last year's model. In case you're familiar with the Google Chromecast Ultra, you will be able to imagine how this device looks like.
This is a small plastic box that comes with attached HDMI cable. As such, it needs to be placed behind your TV – which means that you won't even see it. However, don't be fooled by its small size. This is a highly capable media streamer that will blow you away.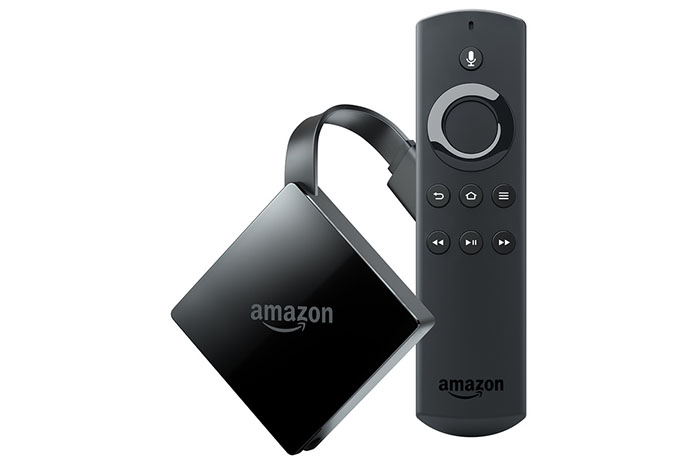 It's also important to note that you'll receive the standard Amazon remote with Alexa voice search. The remote is the same one you would get if you buy the Fire Stick.
The Amazon Fire TV and Amazon Fire Stick come with the same installation method. In general, you will need to connect this device with the power source and to your TV – and you're ready to go. For in-depth information, read the section about the Fire Stick found above.
Features
It's important to take a look at what's inside of the Fire TV. This will help us differentiate this device from the Fire Stick. We'll also take a look at what the following specs bring in the real world.
The 2017 Fire TV brings a powerful 1.5GHz quad-core processor, 2GB of RAM, and 8GB of storage. According to Amazon, it is 40% more powerful than the Fire Stick. In the real world, this means that you can play 4K movies and videos at 60 frames per second – as well as HDR video. You also won't have to worry where to find 4K movies. Services like Prime Video, Netflix, and YouTube are there to cater to your entertainment needs. In addition, there are over 140 channels in the U.S. alone. You can also stream music via Spotify, Amazon Music, and more.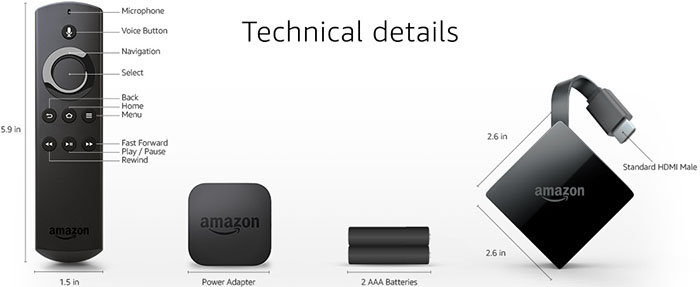 Important note: To use the 2017 Fire TV you need to have a 4K-capable TV. If your TV plays 1080p movies and nothing beyond that, there's no reason to invest into a 4K-capable device. Instead, buying the Amazon Fire Stick (which supports up to 1080p resolution) is a smarter investment.
Bottom Line
If you have a TV capable of playing 4K movies at 60fps, this is where your search ends. For $69.99, you won't find a better deal. You should also know that you can buy a compatible HD antenna if you're not using a cable provider or satellite TV. In that case, the Fire TV will cost you $74.99.
Amazon Fire TV 4K (2016)
We mustn't finish this article without mentioning the last year's Fire TV model. It looks dramatically different than the latest generation but carries the same name. As you can see, this is what confuses potential customers interested in this affordable and high-performing streamer.
Design
The most noticeable difference between the latest First TV and last year's Fire TV is in their design. As we told you previously, the 2017 Fire TV is a small device that hangs on the back side of your TV. The 2016 Fire TV is a standard set-top box (a black plastic box that sits next to your TV).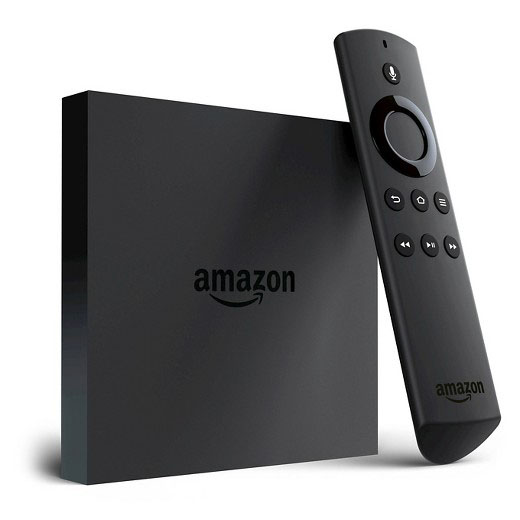 Inside, you will powerful internals. This device is powered by a quad-core MediaTek processor. For graphics purposes, there's a PowerVR GPU with 2GB of system memory. This means that you can use it to play games as well. As you can imagine, this isn't hardcore gaming – but should be able to play Android games just fine. Finally, the 2016 Fire TV brings 8GB of internal memory, but you can expand that via the microSD card slot.
Functionality
The second major difference between the two Fire TV models is in their output. The 2016 Fire TV is capable of playing 4K media files. This should be more than enough for the majority of users. If you have the latest 4K TV, you might want to invest in the 2017 Fire TV.
You can count on the most popular applications like Netflix, Hulu, Amazon Video, and more. All of them bring 4K content, which means that you'll take full advantage of those streaming services. This device is capable enough to play this kind of high resolution even though it's limited to the 30Hz speed limit (24 frames per second). Average users who aren't familiar with this, won't notice any differences.
Bottom Line
The truth is that the 2016 Fire TV isn't sold by Amazon anymore. However, you can find it online – and affordably priced as well. Don't be surprised if you find this device priced at around $50 or lower. With this price, this is a viable alternative to the Fire Stick.
In case you don't have the latest-generation 4K TV, we suggest investing into the 2016 Fire TV. You get to enjoy in 4K without spending too much money.
Amazon Fire Stick & Fire TV + Kodi
In case you like to follow articles on TechNadu, you know we are big fans of Kodi. Using the Fire Stick with Kodi is the perfect solution to unlocking a whole new world of media streaming – without spending too much.
First, you need to buy off the available Fire devices. Here are some possible choices based on what kind of TV you have:
1080p TV Models: Buy the Amazon Fire Stick and use it to install Kodi;
Older (or cheaper) 4K TVs: You can go with the 2016 Fire TV;
Newer 4K TVs: To take full advantage of the latest-gen TVs, we recommend buying the 2017 Fire TV that brings 4K Ultra HD resolutions.
Next, proceed with installing Kodi. We're sad to say that you can't find Kodi on Amazon's app store. To be honest with you, we don't know the reason for this. Perhaps this is because Kodi is based on open-source software with numerous fully-working add-ons. Amazon might be worried that this will open their devices to vulnerabilities. However, the good news is that you can 'sideload' Kodi. No matter what Fire model you use, here's everything you need to know – How to Install Kodi on Fire Stick?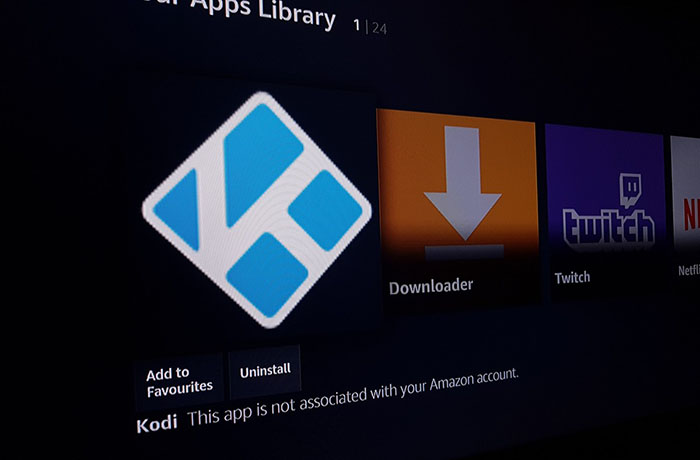 For your convenience, we have included several installation methods in our guide. Feel free to explore which one looks the easiest. Our recommendation is to go with the Downloader app to download and install Kodi on your Fire device.
Once you've installed Kodi, it's time to learn how to use it. Experienced users won't notice any differences since Kodi looks the same on all supported platforms and devices. Here are a few useful articles:
Now you that you know all you need about using Kodi on Fire Stick, it's time to explore its world of popular add-ons. We'd like to start with three add-ons we feel are essential, Exodus, Bennu, and Elektra Vault. Click on any of the provided links for in-depth installation instructions.
If you're looking for additional options, here are our suggestions: add-ons for movies, sports-related add-ons, and live TV add-ons. There are some more specific categories like anime add-ons and cartoon add-ons.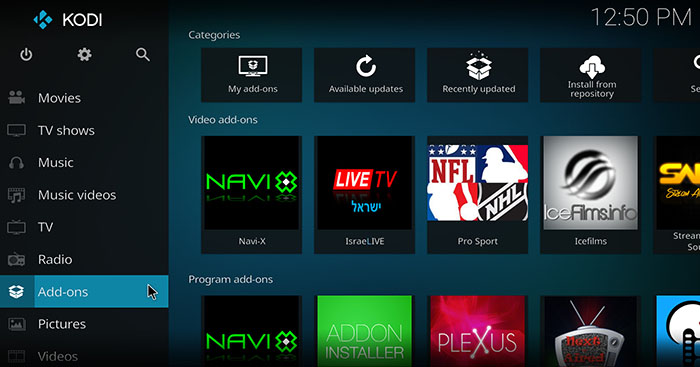 Finally, we come to skins and builds. While skins simply change Kodi's interface, builds are deep customization changes. They bring a whole new UI (user interface) along with groups of add-ons. You can start with the Wookie Kodi build and then explore other useful builds. If you only want to change the UI, check out the most popular skins for Kodi.
Alternative Options
Before we conclude this article, we'd like to show you some alternatives. Even though Amazon's Fire devices should provide more than you need, it's important to know alternative options. If you're a Kodi user, check out the following links:
Conclusion
We sincerely hope that you found this article to be helpful. We know a lot of you are confused by different Amazon Fire devices – which is what we have tried to simplify this issue. The good news is that no matter what device you pick, you'll end up with a powerful streamer.
Is there something you would like to add? Do you still have any questions or doubts? If that's the case, talk to us! Use the comments section below to post a comment. We'll do our best to provide an answer to each and every one of our readers.