Kings of BBQ follows Anthony Anderson, an Emmy-nominated performer and producer, and Cedric The Entertainer, an established comedian, as they take their passion for barbecue to another level and collaborate to launch their own bbq dynasty. Kings of BBQ premiered on A&E on Saturday, August 12, 2023. It will also be available on Sling TV and Philo in the US. 
However, if you travel overseas or live in an area where the streaming services are unavailable, you won't be able to enjoy the series due to geo-restrictions. 
Given that, you can activate a VPN to watch Kings of BBQ. If you select a US server when connecting the VPN, you will appear to be in the US and go around the geo-blocks. 
This article will inform you when, where, and how to watch Kings of BBQ online. We'll also discuss why you need a VPN and provide you with everything you need to know about the upcoming comedy series.
How to Watch Kings of BBQ With a VPN?
To stream Kings of BBQ, you must access Sling TV with the help of a strong VPN connected to a US server. Do the following:
Sign up for a VPN to unblock Sling TV (we recommend ExpressVPN).
Download and install the VPN on your device(s).
Launch the VPN and connect to a server in the US.
Sign up/sign in to the streaming service and start watching Kings of BBQ.
Why Do You Need a VPN to Watch Kings of BBQ?
You need a VPN to watch Kings of BBQ on Sling TV because the service is unavailable outside the US, and you will need assistance to access Sling TV abroad. 
If you leave the US, you will face geo-blocks and won't be able to access the streaming platform because of the licensing arrangements. Sling TV will display the following error notice if you do not use VPN software outside the US: "Sling TV is only available inside the US. Thank you for your interest."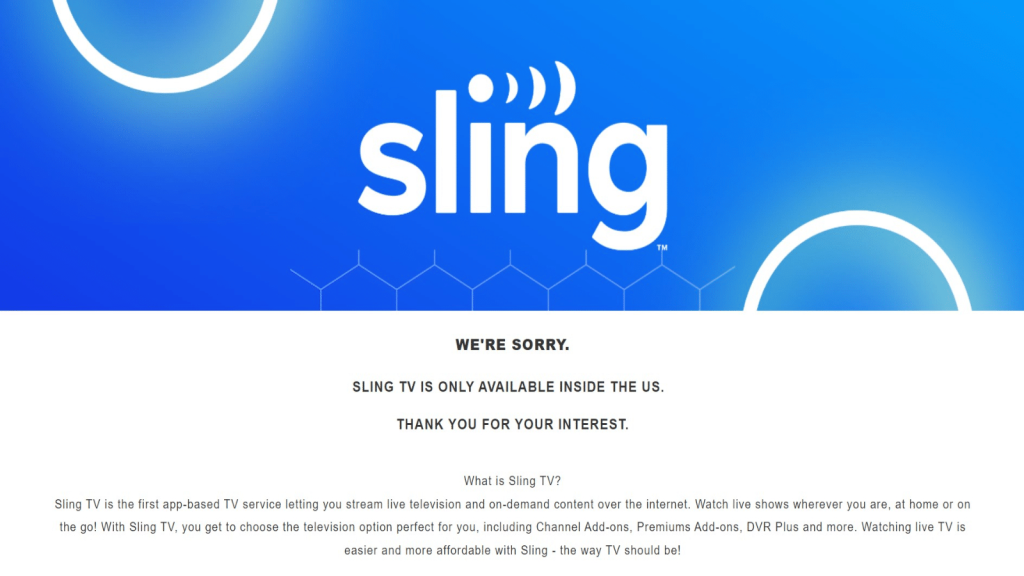 With employing a VPN, you can change your IP address to one in the US, and you can remove any geo-blocks to easily watch Kings of BBQ on Sling TV from anywhere. 
Not sure which VPN would be best suited for you? As it is one of the best VPN providers, we recommend ExpressVPN as it can successfully unblock Sling TV.
Get 3 extra months free when you sign up for a 12-month ExpressVPN plan. That's 15 months for the price of 12 a saving of 49%! Plus, you also get a 30 day money-back guarantee to try ExpressVPN risk-free for 30 days.
Where to Watch Kings of BBQ?
US audiences can easily watch Kings of BBQ on A&E on Saturday, August 12, 2023, and stream it on Sling TV and Philo. A release date for the UK, Canada, and Australia hasn't been announced yet. 
Here's where you can watch Kings of BBQ live stream:
| | | |
| --- | --- | --- |
| Streaming Service | Price | Available Locations |
| Sling TV | $40 per month | United States |
| Philo | $25 per month | United States |
How to Watch Kings of BBQ in the US?
If you are located in the US, you can easily watch Kings of BBQ on A&E on Saturday, August 12, 2023. You can unlock all content in the A&E apps and on their website by signing in through a supported TV provider that includes the A&E channel in your TV package. 
Here are some services where you can get A&E:
Sling TV: A&E is available on all SlingTV plans, so you can watch Kings of BBQ there. The cheapest SlingTV plan starts from $40 per month. 
Philo: This streaming service is a budget-friendly option since Philo is only $25 a month, and you can enjoy 70 channels, including A&E. Start your 7-day free trial on Philo.
Are you traveling abroad? Remember that you can watch the series on Sling TV online from anywhere using a strong VPN. All you need to do is select a US server when activating the VPN. 
Can I Watch Kings of BBQ in the UK, Canada, and Australia?
No! Unfortunately, no release dates are announced for Kings of BBQ premiere in the UK, Canada, or Australia.
You can also use a trustworthy VPN to reach Sling TV from the UK, Canada, or Australia. You must select a US server when switching VPNs to stream Kings of BBQ.
Can You Watch Kings of BBQ Online Free?
Yes, you can watch Kings of BBQ for free by taking advantage of Philo's 7-day free trial.
Kings of BBQ Preview 
Everyone who thinks themselves a barbecue expert understands that the finest pitmasters and chefs approach their sauce and meat as works of art. Barbecue is unlike any other dish; it takes time and effort to get everything just perfect. Two of TV's funniest stars are teaming together to mark the importance of BBQ! AC Barbeque is the new cuisine brand created by Anthony Anderson and Cedric The Entertainer.
During 10 one-hour episodes, Cedric and Anthony will spend time with barbecue masters, and daily professionals who will be sharing their expertise and trade secrets, showcasing Black Excellence in the business as they go. From backyards to BBQ pits, the couple will journey behind the scenes to learn the art of barbecue and develop their own business that celebrates its tradition and tastes. Along the way, recognized relatives and close friends are going to participate in the fun, sharing how diverse cultures and experiences have affected the delectable culinary approach.
Kings of BBQ Cast
Anthony Anderson
Cedric the Entertainer
Kings of BBQ Episodes
Season 1 Episode 1: AC Barbeque Is a Launch! (Aug 12, 2023) - Cedric the Entertainer and Anthony Anderson launch a brand-new Barbecue empire. Harkening back to simpler times in their own childhoods, they launch AC Barbeque to bring back the feeling of friendship and community to everyone's backyard. With dreams of what the Empire could become, they search out expert advice from Kevin Bludso, a legendary pit master who tells them to be authentic and create quality with their products. He suggests they'll need a food scientist to bring their products to life and find Pilot R&D to help them develop their signature rubs and sauces. The guys then explore LA BBQ and all the different influences each pitmaster brings to their foods.
Season 1 Episode 2: Making the Rubs, Selling the Dream (Aug 19, 2023) - Cedric and Anthony hone in on their signature tastes with the Pilot R&D team. A visit with the marketing team and Mike Meldman help the guys dive further into the purpose of launching the brand and being authentic to their roots. A trip to the golf course yields some iconic and hilarious brand messaging. A competitive game of cornhole leads to a plan to visit St. Louis, to visit one of Cedric's favorite BBQ joints, C&K BBQ, iconic for their sauces--and snoot. The guys try "listeners" to hilarious results.
Season 1 Episode 3: Meet Me in St. Louis (Aug 26, 2023) - The guys visit Cedric's hometown of St. Louis and some of Cedric's old stomping grounds, then the famous Kenrick's Butchers, where they learn all about St. Louis signature-style pork steak and tips. A visit from Ced's granddaughter, "grand cookie," and daughter brings good food and fun times. Back home, the marketing team teaches Ced and Anthony about the power of social media for their brands, and Pilot R&D delivers the next phase of their rubs. Mr. Bar-B-Q shows them what's possible with accessories, and a copywriter helps create rub names.
Season 1 Episode 4: A Retailer Come Calling (Sep 02, 2023) - Ced receives the fantastic news Walmart has committed to selling AC BBQ rubs and visits Walmart to learn about retail strategies and sidekicks. Mr. Bar-BQ arrives with new prototypes of their ideas and the guys are pleased with the results. Pilot R&D returns to work on AC BBQ sauces, and AC Barbeque throws an official launch party.
Season 1 Episode 5: Wipe That Flavor Off Your Face! (Sep 09, 2023) - AC Barbeque is hittin' the streets as Cedric and Anthony unveil their rubs at Memphis in May, a world-class barbecue competition and festival. They learn secrets of the trade from award-winning pitmasters, meet new friends on Real Talk with AB & Pat Neely, and reunite with Kevin Bludso, who introduces them to Dr. Howard Conyers. A true barbecue historian, Dr. Conyers takes the guys on the ultimate tour of Memphis, diving deep into the history of Black barbecue along the way.
Season 1 Episode 6: Are You Not Entertained? (Sep 16, 2023) - The day has finally arrived... AC Barbecue is in Walmart stores! To celebrate, Anthony and Cedric head out to Walmart's headquarters in Northwest Arkansas to launch their new brand in front of 5,000 associates. This episode chronicles their cross-country journey--including Diego's first private plane, the guys' big stage announcement, and, of course, a decked-out AC Barbeque food truck so they can win over customers one BBQ taco at a time. To wrap up their launch week, the guys finally head into their hometown Walmart store to thank their California fam, surprise customers, and see their rubs in action.
Season 1 Episode 7: It's Feedin Time (Sep 23, 2023) - Now that AC Barbeque is Walmart official, it's time to get the word out; following the advice of Mike Meldman, the guys set off to introduce the brand at Anthony's annual charity golf tournament and, later, pay a visit to their beloved LA Rams.
Season 1 Episode 8: Setting Up Shop (Sep 30, 2023) - Friend and mentor Daymond John pays a visit to the guys to talk shop and share his expertise; Anthony and Cedric collaborate with a celebrated pitmaster at Smorgasburg, a local food fair, and chat with barbeque icon Rasheed Phillips.
Season 1 Episode 9: An Earl Courts The Kings (Oct 7, 2023) - Anthony and Cedric's efforts pay off when the ultimate restaurateur, Mr Robert Earl, comes calling to propose a new restaurant venture with AC Barbeque.
Season 1 Episode 10: (Oct 14, 2023) - Anthony and Cedric dive head-first into the tedious (yet delicious) task of menu planning--calling on friends, mentors, and award-winning pitmasters Rasheed Phillips and Kevin Bludso to guide the way. On the retail front, Mr. Bar-B-Q also shares some great news... AC Barbeque is comin' to Lowe's, another big box retailer. To celebrate the brand and all of their accomplishments, Cedric and Anthony head down to Mama Doris's house--reflecting on their friendship, favorite flavors, and progress towards becoming true Kings of BBQ.
Kings of BBQ Trailer 
Final Thoughts 
Kings of BBQ will be accessible on Sling TV if you use a good VPN connected to a US server. If you find yourself in an area where this streaming service is not available, a VPN will help you to get around any geo-blocks that will prevent you from accessing the service.
Finally, we recommend ExpressVPN again since it is a no-log VPN that is independently audited, offers unlimited bandwidth, protects your online privacy, and has thousands of servers globally. You can also try ExpressVPN for a month risk-free thanks to their generous money-back guarantee.