Ice T and LL Cool J have teamed up to celebrate hip-hop's 50th anniversary in Hip Hop Treasures, a show focused on uncovering lost hip-hop memorabilia. The series provides an inside look into the key figures and items that shaped hip-hop into a cultural phenomenon. You can catch the show on A&E in the US, airing Saturday, August 12, 2023, at 10 PM ET. To watch the Hip Hop Treasures live stream, you can use Sling TV or Philo in the US.
Accessing these platforms can be challenging if you're traveling abroad or residing in a region where they are unavailable due to geo-restrictions.
To bypass these restrictions, having a VPN is essential. With a VPN, you can connect to a US server, allowing you to access Sling TV or Philo and enjoy Hip Hop Treasures from any location.
In this article, we provide comprehensive information to enhance your experience with this hip-hop memorabilia showcase. We've included the trailer, highlighted the importance of using a VPN for watching the series, and even offered a preview to give you a sneak peek of what to expect from the show. Keep reading to stay in the loop!
How to Watch Hip Hop Treasures Online with a VPN
You can watch Hip Hop Treasures online with a VPN, but you must connect the app to a US server and then access Sling TV. Here's how it works:
Sign up for a VPN that unlocks Sling TV (we recommend NordVPN).
Download and install the VPN on your device(s).
Launch the VPN app and connect to a US server.
Log in/Sign up to the streaming service and enjoy Hip Hop Treasures.
Why Do You Need a VPN to Watch Hip Hop Treasures?
You need a VPN to watch Hip Hop Treasures because Sling is exclusive to the US audience, necessitating a solution to access it abroad.
Geo-restrictions prevent access to Sling TV. Without a VPN, attempting to access the platform will result in a message stating, "We're sorry. Sling TV is only available within the US. Thank you for your interest."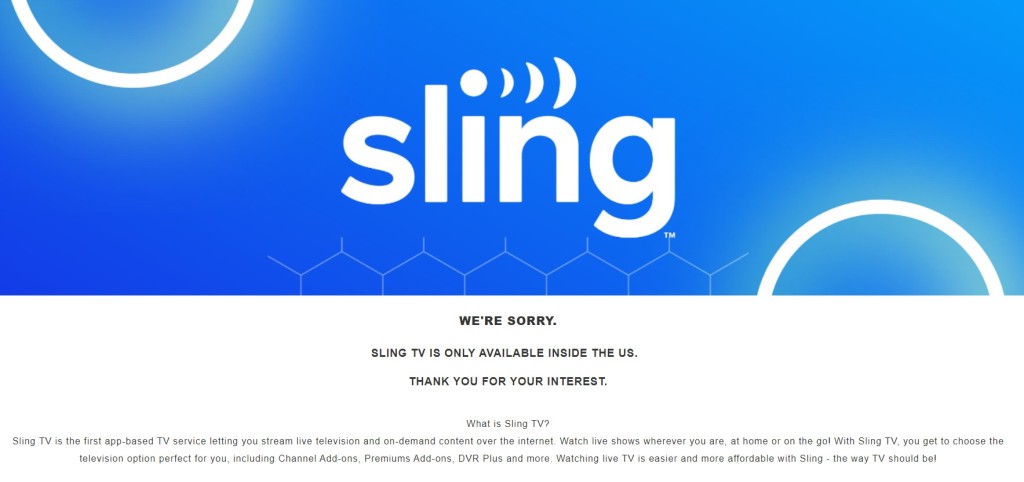 A VPN changes your IP address to a US location, granting access to Sling TV and enabling you to watch Hip Hop Treasures, regardless of your actual location. Unsure about which VPN to select? We recommend NordVPN, one of the top VPNs for globally unblocking geo-restricted platforms.
5,800+ servers in 60 countries. Easily unblock services, Fast and stable connection, No logs, No bandwidth limits, Military-grade encryption, 24/7 live chat support, and 30-day money-back guarantee.
Where to Watch Hip Hop Treasures?
If you're in the US, you can watch Hip Hop Treasures on A&E starting from August 12, 2023. Additionally, you have the option to stream the series on Sling TV and Philo, both of which carry the A&E channel. Unfortunately, the release date for viewers in the UK, Canada, and Australia hasn't been revealed as of now. Let's see where you can watch Hip Hop Treasures live stream:
| | | |
| --- | --- | --- |
| Streaming Service | Pricing | Available Locations |
| Sling TV | $40 per month | US |
| Philo | $25 per month | US |
How to Watch Hip Hop Treasures Online in the US
In the US, the series will premiere on August 12, 2023, on A&E. You can watch the show for free on the A&E website by logging in using your TV provider credentials. 
The series can also be streamed on various platforms where A&E is available. These streaming platforms include:
Sling TV: A&E is included in all Sling TV plans, starting from $40/month. Currently, new subscribers can benefit from a 50% discount on their initial month's subscription.
Philo: At a monthly cost of $25, you can access over 70 channels, including A&E on Philo. New subscribers are granted a 7-day free trial on the platform.
If you're traveling internationally, a trustworthy VPN linked to a US server can bypass geo-restrictions, granting you access to Sling TV. This ensures you can enjoy Hip Hop Treasures even outside the US.
Can I Watch Hip Hop Treasures in the UK, Canada, and Australia?
No, unfortunately, Hip Hop Treasures is not currently available in the UK, Canada, and Australia, as the release date for these regions has not been announced. 
However, there is a workaround to still watch the show. You can use a reliable VPN and connect to a US server to access Sling TV/Philo from these regions. This will enable you to enjoy Hip Hop Treasures online despite the geographic restrictions.
Can You Watch Hip Hop Treasures Online Free?
Yes, Hip Hop Treasures can be watched online for free by US viewers through the 7-day free trial provided by Philo.
Hip Hop Treasures Preview
Hip Hop Treasures follows Ice T and LL Cool J as they embark on a mission to reclaim lost hip-hop memorabilia—ranging from the iconic jersey of the Notorious B.I.G. to DMX's distinctive Aaliyah car and beyond. 
Assisted by field collectors Cipha Sounds and Yo-Yo, along with Chief Museum Curator Paradise Gray and Curator Pete Nice, the show uncovers hidden treasures and safeguards them within The Universal Hip Hop Museum. This institution aspires to serve as the ultimate custodian of Hip Hop's legacy, preparing for a global unveiling in 2024.
Bringing the memorabilia to life are the personal stories shared by Ice T and LL Cool J themselves. The series doesn't stop there—it also features prominent names in hip-hop like DMC, Flavor Flav, CeeLo Green, Naughty by Nature, Fat Joe, Master P, Soulja Boy, and more.
Produced by Pulse Films and Rock The Bells for A&E Network, the production boasts a lineup of executive producers, including Erica Hanson, Tracey Baker-Simmons, Andrena Hale, Mira King, Paradise Gray, and Pete Nice. Distributed globally by A+E Networks, Hip Hop Treasures guarantees an immersive expedition into the very heart of hip-hop culture—an experience no enthusiast should miss.
Hip Hop Treasures Episodes
Season 1 Episode 1 (August 12, 2023): Biggie - In hopes of building the world's largest Hip Hop collection, LL COOL J and the Universal Hip Hop Museum team set out to find iconic artifacts from one of the most prolific and revered Hip Hop artists of all time, The Notorious B.I.G. With the help of his family (T'yanna, C.J. Wallace and Faith Evans) and Biggie's protege, Lil' Cease, the team searches for the rapper's most prized possessions, including the iconic crown.
Season 1 Episode 2 (August 19, 2023): Ice-T & Coolio - Ice-T directs field collector, Yo-Yo, to meet up with platinum-selling rapper Coolio and procure memorabilia from his distinguished career; Coolio's meeting with Yo-Yo becomes his final television appearance before his tragic passing.
Season 1 Episode 3 (August 26, 2023): DMX - LL COOL J guides the search for iconic memorabilia from hip-hop icon DMX; Cipha Sounds meets up with Jadakiss and the Ruff Ryder's founder, Waah Dean, to uncover a goldmine of lost treasures, including one of the rapper's coveted rhyme books.
Season 1 Episode 4 (September 2, 2023): Fat Joe / Digital Underground - Ice-T leads the search to find lost treasures representing two of the biggest Hip Hop anthems of all time. While field collector Cipha Sounds meets up with Bronx Native and Hip Hop legend, Fat Joe to procure memorabilia symbolizing his illustrious career and Yo-Yo sets out to find the museum's biggest artifact yet when she visits members of Digital Underground.
Season 1 Episode 5 (September 9, 2023): Flavor Flav/ Ceelo Green/ The Furious Five - Yo-Yo visits Flavor Flav who showcases his legendary clock collection; Cipha Sounds attempts to secure an iconic costume from CeeLo Green; Pete Nice and Paradise Gray reunite with Melle Mel and Scorpio from the Furious Five.
Season 1 Episode 4 (September 16, 2023): Biz Markie / Master P - Ice-T honors the golden age of Hip Hop as he leads the hunt to find items from the late clown prince of Hip Hop, Biz Markie. Museum curators, Pete Nice and Paradise Gray meet up with Biz's wife to trade stories and see what treasures they can procure. Plus, field collector Cipha Sounds visits with Hip Hop mogul Master P in search of the gold tank from his "Make 'Em Say Uhh!" music video.
Season 1 Episode 4 (September 23, 2023): Run DMC / Soulja Boy - Field collector Cipha Sounds tracks down artifacts from the legendary Hip Hop group, Run DMC, while also paying tribute to the late Jam Master Jay; Yo-Yo visits the rap artist who helped usher in the digital age of music, Soulja Boy.
Season 1 Episode 4 (September 30, 2023): Sugarhill Gang / Naughty By Nature - Ice-T directs field collector Cipha Sounds to visit with the first rap recording group, Sugarhill Gang; field collector Yo-Yo meets up with Treach of Naughty By Nature to secure items representing their incredible run.
Hip Hop Treasures Trailer
Final Thoughts
In conclusion, Hip Hop Treasures can be watched on A&E, Sling TV, or Philo within the United States. For viewers outside the US, employing a VPN offers a practical solution to bypass geographic limitations and savor the series.
NordVPN is an exceptional choice among VPN options. Focusing on data privacy and device protection, NordVPN delivers strong, fast connections through its wide-ranging global server network, ensuring unrestricted bandwidth. With a risk-free 30-day trial and a money-back assurance, you can confidently immerse yourself in Hip Hop Treasures without hesitation.