De La Calle is a docuseries diving deep into the Latino diaspora, unraveling the vibrant evolution of Urbano music and cultures. De La Calle premiered on Paramount Plus in the US and Canada on November 7, 2023, and in the UK and Australia on November 8.
Living in regions outside the mentioned areas means you will not be able to access the series due to restrictions.
To solve this, you can employ a VPN. Once you connect to a server in the US/UK/Canada/Australia, you can change your IP, and access the platform like you're located in these countries.
Discover when, where, and how you can watch De La Calle from anywhere in this article. We'll explain why a VPN is essential and provide a preview, episode rundown, and an official trailer.
How to Watch De La Calle Online With a VPN
To watch De La Calle, simply connect your VPN to a US server and access Paramount Plus. Here are some easy steps you can use:
Subscribe to a VPN that can unblock Paramount Plus (we recommend NordVPN).
Download and install the VPN on your device(s).
Activate the VPN and connect to a server in the US.
Load Paramount Plus and start watching the show.
Why Do You Need a VPN to Watch De La Calle?
You need a VPN to watch De La Calle since Paramount Plus is accessible only in select regions such as the US, the UK, Canada, Australia, parts of Europe and the Middle East, and Latin America, and a VPN helps you sidestep these restrictions.
Paramount Plus faces restrictions in specific regions. If you try to access it without a VPN in these areas, you'll encounter an error message that says: "Paramount+ is available in select markets. Content varies by region and is subject to change."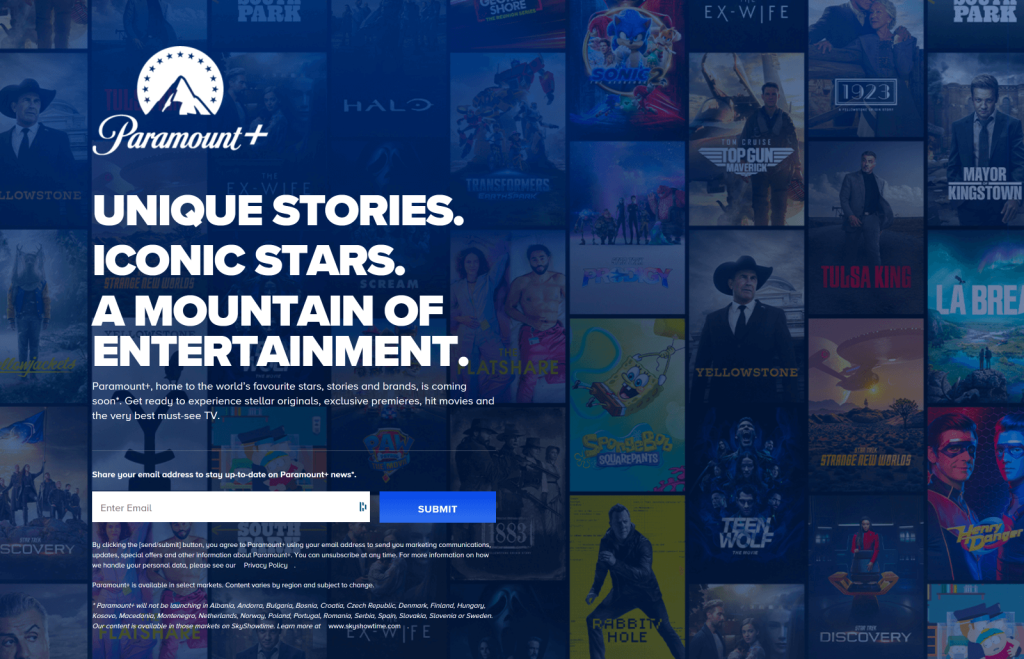 Equipped with a trusted VPN, you can change your IP address to a US server to watch De La Calle from anywhere.
On the hunt for the perfect VPN? We recommend NordVPN, as it is one of the best VPN providers that can successfully unblock Paramount Plus.
5,800+ servers in 60 countries. Easily unblock services, Fast and stable connection, No logs, No bandwidth limits, Military-grade encryption, 24/7 live chat support, and 30-day money-back guarantee.
Where to Watch De La Calle?
You can watch De La Calle on Paramount Plus on November 7, 2023, in the US and Canada, and the following day in the UK and Australia. The docuseries will comprise 8 episodes. Here's where you can watch the De La Calle stream:
| | | |
| --- | --- | --- |
| Streaming Service | Pricing | Available Locations |
| Paramount Plus | US $5.99/ £6.99/ CA $9.99/ AU $8.99 per month | US, UK, Canada, Australia, and more. |
How to Watch De La Calle in the US, the UK, Canada, and Australia
You can watch De La Calle on Paramount+ starting November 7, 2023, in the US and Canada, and on November 8 in the UK and Australia. Subscriptions are $8.99/month in the US, £6.99/month in the UK, CA $9.99/month in Canada, and AU $8.99/month in Australia. New members get a free 7-day trial.
If you leave any of these regions, a capable VPN connected to a server in the countries mentioned above is your key to accessing Paramount Plus and bypassing restrictions to enjoy De La Calle from anywhere in the world.
Can You Watch De La Calle Online Free?
Yes, you can watch De La Calle for free by taking advantage of Paramount Plus' one-week free trial.
De La Calle Preview
De La Calle is an informative docuseries that explores the rich tapestry of the Latine diaspora, tracing the evolution of Urbano music and the cultural movements that gave rise to genres like Rap, Reggaeton, Bachata, Latin trap, Cumbia, and others with global influence. Host Nick Barili engages with musicians, cultural icons, and intriguing personalities to unveil the history and significance of Urbano music today. Interviews include renowned artists like Fat Joe, N.O.R.E., Residente, Mala Rodriguez, Nicky Jam, and many more, offering insights into the vibrant world of Urbano music and its impact on culture.
Produced by MTV Entertainment Studios in conjunction with Zero Point Zero Production, the show will be executive-produced by Nick Barili, Christopher Collins, Lydia Tenaglia, Craig H. Shepherd, and Jared Andrukanis.
De La Calle Episodes
Season 1 Episode 1: New York - Nick explores the birthplace of Hip Hop to answer the controversial question, "Were Latinos co-founders of Hip Hop?" Fat Joe and Cardi B are some of the biggest Latinos in Hip Hop. But it didn't start there. From DJing to breakdancing, Nick investigates how intricate Latinos and Latinas have been in all four elements of Hip Hop from the very beginning.
Season 1 Episode 2: Panama - Nick heads to Panama, home of the Panama Canal, Reggae en Español (the direct ancestor to Reggaeton), and international superstar Sech. He learns more about Panamanian contributions to the global Urbano music industry through his conversations.
Season 1 Episode 3: Puerto Rico - Reggaeton has become a mainstream phenomenon, taking the world by storm. But Reggaeton wasn't always welcomed. The genre and its artists were once criminalized. Nick travels to Puerto Rico to unpack the evolution of Reggaeton on the island.
Season 1 Episode 4: Cuba - Nick heads to Cuba where hip-hop was once viewed as a cultural invasion from the US. Through his conversations, he learns about the evolution of rap Cubano, and how artists created their own distinct sound on an island cut off from the outside world.
Season 1 Episode 5: Spain - Nick goes to Spain, where the hip-hop scene exploded after the end of the fascist dictatorship. Through his travels in Granada, Madrid, and Barcelona he witnesses how Spanish artists are fusing hip-hop with other forms of traditional music, like flamenco.
Season 1 Episode 6: Colombia - Medellin is home to some of Reggaeton's biggest stars like Karol G and Nicky Jam. Nick seeks out how Reggaeton made its way from Puerto Rico to Medellin, and then travels to Cartagena where he dives into Colombia's very own Afro Beat: Champeta.
Season 1 Episode 7: Argentina - Nick returns to Argentina to find a booming Urbano industry rooted in rap battles, genre fusions, and an independent spirit.
Season 1 Episode 8: Mexico - Nick travels to Mexico and explores how youth culture aren't letting go of traditional music but instead they're infusing it with rap and Reggaeton.
De La Calle Official Trailer
Final Thoughts
To stream De La Calle online without any hassles, just fire up a secure VPN linked to a server in the US, UK, Canada, or Australia. With a VPN, you'll have the ability to effortlessly bypass geographical restrictions, ensuring you can access Paramount Plus from anywhere, whether you're on the go or in a region with streaming limitations.
Our top recommendation is NordVPN. It offers a vast server network across the globe, unlimited bandwidth, 24/7 live chat support, and top-notch encryption to safeguard your online security and privacy. The cherry on top, you can enjoy a risk-free 30-day trial with their money-back guarantee!