Producing nicely designed graphics and visuals is one of the most effective ways to attract attention online. However, the thing is that you need pro-level tools for this job, many of which require a significant investment. Plus, they can be not-as-intuitive to use, which means that you need to invest your time in learning the ropes. With this said, it's not a surprise that many companies are offering user-friendly alternatives to more complex tools, which includes video editing as well. And in this review, we'll take a look at such tool – so welcome to our FlexClip review.
FlexClip is an online video editor that simplifies the process of creating and editing videos. It tries to be an all-in-one solution, catering to different professional and personal uses. So, if you've been looking for a way to produce social media videos, presentation videos, family videos, or pretty much anything in between, pay close attention to this review.
Before we dive deeper into everything this video editing service offers, let's go over some of its highlights. First, make sure to check the basic information found in the table below.
Overview
| | |
| --- | --- |
| Product Name | FlexClip |
| Supported Platforms | Web-based (platform-agnostic); Windows. |
| Unique Features | Template-based editor; Stock photo/video resources; HD video export; Fully customizable. |
| Price | Free (Online); $4.99 (Microsoft Store). |
| Visit | FlexClip |
Yes, we understand that some of you might be in a rush. This is the reason why we've prepared another table, using which you can check out the highlights of using FlexClip. So, here are our post-review thoughts on this video editing Web service.
The Bottom Line
| | |
| --- | --- |
| Pros | Incredibly helpful; Easy to use; Powerful set of editing tools; Exports videos up to 1080p; Free of charge. |
| Cons | Starter temples are helpful – but the selection could be bigger. |
| The Final Verdict | FlexClip is one of the best tools of its kind – allowing you to create professional-looking videos without having to pay for complex (and resource-demanding) video editing tools. |
| Our Score | 9.6/10 |
If you continue reading this article, you'll get to learn about what can be done with FlexClip, how to use it, and plenty more. So, let's get started, shall we?
FlexClip (Web Version) – TechNadu's Review
First and foremost, we need to tell you that we've tested FlexClip via Google Chrome (on a Windows 10 PC). Since this is a Web-based service, it doesn't rely on your PC's specs. You only need to have a reliable Web connection and a monitor of a decent video resolution.
Platform Compatibility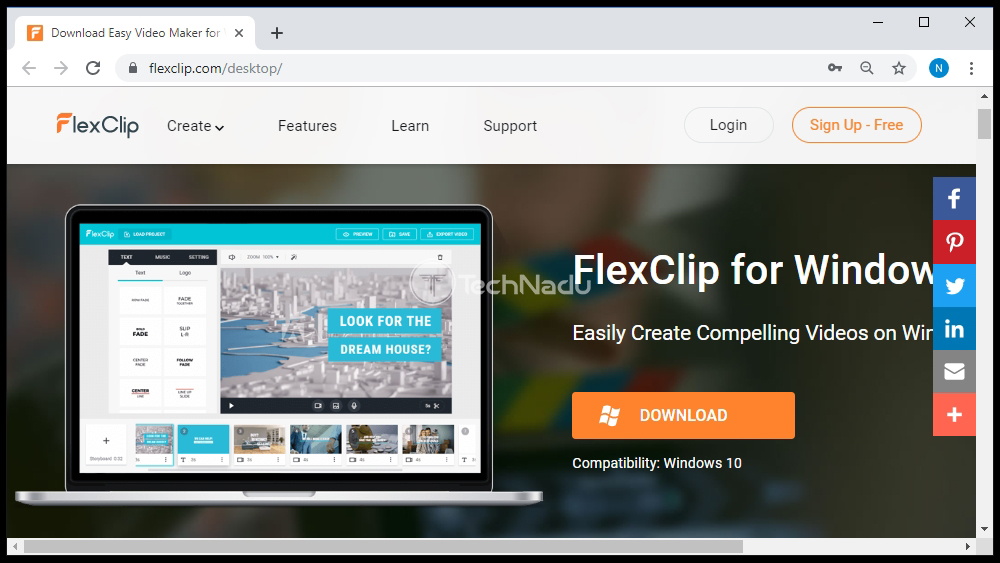 FlexClip is a Web-based service, which means that it runs on a wide range of platforms and devices. There's a desktop (Windows) version as well. Our Score: 10/10.
There are two ways to run FlexClip. The first option is to simply open it in your favorite Web browser. Even though the service should be fully compatible with any browser out there, it's recommended to use Google Chrome. As you probably know, video editing requires you to have a powerful machine – but that's not the case here. Since it's Web-based, this service is powered by a remote server. What you need to have is a relatively fast Web connection, along with a monitor that lets you preview the webpage in full. Don't worry, even the most affordable notebooks out there will run FlexClip just fine.
It's also worth noting that there's a desktop app for Windows. As far as we can tell, this application is just a Web-wrapper for FlexClip, and you need to have a Web connection active to take full advantage of this application. Therefore, it's best to use the Web version, which works flawlessly across different platforms and devices.
Installation Process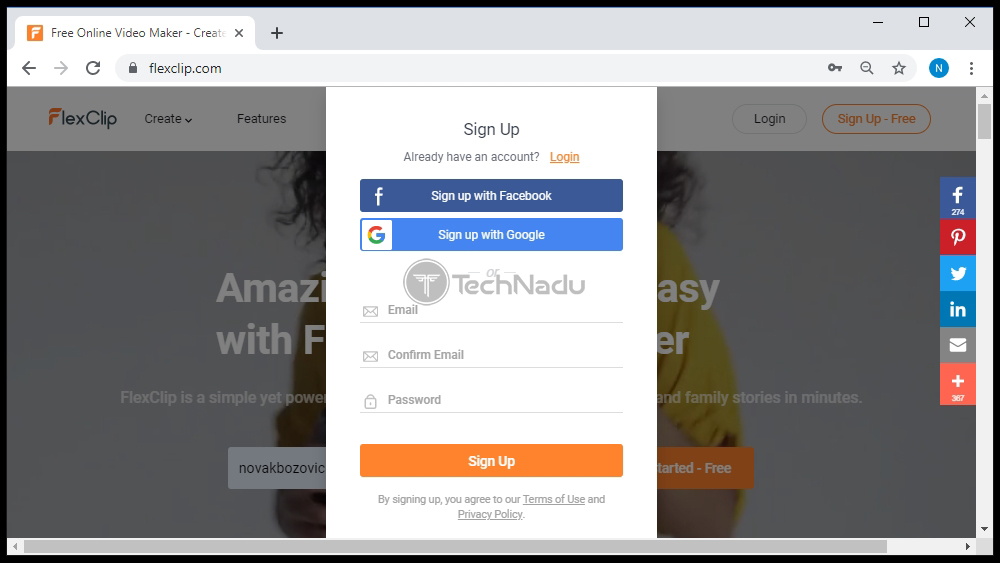 FlexClip doesn't need to be installed – since it's Web-based. You can sign-up and start creating your videos in a matter of seconds. Our Score: 10/10.
Since FlexClip is Web-based, you don't need to install it locally on your device. Instead, simply open its website and then sign-up for FlexClip. This is done by supplying your email address and creating your password. Therefore, you can dive into everything this tool offers within a few minutes of your time.
There's also another important benefit to using a Web-based application. Your progress is saved in the cloud, so you can easily save your work, close your Web browser – and then continue working on some other device.
User Interface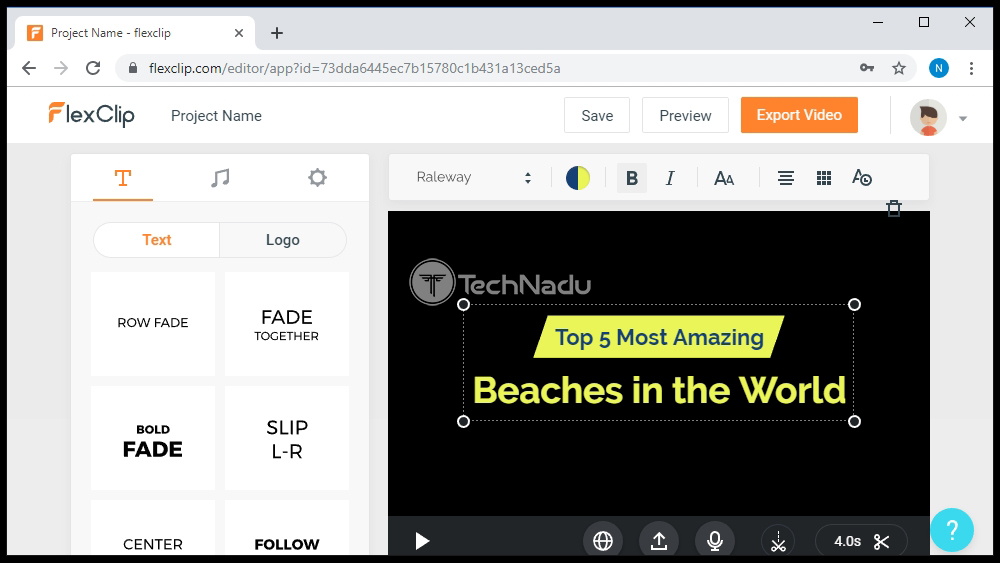 In general, FlexClip is easy to use and comes with a very intuitive interface. There are some (slight) problems with the website's responsiveness, though. Our Score: 9/10.
As said in the introduction, FlexClip is designed to be an alternative to professional-level tools. Since it's built for average home users, it comes with a simplified UI that's highly intuitive as well. We'll walk you through the process of creating a video in the following segment of this review. For now, we'll explain how everything looks like, so you can get an idea of what to expect.
Once you pick a template, FlexClip will open its main editing interface. The biggest portion of that screen is reserved for your video, which can be previewed in real-time. If you take a look at the screenshots found in this segment, you'll see this area as a black rectangle. At the bottom, you'll get to add stock media, your locally stored media, and you can create recordings via your computer's microphone. At the top, you'll see a toolbar which changes depending on the selected element. For example, if you select the text, you'll see different fonts, color variations, and other adjustments.
On the left side of the screen, there are three types of elements that you can add to your video. First, there's text, and it comes via preloaded templates. Just click on any, and you'll see a real-time preview of how the selected text will show up on your video. You can also insert a fully animated logo as well. In addition, you can add a music track as well as a watermark.
At the bottom of the screen, you'll see your video's timeline. You can think of this as individual slides or scenes. There's a possibility to move or duplicate those, so you can streamline the process of creating your video, and make things a bit faster.
All in all, FlexClip has done a great job of creating a user-friendly UI. However, we recommend checking this service's online documentation, where you'll find plenty of helpful tips and tricks. Also, there seems to be a problem with this service's responsiveness, as the editing page doesn't scale down properly in every instance (for example, when you split your screen into two windows).
Ease of Use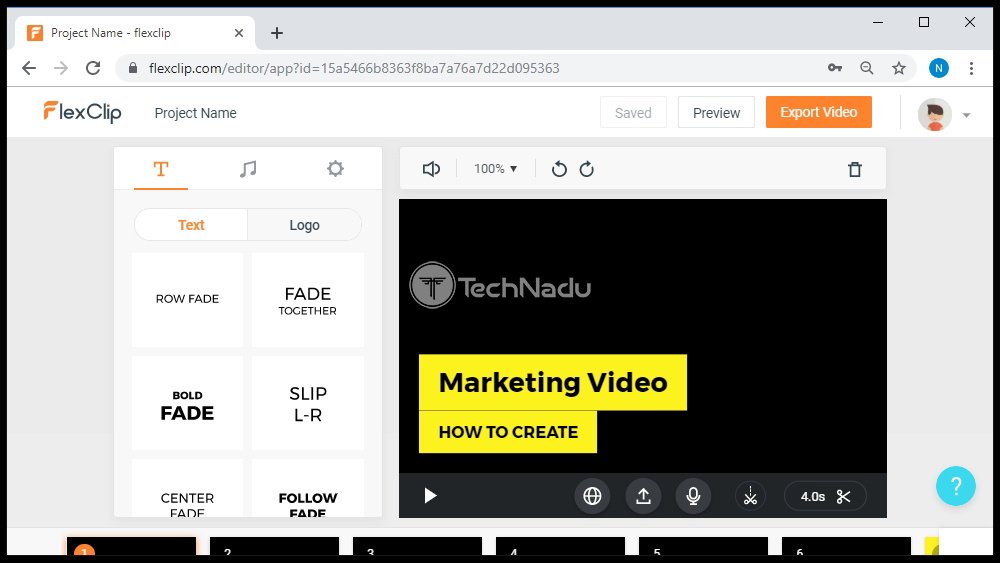 FlexClip might look like a simple tool, but only until you start exploring all of its features. All in all, you truly get plenty without having to pay for anything. Our Score: 9/10.
Now, we'll walk you through the process of creating a sample video. Our goal is to explain the basics, so you can understand how easy (or hard, depending on your skills) it would be to use FlexClip. With this said, let's get started.
First, you need to click on the 'Create' item in the top-placed menu. You'll see a dropdown list of items, giving you a glimpse of different possibilities. However, no matter which option you pick – you'll end up seeing a bunch of temples.
Even though you can start from scratch, the easiest method to get started with FlexClip is by using a template. We have to say that there aren't too many options available right now, but you'll most probably manage to find a template that can be a good starting point.
To start editing, click on the 'Edit' button as you hover over the available templates. This will take you to the main video editing window, which we talked about in the previous segment. As you can expect, this is where the magic happens, so to say.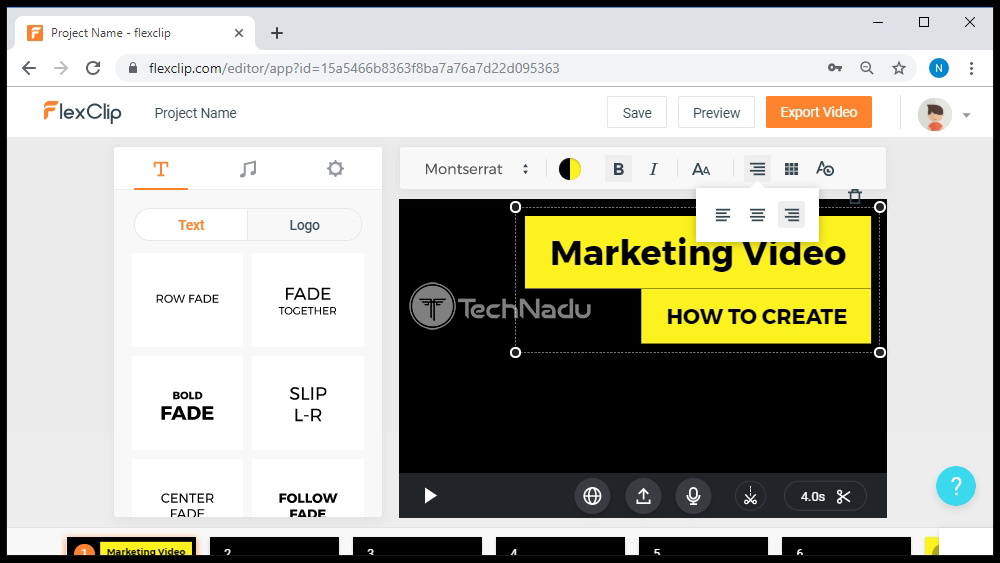 On the left side of the window, you can play around with different elements including text, music, and, watermarks. You can add different types of animated text, and then change its font, font size, rotation, color, and more. Adding a music track or watermark is done by checking free stock resources online or by adding your own files.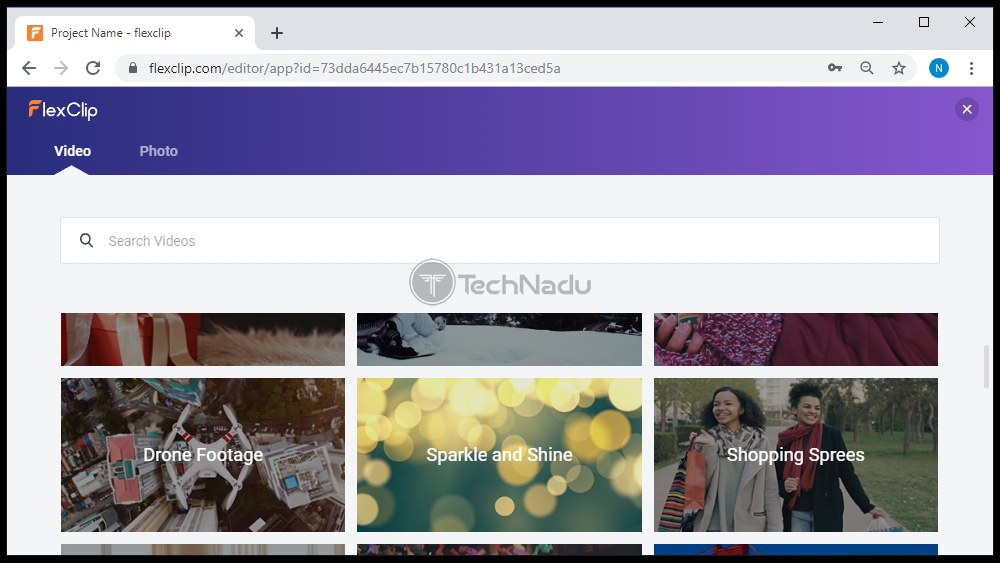 The main part of this video editing window is reserved for the preview of your video. You can manipulate different elements here by simply clicking on them. For example, to change how the text looks like, simply click on it and you'll see text-specific tools at the top. This is also where you can add stock video footage, add your own files, or record audio via your device's microphone.
Also, don't forget to take a look at the bottom part of the window, which is where the timeline is placed. You can add new slides/scenes, duplicate existing ones, and rearrange them as well.
At any moment, you can preview your video by clicking on the 'Preview' button, in the top-right corner. And once you're happy with your creation, click on the 'Export Video' button, where you'll be presented with three options: 480p, 720p, and 1080p.
We believe that FlexClip can be much more powerful than it appears on first sight. By using your imagination and creativity, you can create some truly authentic videos. So, make sure to explore all of the available options and try to think of how to combine different tools to get different types of results.
Speed & Performance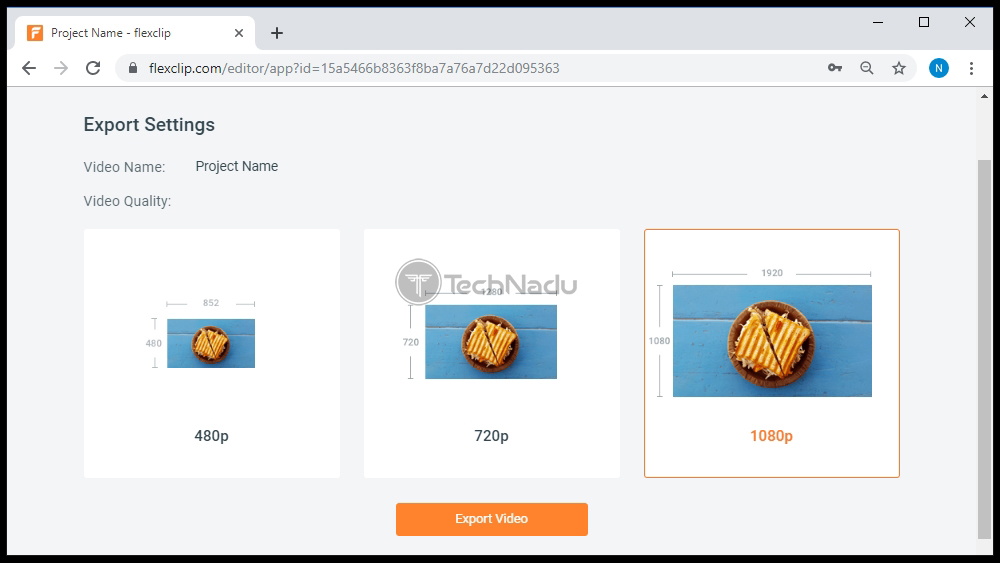 FlexClip is incredibly quick (including real-time previews), and even exporting files is done in a timely manner. Our Score: 10/10.
Video editing software usually requires you to have a high-end computer. However, this isn't the case with FlexClip, as its performance relies on backend servers, and not your computer. This is one of the reasons why you get to see real-time previews without any rendering. In other words, this service runs flawlessly and without any issues.
The only situation which requires some waiting is while exporting your videos. As per our tests, a 30-second video takes a bit over 2 minutes to be prepared for exporting in 1080p. This is certainly much faster than what you'd get from other video editing tools.
Customer Support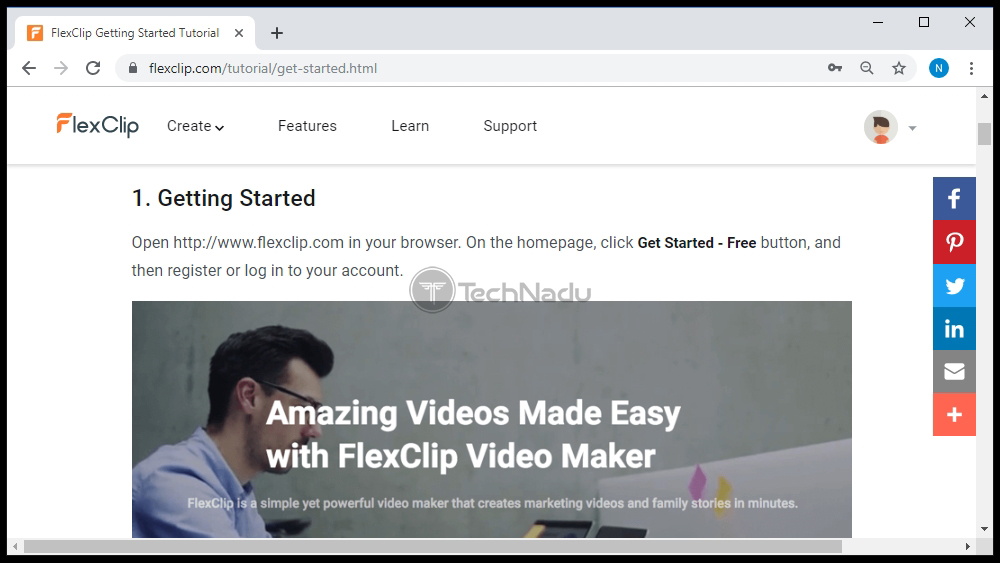 FlexClip offers you different ways to learn about this tool, including tips and tricks, frequently asked questions, and more. Our Score: 9.5/10.
FlexClip offers three types of customer support: tutorials, frequently asked questions, and suggestions that you can send to their service development team. There's also a dedicated section for learning different ways to utilize FlexClip for certain purposes, so you'll be covered well in all cases.
Let's not forget that this is a free-of-charge tool, and these usually come with limited customer support. Even though you won't find options like live chat, pretty much any other communication channel is available. With this said, we conclude that FlexClip has done a marvelous job of educating its users and providing help.
Pricing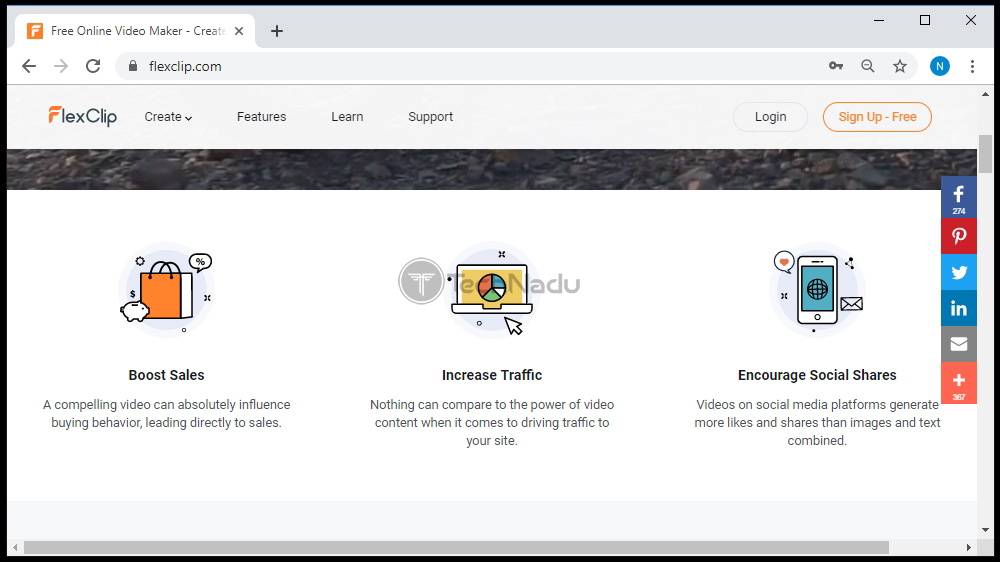 This is a free-of-charge tool that comes with no hidden costs, extra fees, or any other type of limitations. Our Score: 10/10.
So, how much you need to pay to use this helpful video editing tool? Well, it comes completely free of charge. There are no hidden fees here or locked features. As soon as you sign-up, you get to use FlexClip in its entirety and without any limitations. This includes exporting your videos in 1080p as well. What this means is that there's no reason not to try out FlexClip today!
Do We Recommend FlexClip?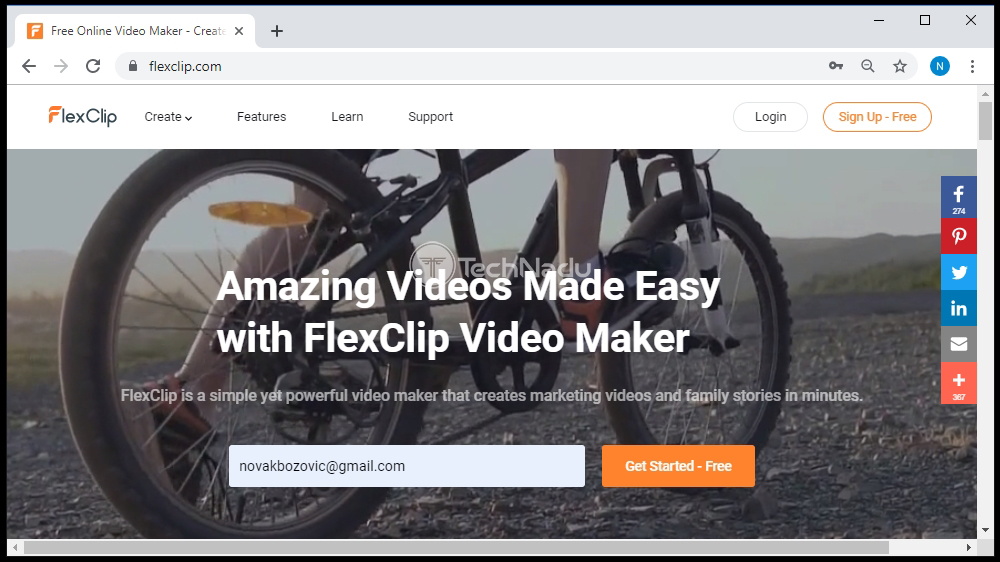 Yes – we definitely recommend FlexClip! This is an easy to use video editor that helps you create pro-level videos without having to buy complicated software. It's completely free of charge – so there's no reason not to take it for a spin. We're sure you're going to love it!
PROS: Intuitive UI; Suitable for complete beginners; Fast performance; Comprehensive video editing tools; Free of charge.
CONS: The selection of templates could be bigger; Minor issues with the responsiveness of the website.
OUR SCORE: 9.6 out of 10!
Are you Intrigued by what this review told about FlexClip? Well, you know what the next step is – go ahead and sign-up for FlexClip today, and start creating your videos!
As you made it to the end of this review, why not share this article online? And don't forget to follow TechNadu on Facebook and Twitter. Thanks!