How many times have you deleted something on your computer, just to remember that you might need it at some point? No matter how careful you are, these things happen from time to time. However, the real trouble starts when you search online about how to retrieve those files. There are numerous guides and freeware applications offering this service. Yet, almost none of them work. Therefore, we need to look for a reliable solution. So, welcome to our review of EaseUS Data Recovery Wizard PRO.
First, we are going to show you the basic information about this software, so take a look at the table found below.
Overview
Product Name
EaseUS Data Recovery Wizard PRO
Supported Platforms
Windows 10/8/7/Vista/XP.
Unique Features
Supports all file systems; Proactive data loss protection; Supports external devices.
Price
$89.95 (currently priced at $69.95); Free trial included.
Visit
Ease US Data Recovery Wizard PRO
Since we have the basics out of our way, let's take a look at what stands out in terms of this software, as well as what are its weak sides.
Final Verdict
Pros
Very easy to use; Simple and intuitive UI; Highly capable; Supports deep system scan; Filtering and previewing available.
Cons
On the pricier side.
Final Verdict
In case you need a 100% effective tool to restore your deleted files, Data Recovery Wizard should be your go-to choice.
Our Score
9.6/10
As you can guess by now, EaseUS Data Recovery Wizard is quite a capable tool for restoring your data. To get to know this tool a bit better, keep on reading our review.
EaseUS Data Recovery Wizard – The Specifics
When it comes to our review, we like to believe that we have a bulletproof method of checking how capable and useable a certain application can be. So, we will start with the basics by telling you about the platform compatibility of Data Recovery Wizard, how to install it, and more. Then, we'll cover topics like the biggest features of this tool, how to use it, and we'll talk about its effectiveness as well.
We also need to tell you that we've tested the latest official version of EaseUS Data Recovery Wizard (version 12.6.0) and we have acquired the PRO license. Our PC is powered by Windows 10 Pro, Intel Core i7-8700K and we'll be testing this software on our SSD (256GB) and HHD (1TB) drives.
Platform Compatibility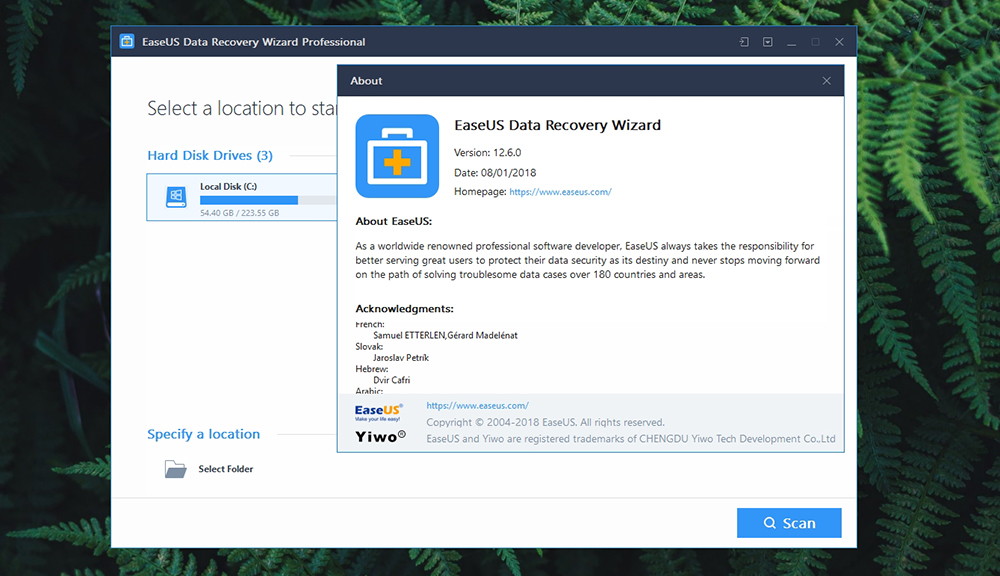 EaseUS Data Recovery Wizard is compatible with Windows only. You can also use it on MacOS, but that's an entirely different version of this application (separate license and updates). Our Score: 10/10.
The good news is that you can install the Data Recovery Wizard on a whole slate of different Windows versions, starting with Windows 10 and ending with (now heavily obsolete) Windows XP. The application doesn't need any advanced specs and it should run perfectly fine even on the oldest of Windows PCs. This means having 128 MB of RAM, 32 MB of hard drive space, and an X86 CPU. Likewise, Data Recovery Wizard PRO works on pretty much all Windows-supported file systems. This includes FAT, exFAT, NTFS, NTFS5 but also with ext2/ext3, HFS+, and ReFS.
You might be surprised to know that MacOS is not part of this equation. That is because Windows and MacOS use completely different file systems, which means that file recovery is done in a completely different way. However, EaseUS offers a dedicated Mac app as well – but it's kept separate from the version we're reviewing here. Therefore, this review is not an indicator of how effective is the company's Mac version of this software.
Installation Process
The entire installation process is incredibly simple, allowing you to prepare and launch the application in a matter of minutes. Our Score: 10/10.
As you can imagine, this process begins by visiting the official website of EaseUS. You can buy a license straightaway or opt for a free trial. Either way, you'll need to download the installation file that comes in at around 40 MB.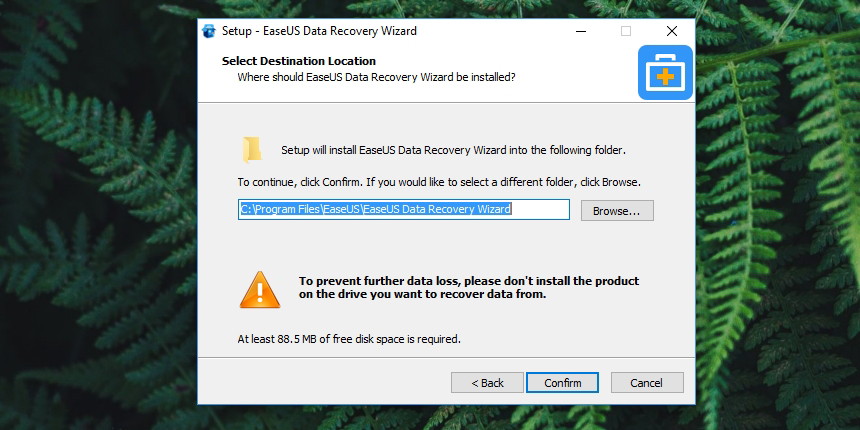 Double-clicking on the installation file triggers the installation wizard. The only step that you need to pay attention to is where you'll install the software. As you'll see, you shouldn't install it on the drive you want to recover data from. In the end, the application will take around 90 MB of space, so it's pretty lightweight.
User Interface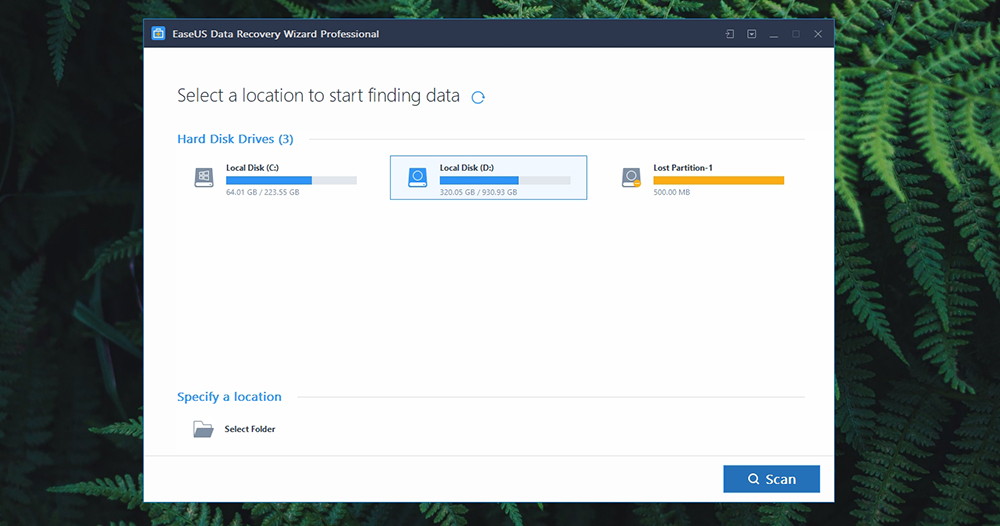 File recovery can be a very tedious process if you're not using the right tool. EaseUS has done a wonderful job of coming up with a highly polished and user-friendly UI. Our Score: 10/10.
The home screen of EaseUS Data Recovery Wizard is quite simple. You'll see all your disks nicely presented, along with the information on how much free space is available. At the bottom of the screen, you'll see a way to search individual folders, helping you to narrow down your search for lost files. And of course, there's a prominent 'Scan' button in the bottom-right corner that you'll often use.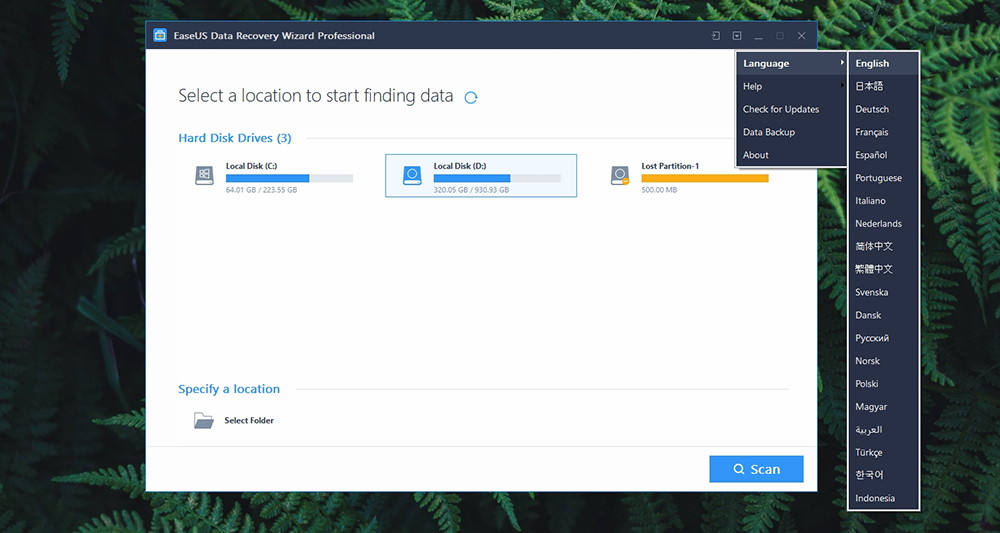 If you take a look at the top-right corner, you will see several icons. The first one (from the left side) allows you to import a session. In case you've searched for lost files before but had to stop, you can save and then later resume that session. Then, there's the menu bar that surprisingly doesn't come with any options for fine-tuning. Instead, you can pick a language, get help, check for updates, check the current version, and see the company's data backup solution (sold separately). We have to say that we're not surprised by the fact that fine-tuning is nowhere to be found. The application does everything on its own, with very little from its user.
Ease of Use
Let's say that even if this is your first time encountering an application like this one, you won't have any problems using it. Our Score: 9/10.
As you can imagine, the initial screen is where you start your quest to recover deleted files. You can either select one of the available disks or specify a precise location. If you connect an external drive such as hard drives, USB stick, RAID and similar, you'll see those devices here. After you've selected the destination or drive, click on 'Scan'.
Data Recovery Wizard will now deep scan your system to try and find deleted files. A new screen will be shown, where you can see the entire process. On the left side of the screen, you can start browsing different files types. On the right, you'll see a list of folders and files. At the top, you will find a couple of interesting options. The oddly-named 'Guess You Recover' tab will present a list of the files that you can easily extract from your system. Then, the 'Filter' menu will help you narrow down the list of files by different file types. On the right-hand side, you can search by name. In case you've deleted an important document and you still remember its name, just type in the document's name here. And below this field, you will see four ways of previewing files.
Remember that you can preview files before you restore them, which is a huge benefit here. The latest version of EaseUS Data Recovery Wizard brings audio and video previewing, while you can also take a look at documents, PDFs, images, and more.
To recover files, make sure to select them first. Then, hit the 'Recover' button in the bottom-right corner. Select where you want the files to be restored to, and the application will finish the procedure on its own.
Speed & Performance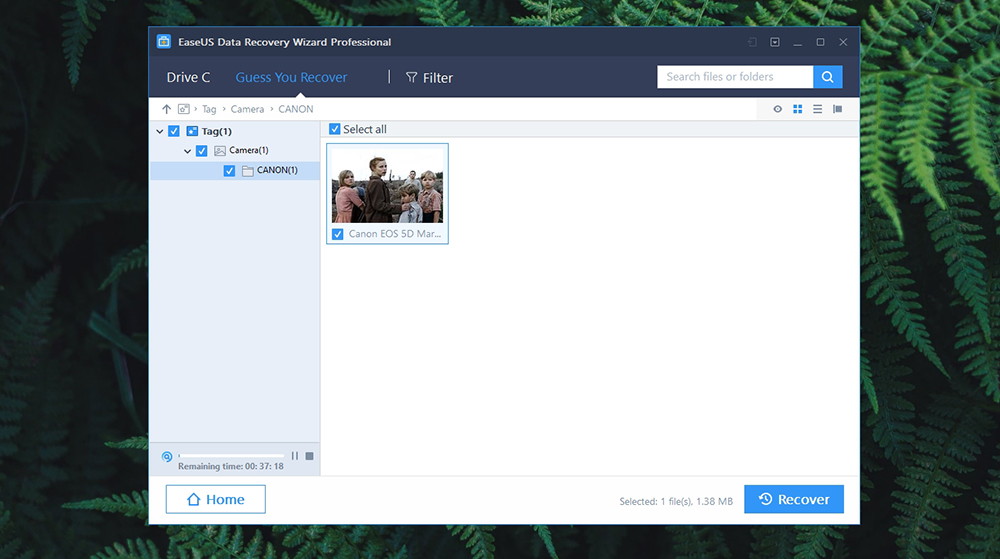 As said earlier, Data Recovery Wizard will work even on the oldest of Windows PCs. On top of that, it handles large volumes of files with ease. Our Score: 10/10.
Even though this application doesn't require you to have an ultra-fast PC, it helps if you have a capable processor. When it comes to our experience, Data Recovery Wizard was actually quite quick and performed without affecting the rest of the computer. In other words, it didn't need a lot of resources in terms of CPU and RAM.
The biggest factor when it comes to performance is your disks. The whole process can be quite quick if you have an SSD. During our tests, the application managed to find 1,500+ deleted files in a matter of seconds on our 256GB SSD drive. The full scan took close to 40 minutes. We have also tested the application with our 1TB HDD drive. Once again, deleted files were found within seconds, while the in-depth scan took around two and a half hours.
You should know that the initial scan (which runs really quickly) should be sufficient to help you locate deleted files. You need to dig deep only if you're looking for a file deleted a long time ago. So, all in all, very speed performance.
Customer Support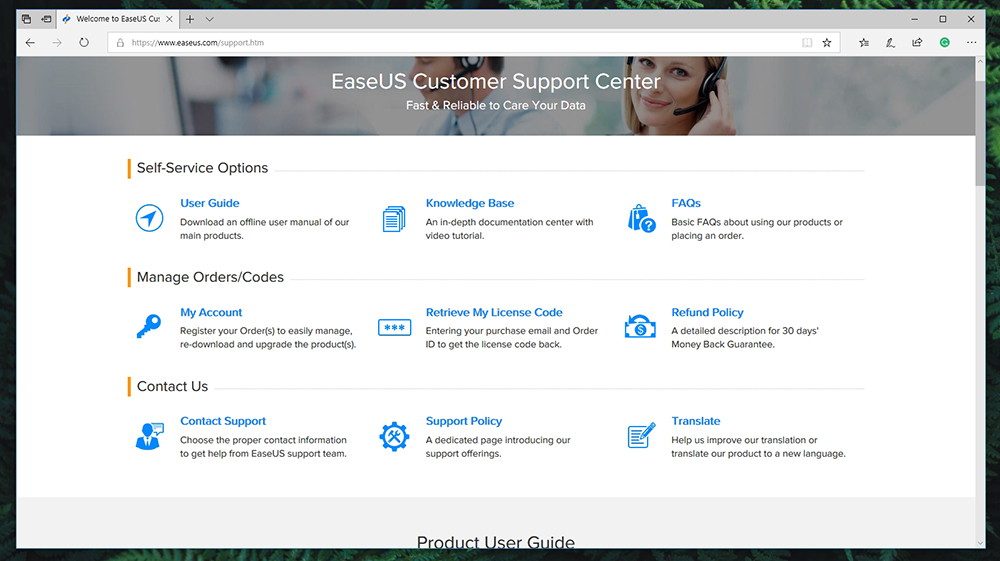 EaseUS is not a new company and it understands the importance of offering reliable support. Our Score: 10/10.
In case you ever encounter a problem with EaseUS Data Recovery Wizard, you can turn to the official website for help. Luckily, the company offers live chat which is a really nice benefit. However, please note that this support option applies to customers with premium licenses only, which means that you can use it if you have the PRO license of this application.
There is also an incredibly helpful support system. If you take a look at the main support page on the website, you will see that you can take a look at user guides, video tutorials, and FAQs. Then, you can contact support by email, telephone, or via live chat. This is also where you can take care of your account, license codes, and even ask for a refund. And finally, there are hundreds of interesting articles and guides on various software tools offered by EaseUS.
Pricing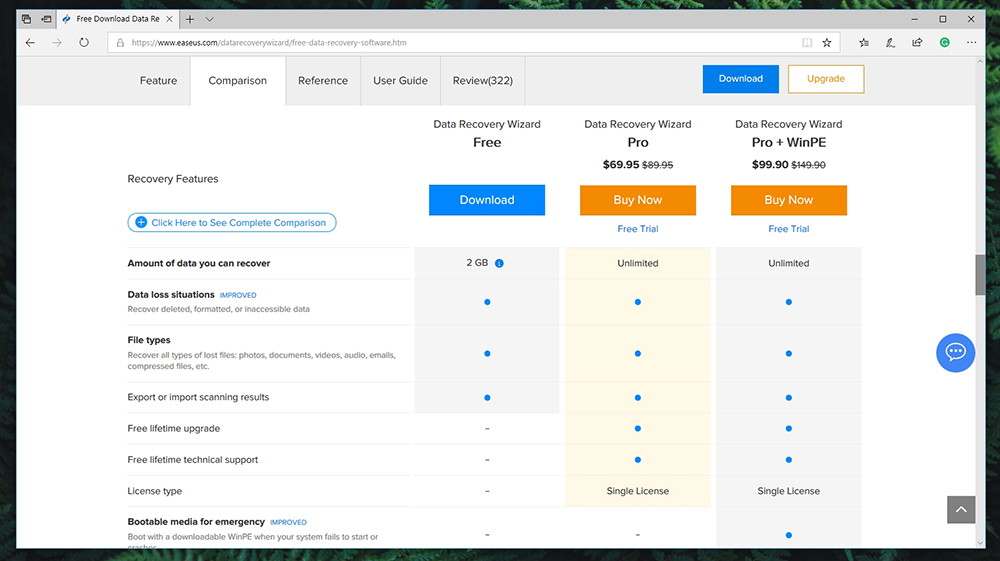 EaseUS Data Recovery Wizard is not the most affordable option but it can be a real life-saver. Our Score: 8/10.
Depending on your needs as well as if you're a private or business user, EaseUS offers three pricing plans for its Data Recovery Wizard. Here's an overview:
The PRO version is priced at $89.95 – but you can currently find it priced at $69.95. This gives you a single license and it unlocks all of the features found within the tool.
The PRO + WinPE version is normally priced at $149.90 – currently priced at $99.90. It brings everything found in the PRO version but also the availability to create bootable media for emergencies.
The Technician license comes priced at $299.00 and it includes everything that the PRO version brings, plus the ability to offer technical services to your clients.
Average Windows PC users will most likely go for the PRO version ($69.95). Even though you can certainly find more affordable options out there, you must know that they are usually not as capable. With EaseUS Data Recovery Wizard, you can be sure that if a deleted file can be restored at all – you will have the correct tool for the job. Therefore, it's safe to say that you won't find a more capable solution out there.
The Verdict
EaseUS Data Recovery Wizard is the most powerful tool of its kind. It brings a highly polished interface, performs admirably, and does its job without a single problem. So, if there's a deleted file on your Windows PC that can be saved, you can be 100% sure that this tool will get the job done.
PROS: User-friendly; Fast performance; Highly effective; Scans your system deeply; Amazing customer support.
CONS: On the pricier side.
OUR SCORE: 9.6/10.
Final Thoughts
Dear TechNadu readers, that would be all when it comes to our review of EaseUS Data Recovery Wizard. If you have additional questions, don't hesitate to post a comment below.
If you made it to the end of this article, why not follow us on Facebook and Twitter? Also, feel free to share this article online. Thanks!