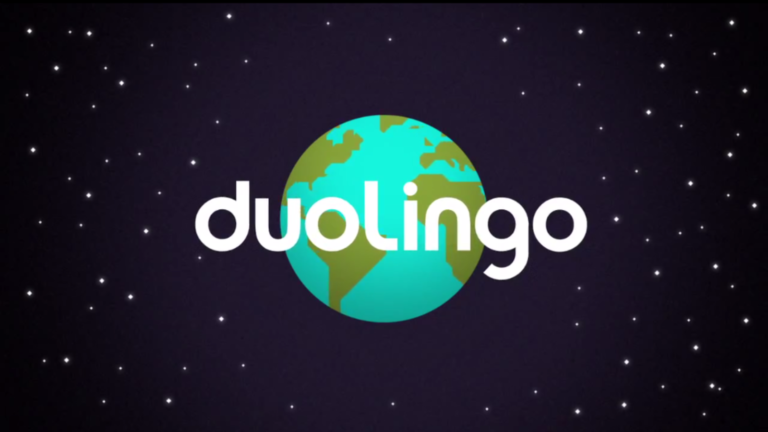 Duolingo probably is the world's most popular way to learn new languages, as its website claims. The most fascinating thing about Duolingo is that it makes language learning fun with science-based practices. It works on all the core expressions of a language; speak, read, listen and write. Most of the app feels like a word game, which helps in improving your vocabulary and grammar. Duolingo platform certainly is a treat for most of us. However, that doesn't mean the platform has no deal breakers. On Duolingo, you cannot learn specific topics about a language, neither it features video classes, nor does it let you interact with other learners. If the platform isn't working for you, for what so ever reasons, you are free to try Duolingo alternatives.
To help out the bilingual loving crowd, who are struggling between two languages, we have made a list of our top 10 Duolingo alternatives. We made sure that these options cover a wide range of language courses and feature what best language learning apps must have. Here is the list.
1. Memrise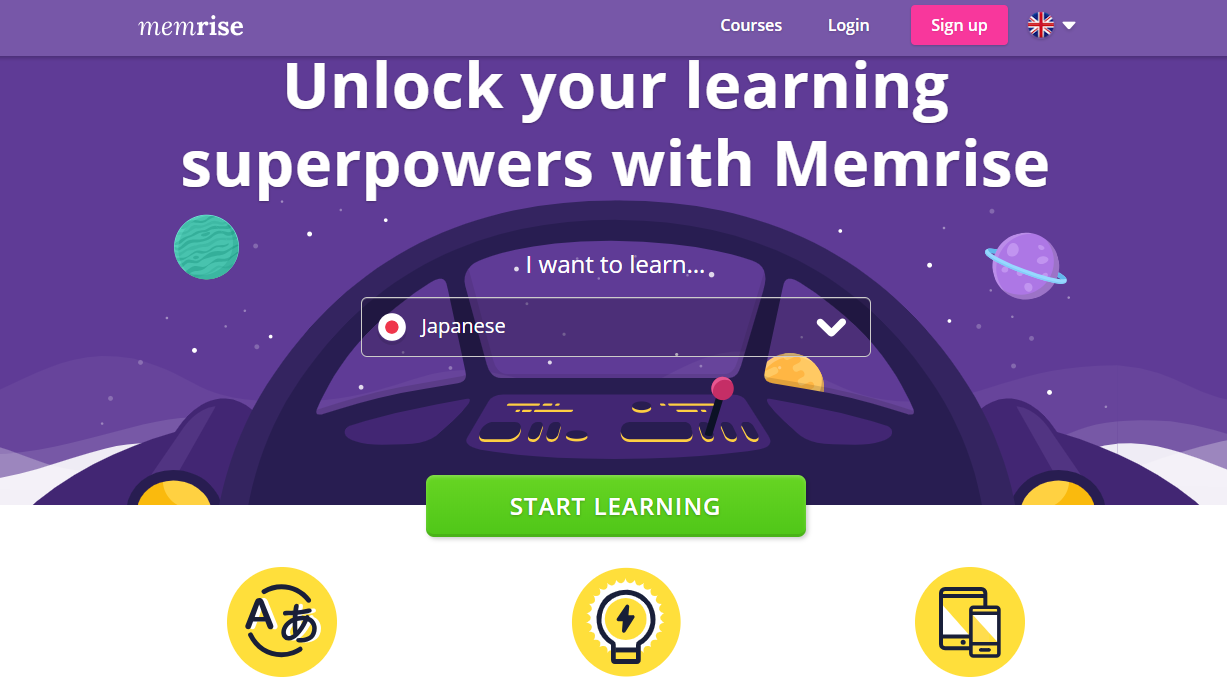 Overview
Supported Platforms
Web, Android, iOS
Price
Free
Pros
Videos from natives, Mems
Cons
Doesn't cover grammar
Visit
Memrise
Memrise is free and comes without a time limit. In recent years, the platform has been winning Duolingo vs Memrise comparative races. To enhance your vocabulary, the platform uses some great tactics. It uses a method called Mems, in which users are encouraged to associate words with an image. The other impressive thing about the platform is its video library from the native speakers. These aids help you grasp the language at a much faster rate.
Memrise primarily focuses on your vocabulary and everyday sentences. There aren't many grammar lessons. The platform is a great Duolingo alternative to start on any language of your choice, but you will have to inevitably switch to a comprehensive language course to complement it.
2. WordBrewery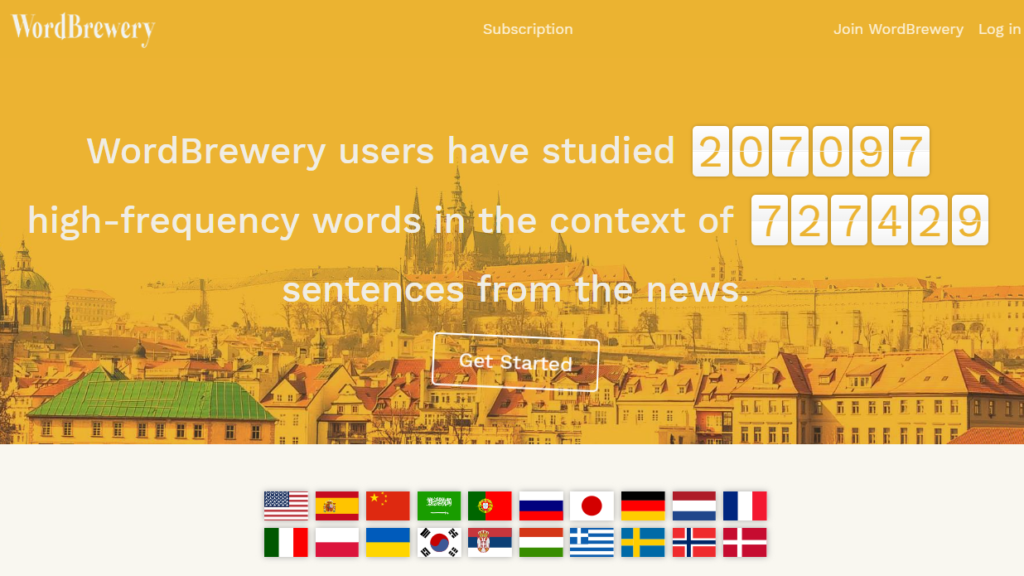 Overview
Supported Platforms
Web
Price
Free, $9.99 per month
Pros
Reliable and accurate lessons by native speakers
Cons
No mobile apps yet
Visit
WordBrewery
WordBrewery is a web platform that you can access through any device that has a web browser. We found that its website is equally responsive and functional irrespective of what device you pick. The platform is also very efficient at their teaching. The program starts with common vocabulary lessons and gradually takes you to grammar lessons.
The Platform uses real-life examples to keep the language learning experience vivid and interesting. We also noticed that WordBrewery takes real sample articles, rather than from a random content generator. The platform also allows you to directly print PDFs with the translations and sentences. Over-all the learning experience on the platform is immersive and enriching. WordBrewery seems to be the most immersive Duolingo alternative.
3. HelloTalk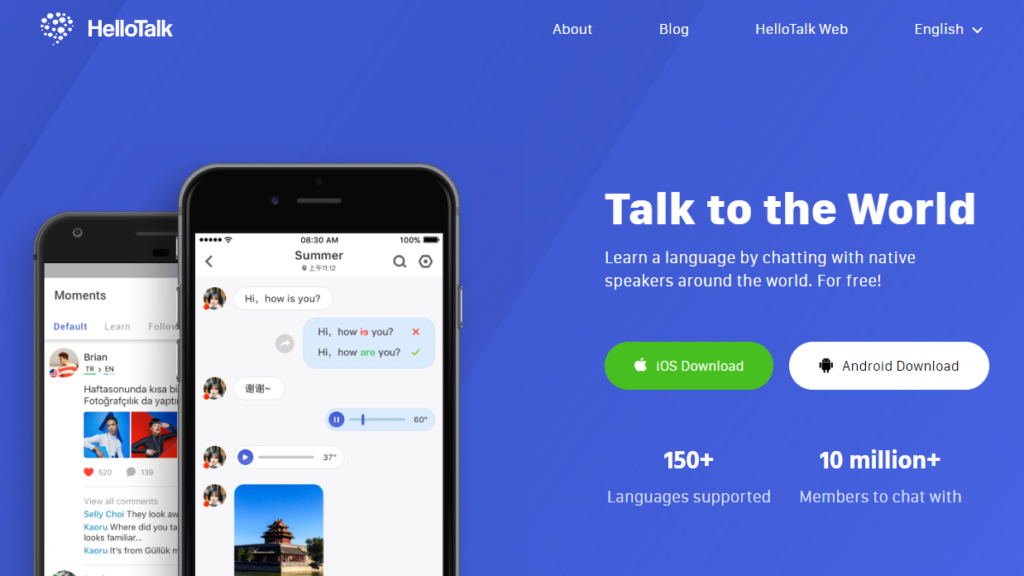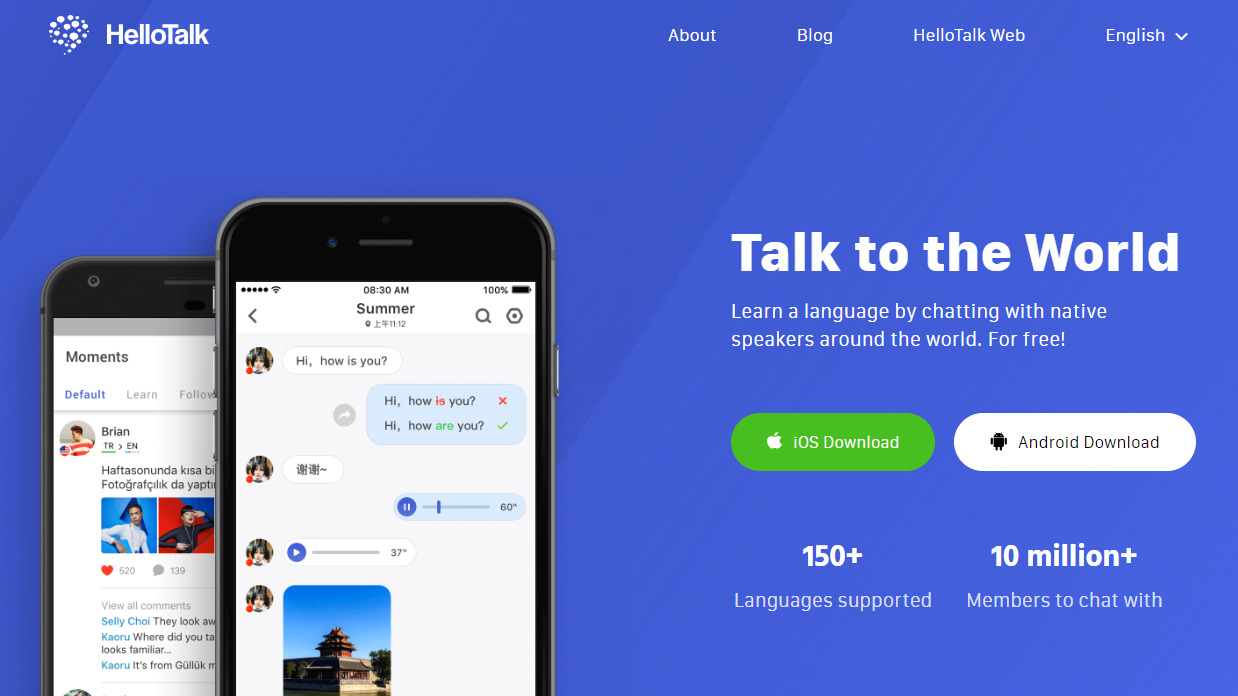 Overview
Supported Platforms
Android, iOS
Price
Free
Pros
Advance chat features, Large community
Cons
Restricted search options
Visit
HelloTalk
HelloTalk is one of the largest active Duolingo alternatives. Despite being a feature-packed platform, the interface of HelloTalk is simple and easy to use. Unlike Duolingo, the platform allows you to chat with the other members of the community. The app has advance chat features and lets you use text, voice, video and even doodle for chatting. You can also share memories with the community. However, HelloTalk could be annoying for the popular users, for the number of messages they might receive. But, if you do not want to entertain other users with their queries, you can simply hide your profile from the search.
The platform is absolutely free for use. However, there are some in-app purchases to improve your experience, but nothing you can't live without.
4. Lingvist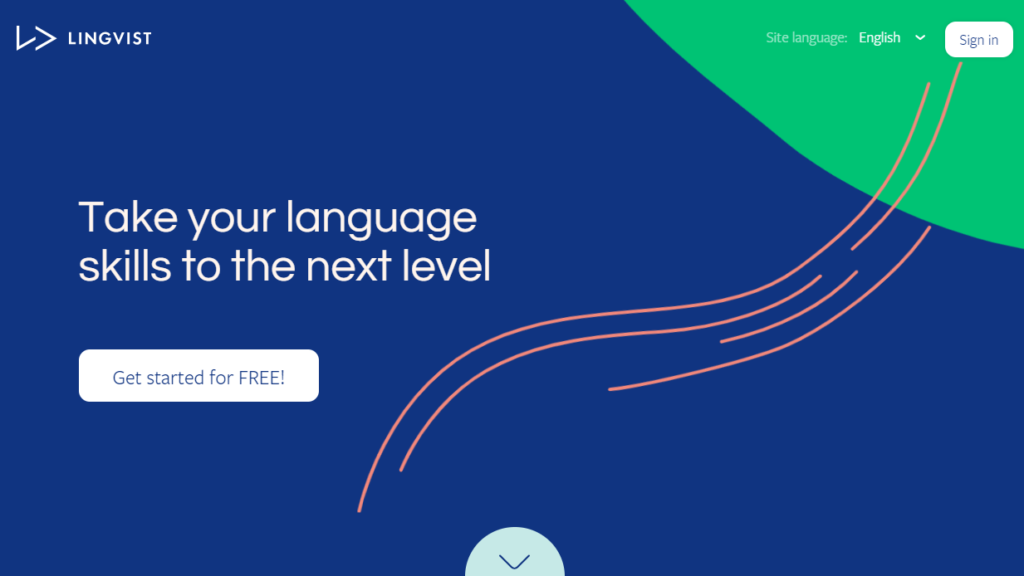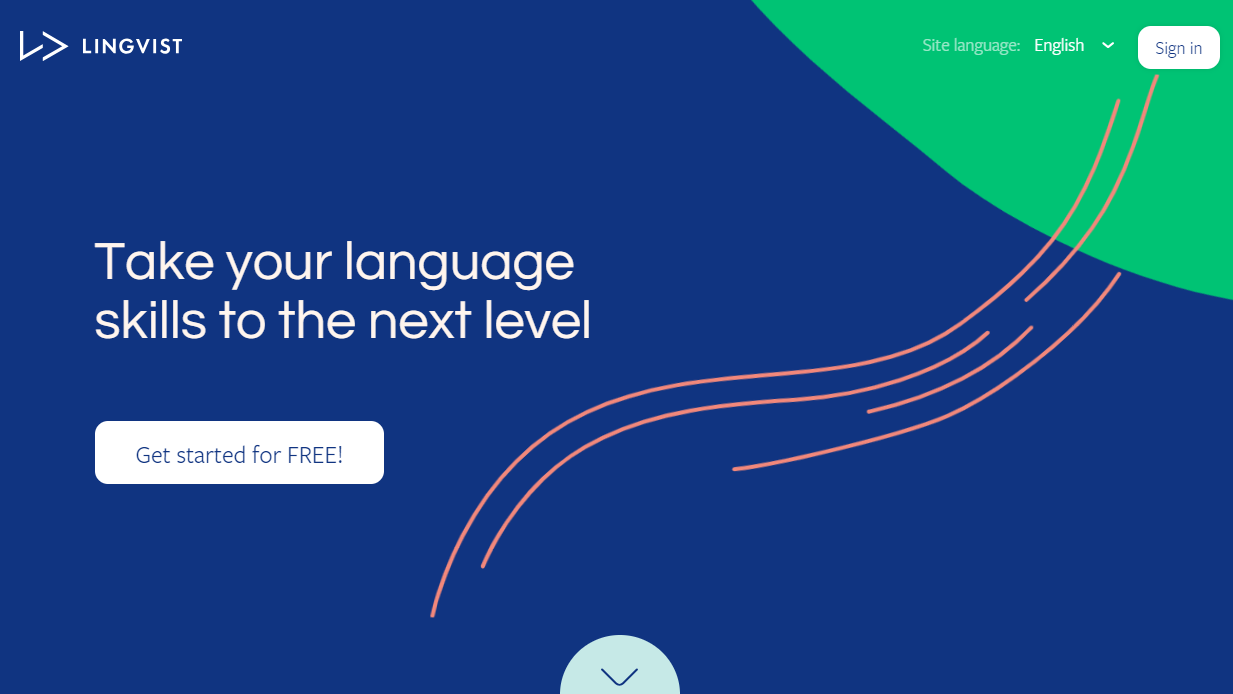 Overview
Supported Platforms
Web, Android, iOS
Price
$22.95 – $89.95
Pros
Beautiful interface, comprehensive grammar lessons
Cons
Offers only a few languages
Visit
Lingvist
Lingvist features a scientific approach towards learning languages. The platform doesn't force you to learn what you already know, unlike Duolingo. It allows you to learn things when you need to learn them. Lingvist also uses AI personalization to tailor your course. It takes cues from your progress and molds the course as per your fit. This ensures quick and effective progress. The platform also features focused learning. This means you learn based on your previous knowledge of the language, not what an expert suggests you should. For this, it uses knowledge mapping to assess your existing language level.
The platform can be accessed through the Web, and both the major mobile platforms; Android and iOS. The subscription is available on monthly, quarterly, and annual basis. The pricing starts at $22.95 and goes up to $89.95– one-time payment. This makes it one of the most affordable Duolingo alternatives.
5. Babbel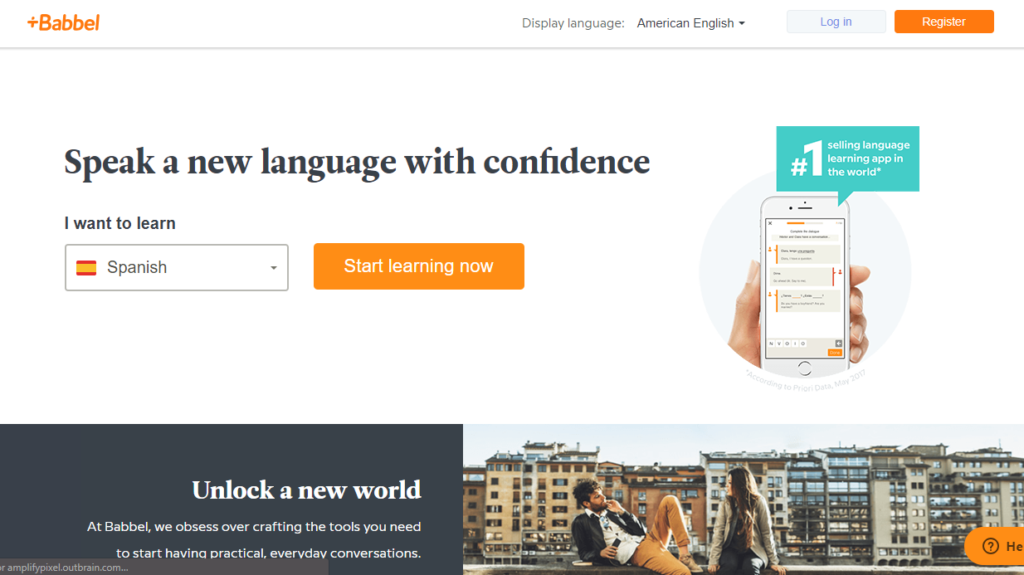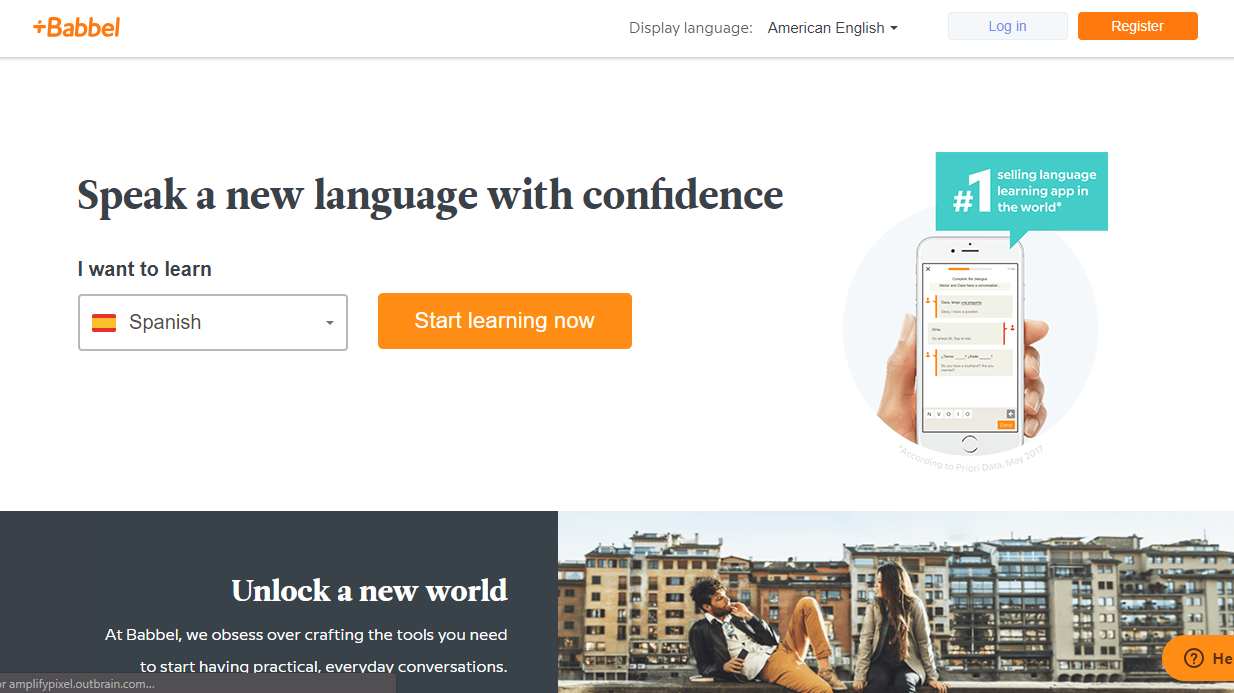 Overview
Supported Platforms
Web, Android, iOS
Price
$13 per month
Pros
Well- structured course, high-quality content
Cons
Buggy interface at certain sections
Visit
Babbel
Babbel is unique. It approaches language learning through gradual progression. Its course contains four stages; new words, grammar instructions, dialogue, and reviews. The platform is popular for its high-quality content. Unlike other platforms, the content is not generated by the user base, rather, a set of highly skilled native language experts contribute to its courses. You can feel the difference in the content right from the first go. The platform also offers a deep explanation about tricky grammar lessons and helps you at every stage of learning.
The subscription on the platform costs $13 per month. Looking at the number of language courses Babbel features—30 languages, it's a great deal.
6. Busuu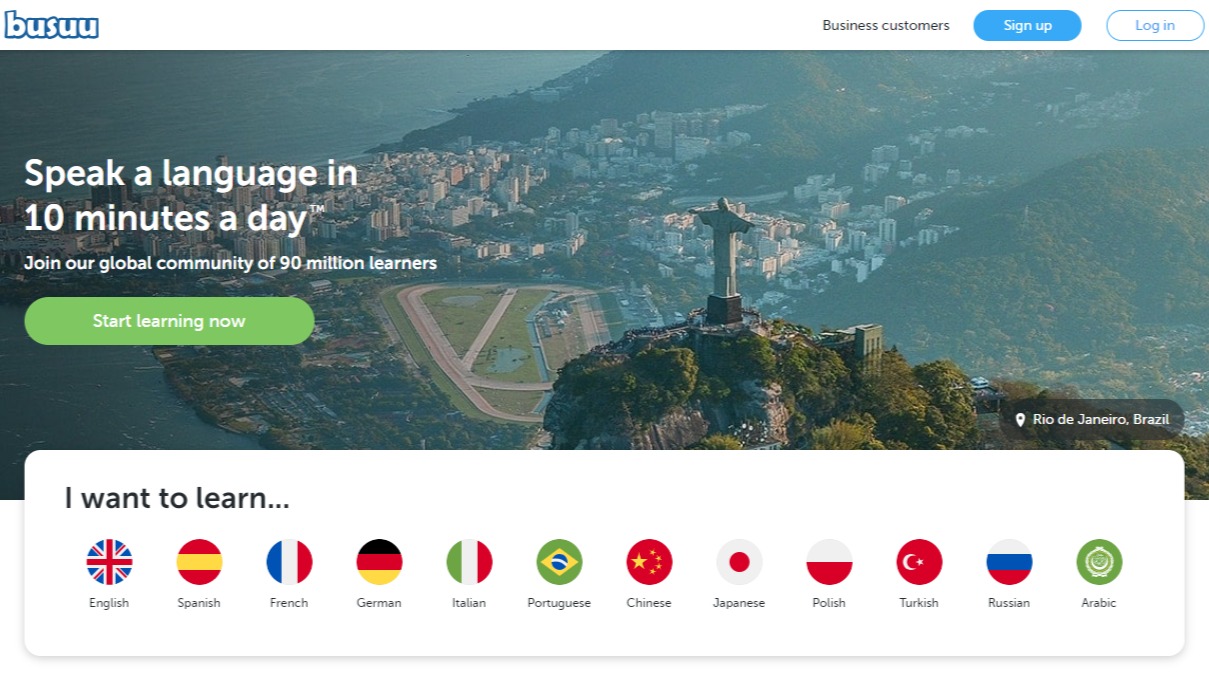 Overview
Supported Platforms
Web, Android, iOS
Price
$6.41 to $11.34 per month
Pros
Theme based teaching, realistic conversation
Cons
Basic chat option, ineffective review section
Visit
Busuu
Busuu features 12 language courses for its global community. The program challenges to improve your language skills with just 10 minutes a day. Busuu comprises over 1000 lessons by expert linguists. The program is personalized based on your progress with the help of machine learning technology. It also supports voice recognition with their study plans. Busuu is apparently a massive community with about 90 million learners and native speakers. This allows the users to get instant feedback on their lessons from the global community.
While checking Busuu's reviews on the other platforms, we found testimony by The City University of New York. It said that 22 hours of Busuu premium program is equal to one college semester of language study. This itself describes the value of the program. The subscription is available from $6.41 to $11.34 per month depending on which package you pick; quarterly or annual.
7. BBC Languages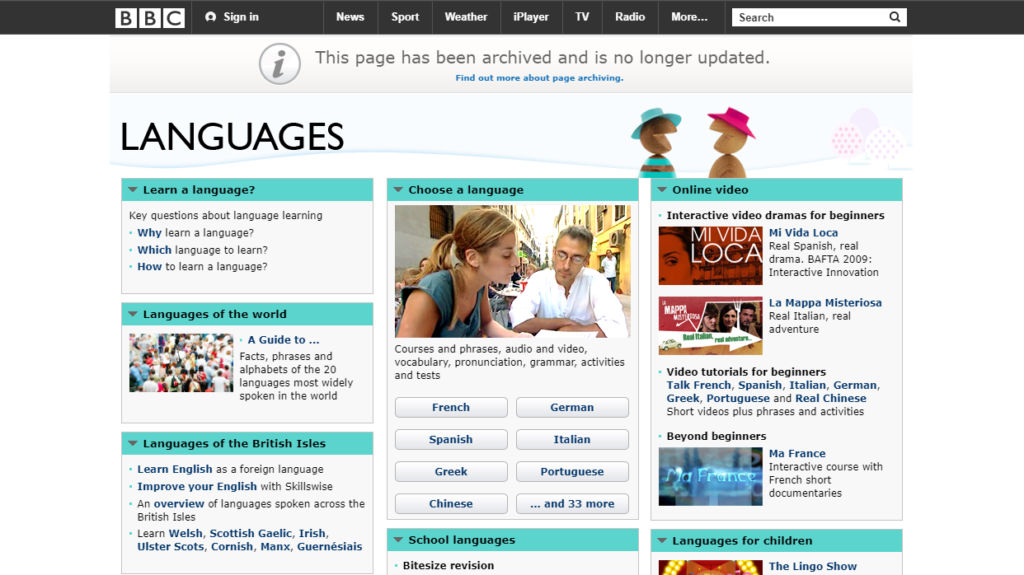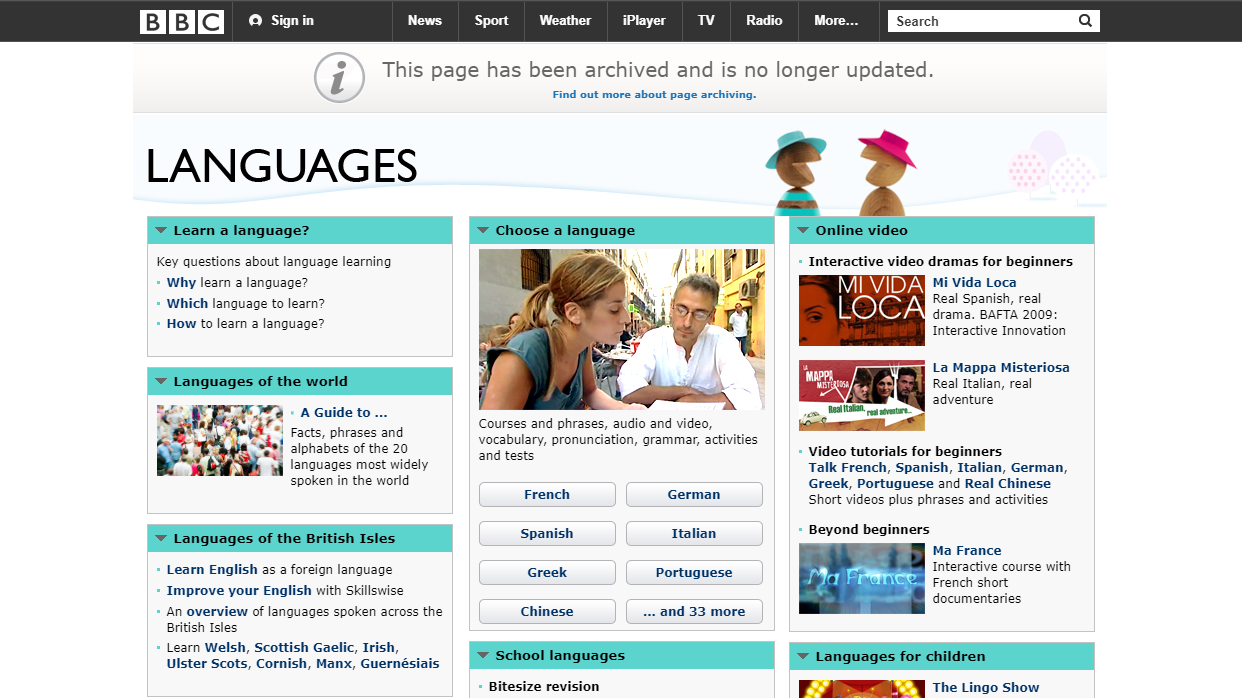 Overview
Supported Platforms
Web
Price
Free
Pros
Comprehensive, Quizzes
Cons
Courses are no longer being updated
Visit
BBC Languages
BBC Languages is a free platform for anyone who is interested in learning foreign languages. It features a collection of video tutorials with comprehensive online lessons. This platform carries a consistent structure for all its courses. The lessons are delivered through audios, games, vocabulary quizzes, grammar explanation, and exercises. The platform features well above 10 language courses. However, users prefer BBC more for some languages than others. Russian and European language courses of BBC are popular.
BBC Languages is one of the most comprehensive Duolingo alternatives on the internet. The platform is available only for web users, though BBC has a separate app for English learners. On visiting the site, you'll find a phrase saying 'the page has been archived and is no longer updated.' This means the platform is not updating its course, but that doesn't imply it isn't worth it.
8. Clozemaster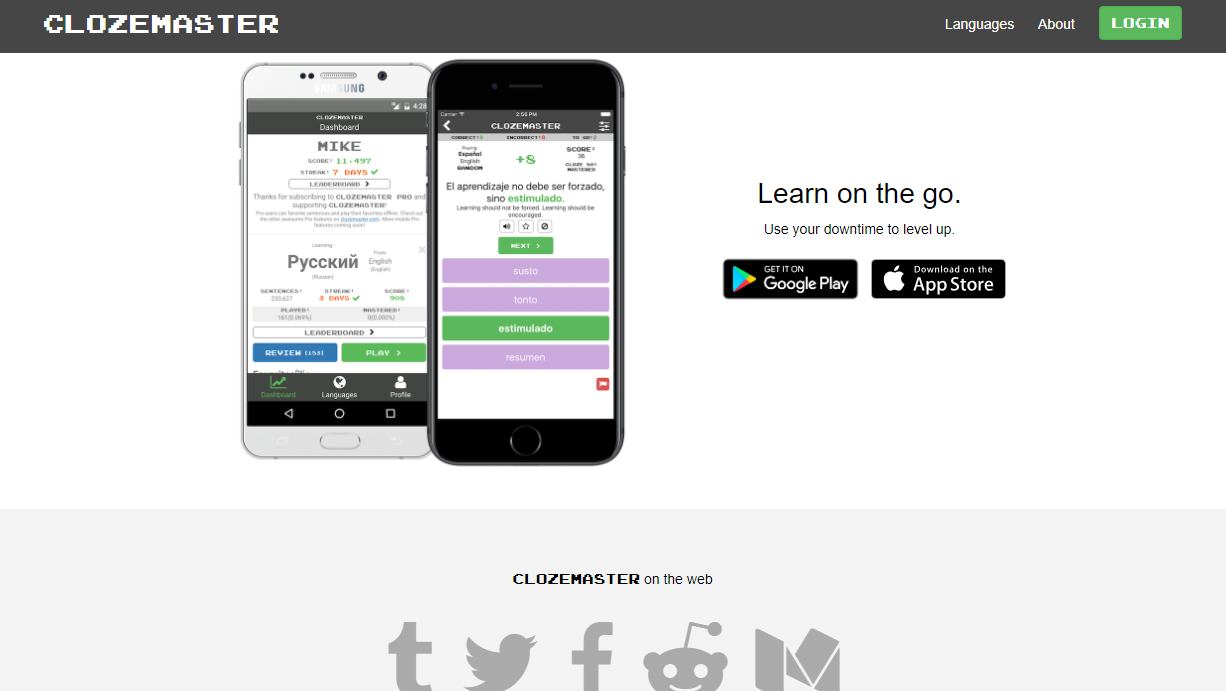 Overview
Supported Platforms
Web, Android, iOS
Price
Free, $8 per month
Pros
Contextual exercises, Effective support
Cons
Not beginners friendly, Doesn't teach scripts
Visit
Clozemaster
One of the biggest positives of this platform compared to the other Duolingo alternatives is that the exercises on Clozemaster are contextual. It has a natural approach towards language learning in which it gives you regular sentences and asks you to fill in the missing word. There is also a paid version at $8 per month, but you can also sign up for free and play. We found the free version quite generous with plenty of material to learn from. The platform features more than 50 language courses, which is more than all the other language learning alternatives on the list. However, the courses are not apt for beginners, and you might want to add some more beginner's tools with this app, at least at the start.
Clozemaster makes a mark on your memory with a lot of repetition. It also features effective support if you need help. Clozemaster helps you in learning the language of your choice through mass exposure to its vocabulary.
9. Rosetta Stone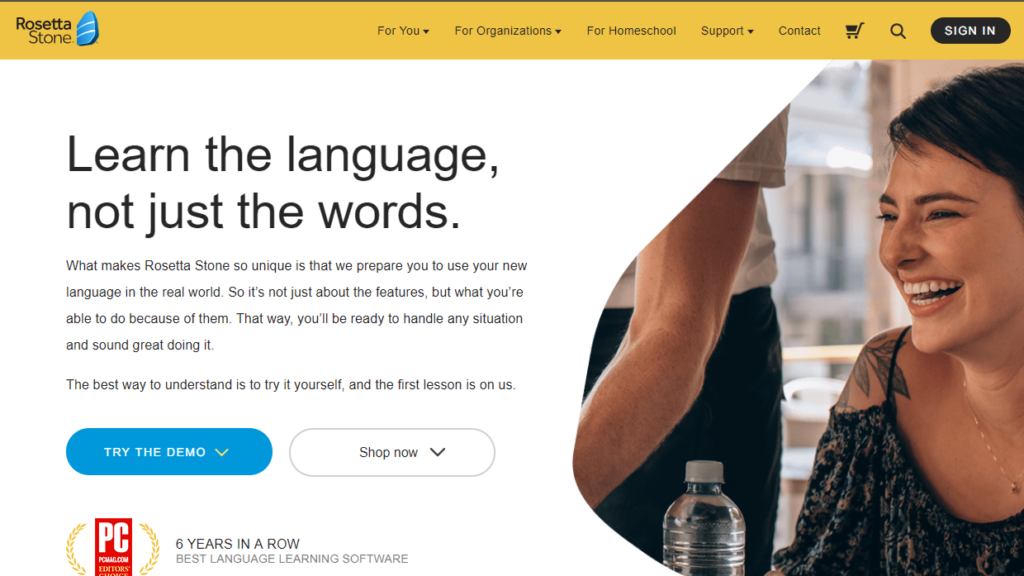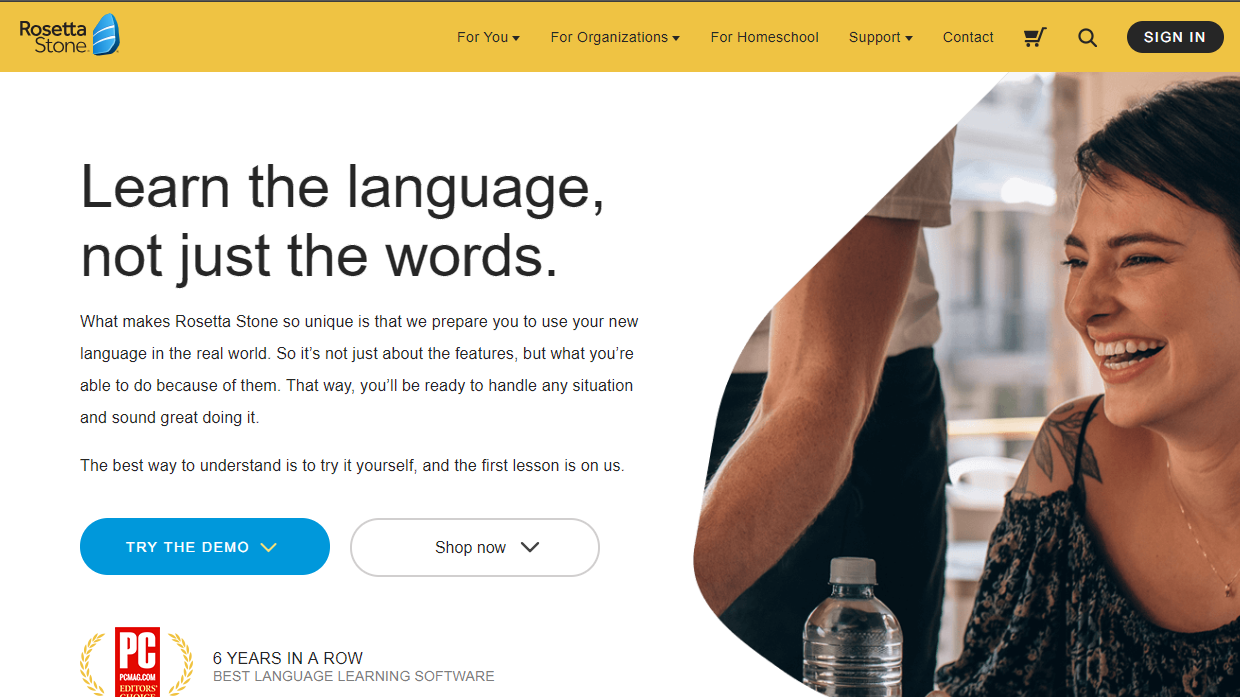 Overview
Supported Platforms
Web, Android, iOS
Price
Free trial, $10 per month
Pros
Speech recognition, Games with other students
Cons
Same course for all nationalities
Visit
Rosetta Stone
Rosetta Stone uses speech recognition technology, which ensures that the students learn the right pronunciation. The platform provides quite an immersive language learning experience compared to the other language learning apps. Nothing on the platform makes the learners too uncomfortable, which makes it a stress-free environment to experiment with different languages. Rosetta Stone features about 24 languages. It has well-built apps, and can also be accessed through the web.
Our favorite thing on the platform was its games with the other students. In this, a learner can invite other users from the platform to play games for mutual learning. The platform is primarily used in the US. Therefore, the meetups with teachers/students could be extremely difficult to arrange for other nationalities.
10. Google Translate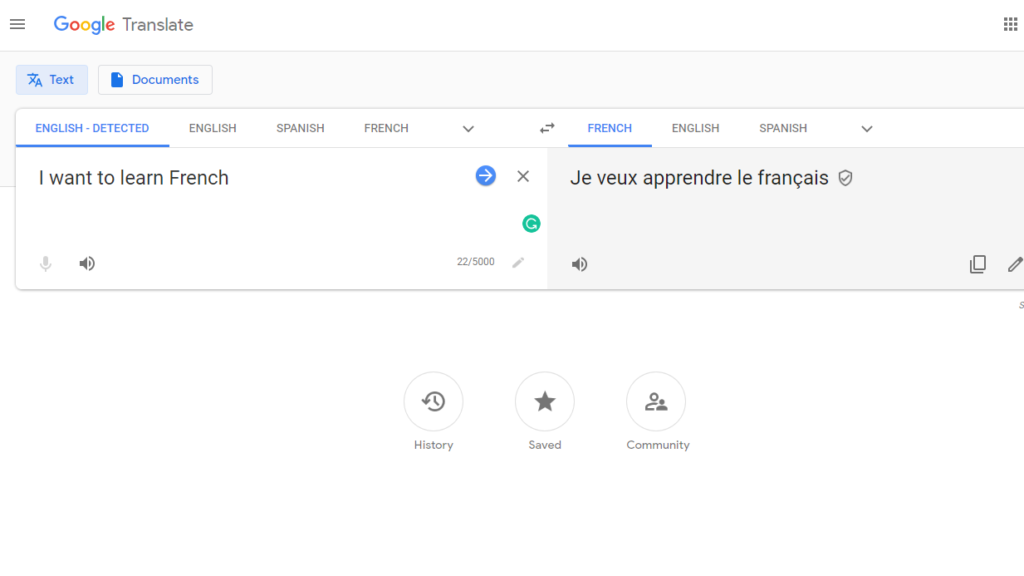 Overview
Supported Platforms
Web, Android, iOS
Price
Free
Pros
More than 100 languages, multiple modes
Cons
Inaccurate sentence translation
Visit
Google Translate
Google Translate is a universal brand today. It helps everyone around the world while communicating with people of other languages. However, in comparison to the other Duolingo alternatives, Google translate has only a few extra features. It can very well withstand the offline mode too once you download the language pack of your choice. The major complaint from the platform is its literal translations of sentences. While it does a fair job at translating words, most of the sentences fall apart. The platform has various modes. You can search through voice, text, photos—pretty much anything.
Google Translate is completely free and makes traveling a bit more comfortable. It is beautiful how an app acknowledges all the struggles one might have during a foreign trip and specifically cater to that traveling audience.
These top picks of Duolingo alternatives and the prime reasons why we picked them. This list will help you find an apt language learning experience which is both easy-to-adapt and effective.
Do you agree with our list, or do you think we have missed one of your favorite language learning platforms? Do let us know in the comments. Also, to get instant tech updates, Follow TechNadu's Facebook page, and Twitter handle.