Getting Apple TV 4K (3 months of DirecTV Now included) will cost you $105.
Getting Amazon Fire TV (1 month of DirecTV Now included) will cost you $35.
You get to keep your Apple TV 4K or Amazon Fire TV, even if you discontinue using DirecTV Now.
DirecTV Now offers one of the best TV streaming services currently available in terms of the number of offered TV channels. The only downside to this service is its high priced subscription plans. But what if they are throwing in an Apple TV 4K or an Amazon Fire TV with 4K and Alexa remote? Well, that changes everything.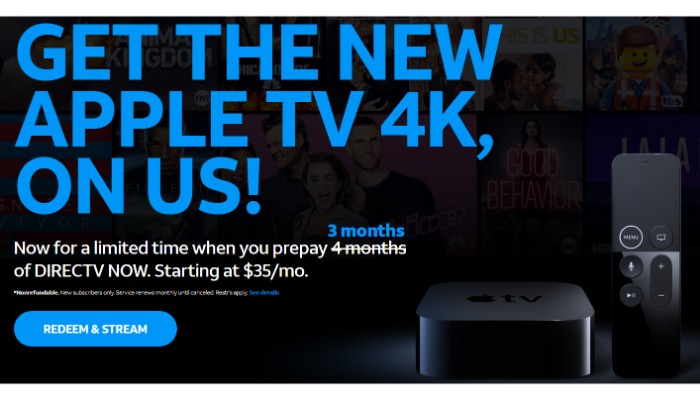 Currently, the Apple TV 4K will cost you around $180, but you can get one for free by purchasing a 3-month subscription of DirecTV Now. If you sign up for their cheapest plan, which is at $35/month, even then you will be paying a mere $105 for three months of quality TV and the Apple TV 4K.
Now, if you don't want to commit to DirecTV for three whole months, then you can simply get a 1-month subscription plan and still get a new Amazon Fire TV. As earlier, if you just go for the $35/month plan for one month, you will be paying simply $35 for which you will get the $70 Amazon Fire TV for free. That's practically a 50% price cut.
The $35/month was the starter plan for DirecTV users, and there are better options that provide you with more channels. If you are a cord cutter, then these DirecTV plans might interest you.

Do remember, even if you wish to discontinue DirecTV – you can, and you will still get to keep your Apple TV 4K and Amazon Fire TV, no strings attached.
Sole condition is that the deal is limited to new customers only, and a limit of one Apple TV 4K or Amazon Fire TV per DirecTV Now account, and two Apple TV 4K or Amazon Fire TV per shipping address.