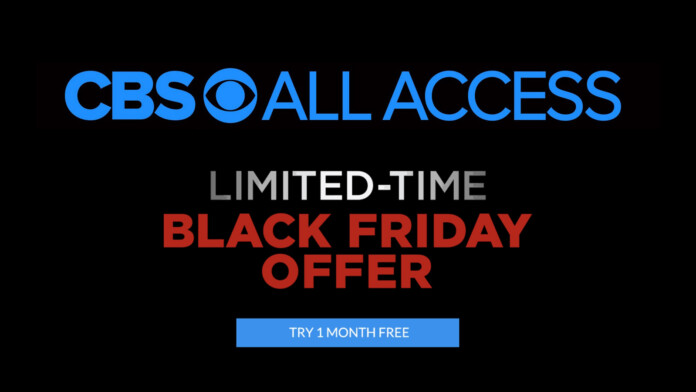 Instead of using CBS All Access trial for a week, you can get a whole month – completely free of charge!
This streaming platform offers a huge library of titles, original programming, and even live TV streaming.
The Black Friday promotion ends 11/26, so make sure to take advantage of it on time.
During the last year, cord-cutting has been on the rise. With numerous options in front of you, it's never been easier to get away from cable providers and cut your monthly costs. However, if you checked our cord-cutting checklist, you know how important it is to pick the right streaming service. Well, CBS All Access is now offering an attractive Black Friday sale, which is a good way to test-drive this service.
As noted in our hands-on review of CBS All Access, this streaming platform has quite a lot to offer. And with 10,000 episodes available at the moment, you can be sure that you'll always find something interesting to watch. So, here are some of the most prominent highlights of this streaming service.
A Huge Library of Titles: CBS is one of the most popular TV networks in the USA, so you know there's plenty to watch. There are 10,000 episodes readily available and we're talking about TV shows such as Survivor, The Big Bang Theory, NCIS, Young Sheldon, SEAL Team, and plenty more.
Attractive Original Programming: Of course, there are some TV shows that you won't find elsewhere. We're talking about Start Trek Discovery, The Good Fight, One Dollar, Strange Angel, The Twilight Zone (All-New), and more.
Live TV Streaming: CBS All Access also lets you stream your local live broadcast, and this includes NFL games as well. There is a range of CBS channels that let you watch sports, news, movies, TV shows, and everything in between.
Streaming on Any Device: Yes, you can stream CBS All Access on pretty much any device out there. This includes using native apps for Apple TV, Fire TV, iOS, Android, PS4, Roku, Windows, Xbox, and even smart TVs.
Intrigued by what this streaming platform offers? Well, then let's talk about the currently active CBS All Access Black Friday sale.
If you decide to sign up for CBS All Access, instead of getting a free week – you can get a free month! You only need to use the coupon code 'STREAMFREE' when signing up, and the offer will be automatically applied to your subscription. Let's also not forget to say that CBS All Access is typically priced at $5.99 per month (limited commercials) or $9.99 (no commercial).
Please note that this offer expires on 11/26/2018 at 11:59 PM PT. You will be charged only after the trial ends, and you're free to cancel the subscription if you change your mind. However, we are more than sure you're going to love this streaming platform. So, go ahead and sign up for CBS All Access today!
So, do you plan on signing up for CBS All Access? And if you're an existing user, feel free to share your user experience. Finally, stay on top of the latest news by following us on Facebook and Twitter. Thanks!