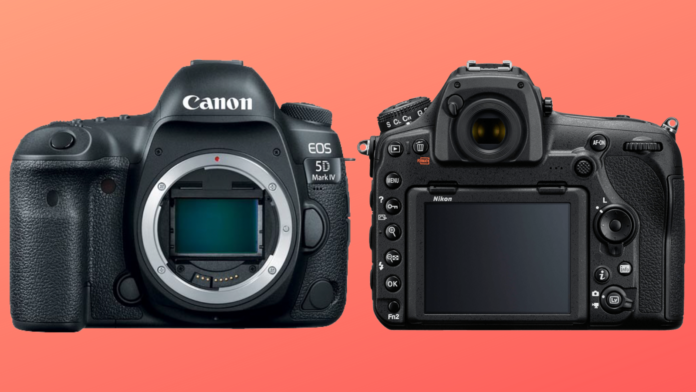 DSLR cameras are the gold standard for professional photography and are an important component of any photographer's toolkit. From film cameras to digital, SLRs have come a long way and now feature faster and more powerful image processors, a full suite of manual controls, great choice of professional quality lenses, and easy connectivity to smartphones and tablets.
Unlike traditional point and shoot cameras, purchasing a DSLR camera is bound to be challenging. There are many models that are worthy of the money so you need to make sure of your priorities and what you expect from your purchase. We'd suggest starting off with the body and a few lenses and then building up different lenses based on shooting requirements. The following factors are important while narrowing down on the best DSLR camera for the budget.
Without a doubt, the imaging sensor is the single most important component of any DSLR. You can either go for a full-frame DSLR with a sensor measuring 36 mm x 24 mm or purchase an APS-C sized sensor (Canon: 22.2 x 14.8 mm) or DX (Nikon: 24 x 16 mm) sensor. Each sensor type has its own advantages and disadvantages and will decide the type of lenses that are compatible with the camera body. While a full-frame camera will be much heavier with better color reproduction and low-light capabilities, an APS-C sized sensor camera will be lighter and offer better opportunities for wildlife and macros photographers.
Other important factors include the autofocus system. It is important that the camera has as many autofocus points as possible and dedicated AF processing unit for fast autofocus so that you can quickly capture the action. AF works best under adequate ambient lighting so the ability to autofocus under low light is a good test of camera capability. Burst rate is also an important factor to consider if you are planning to shoot consecutive frames to capture the perfect moment.
Many use DSLRs for videography as well apart from still photos so in that case, it is important to ensure that the camera can record FHD and 4K video flawlessly and in full stereo. You should also be able to extract high-quality stills from the video frames without much effort. Finally, connectivity and overall build quality are also key factors to be kept in mind.
With the above factors in mind, we've narrowed down on the best DSLR cameras available in the market that address all the above factors. So, here are the 7 best DSLR cameras available in 2018.
1. Canon EOS 5D Mark IV
Offer
Canon EOS 5D Mark IV
Features: High-definition photo and video shooting; High-speed CMOS sensor; Dual pixel AF; DIGIC 6+ image processor; 7 fps continuous burst
Image Resolution: Up to 30.4 MP
Sensor Size: Full frame
Autofocus: Dual pixel, 61-point AF
Dimensions (W x H x D): 5.9 x 4.5 x 2.9 in
The Canon EOS 5D MARK IV is one of the best DSLR cameras in the market and is the illustrious successor of the legendary 5D Mark III. The 5D Mark IV improves everything in the Mark III and on top of that, delivers a 61-point AF.
The camera features a completely redesigned full frame sensor that comes with a whopping resolution of 30.4 megapixels. The sensor produces stunning 4K stills and moving images that will stand heavy post production and retouching without a problem. The large sensor allows for retaining all the fine details of the image, which helps a lot in post.
Also, this model has an amazing ISO range that varies from 100 to 32000. The range is expandable up to 50-102400. Needless to say, this range guarantees an unprecedented dynamic range. Large sensors such as the one found on this camera will help you take stunning low-light images with ease, which is often a difficult task with other cameras.
The Mark IV can record 4K videos in the MJPEG format at 30 or 24 fps in the progressive mode. Also, the camera allows users to grab still images from 4K videos at resolutions of 8.8 MP. However, the file size is very huge for one hour of video — up to 240 GB. Canon could have used better video compression codecs to keep the file size down. There is also no EVF or a tilt screen, which makes shooting in pitch dark a tad bit difficult, but not impossible.
Pros: Excellent image quality; 61-point AF; Wi-Fi and GPS; Dual Pixel RAW
Cons: No effective compression of 4K video; No tilt screen; No EVF; Outdated memory card format
2. Nikon D850
Offer
Nikon D850
Features: Backside-illuminated image sensor; Outstanding dynamic range; Tilting touchscreen; Incredibly long battery life; 7 fps continuous burst
Image Resolution: Up to 45.7 MP
Sensor Size: Full frame
Autofocus: Multi-cam 20K, 153 focus points
Dimensions (W x H x D): 5.7 x 4.8 x 3.0 in
This Nikon D850 DSLR camera has been appreciated for its whopping pixel count, which blows the other cameras out of the water. This is the one camera that will suit both videographers and photographers. The D850, according to its specs, can shoot 8K UHD timelapse shots. You will also be able to shoot 4K or 1080p in 120p. The camera features an ISO range varying from 64 to 25600 and uses a 153-point focusing system that utilizes a specially designed sequence control microcomputer.
What makes D850 a milestone camera is the fact that this is Nikon's first DSLR with a back-illuminated sensor, which is known for its high efficiency. This is the key to the power of the DSLR, which easily reaches up to 25600 ISO despite having a monumental pixel count. The camera uses the EXPEED5 image processing engine, which renders images in superb quality.
The Picture Control system will allow you to choose from the seven presets built-in. Individual settings such as sharpness and clarity can be fine-tuned in each preset to achieve the desired effect. The Nikkor lenses enable you to exploit the full resolution of the 45.7 MP sensor. The camera also has dual memory card slots: UHS-II SD cards and XQD. And lastly, it also comes with Wi-Fi and Bluetooth support.
The Nikon D850 is a great professional DSLR camera and with fast autofocus, responsive touchscreen, and a fast CPU, this is one the best DSLR cameras in the market. The only negatives are that there is no focus peaking while recording in 4K nor there is a built-in image or video stabilization in the body.
Pros: Sharp, high-quality images; Touchscreen; Extremely fast AF; Fast CPU
Cons: No focus peaking at 4K; No image stabilization built in the body
3. Nikon D500
Nikon D500
Features: DX-Format CMOS sensor; EXPEED 5 image processor; 3.2-inch tilting touchscreen; Advanced ISO; 10 fps continuous burst capabilities.
Image Resolution: Up to 20.9 MP
Sensor Size: Nixon DX format
Burst Capabilities: 10 fps
Autofocus: Multi-cam 20K, 153 focus points
Dimensions (W x H x D): 5.7 x 4.5 x 3.1 in
Whether you are shooting wildlife, cityscapes, or fast action shots, the Nikon D500 proves to be one of the best DSLR cameras in the business for both stills and video including 4K UHD. The D500 has a comparatively smaller body and fits snugly with NIKKOR DX lenses, which are light and extremely handy for frequent travelers. The 20.9 MP sensor offers great image reproduction and sharpness without any loss to detail.
The D500 boasts Wi-Fi and Bluetooth capabilities as well, adding to its versatility. Called the SnapBridge technology, this will allow the camera to transfer its images to a smart device. Nikon D500 also features NFC (Near Field Communication) that allows the device to connect to a smart device placed nearby.
The AF system in the D500 takes a mammoth leap and this new upgrade is a major reason for its placement amidst the other models on the list of best DSLRs. The entire system has been redesigned and uses a dedicated unit for autofocus, which makes AF much more faster, reliable, and accurate. The AF system is so accurate you will be able to focus down to -4 EV from the central focus point and -3 EV from the other points. This will help you eliminate the common problems experienced when shooting under low light or with subjects that offer a very low contrast.
Owners of Apple devices will find that SnapBridge file transfers are somewhat delayed on iOS. This is more to do with Apple than Nikon itself. The battery life is a little on the lower side but ensure that you do not use any aftermarket batteries. Also, shooting in 4K results in an additional crop factor. Not a big deal unless you are really bent on shooting wide angles.
Pros: Performance comparable to the Nikon D7100; Accurate AF; SnapBridge
Cons: SnapBridge has issues with iOS; Low battery life; Additional crop factor while shooting in 4K
4. Canon EOS 80D
Canon EOS 80D
Features: Improved CMOS AF; Built-in Wi-Fi and NFC; Vari-angle touchscreen; HDR movie, time-lapse, and creative filter options; Anti-flicker system; 7 fps continuous burst
Image Resolution: Up to 24.2 MP.
Sensor Size: Canon APS-C
Autofocus: 45-AF points, all cross type, TTL-CT-SIR
Dimensions (W x H x D): 5.4 x 4.1 x 3.0 in
If you are looking at a more mid-level DSLR offering, the Canon EOS 80D is a good contender that delivers great professional results while still being reasonably affordable. The camera is also much lighter than many similar models and thus easier to carry around. Amateur photographers will find the Intelligent Viewfinder handy as it offers a nearly 100% coverage that eliminates guesswork during composition.
The EOS 80D easily connects to your smartphone via Wi-Fi and NFC. Canon also offers a Remote Shoot mode for controlling the camera from your smartphone. The camera has 45 AF points, which can shoot even under -3 EV. This results in accurate focusing, which is critical in all areas of photography but especially important in areas where subjects are often beyond the control of the photographer: wildlife and sports.
Another important highlight of this camera is the fact that it uses a metering sensor, which is sensitive to both visible and IR light. The ISO sensitivity varies from 100 to 16,000, which will help you take HDR shots with ease.
The touchscreen LCD monitor at the back can be tilted, a feature which Canon calls Vari-angle. As we've said before, this is an intermediate level DSLR camera that is targeted at prosumers or professional consumers. The EOS 80D does not offer a full-frame sensor but the crop sensor has its own benefits. Videographers might find the lack of 4K a letdown but videos at 1080p are excellent.
Pros: Great for prosumers; Intelligent Viewfinder; Wi-Fi and NFC control
Cons: No full-frame sensor; No 4K video recording
5. Nikon D5600
Nikon D5600
Features: SnapBridge-compatible; NIKKOR kit lens; Enhanced video features; In-camera tools; Free cloud storage; 5 fps continuous burst
Image Resolution: Up to 24.2 MP
Sensor Size: Nikox DX format
Autofocus: 39 focus points
Dimensions (W x H x D): 4.8 x 3.8 x 2.7 in
The D5600 succeeds a hugely popular D5500 made by Nikon. An ideal camera for beginners to the world of DSLRs, the D5600 has some amazing features, which includes SnapBridge, the technology that allows you to connect your camera to your smart device. You can easily transfer images from your DSLR to your smart device using this technology.
What's more, the camera can be remotely controlled from the app on your smartphone. You will be able to see a live preview of the image being captured: ideal when taking selfies and group pictures. The camera will also capture location information and append it to the picture metadata.
Last but not least, you might be aware of how looking out for firmware updates to the cameras you own is a real pain. Nikon D5600 simplifies that by sending you notifications on your app when a new update is ready to be installed.
If you already rock a D5500, the Nikon D5600 offers very little in terms of improvements. SnapBridge is not very intuitive as opposed to a regular SD card transfer but one advantage is that Bluetooth transfers can be set to carry forward the GPS coordinates.
Pros: Lightweight; Articulating touchscreen
Cons: SnapBridge is not very intuitive; Not many incentives to upgrade over the D5500
6. Sony Alpha 68
Sony Alpha 68
Features: Sony's 4D Focus; APS HD CMOS sensor; SteadyShot technology; OLED viewfinder; Multi-interface shoe; 8 fps continuous burst
Image Resolution: Up to 24.2 MP
Sensor Size: APS-C
Autofocus: 79 phase points; 15 cross points
Dimensions (W x H x D): 7.6 x 6.8 x 6.2 in
The Sony Alpha 68 offers a lot of features for the price not generally seen in similar offerings from Canon or Nikon. While Canon and Nikon seem to remove some essential features from their entry-level models, Sony has a number of amazing ones even in its lower-priced DSLRs. The Alpha 68 is great for photographers and cinematographers alike. We were pleasantly surprised that this camera can, in fact, shoot Full HD movies with a bitrate of 50 Mbps, which is only found in the top-end video cameras.
Not just that, you also get 8 bit 4:2:2 output to external recording devices via the HDMI-out connection. The A68 features 79 phase detection AF points and takes a different approach to AF than the other DSLRs in that it uses a translucent mirror, which directs some of the light falling upon it to the sensor behind apart from reflecting some onto the viewfinder. This enables the camera to use fast phase detection based AF. The EVF is an OLED screen and offers 100% coverage and can display all settings.
The 2.7-inch LCD screen offers continuous live-view and can be tilted according to needs. The ISO range offered by the camera varies from 100 to 25600 so you get smooth tonal gradations and amazing color reproduction. In the movie mode, you will be able to benefit from an ISO range varying from 100 to 12800, resulting in superb HDR imagery. Overall, consider the Alpha 68 if you need a great photo and video quality at a very good price.
Pros: Great for photographers and videographers alike; OLED EVF; 79-phase AF points; Articulating LCD screen
Cons: None as such
7. Nikon D3500
Nikon D3500
Features: Compact design; Compatible with NIKKOR lenses; SnapBridge-compatible; 5 fps continuous burst mode
Image Resolution: Up to 24.2 MP
Sensor Size: APS-C
Autofocus: 11 AF points
Dimensions (W x H x D): 4.88 x 3.82 x 2.76 in
The Nikon D3500 makes for one of the best entry-level DSLR cameras that offer amazing levels of picture quality even in Auto mode. Like other Nikon cameras, the D3500 is SnapBridge-compatible and you can use the app to remotely take pictures from your smartphone. The D3500 sports a compact body but still offers two travel lenses kit that includes an 18-55mm f/3.5-5.6G VR lens and a 70-300mm f/4.5-6.3G ED lens. Of course, you can also pair it with a wide range of other Nikkor lenses.
If you are just testing the waters with a DSLR camera, the Nikon D3500 makes for a great buy. The functions are designed to be simple for novices yet offer good manual control. However, this being a DSLR for novices, there are a few limitations. There is no articulating LCD or touchscreen. It also has only two ISO stops between ISO 400 and 3200. You also won't find some other advanced features such as automatic sensor cleaning, programmable FN button, DOF preview etc. Overall, the Nikon D3500 makes for a good DSLR as long as you are aware of its limitations.
Pros: Great for newbies; Easy to use controls
Cons: Only 2 ISO stops; Many features of pro-DSLR cameras missing
Final Thoughts
With this, we conclude our reviews of the best DSLRs on the market today. Remember that any camera is only as good as the photographer so now is a great time to familiarize yourself with some of the important concepts of lighting, photography, and post-processing to get the best of out of your purchase.
We sincerely hope you've found our models useful and that this article helps you make a decision. If you have any questions, let us know in the comments below and we'll get back at the earliest.
While you're at it, make sure to share this article online and follow TechNadu on Facebook and Twitter. Thanks!