Watching anime is always fun, and watching it with your friends is even better! However, it's sometimes annoying because you can never find the one title everyone wants to watch. Someone always disagrees, and then you have to look all over again. But don't worry, we've got you covered.
Below is a list of the 10 best anime you can watch with your friends. Almost all of the series below feature overtones of friendship and love and might even have you and your friends shedding tears. Check out our list, and have a great time watching anime with your buddies!
10. One Punch Man
One-Punch Man's anime series brought a refreshing new take to the superhero and comedy genres with its sardonic wit and brilliant satire. The story follows bored superhero Saitama, who can defeat any enemy with simply one punch. The funniest part of all of this is that Saitama looks nothing like a conventional superhero, so people have difficulty trusting his strength.
Saitama's origin story is nothing like a "normal" superhero origin story since his powers come from "training hard." Don't worry about the length of the anime once you start watching. We hear a third season might be coming soon! Watch this series with your friends if you're looking for a good time filled with laughter!
9. Fairy Tail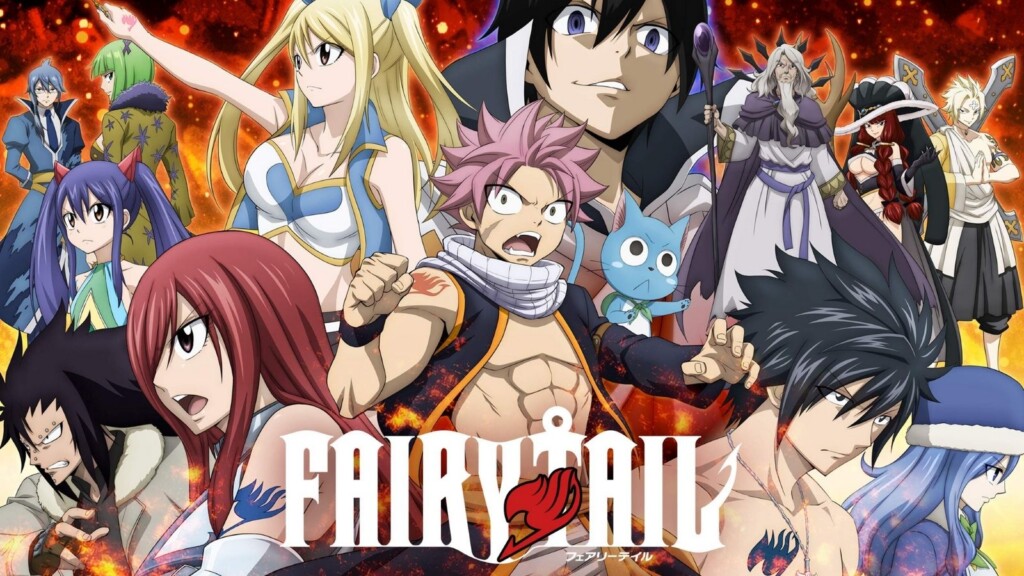 One of the most popular series about bonds and the power of friendship, Fairy Tail, is a shonen anime. The series follows the character of Lucy Heartfilia, who wants to join the Fairy Tail guild in the Kingdom of Fiore. As she makes her way to the guild, she runs into Natsu Dragneel and his cat Happy, and the 3 immediately become a team!
Fairy Tail is a fairly emotional series, often showcasing the friendship and love between the guild members, most of whom have grown up together. It's great to watch with friends mainly because of its primary focus on friendship and the bonds people form with one another. The series will not only bring tears to your eyes with its portrayal of friendship but also make you appreciate your friends on a whole new level!
8. Attack on Titan
One of the highest-rated, critically acclaimed, and most exciting anime series recently, Attack on Titan quickly became a popular show in its 8 years on air. This dark story revolves around a slightly different but compelling theme of giant creatures known as "Titans" who want to kill all the humans living inside the walls, Maria, Rose, and Sina.
This post-apocalyptic series will intrigue viewers in the first episode, thanks to its brilliantly written characters and the mystery surrounding the "Titans." While the mystery surrounding the origin of these beings seems to be one of the main themes, the story follows the lives of Eren Yeager, Mikasa Ackerman, and the other Survey Corps members. Together, they fight these strange creatures to protect the humans living inside the walls.
Also Read: Why Does Eren Want to Destroy the World?
7. Konosuba
Another relatively less mainstream anime, 'KonoSuba: God's Blessing on This Wonderful World!', known as KonoSuba, is a light-hearted and fun anime series. The show follows the character of Kazuma Sato, a high school student who dies a kind of unfortunate death only to be awakened by a goddess, who gives him two choices - continue to heaven or reincarnate in a fantasy world.
Before Sato gets the chance to start fresh in the fantasy world, which functions as an RPG, he's allowed to choose one item that may help him in his quest. Sato, who thinks he will outsmart everyone, chooses the goddess Aqua herself, only to hilariously realize how "useless" she is later on. The duo also meets other eccentric and hilarious companions along the way.
This light-hearted and hilarious anime series is great to watch with friends since it shows the close relationship between 4 of the weirdest and most distinct people who end up becoming best friends!
6. Free!
Free! is a perfect sports anime centered on swimming and different swimming tournaments. The franchise first began in 2013 and, on the surface, comes across as a yaoi anime but has so much more to it. The story revolves around a high-school swim team that often competes in various tournaments. It's a good watch if you're sitting down with friends because of its focus on the main character's bonds with his classmates.
The story of Free! is set in the town of Iwatobi, Japan, and focuses on Haruka Nanase's swimming journey. We see Haruka's journey from a high-school pupil to a university student in 3 seasons. While Haruka has difficulty expressing himself, he makes friends who understand him well and rivals who inspire him to do better.
5. My Hero Academia
On the way to becoming one of the most popular anime of our generation, My Hero Academia is an emotion-filled but comedic superhero series that follows the adventures of Izuku Midoriya, AKA Deku. The series takes place in a world where around 80% of the world is born with powers or "quirks," as they call them, making it a society filled with superheroes and supervillains.
However, in a world full of everyone being super, young Izuku is born without a "quirk," making him one of the few to be so. Will Deku ever join U.A., a school for the best and brightest young superheroes? It's a journey you don't want to miss out on! But don't lose hope because, as Deku says in episode 1, it's the story of how he becomes the greatest superhero ever. The series is perfect for watching with friends since it has overtones of friendship and its importance.
Also Read: How to Watch My Hero Academia in Order (With Movies)
4. K-On
K-On is a musical comedy anime series about 5 girls in a band. The series is a slice-of-life anime where the main characters spend most of their time eating cakes, sipping tea, and practicing for concerts. While the girls spend most of their time procrastinating, they have an exceptional ability to deliver impeccable performances during concerts.
The band starts of with 4 of the main characters: Yui Hirasawa, Mio Akiyama, Ritsu Tainaka, and Tsumugi Kotobuki. The girls manage to save their band, Keion, from being disbanded at the beginning of the series. A fifth main character named Azusa Nakano, who takes a guitarist role, is introduced in episode 8 of the series. It's the perfect anime to watch with friends since it's a light-hearted slice-of-life series that keeps you engaged throughout.
3. Demon Slayer
Demon Slayer: Kimestu no Yaiba, known as Demon Slayer, is another popular anime from recent times perfect for friends who want to watch something together. The series takes place in a fictional Japan where humans and demons exist in the same society and focus on "demon slayers" who look like Samurai.
In this world, demons are former humans who sold their humanity for power and supernatural abilities. While the central theme of the anime focuses on these demon slayers, the story follows a teenager named Tanjiro Kamado, who struggles to become a demon slayer after his family is killed, with his younger sister Nezuko turning into a demon.
Also Read: Best Fights & Action Scenes on Demon Slayer, Ranked!
2. Food Wars
Food Wars is a comedic slice-of-life anime about cooking that will make you question the quality of anything you've ever eaten! The series follows the story of a 15-year-old boy, Soma Yukihira, who wants to become the head chef of his family's restaurant. Soma would often help his father around the restaurant as his sous chef.
However, one day, Soma's father gets a new job that requires him to travel around the world and close his restaurant. He enrolls Soma in the prestigious Totsuki Culinary Academy: a school that is famous for its "Shokugeki" or "food wars," where students face off in intense, high-stakes cooking showdowns! 
1. Black Clover
Black Clover is an interesting shonen series based on the manga series written and illustrated by Yuki Tabata. The series is set in a world where magic is a common everyday part of people's lives. It centers around one of the only known people not to be able to use magic, Asta. Asta and his friend, rival, and adoptive brother Yuno aspire to become the wizard king.
Black Clover is a perfect series to watch with friends considering it focuses on 2 best friends with a healthy rivalry. The best friends eventually set out on a path to help them achieve their goals. Since the manga series is still ongoing, the Black Clover anime saw an unfortunate cancellation after running for 4 seasons comprising 170 episodes. Since its cancellation, fans have hoped that the series will return once the manga has ended.
We hope you enjoyed reading our list of the best anime to watch with friends. Let us know which is your favorite anime series to watch with your buddies!
Read Next: Best English-Dubbed Anime on Netflix