Smart speakers are getting a lot of attention in 2018.
Amazon is getting a lot of heat from the increased competition.
A global smart speaker shipments have reached 9.2 million units in the first quarter of 2018, according to the latest report from Strategy Analytics. It's been four years now since Amazon launched first Alexa-powered Echo speaker. Since then, the demand for these smart home devices has been increasing day by day.
This phenomenon also caused Amazon to get competition in this field of technology. Big companies like Google and Apple have recently decided to step up their game and improve their own smart speaker products, powered by their own AI's.
And even though Amazon is the leader on the market, the above-mentioned shipments report for the first quarter of 2018 shows us that the competition is putting more and more pressure on this company.
According to the report, out of 9.2 million units, Amazon has shipped around 4 million units in this period from January to March. This makes it almost 50 percent of the global smart speakers' shipments. However, in the same period, last year, Amazon had nearly 82 percent share in the number of global shipments.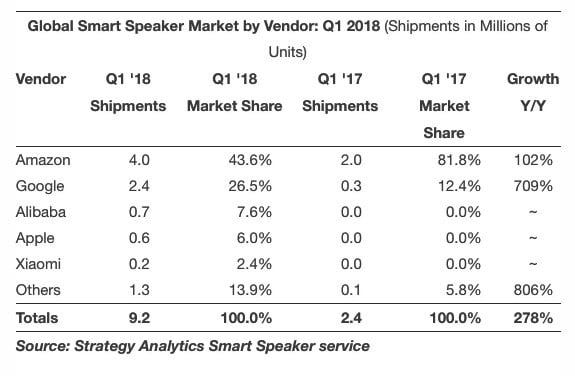 One of the reasons for this decline is definitely an increased popularity of Google's smart speakers and the promising capabilities of Google Assistant. On the other side, we have Apple's HomePod speaker which arrived in February.
But these two companies still weren't able to hurt Amazon's market share. In fact, maybe the biggest blow for Amazon came from China where the consumers are rapidly buying smart speakers created by local tech firms like Alibaba and Xiaomi.
All of these factors combined were bound to affect Amazon's status of being the king of smart speakers at some point.
If the smart speaker market keeps growing at the same pace, we can expect the competitors to improve the functionalities, the design and of course, the prices of their products in the nearby future.