As it was announced back in September, Amazon's latest Fire TV product is finally available for purchase. Called Fire TV Recast, this member of the Fire TV family is a bit different. This is an over-the-air DVR solution that works in conjunction with other Amazon-made products. As such, it brings a whole slate of interesting features and a few novelties that might produce some doubts. In an effort to give you a comprehensive overview of this product, we've taken a close look at it. So, welcome to our review of Amazon Fire TV Recast!
First, we are going to list the basic information surrounding the new product. So, let's take a look at Recast's ID card.
Overview
Product Name
Amazon Fire TV Recast
Video Output
Based on the Fire device you're using to receive the signal.
Video Resolution
Based on the broadcast quality of OTA TV channels.
Notable Features
Created for cord-cutters; No monthly subscription; Relies on other Fire TV devices for video output.
Accessories
Included in the box – Fire TV Recast, power supply, quick start guide.
Warranty
1-year limited warranty; Optional 2- and 3-year extended warranty.
Price
Starts at $229.99
Available at
Amazon
We know that some of don't have the time to read this entire review. So, we have included another table found below with our findings. Take a look.
Final Verdict
Pros
No monthly costs; Easy to install and use; Inconspicuous design; Large internal storage; Solid performance.
Cons
Not the most affordable; Somewhat confusing UI.
The Bottom Line
The Fire TV Recast help you cut your monthly costs while still getting to enjoy all the content you want. As such, it provides a very strong option for cord-cutters.
Our Score
9.3/10
And now, we are ready to take a deep dive into everything that Fire TV Recast has to offer. So, let's jump into our full and hands-on review.
Amazon Fire TV Recast – TechNadu's Review
We will do our best to take a close look at each important aspect of this device. So, we'll start with its hardware design, and then we'll take a look at how it works, how you can use it, and more.
Hardware / Design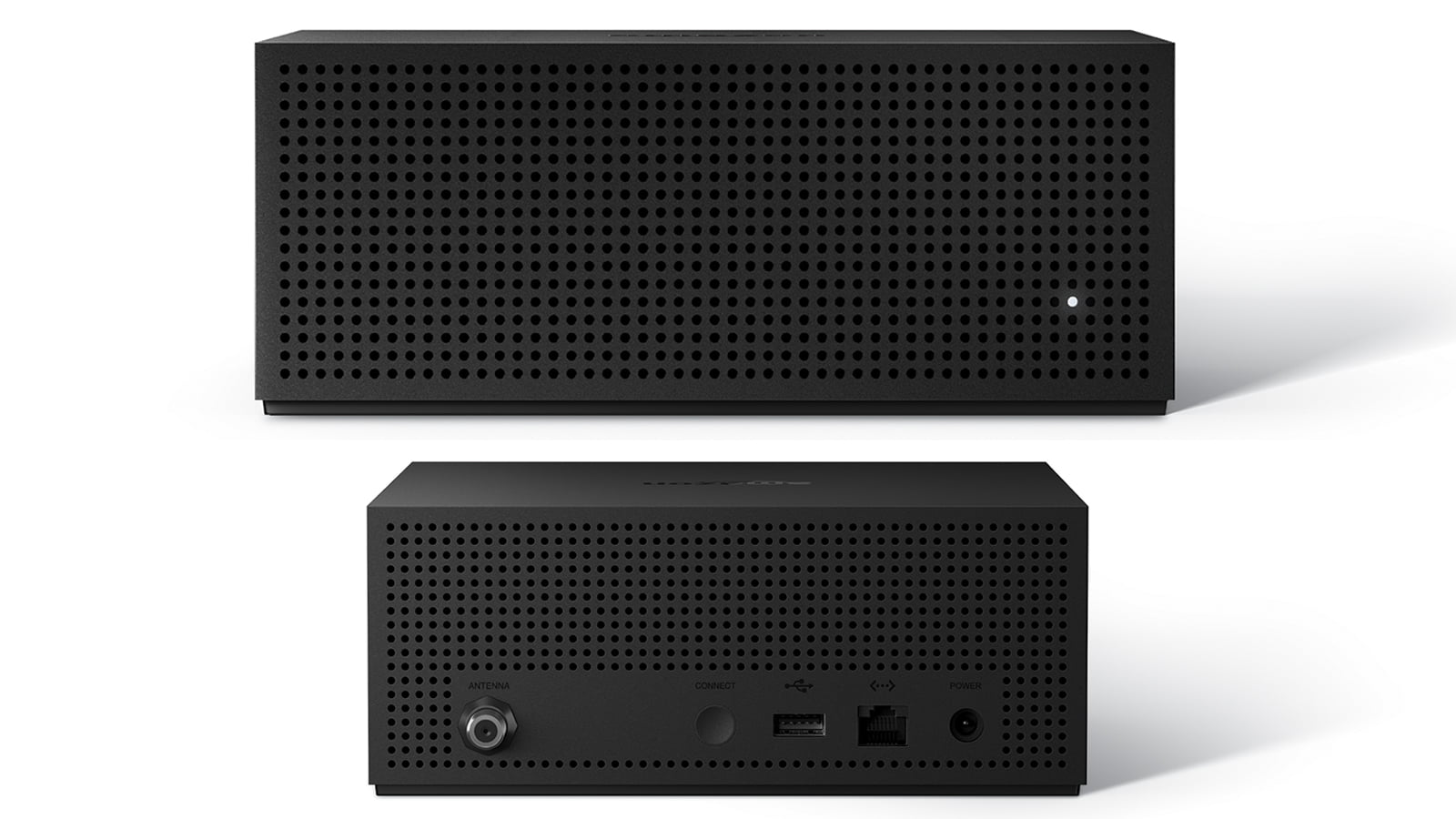 Fire TV Recast is designed to be out of sight, and it's an inconspicuous as it could possibly be. Our Score: 10/10.
To use the Fire TV Recast, you need to connect it to an antenna. This means that this device should in close proximity to your antenna and not around your TV. Then, it connects wirelessly to any of Fire TV devices, which shouldn't be a problem thanks to its long range. In other words, you'll place the Fire TV Recast somewhere remote, where you won't have to look at it or interact with it.
This is a very simple plastic box. On the top, you'll find Amazon's logo, while the bottom side brings a rubbery surface. On the back, there's a TV antenna input, USB port, Ethernet port, and one more port used to power the device. And that's about it.
Both the front and back sides bring tiny holes used for ventilation, and there's a single LED port on the front-facing side. It glows red when it's recording, white when it's in use, and blue if there's a problem with your Web connection.
Installation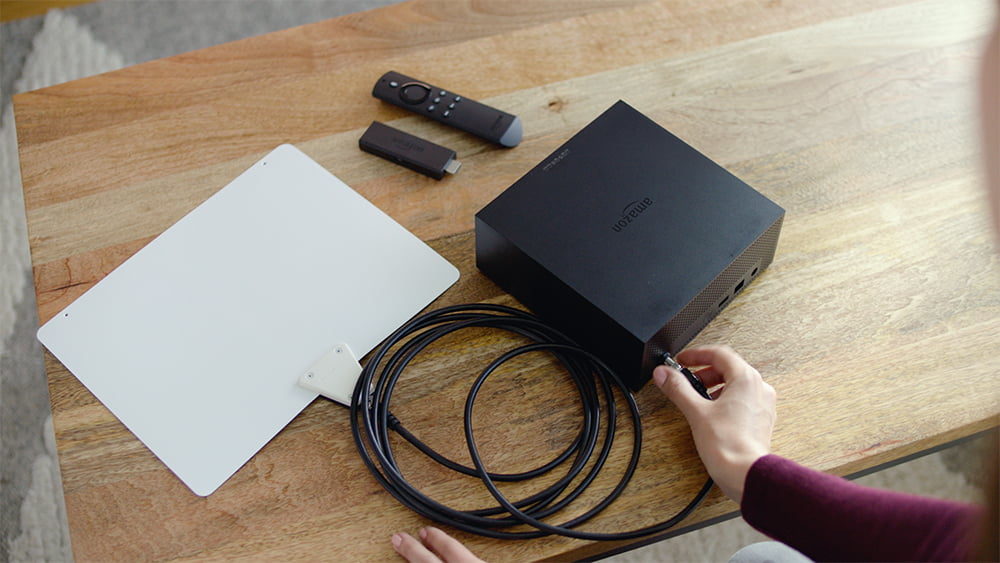 At first, you might feel overwhelmed by this device's installation method. However, Amazon has done a good job of simplifying it. Our Score: 9/10.
You can think of the Amazon Fire TV Recast as a device that connects your over-the-air antenna to your Fire TV device. Sounds complicated? Well, let's take a look at how this device works and how you can get started using it.
First and foremost, you need to connect your over-the-air antenna to the Recast. This is done by using the device's TV antenna input (on the back side). Now, this means that the device will start receiving the TV signal. To send the 'image' to your TV, you need to have one of the following devices: Fire TV Stick, Fire TV with 4K, or Fire TV Cube. And to make the connection to any of those devices, you can use your Wi-Fi or connect your Recast to your router via the Ethernet port.
Once everything is set up, you need to launch your Fire TV interface. This is where you'll see the TV channels that you can watch, alongside the current schedule and more.
Interface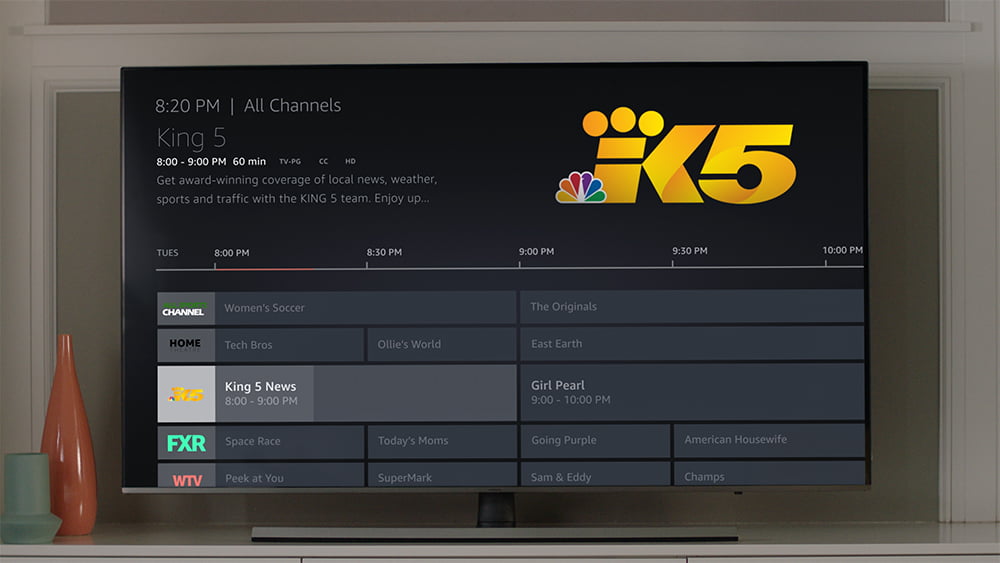 The Recast doesn't bring any unneeded complications to your Fire TV setup. However, it's not the most intuitive to use. Our Score: 7.5/10.
As you can see by now, the Fire TV Recast needs another Fire TV device to function. That's because you can't just plug it into your TV and start watching over-the-air channels. Instead, this is an addition to your existing Fire TV Interface. Therefore, here's how this device changes your Fire TV's UI.
At the top of the screen, you'll see your 'Recent' section – and this is where you'll see 'Live TV' tile. There also a handy button/icon named 'Time Elapsed' that lets you see how fat the last-tuned channel is at the current moment. Then, as you scroll down, you'll have to go through a series of promoted TV shows (accessible if you're an Amazon Prime subscriber). This is where you'll get to find more Live TV option including the 'DVR' button.
We have to say that the current UI design looks unfinished. It would be nice if we could easily and effortlessly switch between available TV channels and check out what's been recorded. All of those options are there – but you'll need to spend your time to learn the ropes. And just Amazon has done with its other products, plenty of space is 'wasted' on promotional content – persuading you into buying an Amazon Prime Video subscription.
Remote Control
Fire TV Recast doesn't have a remote control – and it doesn't need one. That's because you can use your existing remote to control the device. Our Score: 10/10.
As you can see, Fire TV Recast has no remote – but we gave it the highest possible score. That's because this solution works with your existing setup. You need a Fire TV device which already comes with a remote – and you can rely on that one to control Fire TV's interface. In case you'd like to upgrade your experience or if you somewhat manage to break your remote – you can get a new one. The latest generation of the Alexa Voice Remote is priced at $29.99.
And finally, let's not forget that this device comes with Alexa. There's an onboard microphone so you can freely speak your commands. However, this solution requires you check what kinds of commands does Alexa supports and adjust you need accordingly.
Content and Apps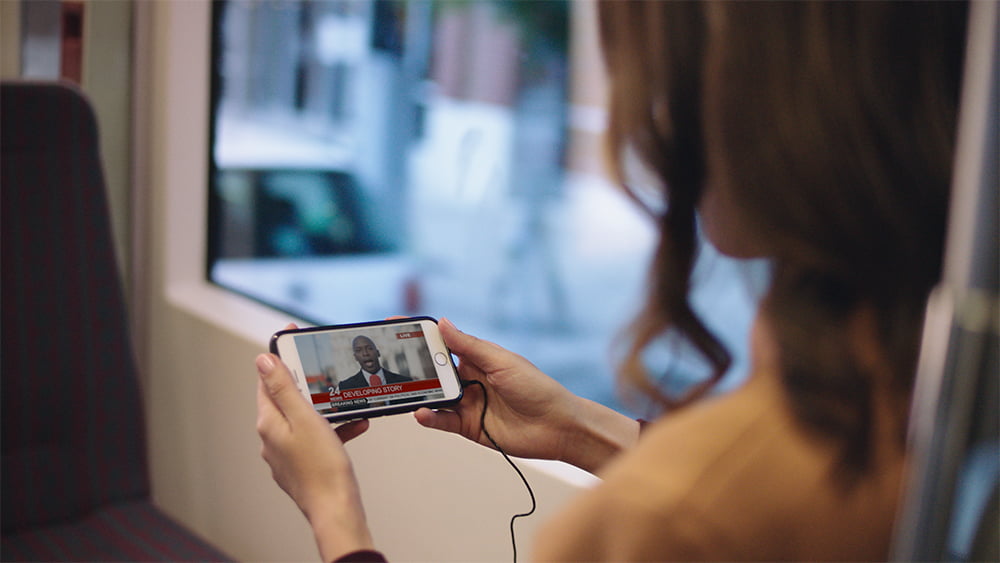 This device lives inside Amazon's Fire TV ecosystem. It does what it says on the box, and that's it. Our Score: 9/10.
We imagine that cord-cutters will be the ones interested in this device. This means that you might be looking for an affordable way to get away from your cable provider and cut your monthly costs. Fire TV Recast helps you with this by updating the way you watch over-the-air TV channels.
You will be able to watch live TV and record from 75 up to 150 hours of content. In addition, you will be able to 'stream' live TV on your mobile phone as well via Amazon's official Fire TV app. And that's pretty much it. You can't install other apps or expand this device's capabilities outside of what it's designed to do.
Nonetheless, it's once again important to highlight that this device relies on your Fire TV streamer. And this automatically means that you can install thousands of apps, join media streaming services, and more. Therefore, it's safe to say that possibilities are endless.
Performance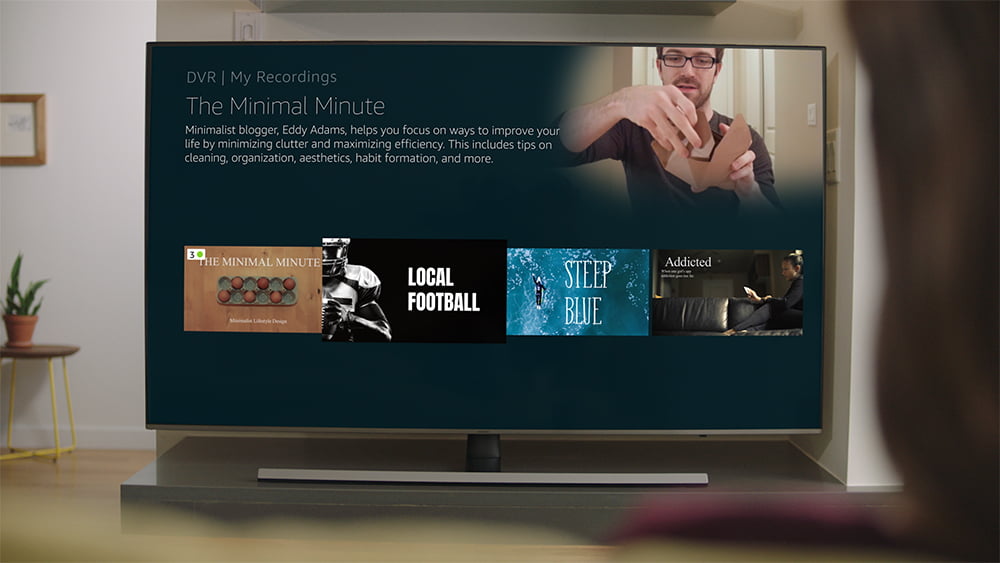 Overall, this device performs without any issues. However, make sure you have a fast Web connection for everything to go smoothly. Our Score: 9.5/10.
When it comes to watching TV on your actual TV, you can count on the best possible performance. Switching between TV channels takes merely a second and every option works as advertised. You can pause when watching something and the device will continue to buffer. However, make sure to fine-tune your screensaver settings. If your screensaver activates, you'll lose your progress.
We also have to add that the Fire TV Recast seems much more stable and certainly speedier than comparable OTA streaming services. Even though you might face some stutters here and there, everything runs incredibly smoothly.
Pricing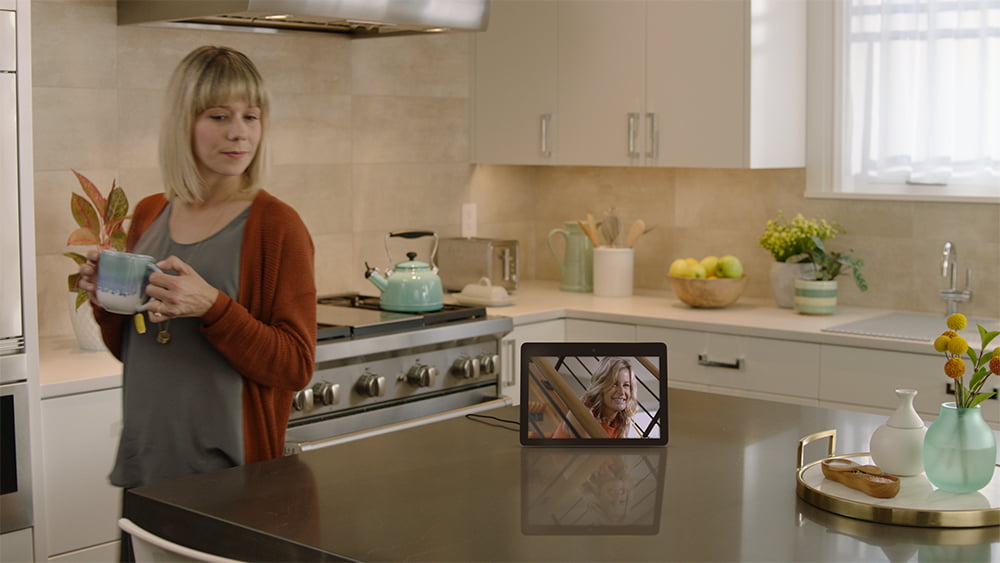 Fire TV Recast isn't the most affordable device out there. However, it pays off in the long-term as it doesn't require a subscription. Our Score: 10/10.
First, you need to understand the idea behind Fire TV Recast. This device is made for cord-cutters who wish to go digital. In general, cord-cutters need to pay subscription fees to stream live TV. Even though these fees are much lower than what you would pay to your cable provider, they're still a monthly expense. Well, the Recast eliminates this cost altogether.
Depending on your needs, you have two Recast devices to choose from. The best way to explain the differences between these is by showing you a table. So, take a look.
| | Fire TV Recast (500GB) | Fire TV Recast (1TB) |
| --- | --- | --- |
| Internal Storage | 500 GB | 1 TB |
| Hours of Recorded Content | Up to 75 hours. | Up to 150 hours. |
| Expandable Storage | Yes, via USB port. | Yes, via USB port. |
| Number of Tuners | 2 tuners. | 4 tuners. |
| Price | Priced at $229.99 | Priced at $279.99 |
It's also important to mention that you'll need additional devices to make the Fire TV Recast work. First, you need an HD antenna (starts at around $20). Then, you need a Fire TV media streamer (starts at around $40). This means that if you go for the most affordable option, you'll need to pay $290. That is a lot of money – but remember that you're making a long-term investment.
The Final Verdict
Thanks to the Fire TV Recast, Amazon finally has a strong contender in the race for the best OTA streamer. It's expensive and it requires additional devices to work – but it's a unique solution. In the long term, this device can pay for itself, which is its strongest benefit.
PROS: Easy installation; Perfect for cord-cutters; No monthly fees; Picture quality is amazing; Reliable performance.
CONS: Not the most affordable option; You need additional devices; Alexa search can be frustrating.
OUR SCORE: 9.3 out of 10.
Buy Your Fire TV Recast Today!
If you're looking for a way to become a cord-cutter and reduce your monthly costs – you'll hardly find a better solution than the Fire TV Recast. It allows you to watch TV channels without having an additional cost and opens a world of on-demand entertainment. So, go ahead and buy the Fire TV Recast via Amazon today!


Final Thoughts
Dear readers, this is where we conclude our Fire TV Recast review. If there's anything else you'd like to know, make sure to post a comment below.
And if you made it this far, why not share this article online? You can also follow us on Facebook and Twitter to get the latest cord-cutting news first!