World Trigger anime seemed irredeemable after the poorly executed season 1, but fans were pleasantly surprised with the second one.
World Trigger is an anime based on the manga of the same name written and illustrated by Daisuke Ashihara. In 2014, Toei Animation produced the first season, which covered around five story arcs from the manga, and consisted of 73 episodes. However, it was not very well received by the fans due to pacing and animation issues. Furthermore, a good chunk of season one consisted of fillers, i.e., anime exclusive content.
Due to this, not many had high hopes for a season 2, let alone one after seven years had passed since the first season's airing.
Fortunately, fans of World Trigger were pleasantly surprised when a second season of "World Trigger" was released early this year. The anime consisted of 12 episodes, and there was a noticeable rise in quality resulting in high ratings. The new season's attention to detail and the revamped color and design redeemed World Trigger.
Additionally, fans were delighted to hear that they wouldn't have to wait another seven years for a new installation. World Trigger's Season 3 has already been announced to release in October 2021 as part of Japan's Fall 2021 anime schedule. To celebrate this confirmation during AnimeJapan 2021, World Trigger's Twitter account even released the first preview stills of the upcoming season.
With a new season of World Trigger in the works, it's time to catch up with the anime. To make things easier, we have made a watch order guide for your reference. Complete with watch links and filler lists, this article has everything you need to get started!
World Trigger Anime Watch Order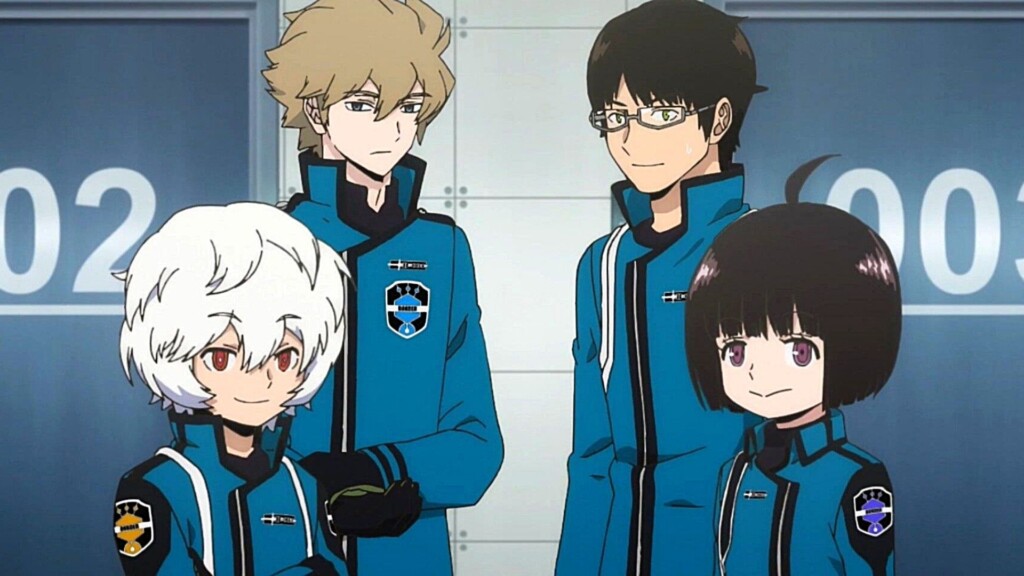 TV Series
World Trigger Season 1 (2014) – 73 Episodes
World Trigger Season 2 (2021) – 12 Episodes
Upcoming
 World Trigger Season 3 (October 2021)
Arcs in World Trigger Anime – Filler List!
Canon
Introduction Arc (1-8)
Black Trigger Capture Arc (9-16)
Border Enlistment Arc (17-21)
Large-Scale Invasion Arc (22-37)
B-Rank Rank Battles Arc (38-48, 64-73)
Galopoula Invasion Arc (73-77)
B-Rank Rank Battles Arc – Part II (77-85)
Fillers
Fugitive Arc (49-63)
Can You Skip the Fugitive Arc in World Trigger?
The Fugitive Arc in World Trigger is filler, i.e., the content is anime-only. It lasted for 15 episodes, starting from episode 49 and ending on episode 63.
This arc introduced a set of anime-exclusive new characters and an original story. While it was first announced as a spin-off series, the Fugitive Arc was later adapted into the main series as episodes between the B-Rank Rank Battles Arc.
The story follows the Mikumo Unit, commonly known as Tamakoma Second, attending the training camp in Shizuka City. They soon meet Xeno, a genius Trion Soldier engineer, and his companion Lilith, who are running away from their planet – Ergates.
Gieve and Charon chase after them to retrieve Lilith and prevent an information leak on the Trion Soldier technology. However, Tamakoma Second cooperates with Xeno and Lilith to stave off the Autonomous Trion Warrior's attacks while waiting for their opportunity to leave Earth.
Now that we are done with the summary, let's get to the topic at hand.
Is Fugitive Arc worth watching? The answer is no. Fugitive Arc has a different feel to it compared to the rest of the season, making it very jarring to watch. Other than adapting an original side story, the arc focuses on teamwork, tactics, terrain advantage, and resource conservation, among others. All of this reduces World Trigger to a generic shounen anime where the enemies just keep on spawning. Many characters behave unusually, and a lot of logic is bypassed in order to prolong the arc.
It is recommended that you skip the Fugitive Arc and return to it once you're done with season 1 to avoid breaking the flow.
World Trigger Anime Watch Links
When a gate to another world suddenly opens on Earth, Mikado City is invaded by strange creatures known as "Neighbors." These are malicious beings impervious to traditional weaponry. An organization called the Border Defense Agency has been established to combat them through special weapons called "Triggers." However, even though several years have passed since the gate's opening, Neighbors are still a threat, thus requiring Border members to ensure the planet's safety.
Despite this tense situation, Osamu Mikumo, a member-in-training, is not permitted to use his Trigger outside of headquarters. When a Neighbor attacks the students in his class, Osamu has no choice but to do what he believes is right and unleash his Trigger. However, just when his strength falls short, the transfer student Yuuma Kuga easily defeats the aliens, revealing himself as a humanoid Neighbor in disguise.
Watch World Trigger Season 1 – Crunchyroll, Tubi TV, Anime Digital Network
Watch World Trigger Season 2 – Crunchyroll, Anime Digital Network