We live in the era of video streaming services, with new options being launched on a weekly basis. Unsurprisingly, DVDs and Blu-Rays are not as popular as before, and subscription services have instead taken their place. Even though there are many benefits to buying physical media, many of us are transferring our physical media libraries to digital copies. And this is precisely where DVD ripping software comes into play.
When it comes to copying your DVDs and converting them into various video formats, there are numerous options available. However, very few of them actually get the job done. We'll try to provide a solution for you through this article, as we're about to review WinX DVD Ripper Platinum. This software comes with many enticing promises, and we're going to test each one of those. So, let's get started, shall we?
We'll begin this review by introducing you to WinX DVD Ripper Platinum. The table you'll find below will show you some basic information, including this application's unique features. So, make sure to take a quick look.
Overview
| | |
| --- | --- |
| Product Name | Digiarty WinX DVD Ripper Platinum |
| Supported Platforms | Windows 10 and earlier (32 & 64bit). |
| Unique Features | Includes 350+ media profiles; Supports plenty of video formats; GPU-based accelerations; Support Hyper-threading. |
| Price | $29.95 (1 Year); $47.95 (Lifetime); $69.95 (Family). |
| Visit | WinX DVD Ripper Platinum |
Every review published on TechNadu is based on hands-on testing. As we try to dive deep into every application or service that we review, these articles can sometimes be lengthy. If you don't have the time to read it in full, here are the most prominent post-review highlights.
The Bottom Line
| | |
| --- | --- |
| Pros | Quite easy to use; Plenty of video output formats; Fully-automated solution; Supports various DVD input formats. |
| Cons | Somewhat outdated UI. |
| The Final Verdict | Despite a few quirks, WinX DVD Ripper Platinum is a very comprehensive and powerful solution to ripping your DVD collection. Highly recommended! |
| Our Score | 8.7/10 |
So, that would be it for our introductory segment. If you keep on reading, you'll get to learn everything there's to know about WinX DVD Ripper Platinum. Make sure to join us as we explore this interesting DVD ripping solution.
WinX DVD Ripper Platinum – TechNadu's Review
This application is designed to take full advantage of your PC's specs. So, we need to tell you that we've tested WinX DVD Ripper Platinum on a Windows 10 PC, powered by Intel Core i7-8700K (with 8GB of RAM). The application was installed on an SSD drive and we got our GPU-acceleration via our GeForce 1070 Ti. Based on your PC's specs, make sure to adjust your expectations in terms of performance.
Platform Compatibility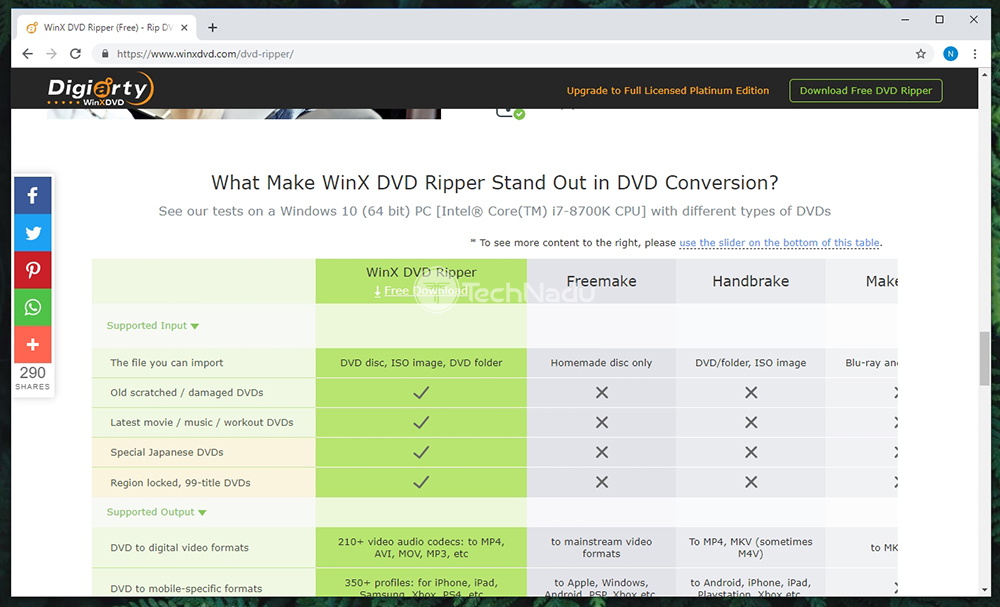 You can run this application even on pretty old Windows PCs. Having a newer CPU and GPU will help you to speed up the process of DVD ripping, though. Our Score: 10/10.
WinX DVD Ripper Platinum is a Windows-only application, and you can install it on Windows 10 or earlier versions. Also, it supports both 32-bit and 64-bit versions of this operating system. And let's not forget to mention that you don't need a powerful PC to run this application. To provide more details, we'll show you the official system requirements via the following table.
System Requirements
| | |
| --- | --- |
| Operating System | Windows 10 and earlier (32 & 64bit). |
| Processor | Intel 1GHz or above, or equivalent AMD CPU. |
| RAM | 256MB and above. |
| Hard Disk | 100MB and above. |
| Graphics Card | 256MB RAM (512MB or above recommended). |
| DVD Drive | Required. |
In general, if you have a powerful machine (especially if you have a high-end GPU), you can expect from the DVD ripping process to be done as quickly as possible. Still, it's good to know that WinX DVD Ripper Platinum doesn't require you to have a powerful machine – and we think that you'll be perfectly capable of running this application.
As you can see, what's missing here is a Mac-friendly version. To be honest, there's a Mac version of this DVD ripper – but it comes as an entirely separate version. That's because DVD ripping is done on MacOS in a completely different way, in comparison to Windows. So, in case you have a Mac and Windows PC in your home, you'll need to decide which version you'd like to use – or buy two separate licenses. With this said, we'd like to highlight that we've tested WinX DVD Ripper Platinum for Windows, so we can't tell you what kind of performance and features you can expect on the comparable MacOS version.
Installation Process
The installation process of WinX DVD Ripper Platinum comes with no surprises. Even the most inexperienced users won't have any hard time. Our Score: 10/10.
To get started with this software, you can simply download it from its official website. It comes with a free trial version that you can test, which is always a nice thing to see. To fully unlock WinX DVD Ripper Platinum, you will need to get a license (we'll talk more about the pricing later in the article).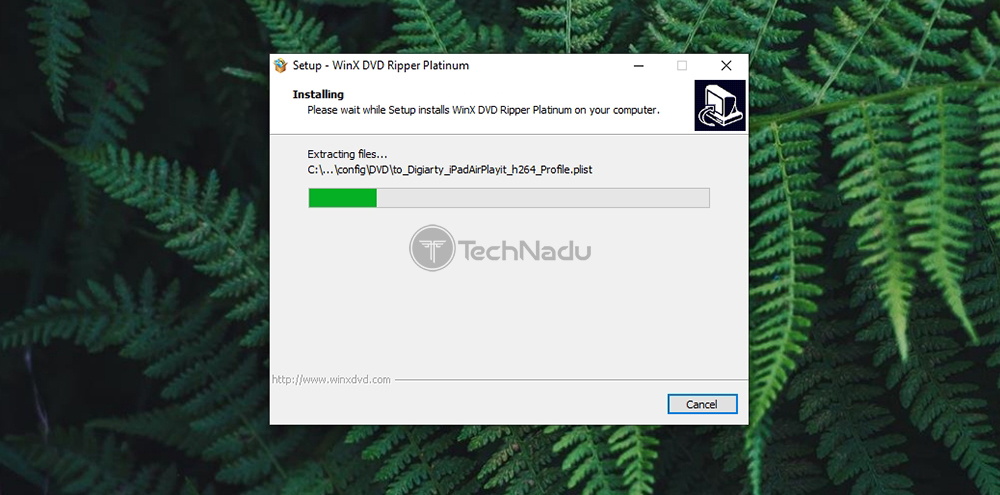 The installation file comes in at around 30MB, so you should download it fairly quickly. Then, double-click to start the installation process. Choose the installation directory, select which shortcuts you'd like to be created, and that's pretty much it. The application should be installed in a matter of seconds.
We'd also like to highlight that you won't find anything strange here. There are no special offers or bundled software, which has become something we see too often. So, you'll be only getting the application itself, and that's pretty much it. Simple and effective.
User Interface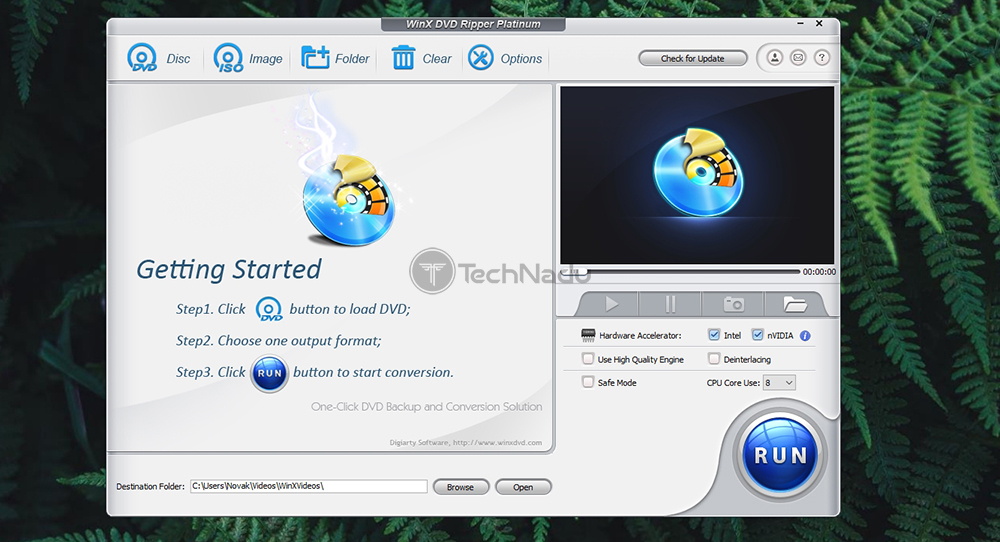 WinX DVD Ripper comes with skeuomorphic UI that looks a bit dated. However, you should manage to find your way around after some tinkering. Our Score: 7/10.
The first time you launch WinX DVD Ripper, you might be surprised by its skeuomorphic design. Some of you are going to like it, and we're sure many of you will be surprised by its somewhat outdated UI. However, one thing is sure – it will definitely leave a strong first impression.
The home screen of the application seems simple enough. At the top, you'll see the main toolbar that you can use to import a DVD disc, image, or folder. Then, there's a button that lets you clear your selection, and you can access the application's settings as well. Surprisingly, the settings panel is quite simple as it allows you to choose a default audio language, output folder, snapshot folder, and decide what happens once the DVD ripping process is done. However, this doesn't mean that you're out of options. You'll get to do plenty of fine-tuning once you add a DVD file.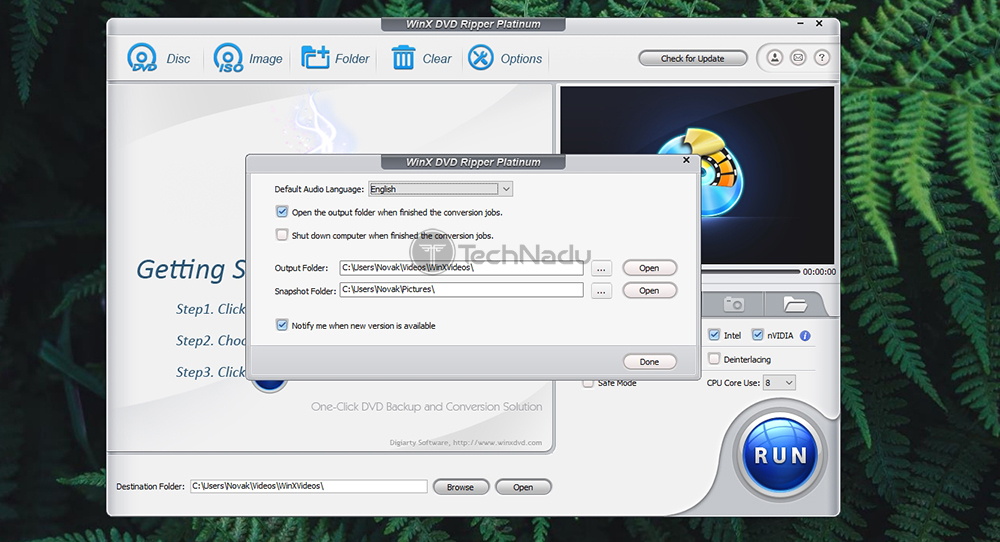 In the top-left corner, you'll see three icons and make sure to pay attention to those. This is where you can review your account (license) information, send an email to ask for support, and review the application's documentation. The rest of the UI is dedicated to handling the DVD file that you want to rip. As you add a DVD, you'll see its segments (titles), you can edit the video, optimize it for different devices, and plenty more. Don't worry, we'll walk you through this process in the following segment.
All in all, WinX DVD Ripper comes with an easy-to-use interface. It might not be the most intuitive UI out there, and it does look a bit dated. However, it gets the job done.
Ease of Use
You don't need to be an expert to use WinX DVD Ripper. It seems intuitive enough, and you can also find support documentation for additional help. Our Score: 9/10.
The best way to explain how Winx DVD Ripper works is by guiding you through a DVD ripping process. So, here's how to convert your DVD into any of the numerously available video formats.
To get started, you can either insert your physical DVD, add an ISO image, or you can add a DVD folder (in case you've downloaded DVD contents from the Web). WinX DVD Ripper will recognize the files immediately, and you'll see an 'Output Profile' dialog box.
Using the 'Output Profile' window, you need to choose the desired video format. To help you with this, the application lets you pick a desired device or platform. For example, if you have a Mac with iTunes installed, you select 'Apple Device' > 'to iTunes Video'. Then, you'll get to choose from two supported formats, H264 and MPEG4 – with the first one being the recommended one. And lastly, you can use a slider to move from 'LQ' to 'HQ' (low quality – high quality), which will influence the speed of the process and the size of the output file.
Before you rip your DVD, you can make all kinds of customizations. By clicking on 'Edit', you can adjust audio volume, add or remove subtitles, crop and expand, and even trim the video. Also, it's important to note that you can change the output format at any moment.
Once everything's set, choose a destination folder at the bottom of the screen. Then, check out a series of options on the right size (below the playback window). You'll see if you'd like to use both Intel and NVIDIA accelerators, how many CPU cores you want to use, and more. These options are used to optimize the process of ripping a DVD, so make sure to choose carefully. If you employ all of your PC's power, there might be errors in ripping. So, don't overdo it.
Finally, click on the prominent 'RUN' button and WinX DVD Ripper will finish the procedure on its own. It's that simple.
Speed & Performance
WinX DVD Ripper isn't the fastest DVD ripping software out there. However, it does bring a speedy and highly reliable performance. Our Score: 8/10.
When talking about DVD ripping software, it's hard to give concrete information on its performance as this depends on numerous factors. For example, using different video outputs will give you different results, and there's also the question of how capable your computer is (if you have a powerful CPU and GPU or not). For example, converting a 5GB DVD file (that's already been compressed) to an iTunes-friendly H264 video file takes around 10 minutes. However, you can expect that converting large-sized DVDs into high-definition video formats to take more than one hour.
We've tested a number of DVD ripping applications, and we can say that WinX DVD Ripper brings above-average performance. It's not the fastest out there, but it gets the job done within a reasonable timeframe.
Customer Support
WinX DVD Ripper is made by Digiarty, offering a dedicated support center. You can find plenty of FAQs, user manuals, and email support. Our Score: 9/10.
In case you have any pre- or post-sales question, you can use Digiarty's dedicated support center. This will where you'll find a nice range of frequently asked questions. And it's also worth knowing that there's a series of guides. You can learn how to install the application and how to use its numerous features. The guides are written in a friendly tone, and you don't have to be an expert to read these.
Ultimately, there's a way to send a direct email message to this company. Unless you can't find answers to your question on its official website, feel free to send this team a message. You can expect to hear back within 48 hours.
Pricing
In general, WinX DVD Ripper comes with a competitive pricing scheme. However, you'll benefit the most if you get its lifetime license. Our Score: 8/10.
WinX DVD Ripper Platinum comes with three pricing plans. You need to choose one depending on how many PCs you need to have this application installed on, and whether you'd like to have an annual or lifetime subscription. So, let's go over its pricing scheme.
| | | | |
| --- | --- | --- | --- |
| | # of PCs | License Duration | Price |
| 1 Year License | 1 | 1 Year | $29.95 |
| Lifetime License | 1 | Lifetime | $47.95 |
| Family License | 2-5 | Lifetime | $69.95 |
Even though WinX DVD Ripper isn't the most affordable application of its kind, it does bring a somewhat better price in comparison to its competitors. In case you're a DVD collector, you'll benefit the most if you get the Lifetime license, priced at $47.95. To make this offer more enticing, Digiarty also includes their online video converter, free of charge. You can use this application to download and convert online videos to numerous popular video formats.
Finally, it's worth noting that you can pay via credit cards, PayPal, and numerous third-party payment processors. And there's also a 30-day money-back guarantee.
Do We Recommend WinX DVD Ripper Platinum?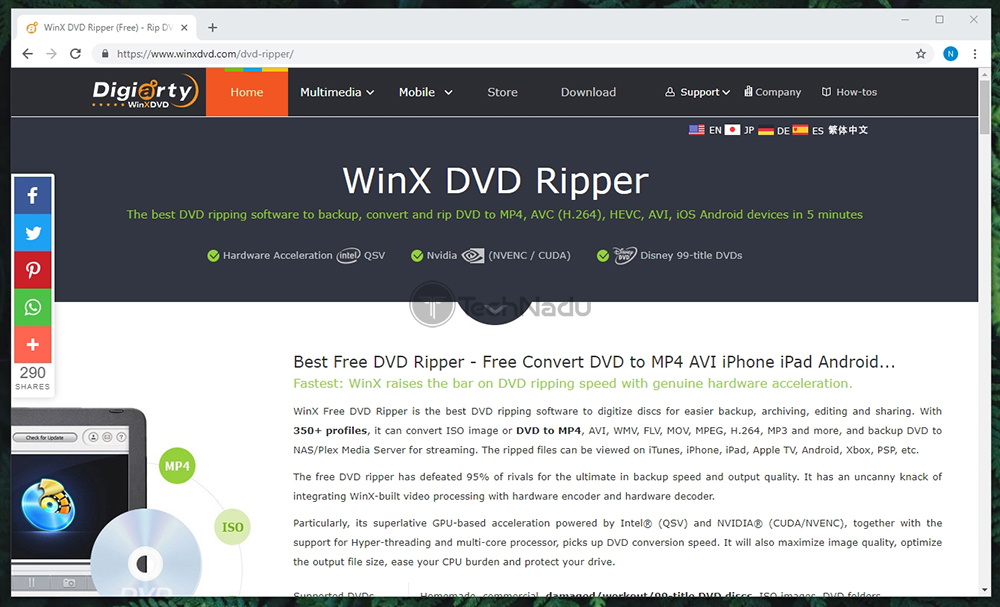 Considering everything said in this article, yes – we do recommend using this application. It doesn't have the most modern UI and it will take some time until you learn all of its features. However, it's hugely capable, comes with plenty of unique features, and it performs well. With this said, we believe that WinX DVD Ripper is a reliable solution.
PROS: Easy installation; Supports various video formats; Reliable performance; Plenty of self-help documentation; Responsive customer support.
CONS: Skeuomorphic UI design.
OUR SCORE: 8.7/10
In case you've made up your mind about this application, go ahead and get your WinX DVD Ripper license. We're sure that you're going to love what this application offers, as it truly stands out among the rest. This could easily be one of the best DVD ripping solutions right now.
If you made it to the end of this article, why not share this article online? And don't forget to follow TechNadu on Facebook and Twitter. Thanks!