The all new Wi-Fi Widget which lets you instantly see, test, and share your Wi-Fi. The fastest way possible to share WiFi from the lock screen without even unlocking your device.
What does this Wi-Fi Widget do?
With the help of 3D touch, you can have it on the home screen for faster access.
Share your Wi-Fi Password with easy copy-pasting option send to any messaging app.
On the lock screen Get name, Status, and password for instant access to WiFi.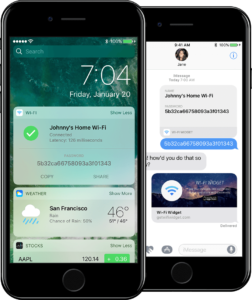 Few of the features of Wi-Fi Widget are,
See your Network - No more waiting for random no internet router connection.
Share Password - A single tap to share your WiFi name & password.
Test Internet Status -   Facing Uptime issues with your WiFi router switch to LTE within seconds.
Secure & Private - Wi-Fi passwords are synced securely and privately through iCloud Keychain, so only you have access.
3D Touch - Put Wi-Fi Widget on your home screen for even faster access to your wi-fi summary and password sharing.

Pricing: Launch offer of $0.99
Download Link for Wi-Fi Widget
iTunes: https://itunes.apple.com/app/id1192965614?mt=8
Upcoming feature promised by the developer "After receiving multiple requests for a feature to hide password on the lock screen, a new toggle to enable this behavior is now pending approval by Apple (version 1.0.2)." This apple is compatible with latest iOS update.