Without any sign of slowing down, political tensions in the US have caused consequences across the Web as well. You've already heard the news about Donald Trump being banned from Twitter and Facebook (with the same decision currently being made across numerous other social media apps). However, Trump's followers have now found themselves in a situation they haven't experienced before, with Parler being shut down as well. So, is this the end of 'fringe' social networks, or will an alternative to Parler appear any minute now? 
This kind of seismic shift to our digital landscape usually triggers a series of related events. The latest of these events is a violent insurrectionist group of individuals storming the seat of the US government. This is precisely the reason why tech giants have stepped up their content moderation systems, while apps such as Parler continued to thrive (for a short while).
And now, there is also news about a new riot being organized in the wake of the upcoming inauguration of President-elect Joe Biden on January 20. That only means that we're yet to see alternatives to Parler finding their popularity. 
With that said, let's talk about apps and social media platforms that are just like Parler. We'll do that not to recommend using them, but to shed some light on recent changes to our digital landscape, and perhaps predict upcoming tech shifts that might happen.
Note
We've produced this article after our investigation on finding apps similar to Parler. However, we will let you be the judge whether these are 'free speech' social networks or something else. We'd also like to note that we don't condone violence in any form – and we're firmly against any radical or extremist ideas. 
These Chat Apps & Social Media Networks Currently Act as Parler Alternatives!
Parler was a very peculiar app. It was initially designed as a replacement for Twitter, promising not to censor its content. With that said, the following Parler alternatives are built upon that idea as well, acting as 'alternative' social media apps.  
MeWe – Micro-Blogging Alternative to Parler
Gab – Facebook-Like Parler Alternative
Rumble – Parler Alternative for Video Hosting
Warning
The following platforms are often used to express far-right, radical, and extremist ideas – especially following the recent events in the USA. Therefore, interacting with the following platforms, apps, and websites should be done at your sole discretion.
1. MeWe – Micro-Blogging Alternative to Parler
At the moment, the most popular Parler alternative is a social network called MeWe. Interestingly enough, MeWe bills itself as the "next-gen social network," promising to protect its users' privacy. Therefore, your private data isn't collected by this app (unlike what happens with other major social networks), there's no newsfeed manipulation, and you even find any ads on MeWe. 
It's also interesting to note that this social network has been around for many years now. It wasn't designed to serve conservatives, per se. However, the biggest reason for MeWe's popularity is precisely that right now – with MeWe welcoming conservatives with open arms. However, unlike Parler, this app isn't only about politics. 
If you dive deeper into MeWe, you'll find groups dedicated to all kinds of (benign) things. For example, there are groups centered around animal lovers, specific music genres, arts, and similar things. Also, before its recent surge in popularity, MeWe had 5 million registered users – and we strongly believe this number to be much higher right now.  
2. Gab – Facebook-Like Parler Alternative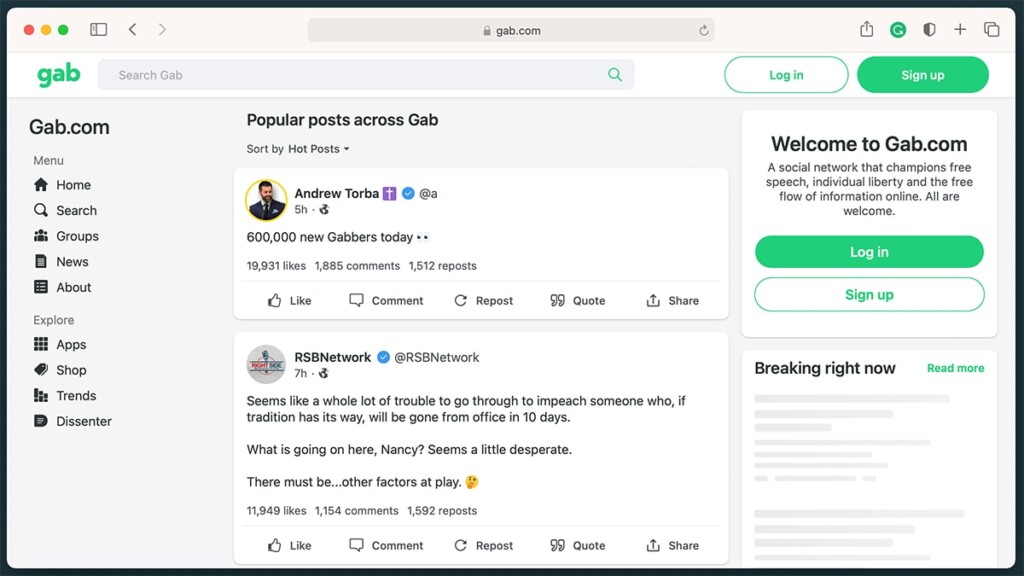 Gab – Details
| | |
| --- | --- |
| App/Platform Type | Social media platform. |
| Price | Free of charge. |
| In-App Purchases | N/A. |
| Links | Web (no mobile apps available). |
Here, we have another alternative to Parler, with years of experience being on the global scene. Called Gab, this social media app was founded in 2016 by Andrew Torba. As per his words, the main goal of Gab was to provide an alternative to Twitter and Facebook – a social media network without any censorship. Therefore, Gab wasn't designed to serve as a 'conservative social network,' but it has since become one. 
Considering that Gab promises not to ban 'free speech,' it's has become a place for individuals with "alternative" views to express their opinion. That's the reason why Google removed this app from its Play Store (back in 2017), for violating the company's ban on hate speech. You also won't find it on Apple's App Store. Instead, it's available on the Web only.
These days, Gab is capitalizing on Parler's downfall. As per a recent tweet, this social media network is gaining 500,000 new users daily, with over 18 million visits since people started looking for Parler alternatives. 
3. Rumble – Parler Alternative for Video Hosting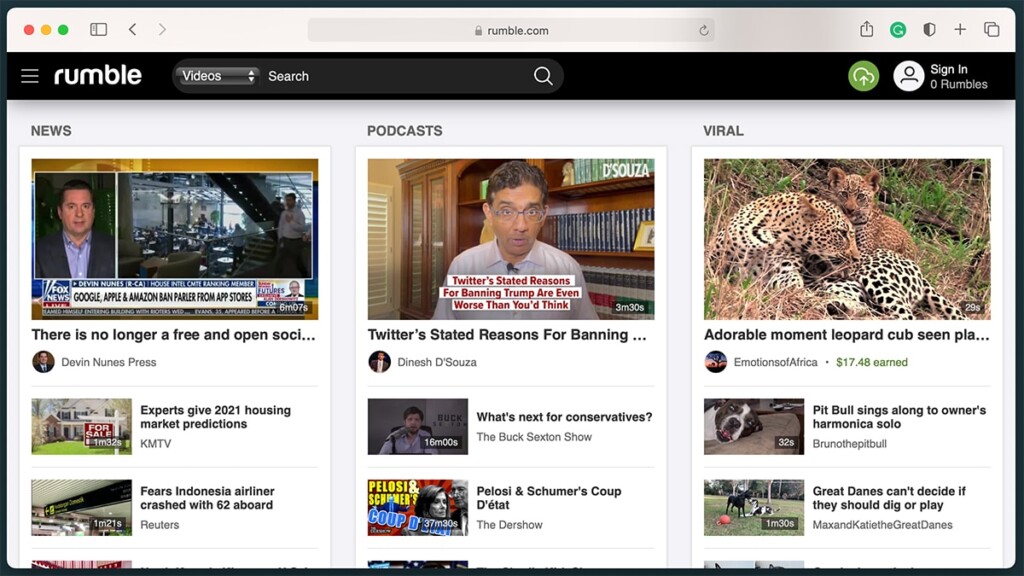 Previously, we talked about social media apps designed to replace Twitter and Facebook. Therefore, it's not surprising to know that there's an app promising to replace YouTube as well. Called Rumble, this online service is focused on video streaming, with over 50,000 creators using it to distribute and monetize their content. 
Rumble was founded in 2013 by political commentator Dan Bongino. As per his own words, the main goal of Rumble is to offer space for conservative viewers who feel that YouTube is discriminating against their views and beliefs. Besides, Bongino is also known for saying that YouTube is crushing conservative voices, promising to take action across numerous fields. That's one of the reasons why Bongino has invested in Parler as well. 
Also, it should also be noted that Rumble has attracted its users with promises of not censoring its content. That's precisely why far-right voices have found their place here. This situation is also amplified by Rumble's monetization policy, allowing video creators to earn more from their videos than via YouTube and similar services. 
With that said, that would be all on the apps and platforms that act as Parler alternatives right now. What's your opinion on these? Make sure to post your comment below.