Twitter has imposed a permanent suspension on D. Trump after the President failed to condemn violence.
The plans to jump to 'Parler' have been interrupted by a Google ban but may go through anyway.
Trump supporters are planning more storming events as we move towards the inauguration date.
Only a few hours after the status of the account of U.S. President D. Trump was restored on Twitter, the platform decided to follow the example of Facebook and permanently suspend it. The justification for this enforcement move details the President's failure to send a clear message of condemnation of violence and false beliefs.
Instead, Twitter feels that D. Trump's recent tweets still support the dissemination of ambiguous theories, contest the validity of the recent election results, and dispute the rights of Joe Biden to assume power on January 20, 2021.
Already, Trump's supporters are preparing for a second attack on the U.S. Capitol on January 17, 2021. The voices that promote these plans are proliferating both on Twitter and outside of the platform.
Instead of excoriating these plans, the President has chosen to praise their crafters by calling them "American Patriots" who have a "GIANT VOICE long into the future" and who "will not be disrespected or treated unfairly in any way, shape or form!!!". That sounds like a green light to proceed with more violence as we move towards the inauguration date.
Once suspended, President D. Trump used the POTUS account to post the following, informing his supporters that they are negotiating with various other sites and a big announcement is coming soon. Many speculated that the President would leap 'Parler,' an American microblogging and social networking service where right-wing extremism and conspiracy theory proliferation thrive.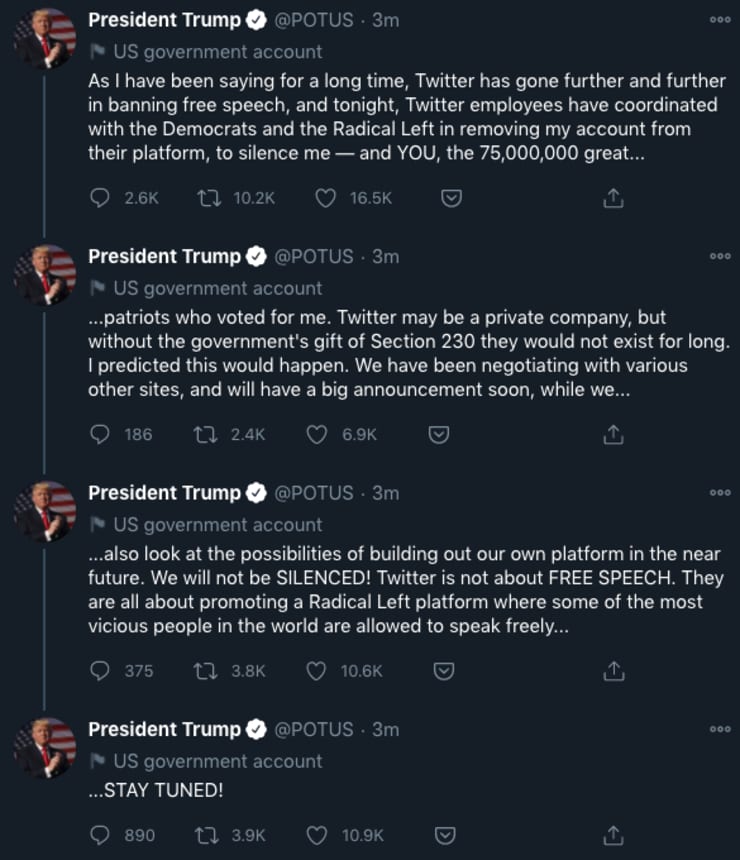 Twitter froze the POTUS account too, as they couldn't let D. Trump abuse it to spread the same messages that got him banned in the first place. In a quick move that followed shortly, Google ousted 'Parler' from the Play Store for reasons of failing to moderate posts that incite violence in the United States.
This lack of moderation isn't anything new, but Google had to address it move aggressively during these times of a serious crisis for the country. Apple has reportedly threatened Parler with expulsion from the App Store if they don't remove all violence-inciting content within the next 24 hours.
Seeing the conservative social media platform out of the two biggest mobile app stores is unlikely to stop the wave of support for Trump, and people will just download it directly from the website if needed. This will naturally create a first-class opportunity for scammers and malware-spreaders to infect millions of users with laced apps.