Even despite facing some fierce competition, Spotify is still one of the leading music streaming services in the world. With over 100 million paid subscribers and 217 million monthly active users, this platform is the go-to platform for many of us. However, it does have some limitations that can be mitigated by using third party solutions. This is where TunesKit Music Converter for Spotify comes into play, being a solution to downloading Spotify music for offline listening.
As you already know, Spotify comes with its own 'offline listening' feature. Therefore, it's important to take a deep look at what TunesKit is offering, and what are the benefits of this application. With this said, we wish you a warm welcome to our hands-on TunesKit Music Converter for Spotify review. To get started, let's go over some basic information first.
Overview
Product Name
TunesKit Music Converter for Spotify
Supported Platforms
Windows, macOS.
Unique Features
Supports a wide range of audio formats; Fast and reliable audio conversion.
Price
$29.95 (single license) | $39.95 (family license)
Visit
TunesKit Music Converter for Spotify
We strongly recommend reading this entire review, especially if you truly want to get to know this software. However, we do understand that some of you need just the highlights. Therefore, here are the most prominent pros and cons to using this Spotify music converter.
The Bottom Line
Pros
Speedy file conversion; Works every single time; Easy to use; Polished UI design; No bloatware.
Cons
The price could be a bit lower.
The Final Verdict
We highly recommend using this application to download Spotify songs for offline listening. It's a nearly perfect solution!
Our Score
9.4/10
Finally, we're ready to dive deep into everything this interesting application offers. So, make sure to join us for our full TunesKit Music Converter for Spotify review.
TunesKit Spotify Music Converter – TechNadu's Review
First of all, please note that we've tested the latest available version of this application (1.6.0), on a Windows 10 PC. However, everything said in this article also applies to its macOS version as well.
Platform Compatibility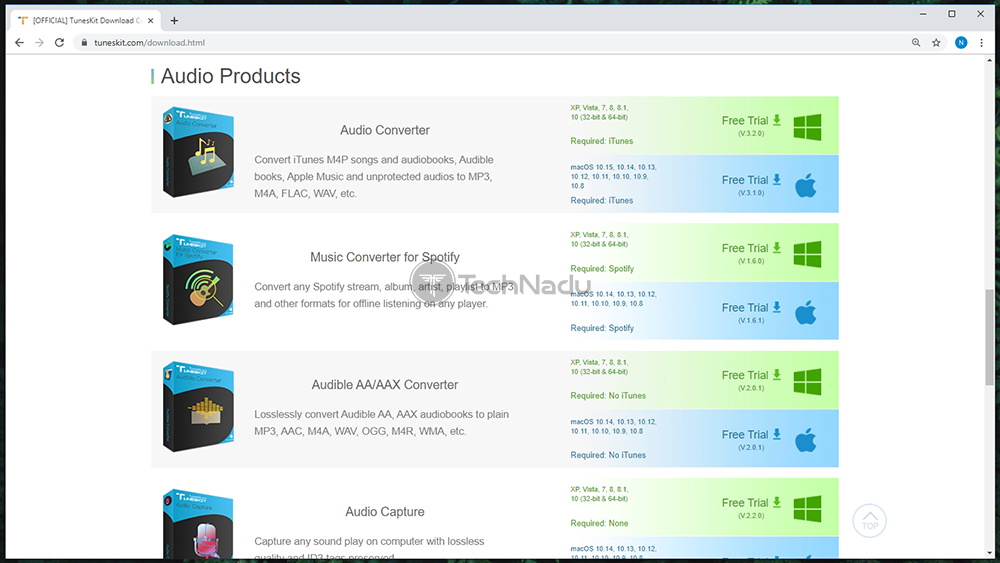 You can run TunesKit Music Converter for Spotify on Windows and macOS computers. Even some old systems will run this application without any issues. Our Score: 10/10.
As you surely know, Spotify is available on a huge array of platforms and devices. Therefore, you'll want a solution that can be used on different devices. Well, you'll be happy to know that TunesKit Music Converter for Spotify works on Windows and macOS computers.
If you have a Windows PC, note that you'll need a system running Windows XP at least. Any computer with a 1Ghz processor and 512MB of RAM should do the job just fine. If you're a Mac user, you need to have Mac OS X 10.8 or newer. Also, any Mac with a 1GHz processor and 256MB of RAM will be able to run this application. As you can see, even some heavily outdated machines will run this Spotify Music Converter without any issues.
We should also note that there's an important requirement for running this application. You need to have Spotify installed on your computer as well. So, in case you don't have one of Spotify's native applications, feel free to download them from its official website.
Installation Process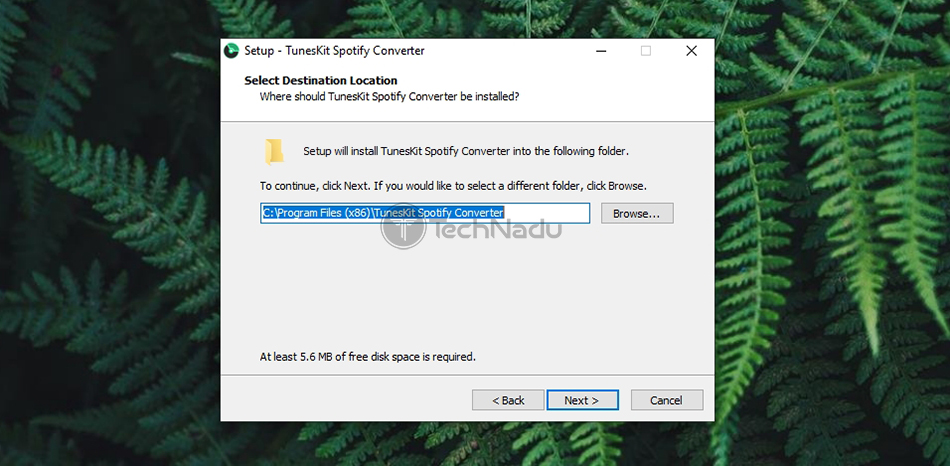 The process of installing this application is very simple. Download it from its official website, install it on your computer, and then activate the application by supplying your license code. Our Score: 10/10.
No matter if you decide to buy TunesKit Music Converter for Spotify or try it for free, the initial step is always the same. You need to download the application from its website, based on the operating system you use (here's the Windows version, and here's the macOS version). As you will see, the installation file is incredibly lightweight, which means that you'll download it quickly. There's no bloatware here, which is always a nice thing to see.
Once downloaded, open the installation file. Then, proceed just like you would when installing any other type of software. Within a few seconds of your time, this application will install, and it'll be ready for use. Finally, go ahead and open it – and that's about it. In case you have a valid license, click on the hamburger button (in the top-right corner), and then select 'Register'. Input your email address and your license code to unlock this application fully.
User Interface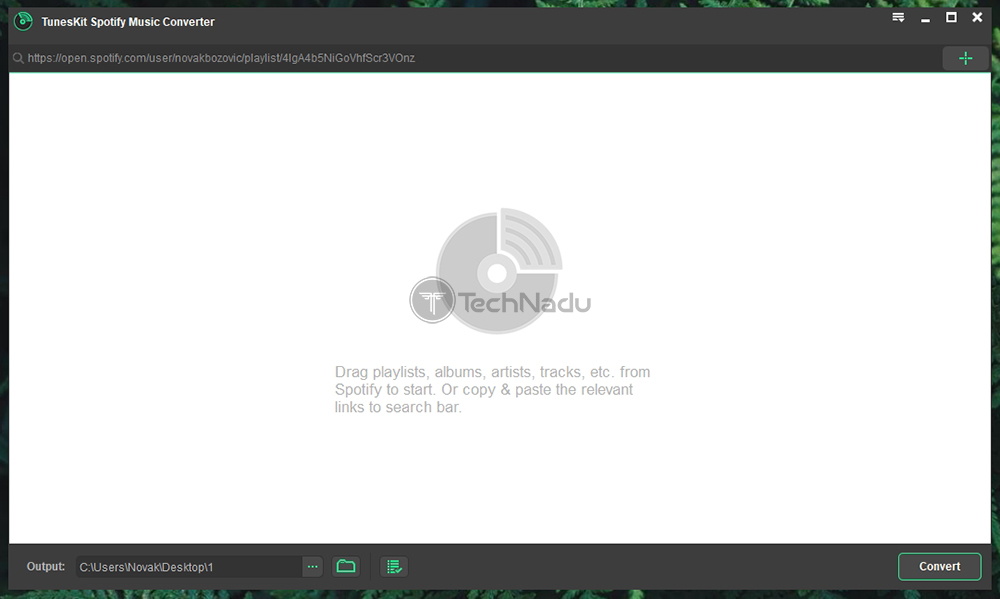 TunesKit Spotify Music Converter is a modern-looking application. Its UI seems intuitive enough, for the most part. Our Score: 9/10.
As you can see from the screenshots present in this article, TunesKit Music Converter is a fairly simple application. When you open it, you will see an empty window asking for your Spotify songs. As you import your music, you will see a list of individual songs, along with a series of information related to each song (its name, the name of its artist, duration, and output format). Just above this list, you will see a Web address that's actually the Web address of your playlists (which is how this application can download the required files).
At the bottom of its window, you will see a field titled 'Output'. In case you'd like to change the location of saved files, click on the 'three dots' button. As you start converting the files, a new button will appear, giving you a list of the files that you've saved for offline listening.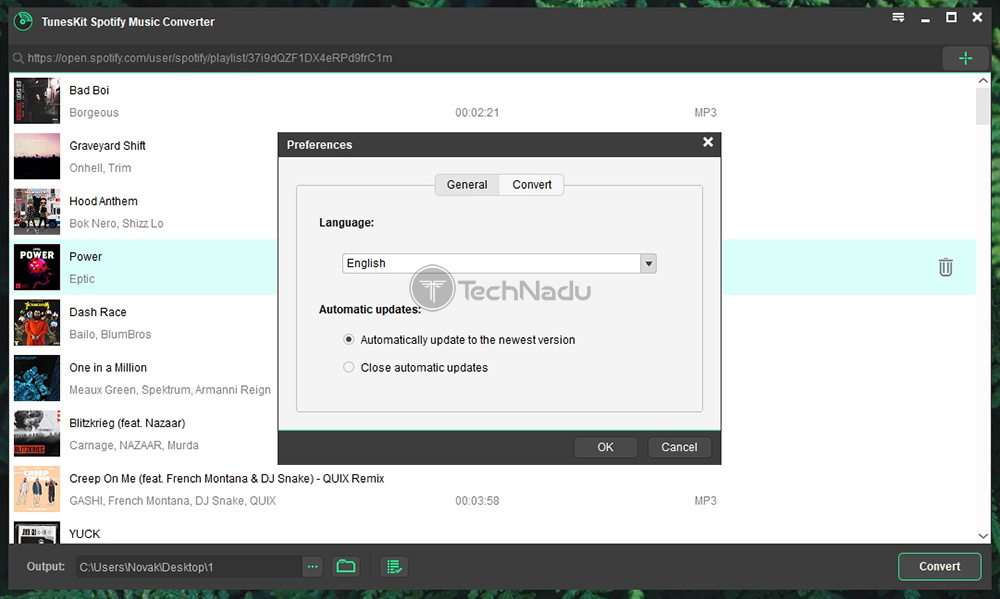 There's also one other, incredibly important, part of this application. In the top-right corner, you will see a hamburger button (three vertical lines). This is where you can register your software, check for updates, and see help-related material. However, this is also where you can play with this application's settings. First of all, you can change the language of the UI. However, this also where you can fine-tune the process of audio conversion. The following audio formats are available: MP3, M4A, M4B, AAC, WAV, and FLAC. Then, you can choose the number of channels, sample rate, and bit rate. Finally, you can choose to use a slower conversion speed in case you've been having some problems during conversion.
Ease of Use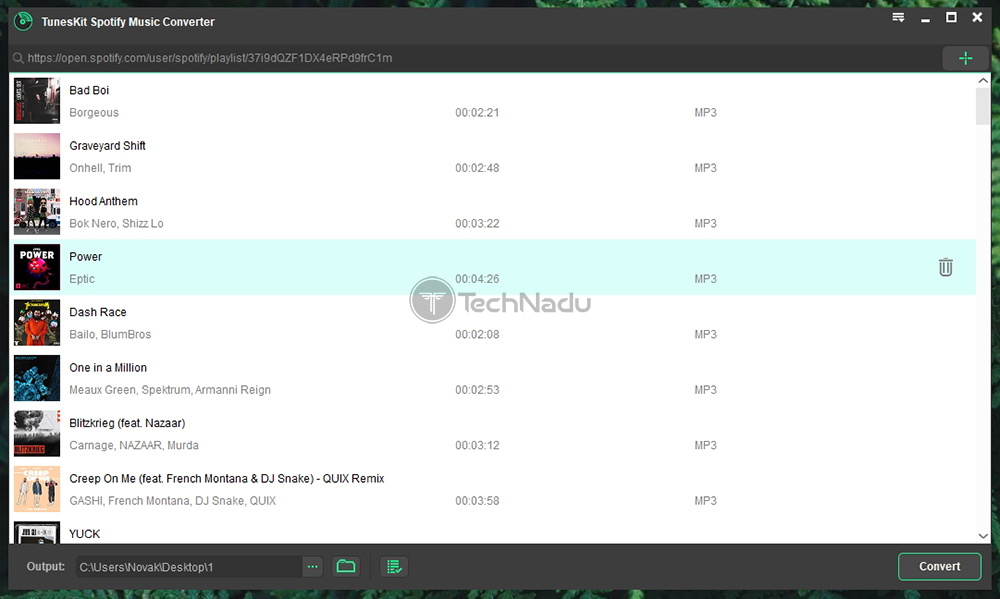 In general, TunesKit Music Converter for Spotify is really easy to use. Some simplifications could be implemented for complete beginners, though. Our Score: 9/10.
In the previous segment of our review of TunesKit Music Converter for Spotify, we talked about its UI. However, let's now take a look at the process of converting audio files. To show you how this is done, we'll walk you through this process one step at a time.
When you open TunesKit Spotify Music Converter, your Spotify application will also launch in the background. You need to use your Spotify application to find any track, album, or playlist. Then, drag those items to the TunesKit interface.
After a few moments, this application shows you the songs you've chosen previously. Now, it's time to fine-tune output preferences. Click on the hamburger button in the top-right corner and then select 'Preferences'.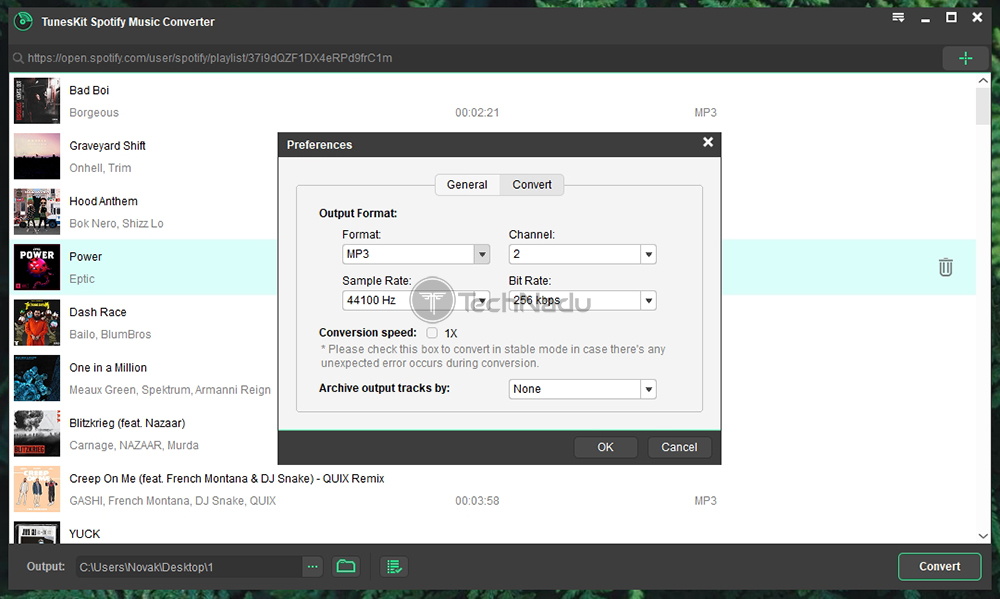 Choose the preferred audio format. And then, based on the chosen format, you can adjust the number of channels, sample rate, and bit rate. Once you're happy with your selection, go ahead and click on the 'OK' button to save your changes.
Finally, all there's left is to click on the 'Convert' button in the bottom-right corner. The application will now start converting the songs, one by one. As soon as each song is downloaded, it will be placed in the output folder (that you've previously selected).
As you can see, this entire process is quite simple. We believe that even complete beginners will manage to handle it just fine. However, it would have been nice to see certain simplifications of this process as well. For example, you need to go 'into' the application each time to select your output file preferences. This is great if you don't need to change the audio output format frequently.
Speed & Performance
The performance of this application depends on numerous different variables. However, speaking in general, TunesKit Spotify Music Converter does its job is a very speedy manner. Our Score: 10/10.
We're sure that you want to know how fast is this application. In other words, how fast can you convert files? Well, that depends on the chosen output format and other variables. So, to give you an idea of what you can expect, let's say that you'll stick with the default values. This means converting Spotify files to MP3 files, 2 channels, 44100 Hz sample rate, and 256 kbps bit rate. A 3-minute song takes around 30 seconds to be converted. So, not bad at all. In 30 seconds, you could have an offline file ready on your computer. Then, you can transfer that file to any device you want.
Customer Support
TunesKit offers an amazing customer support system. There are many ways to get help, as well as to learn all there's to know about this application. Our Score: 10/10.
We were surprised by how many customer support channels this company offers. Once you get to their central customer support page, you'll already find plenty of different types of useful information. You can learn more about this company, check out guides and tutorials, check frequently asked questions, and more. Of course, you can also send an email to TunesKit – and we're sure they'll respond in a timely manner.
To get help as quickly as possible, TunesKit also has a series of bullet points regarding what kind of information you need to submit. So, make sure to explain the problem you're having, submit information regarding your system, and send a couple of screenshots as well. By doing this, you increase your chances of receiving helpful advice as soon as possible.
Pricing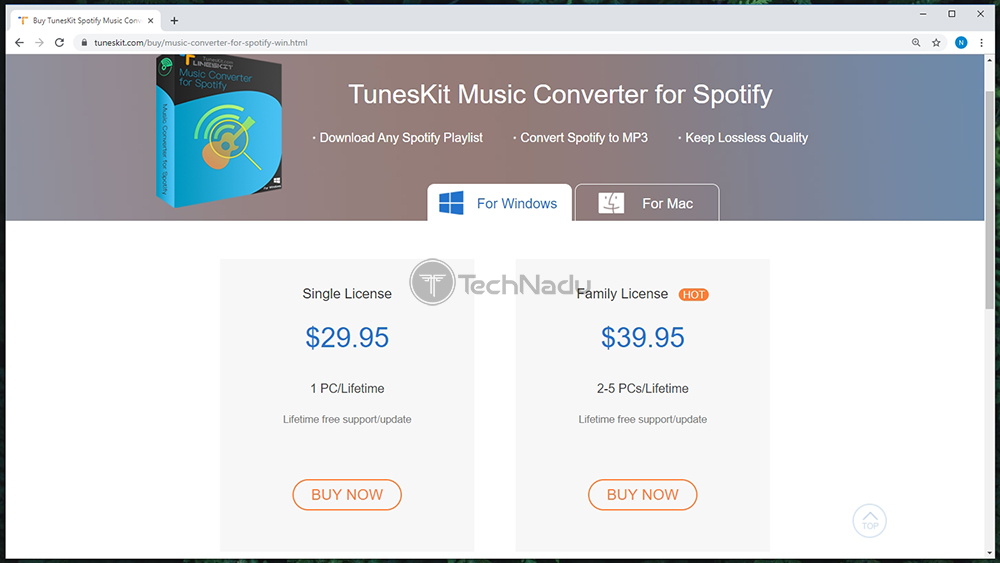 Even though this Spotify music converter isn't the most affordable option out there – we believe that it brings plenty of value for its price. Our Score: 8/10.
Before you decide to buy this application, make sure to know on which platform you plan on using it. That's because there are two versions, for Windows and macOS. These two are practically the same, but you can't use them interchangeably. This means that you can either buy a Windows license or a macOS license.
| | | |
| --- | --- | --- |
| License Type | Number of Computers | Price |
| Single License | 1 PC or Mac / Lifetime | $29.95 |
| Family License | 5 PCs or Macs / Lifetime | $39.95 |
We can see that TunesKit Spotify Music Converter isn't the most affordable option out there. However, we do have to admit one thing – it brings plenty of value for its price. Remember that we're not talking about an annual license. Instead, these are lifetime licenses with no time-related limitations.
Among other information, you can pay via a series of credit cards or via wire transfer. Strangely enough, PayPal isn't on offer. And also, there's a 60-day money-back guarantee, which seems generous enough. Finally, there's also a free trial that converts the first minute of your Spotify songs, which can be a nice way to test-drive this software.
Do We Recommend TunesKit Spotify Music Converter?
Yes, we definitely recommend this solution if you're looking to convert Spotify music for offline listening. We have to admit that it's not the most affordable option out there, but it's well worth its price. Remember that you'll receive a lifetime license and there's a generous money-back guarantee. This makes this application a risk-free purchase.
PROS: Easy to use; Nicely designed UI; Speedy file conversion; Works with no issues.
CONS: Not the most affordable option.
OUR SCORE: 9.4 out of 10!
So, have you made up your mind? If you have, go ahead and buy TunesKit Music Converter for Spotify. The provided link will take you to this application's official website, where you can review additional information. We're more than sure you're going to be happy with this application.
As you made it to the end of this review, why not share this article online? And don't forget to follow TechNadu on Facebook and Twitter. Thanks!