We all know that Apple has created a very well-working ecosystem of applications and services. You can easily download an album or song using the iTunes Store, and play those files on a wide range of devices, instantly. However, things are different if iOS and MacOS aren't your primary platforms. There is no easy way to transfer those songs and play them on some other device unless you take a look at third-party solutions. Welcome to TechNadu's review of TuneFab Apple Music Converter.
Let's get to know this application a bit better by introducing you to the basic set of information. Take a look at the table below to learn more.
Overview
| | |
| --- | --- |
| Product Name | TuneFab Apple Music Converter |
| Supported Platforms | Windows OS; MacOS. |
| Unique Features | Converts Apple Music and iTunes media files; Extracts audio from iTunes video; Fast and efficient conversion. |
| Price | $39.95 (Free trial available). |
| Visit | TuneFab Apple Music Converter |
We understand that not all of our readers want to dive deep into this review. That is why we'll show you the biggest pros and cons first. In case you're interested in learning more, keep on reading after the next table.
Final Verdict
| | |
| --- | --- |
| Pros | No bloatware; Vey easy to use; Plenty of media profiles; Fast conversion rate; Customization options available. |
| Cons | Outdated UI. |
| Final Verdict | Despite its rustic appearance, this application gets the job done quickly and with success every single time. There are some small quirks here and there but we like what Apple Music Converter offers. |
| Our Score | 9.3 / 10 |
As you can see, TuneFab Apple Music Converter can be your perfect solution for audio conversion of your Apple Music files. We're sure you want to know more, so continue reading to learn the specifics.
TuneFab Apple Music Converter Review – The Specifics
We will give our best to answer all your questions, which is why we'll start with platform compatibility and then we'll jump to the installation process. By the end of this article, you will know what to expect from Apple Music Converter and whether it's worth your money.
Before proceeding with the review, we'd like to say that we tested Apple Music Converter, version 2.3.3 on a Windows 10 PC. However, we can say with confidence that you can expect the same set of features on MacOS as well.
Platform Compatibility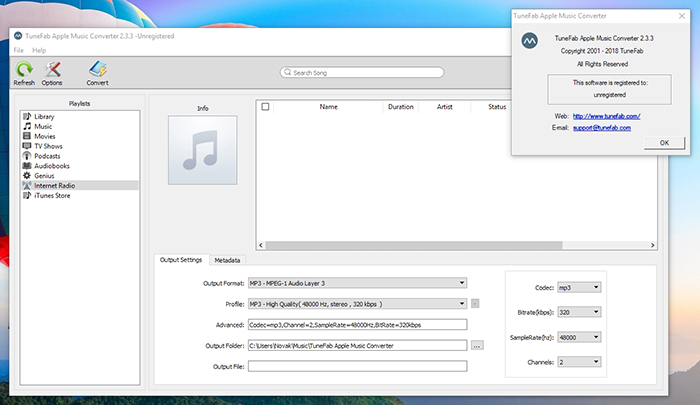 TuneFab Apple Music Converter is available on Windows PC and MacOS computer. There are no differences between these two, and updates are being published at the same time. Our Score: 10/10.
To use this application on your computer, you need to have iTunes already installed. That is because Apple Music Converter 'talks' to iTunes and reads its contents. You will get to see your music and video library and easily convert those files into other formats.
No matter if you use Windows or MacOS, you can expect the same-looking application. We also noticed that updates (even though they aren't as frequent) are being released at the same time, which is always a good thing. Sadly, you can't use this software on mobile platforms.
Installation Process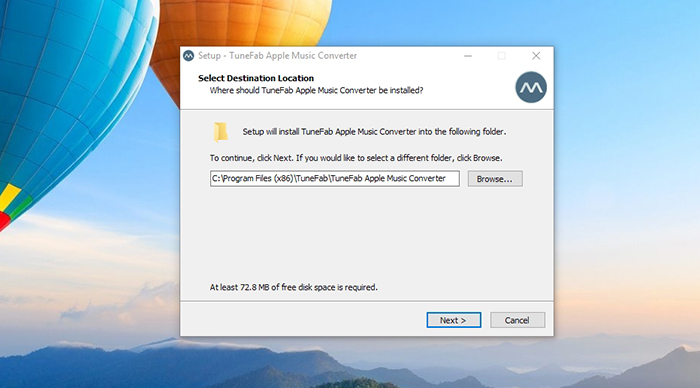 TuneFab Apple Music Converter is a very lightweight application that you can download and install under a couple of minutes. There's no adware of any form of bloatware. Our Score: 10/10.
The installation process of this software starts with visiting the official website. At the top of the page, you will see two buttons that are direct downloads links. Based on your operating system, click on the appropriate button and the file (weighing at around 20MB) will begin to download. Once the process is complete, run the Installation Wizard.
The application doesn't come bundled with adware, which has become a rare thing these days. Simply read the terms of use, select the end destination on your drive, and install the software. There are no unnecessary complications here.
User Interface
Even though Apple Music Converter brings a very intuitive interface, it's somewhat basic. We'd like to see it modernized because it does stand out at the moment. Our Score: 8/10.
Upon launching the application, you will be greeted by a simple UI. However, make sure that you have iTunes installed and populated with songs, albums, videos, or audiobooks. That is because Apple Music Converter will automatically display all those files and let you handle them with ease.
Let's start with the basics and that is the application's main menu. There are only two items here: File and Help. The first allows you to dive into the application's preferences. We suggest you take a look at this section first, to make sure the software works according to your needs. Here's what you'll find here.
Conversion Speed: The first option lets you adjust audio conversion speed on a scale from 1 to 16. We highly recommend you to keep it at '5' or below to make sure no errors appear. If you go higher than that, there might be 'empty seconds' in songs.
Among other options, you can disable tutorials, or uncheck completed files after conversion – which can be useful if you have a very large music library and want to convert files in bulk.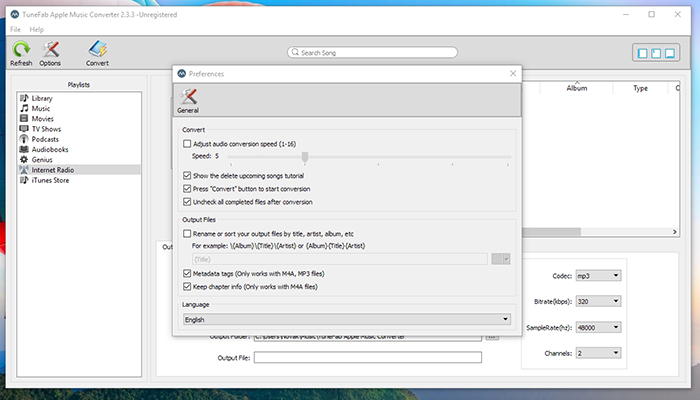 Output Files: This is where you can set certain rules to name the converted files. As you can imagine, this can be helpful if you want to keep the files as organized as possible.
Language: The last option here lets you pick from several languages and enjoy using a localized version of TuneFab Apple Music Converter.
All in all, this is a fairly simple application without many complications. On the left side of the screen, you will see your iTunes content categories like playlists and different types of media. Then, the rest of the screen is reserved for music conversion. We will go over that in a second, so make sure to keep on reading.
Ease of Use
The application can be used by complete beginners. Even though there are tutorials available, it takes only a few clicks to convert one or a bunch of files. Our Score: 10/10.
Creators of this application have done a good job of simplifying the process of music conversion. To show you how easy it is to convert a bunch of files at once, we'll provide a short tutorial. So, keep on reading to learn how to convert Apple Music files.
Once you open TuneFab Apple Music Converter, all your iTunes content will automatically be displayed. Click on 'Music' in the left-placed sidebar, and you'll see a list of songs that are currently available;
Next, select the songs that you'd like to convert, on the right side of the windows;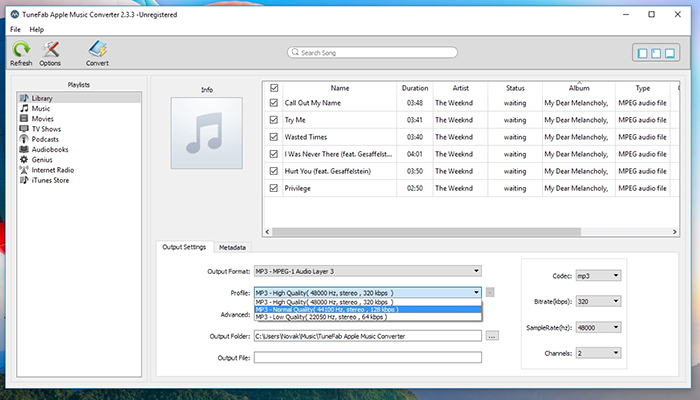 Finally, you need to make sure to select the preferred output format (this is found in the lower portion of the window). First, select the preferred format (such as mp3, aac, and others), and then select the profile (for example, if you want a high-quality or low-quality mp3). Also, check out the output folder to see where the converted files will appear.
Finally, click on the 'Covert' button and that's it! The application will do the rest of the job on its own. You will be able to preview the progress along the way.
Speed & Performance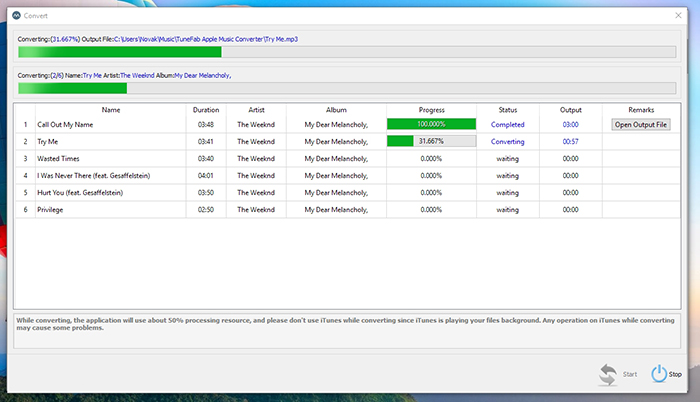 Luckily for us, we don't need a highly powerful computer to convert audio files. The application doesn't even trigger a fan, which means that it's very light on your PC's resources. Our Score: 10/10.
In case you want to convert a few songs, you might not be interested in how fast this application can perform its job. However, there are those looking for batch conversion. Well, the performance of this application does depend on your computer's specs but not too much. It takes up to 20 seconds to convert one 4-minute-long song and we're talking about the high-quality mp3 file. In comparison to similar applications, TuneFab Apple Music Converter is a bit above average.
Customer Support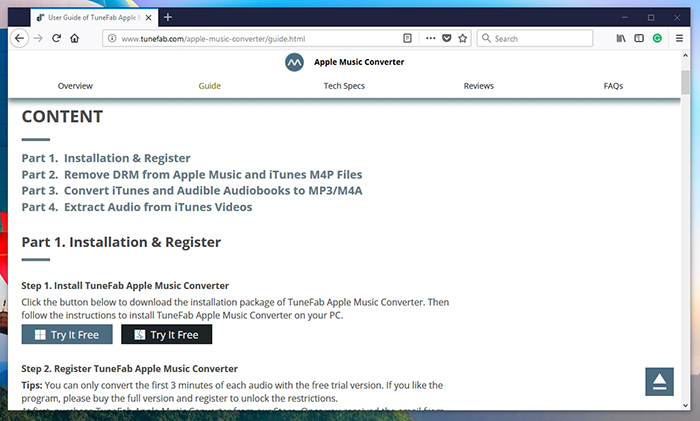 In case you ever get lost, there's always a way to find help. However, we think you'll manage to use the software without a single problem. Our Score: 9/10.
When it comes to customer support, you can turn to TuneFab's Contact page in case you have any questions or doubts. Then, there's the official guide to using Apple Music Converter that covers pretty much everything you need to know. As we said several times before, this is a very simple application – where not much can go wrong. Finally, you can also take a look at Frequently Asked Questions where you'll find a few handy tips as well.
Pricing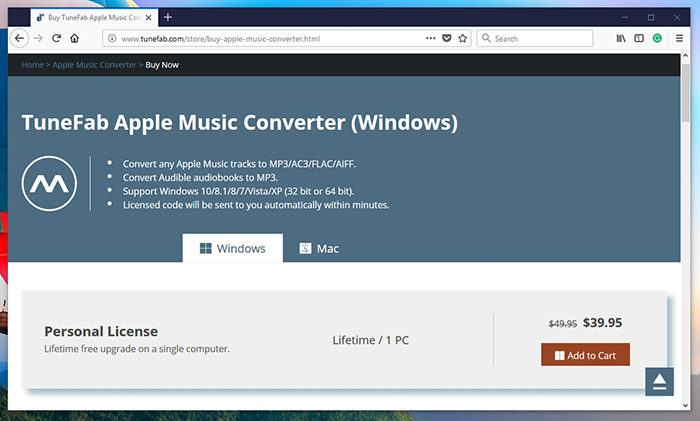 Even though TuneFab Apple Music Converter isn't the most affordable option out there, it is one of the most reliable of its kind. Our Score: 8/10.
You can buy this application for $39.95. However, there is also a free trial that we strongly recommend you to check out. This will give you an idea of how the software works and what kinds of results it can produce. However, please note that the trial is very limited and you can use it for 30 days.
The Verdict
TuneFab Apple Music Converter is definitely an interesting piece of software. It can break iTunes and Apple Music restrictions and let you play your audio files on pretty much every device. On top of that, it comes with a selection of conversion profiles that make the entire process as simple as possible.
PROS: Very easy to use; Helpful tutorials included; Preloaded conversion formats; Fast and efficient.
CONS: Outdated UI, which gives a bad first impression.
OUR SCORE: 9.3 / 10.
Final Thoughts
Dear readers, this is where we conclude our article. In case there's something else you'd like to know about this application, feel free to post a comment below. We'll give our best to provide a reply as fast as possible.
We would like to ask you to share this article online in case Apple Music Converter meets your needs. Thanks!