The main domain of the Torrentz2 platform has remained offline for a while now.
The website's servers could be suffering a DDoS wave, but there have been no official announcements yet.
Torrentz2 has recently had domain trouble, which forced the team to jump to a different registrar.
Torrentz2, one of the most popular meta-search engines out there, is currently returning an "Error 503 Service Unavailable", indicating that the server cannot handle the request. Typically, these errors come up during DDoS (distributed denial of service) attacks that overwhelm the servers.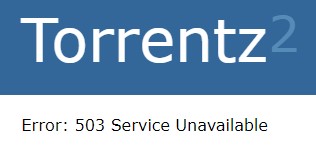 What is weird in this case is that Torrentz2 is back by Cloudflare's state-of-the-art anti-DDoS system, so the only way to take it down would be to know the origin IP-address and bombard that one directly, essentially bypassing the protective layer.
Torrentz2 had some domain trouble in June 2020, when the EURid registrar decided to suspend the platform's main domain, "Torrentz2.eu." In response to that, its operators decided that the project would be taken to the Icelandic domain, "Torrentz2.is." This is managed by the ISNIC registry, which theoretically inspired more confidence than the EURid. The pirating community is very adaptive anyway, so these domain jumps don't have a long-term or deeply negative effect.
The team behind the popular torrent indexer didn't make any official announcements about the cause of the downtime yet, so this could be anything, including technical problems on their side. There were no maintenance announcements sent out previously, but it's not that these websites operate at such customer-friendly standards.
Peer-to-peer file sharing isn't an intrinsically illegal activity, but most of what's going on in these sites is linked with copyright infringement. As a website, we have repeatedly warned our readers about the risks that are entailed in torrent downloading, ranging from malware infections to finding trouble for breaking the law. If you want to do it legally and safely, you may want to follow our advice on this detailed guide on How to Use Torrents in 2020.