The government of Sudan is imposing censorship-focused internet disruptions on the Southern part of the country.
The connectivity interruptions cannot be bypassed with the use of circumvention tools like VPNs.
The reason is to undermine the organization of protests in the country, which are picking up pace.
Internet access in South Sudan has been going through disruptions starting from yesterday, as anti-government protests in the country multiply. The connectivity problems on both fixed-line services and mobile networks are ongoing at the time of writing this, as the protest organizers, the People's Coalition for Civil Action (PCCA), have scheduled more actions for the coming week. As confirmed by the internet accessibility and censorship observatory NetBlocks, this type of disruption makes up for a clear case of purposefully imposed cuts by the government.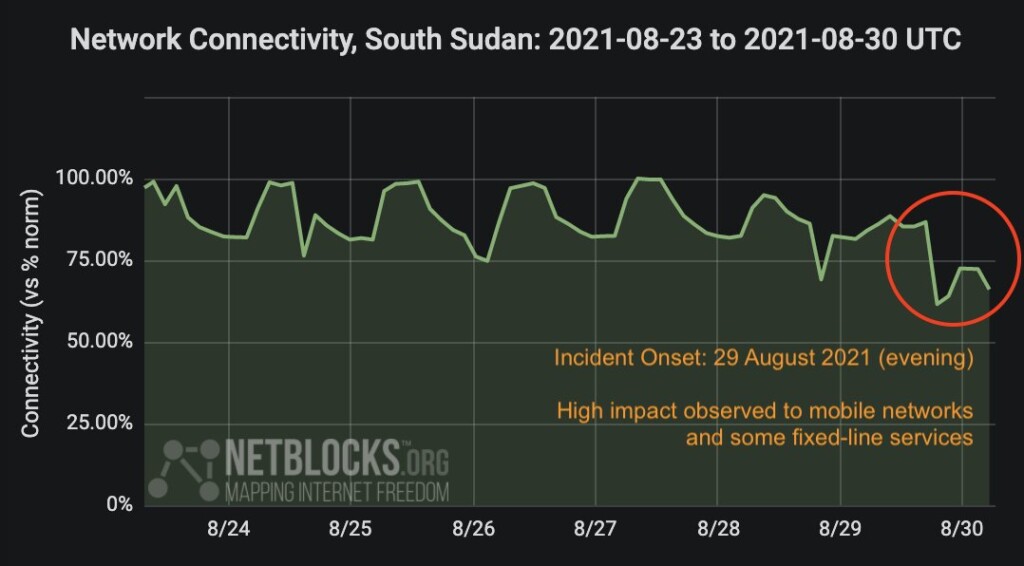 Unfortunately, this class of internet disruption affects connectivity at the network layer, so there's no way to circumvent it by using VPN tools or any other anti-block tool. For now, NetBlocks is still evaluating the extent, the impact, and maybe the possibility of certain domains being targeted, but it's too early to tell yet. All in all, the disruptions are doing their job of undermining new coverage of incidents from the ongoing protests, limiting the free flow of information online, and preventing the protesters from organizing and coordinating their actions.
As for what exactly is going on in Sudan, the PCCA has been asking for change since July, accusing the current president, Salva Kiir, of total failure to addressing the many challenges that the people of South Sudan have been facing for a long time now. That would include the failure to end the civil war that has devastated the country, the famine, and the chronic political and economic crisis that affects all aspects of people's lives.
The police bashed the first protests over COVID-19 spread risks, but a growing number of people returned to the streets claiming their constitutional right to protest. Right now, officers have orders to arrest anyone who joins these protests, but that doesn't deter the participants. Also, there have been calls from other political parties that also oppose the current president not to continue the derailment into social unrest and engaging in methods of undemocratic government toppling.
On Friday, security officials arrested three journalists and shut down the radio station they worked for in the Jonglei state, so the crackdown and censorship aren't happening only on the internet but also on more traditional channels.